What We'll Do
This course has already started! However, you can still join if you'd like to (and we hope you will!). Students enrolling after the course start date and time will have access to a recording of the first session (which will be emailed to participants within 72 hours) as well as the option to attend remaining sessions live. Please select the "Join Late" ticket type to enroll after the course has begun.
In this 4-part lecture series, trace the history of how people have understood their senses—and through them, their worlds. 
Course Description
Seeing, hearing, touching, tasting, smelling—we're taught at an early age that these five senses are our only means of experiencing the world around us. But our sensorial world may not be so straightforward; while the human body hasn't changed dramatically over the past few centuries, the way we've conceptualized these senses and put them to use has varied widely across cultures and time periods.
Join historian Carolyn Purnell for a journey through sensory history—visiting Victorian animal eating clubs, checking out 18th-century perfumes, and exploring the world of artificial flavors along the way. Over the course of four weeks, we'll discuss how people in the past thought about the senses, what values they attached to different sensations, how they perceived new sensory experiences, and why their experiences still matter. By looking at the sensory worlds of the past, you'll also be invited to think about the environments we inhabit today. What assumptions do we make? What experiences do we take for granted? In what ways have our senses improved our lives, and in what ways might we benefit from taking the practices of the past to heart?
Syllabus at a Glance
This course includes four total sessions, each lasting for 1.5 hours on four Thursdays beginning June 29.
Session 1 (Thursday, 6/29, 6:30–8:00 PM ET) | What Is Sensory History?
Traditionally, history charts the major changes that have occurred over time; extraordinary events appear front and center. But if you were to look back on your life, you'd probably remember the song that was playing during your first kiss, the pleasure of summer tomatoes, or the smell of morning coffee just as strongly as large historical events. In this session, we'll discuss what sensory history is, why it matters, and how it helps us zero in on the power of daily life and physical experience.  
Session 2 (Thursday, 7/6, 6:30–8:00 PM ET) | The Changing Sensorium
Here's a seemingly simple question: how many senses are there? For most people, the gut reaction would be five, but in the 18th century, many philosophers argued for six, seven, or eight. Today, scientists have identified up to 33 different senses, and sensory anthropologists have shown that different cultures have radically different concepts of the sensorium. So, what makes a sense a sense? How did the idea of five senses become so dominant, and how has thinking about sensation changed over time?
Session 3 (Thursday, 7/13, 6:30–8:00 PM ET) | How We Use Our Senses
Most of us would never dare to go to the Metropolitan Museum of Art and run our hands over the paintings or try to lick a mummy, but 19th-century British museums actually invited these behaviors. As technology, manners, and cultural norms change, so do the ways that we interact with the world. This session will focus on how people in the past have used their senses and how sensory preferences change over time.
Session 3 (Thursday, 7/20, 6:30–8:00 PM ET) | Sensory Perception and Social Structures
Sociologist Pierre Bourdieu developed the concept of "habitus," which refers to the deep-seated practices, tastes, and habits that define one's self—and often develop in response to class, education, and environment. Habitus is an important concept for sensory historians because it helps us understand how social structures, prejudices, and preferences can often feel like second nature. In this session, we'll dig into the intimate ways in which sensation informs our worldviews.
Between Sessions
Outside of class, students will be given short, creative homework assignments (15-30 minutes each). 
Course Materials
Pricing Options
This course is available at three ticket prices. This tiered pricing model is designed to increase access for a wider range of students as well as to support our instructors. In addition to tiered tickets, we offer a limited number of no-pay spots for students who would not otherwise be able to take this course. No-pay spots are selected via a randomized drawing two weeks before each section begins. For more information and to apply for a no-pay spot, please click here. To learn more about our pricing model and randomized selection process for no-pay spots, please visit our FAQ page.
Community Guidelines for Students
Please take a moment to review our community guidelines for students, which aim to share our classroom ethos and help set the stage for the best possible learning experience.
Atlas Obscura Online Courses
Atlas Obscura Courses offer opportunities for participants to emerge with new skills, knowledge, connections, and perspectives through multi-session classes designed and taught by expert instructors. To learn more about our current course offerings, please visit www.atlasobscura.com/online-courses. For answers to commonly asked questions, check out our FAQ page here.
Founded in 2009, Atlas Obscura created the definitive community-driven guide to incredible places across the planet and is now an award-winning company that shares the world's hidden wonders in person and online.
Where We'll Be
Once registered, you'll receive a confirmation email from Eventbrite that will provide access to each class meeting. Please save the confirmation email as you'll use it to access all sessions of your course via Zoom.
About Your Instructor
Carolyn Purnell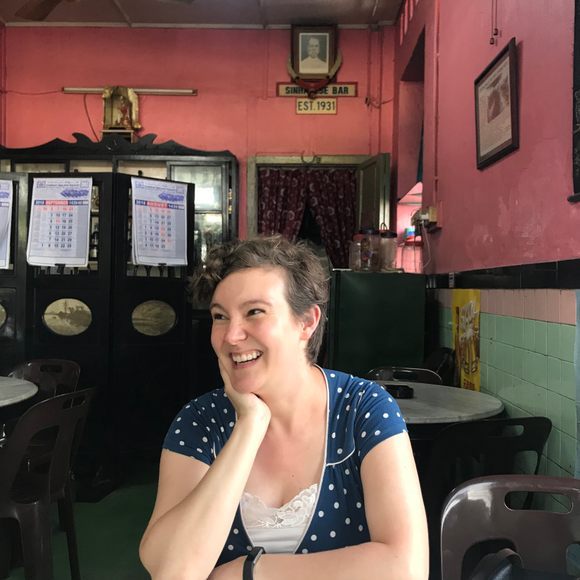 Carolyn Purnell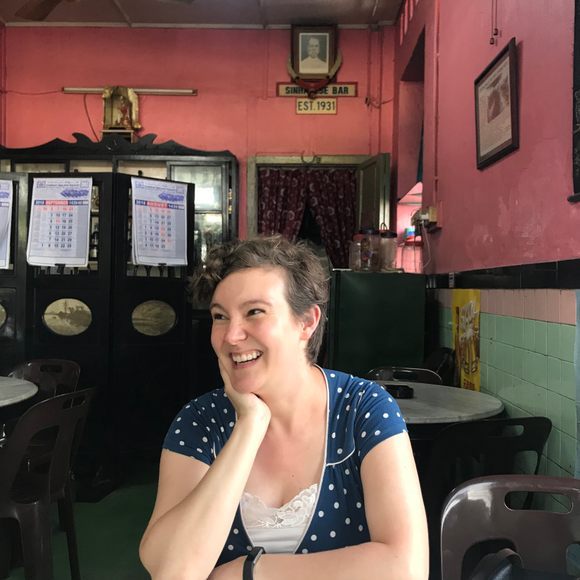 Carolyn Purnell is a historian, writer, and lover of all things colorful. She is the author of Blue Jeans (2023) and The Sensational Past: How the Enlightenment Changed the Way We Use Our Senses (2017). Carolyn earned her Ph.D. in history from University of Chicago, and her work has appeared in publications including Psychology Today, Wall Street Journal, CityLab by The Atlantic, Good Housekeeping, and Apartment Therapy. She has received fellowships from the National Endowment for the Humanities, Huntington Library, Georges Lurcy Foundation, Brown Foundation of Fellows, and French Society for Historical Studies. Carolyn has also worked as a ghostwriter for some interesting folks, but you'll have to take her word for it since it's hush-hush.
What Else You Should Know
This lecture series is designed so students can participate live or watch a recording of each session, after it airs, at a time that is convenient for them. Sessions will take place live over Zoom, with dedicated Q&A segments for students to ask questions via video or chat. Within 72 hours after each session meets, students will receive access to a recording of the live session, which they can watch for up to two weeks after the course concludes.
Instructors may use Google Classroom to communicate with students outside of class. While students aren't required to use Google Classroom, instructors may use this platform to post resources, discussion questions, or assignments. This platform also offers a space for students to connect with one another about course material between sessions.
We provide closed captioning for all of our courses and can share transcripts upon request. Please reach out to us at experiences@atlasobscura.com if you have any questions, requests, or accessibility needs.