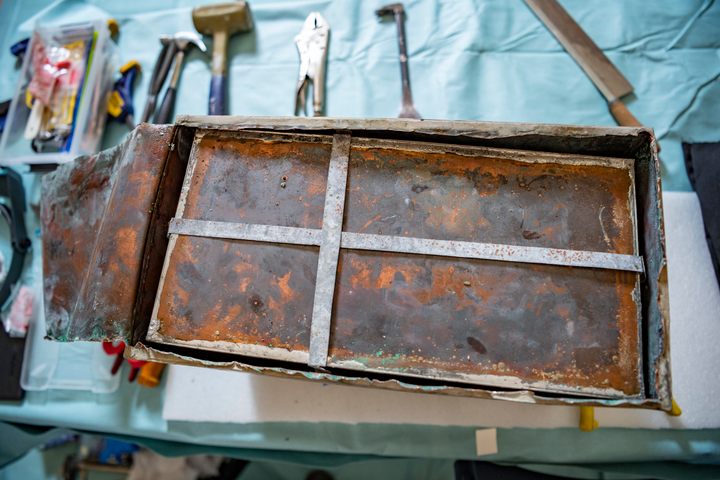 The Things Inside This 105-Year-Old Time Capsule Have Hardly Aged a Day
The slew of ephemera was tucked in a copper box behind a cornerstone at Arlington National Cemetery.
Tim Frank was stressed out. Once conservators pried the time capsule open, he feared, they might find a mangled mess: a tattered flag, shredded papers, and a rollicking party of flies or silverfish. "My heart was racing through the whole thing," he says.
Frank is a historian at Arlington National Cemetery, the military burial ground in Virginia just outside Washington, D.C. On October 13, 1915, when construction was beginning on the Memorial Amphitheater, a memorabilia box was sunk behind the cornerstone to fete the project. The copper box was stuffed with ephemera, including postage stamps and six coins; a U.S. flag; a Bible signed by the building's architect; copies of the Constitution and the Declaration of Independence; a photo autographed by then-President Woodrow Wilson, who was on hand to place the cornerstone; and a handful of local newspapers, including the Evening Star.
The same day, that paper ran a series of stories about the construction. One headline read "CARE TAKEN TO PROTECT PAPERS IN MEMORIAL CORNERSTONE," and the accompanying article zeroed in on all the ways that the people who'd prepared the time capsule had armored it against the elements. The story described it as finicky, exacting work—the task of an "anxious" crew committed to rethinking some of the procedures that had guided "all cornerstones heretofore laid in government buildings."
The time capsule didn't spend a century entirely undisturbed: Several decades ago, when the amphitheater underwent some renovations to accommodate growing crowds, the box was removed and hauled off to the National Archives for a while, then eventually reinstalled under a replica cornerstone.
But in March 2020, more than 100 years after it was assembled, the time capsule was extracted for good. When historians, archivists, and conservators opened it in April, they found that all of those earlier efforts had paid off. Frank needn't have worried: Everything had aged remarkably gracefully.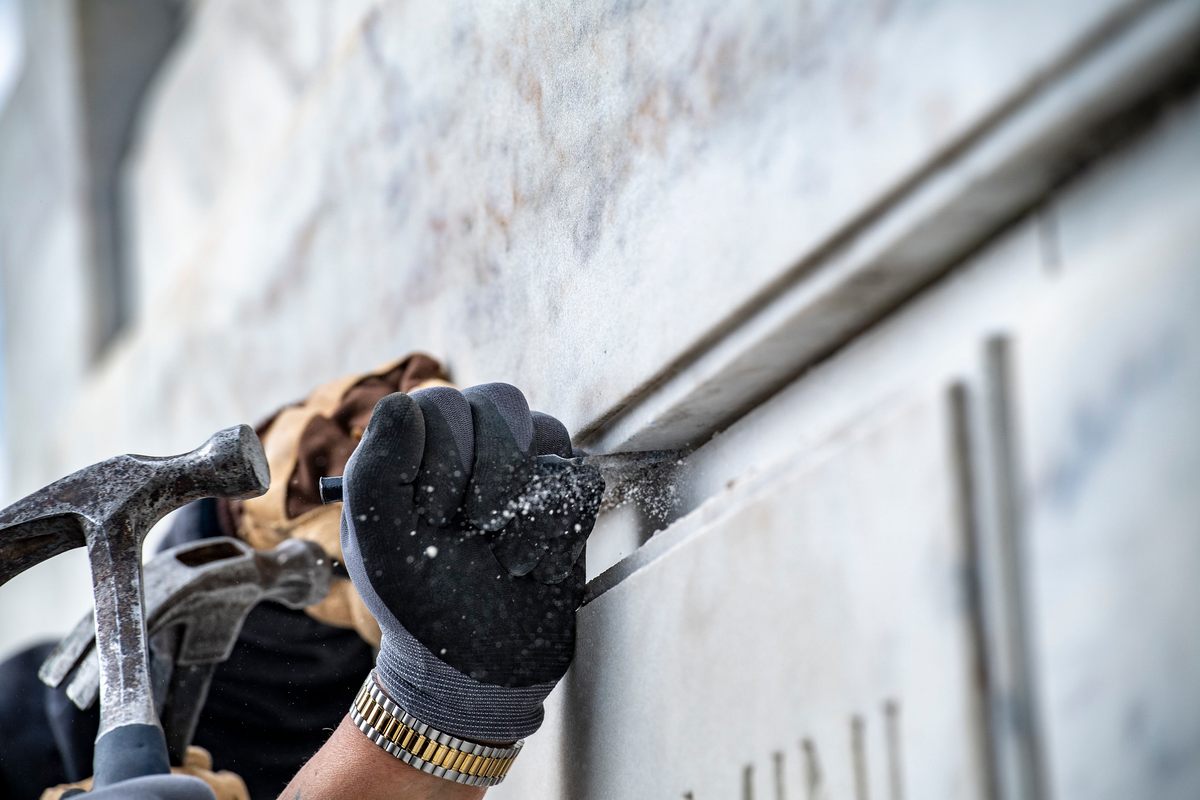 No one could blame him for fretting, though—a lot can go wrong inside a time capsule. Some risks come from the microclimate sealed inside, says Caitlin Smith, a conservator at the cemetery. Too much oxygen or water vapor inside a box at the moment it's closed up can lead to oxidation, or corrosion; mold spores and other microorganisms locked in there can run amok. Loose seals allow water to seep through, or invite pests to wander in. And some of the materials inside can damage the ones around them, Smith says: Over time, many mass-produced newspapers emit vapors that create an acidic environment.
Copper memorabilia boxes were common at the time, Smith says. The Library of Congress installed one inside its cornerstone in 1890, for instance, and the mayor of Detroit placed one at Old City Hall in 1901. But this box was somewhat special. It was a series of two copper containers, in fact, purpose-built, with sides folded up like cardboard boxes. The boxes were separated by glass plates, and lids set into grooves, and then soldered shut with lead-tin. The capsule was installed in a cavity behind the cornerstone, instead of in a hollow space on top of it—all in a very determined effort to create an air gap that bars moisture from entering.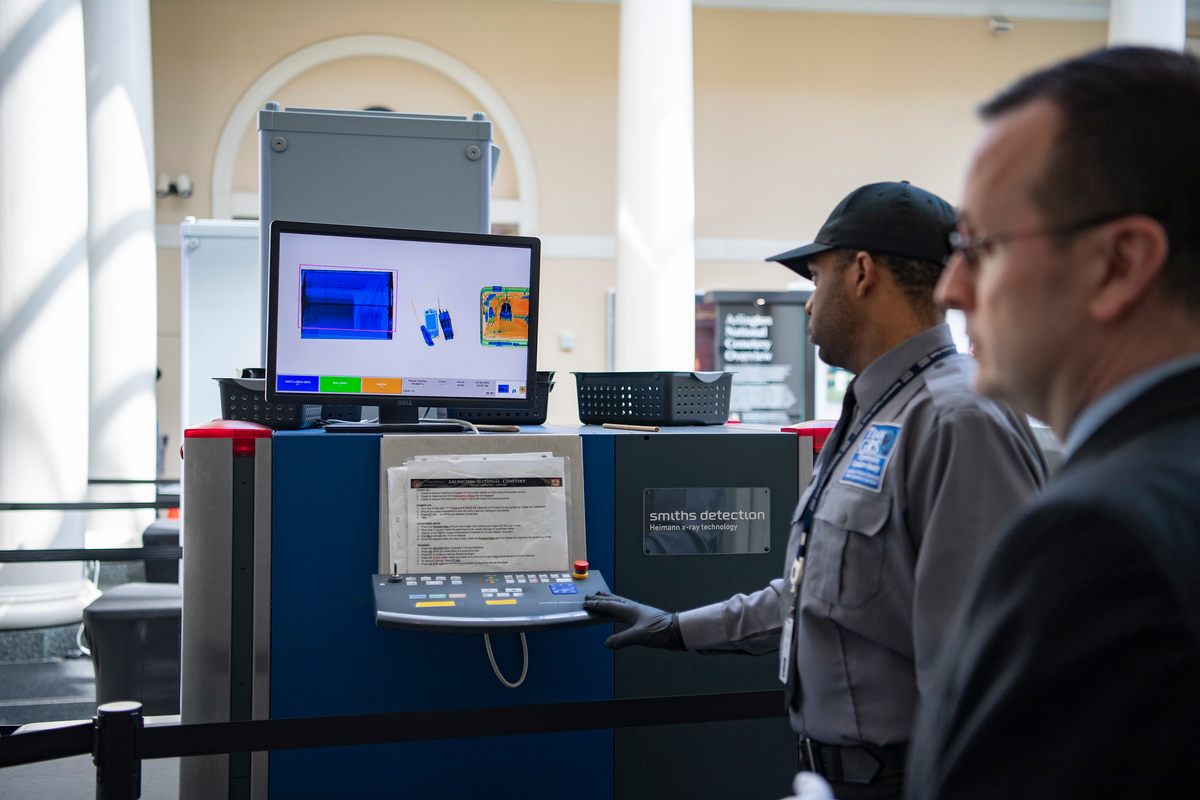 To prepare the team to open it in spring, Smith consulted with other conservators about what they'd be likely to encounter, and Frank compiled historical notes. (He also watched several YouTube videos of other time capsules being pried from cornerstones, to get a sense of different tactics. Some took a gingerly approach, while others just bashed the thing to hell with a sledgehammer.)
The Arlington team was cautious, and once the box had been freed from the cornerstone, carted it over to the Welcome Center's X-ray machine to get a sense of what was sitting where, and where Smith should cut. ("Since this is in the middle of a pandemic, it was the MacGyver way of doing things," Frank says.) Smith drilled some pilot holes in the upper corners, inserted a borescope to check the placement, and then used tools including hacksaws, rotary tools, and metal snips to access the contents inside.
Frank hung back, to give Smith room to work, but his anxiety spiked again. "When I heard someone say, 'Oh, is that water at the bottom?' I felt like my heart was going to explode," Frank says. "I'm sure my face went pale. All I could picture was opening up a box full of mushy papers."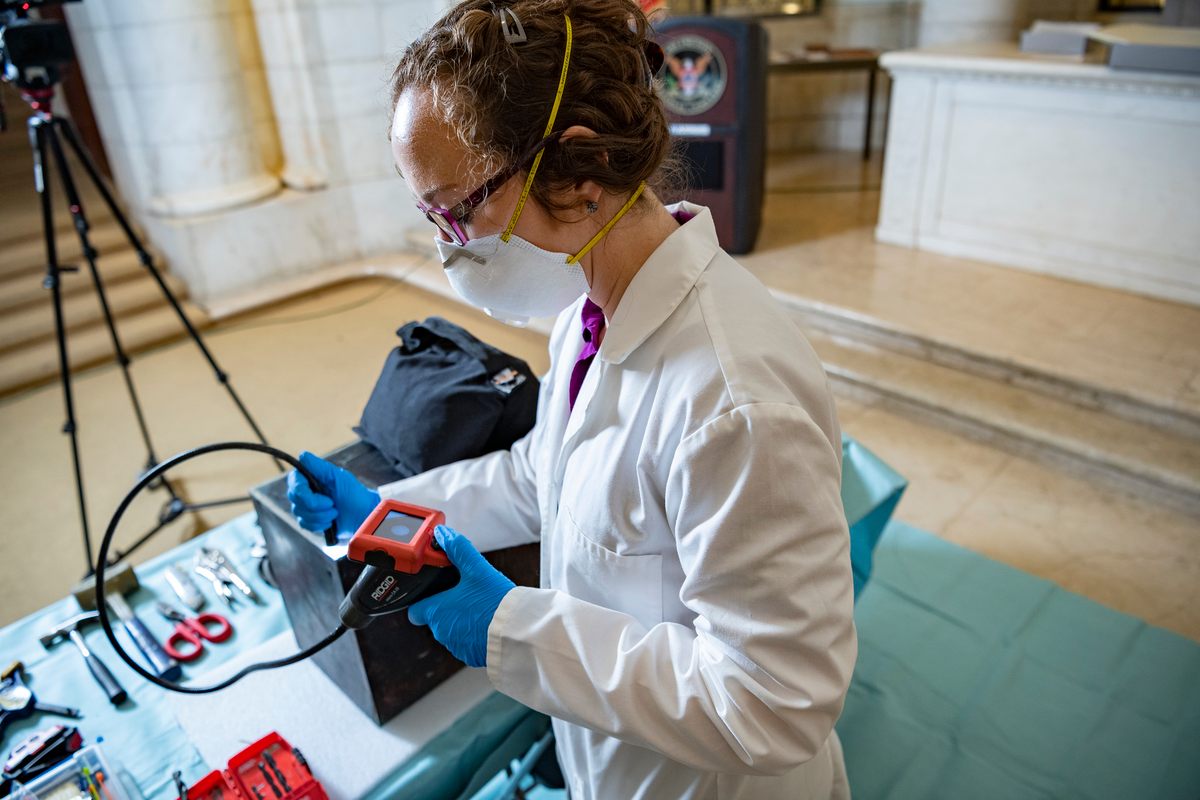 There was a bit of condensation, puddling, and verdigris here and there —on the outside and inside of the outer box, and on the outside of the inner one. But, happily, the inside of the inner box, where all of the ephemera was, seemed to be spared.
Far from floating in standing water, "everything inside was, as far as we could tell, dry," Smith says. "No signs of mold, most objects were wrapped or tied, everything appeared to be okay." The silk flag was swaddled in paper, and the Bible was wrapped in something resembling wax paper or oil cloth. There were signs of mice having nested in the cavity of the cornerstone, but they seemed to have kept a respectful distance from the box; there were no signs of them, or any other pests, inside. With the exception of a few ties that had begun to degrade and some architectural papers gone slightly brittle, "the papers were mostly still soft, with no staining," Smith says. Overall, the items "are in great condition, and didn't show too many signs of aging."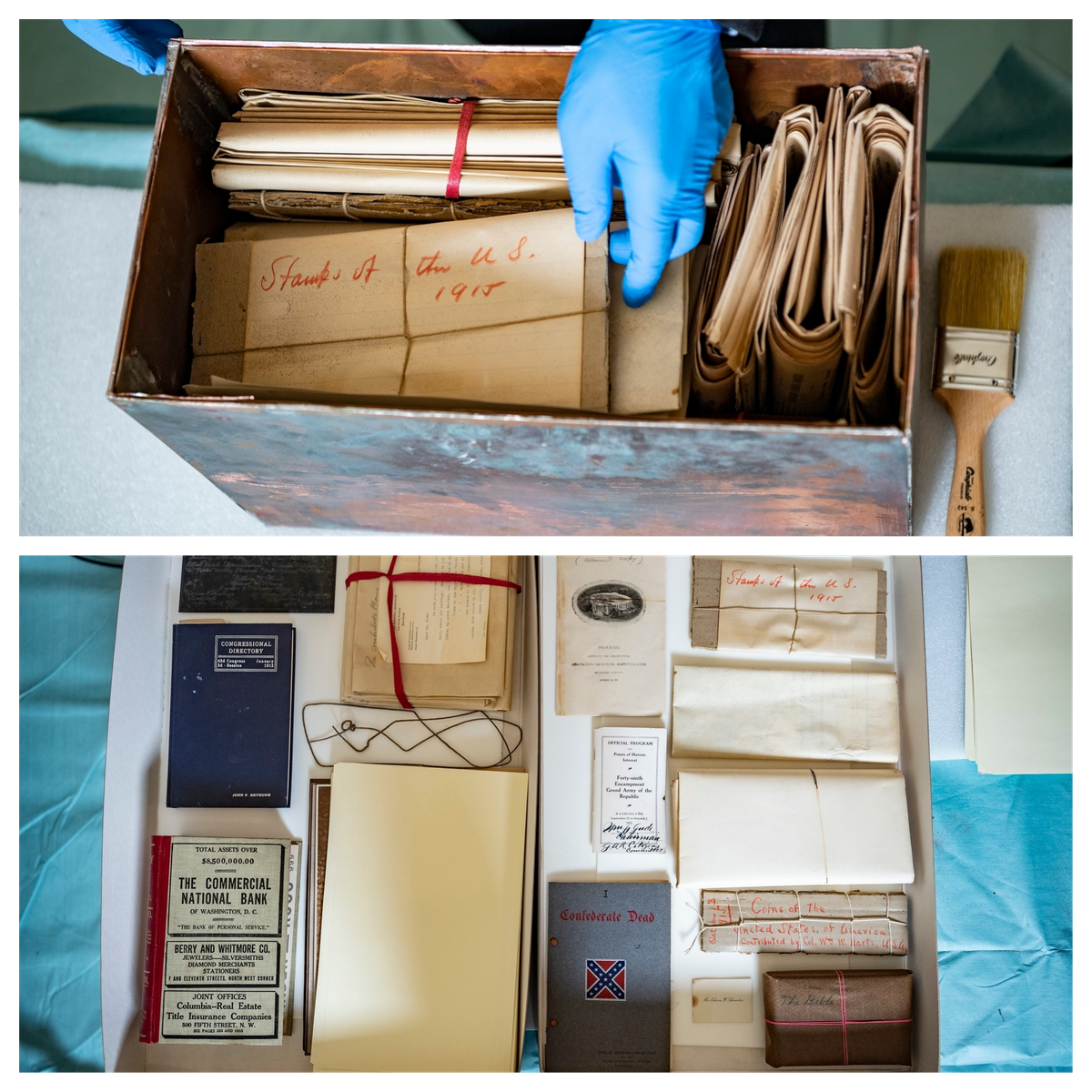 Sometime in the future—COVID-19 has thrown a wrench in the exact timeline—the staff will place a new time capsule in the old one's stead. And this time they'll do a few things differently. For one thing, the new capsule will be made of stainless steel and stuffed with items donated by folks who have a hand in the day-to-day operations of the cemetery—chaplains, horticulturalists, tomb guards, and others. For another, the items will be tucked inside individual containers, bags, or envelopes, and flanked by desiccants and oxygen absorbers. The box will be flushed with dry nitrogen for good measure, and sealed in a cool, low-humidity space. Hopefully, in a century or so, the contents will still be looking good.
If you're looking for something to do to pass a long, socially distant afternoon, you could make your own time capsule—no shovel-wielding necessary.
"There is a mystique to burying a time capsule," says Smith. "But knowing all the risks—future construction, fluctuating environmental conditions, [changing] groundwater levels—I think I feel safer installing my time capsule above ground, in a structure. Or even hiding it away in my home and passing it down through the generations."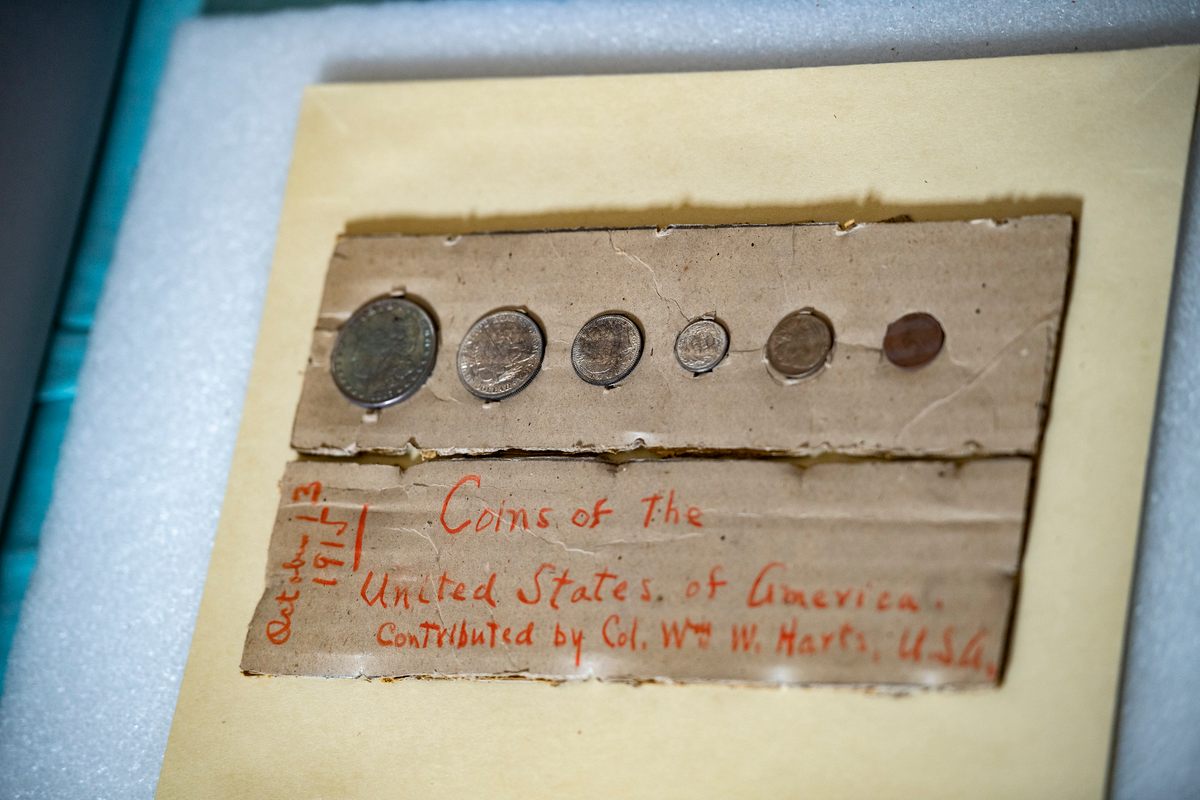 Paper, metal, glass, and ceramics are easier to preserve than electronics, textiles, or food, she adds. And the Library of Congress, the American Library Association, and the Canadian Conservation Institute all have step-by-step guides. Whether you tuck something into the soil or just pack it away on a shelf, you'll be planting a seed for someone else to have a future relationship with the past.
"One of my favorite things about architectural conservation and [Arlington National Cemetery's] own memorabilia box is finding fingerprints that have survived for a century and placing my hand in the same location," Smith says, "remembering that what I am touching was put in place by another person, also just doing their job, and knowing that we are both connected to this same place, albeit many years apart."