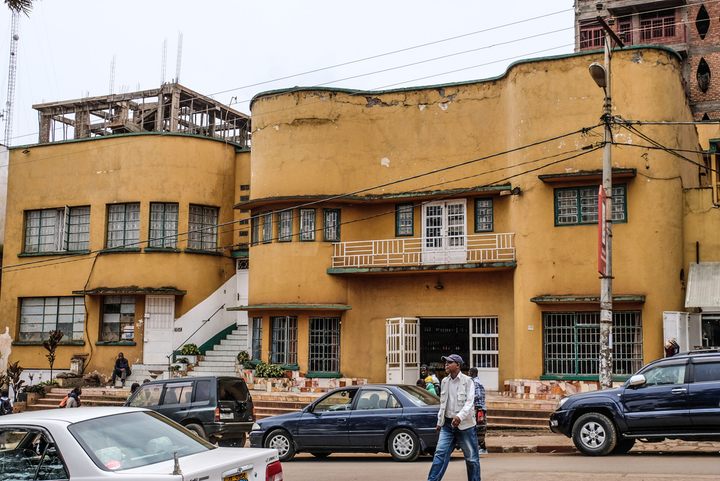 The Art Deco Capital of Central Africa
In Bukavu, beautiful buildings have an ugly colonial history. But locals want to save them.
Our Lady of Peace Cathedral in Bukavu, a city of one million in the Democratic Republic of the Congo, is perched atop one of the highest hills in the area. With its sharp outlines, geometric precision, and green, curved roof, it's easily spotted from the edges of town. A relic from the period when Congo was colonized by a brutal Belgian regime, it's a part of a rich, if unexpected, architectural legacy in Bukavu: The city is a world capital of Art Deco architecture.
Bukavu has more than 100 Art Deco buildings. Walking through its streets, you see geometric lines, chevron motifs, stepped rectangles, curved walls with cylindrical roofs. But most of these structures, with the notable exception of the Cathedral, are now dusty and beginning to crumble. "People used to call this city the 'Switzerland of Congo,'" says Pierre Mpemba, 55, a local historian. "We were known for all these beautiful buildings. But that's disappearing."
Too often, this architectural history is forgotten in a city that outsiders associate with endangered gorillas, Africa's First World War, the 2018 Nobel Peace Prize winner Denis Mukwege, and the ongoing presence of humanitarian agencies and UN peacekeepers.
Beginning in Europe in the 1920s and 30s, Art Deco symbolized modernism, the technological future, the "machine age." All clean and curved lines, geometric shapes, bright colors and glamour, the style was meant to signal wealth and sophistication. As it spread from Europe to places that Europeans colonized, it also symbolized and beautified imperial domination, according to scholars such as Swati Chattopadyay in the Routeledge Companion to Art Deco.
"Art Deco architecture was abundant in colonial cities in the 1920s and '30s," says the architectural historian David Rifkind. "Colonial authorities liked Art Deco because it portrayed an image of technological modernization that was intended to present colonization as a benevolent and 'civilizing' gift to native inhabitants." Its association with glamour and international travel, says Rifkind, gave the impression that the colonizers were dynamic and forward-thinking.
In Bukavu, colonial-era buildings exemplify a particular type of international Art Deco architecture that emerged in the 1930s, according to Adedoyin Teriba, an assistant professor of art and urban studies at Vassar College. "There is no doubt that the buildings exemplify 'Streamline Moderne,'" says Teriba. The style was inspired by aerodynamic engineering, as seen in the curvilinear edges of many of Bukavu's buildings, imitating the surfaces of airplanes.
To architects and historians, these buildings capture a signature style of colonialism, of an imperial drive toward the future. But for today's residents, these buildings are a daily reminder of both a painful colonial history and a frustrated, politically futile present.
Belgians first seized the Congo during the so-called Scramble for Africa, in which European colonial states carved up the continent. Between 1885 and 1908, King Leopold II of Belgium treated the Congo Free State as his personal property; his forces violently enforced rubber and ivory quotas and were responsible for the deaths of millions of Congolese people. After international outcry, King Leopold gave the territory to the Belgian Parliament in 1908; colonists continued to oppress and discriminate against Congolese people.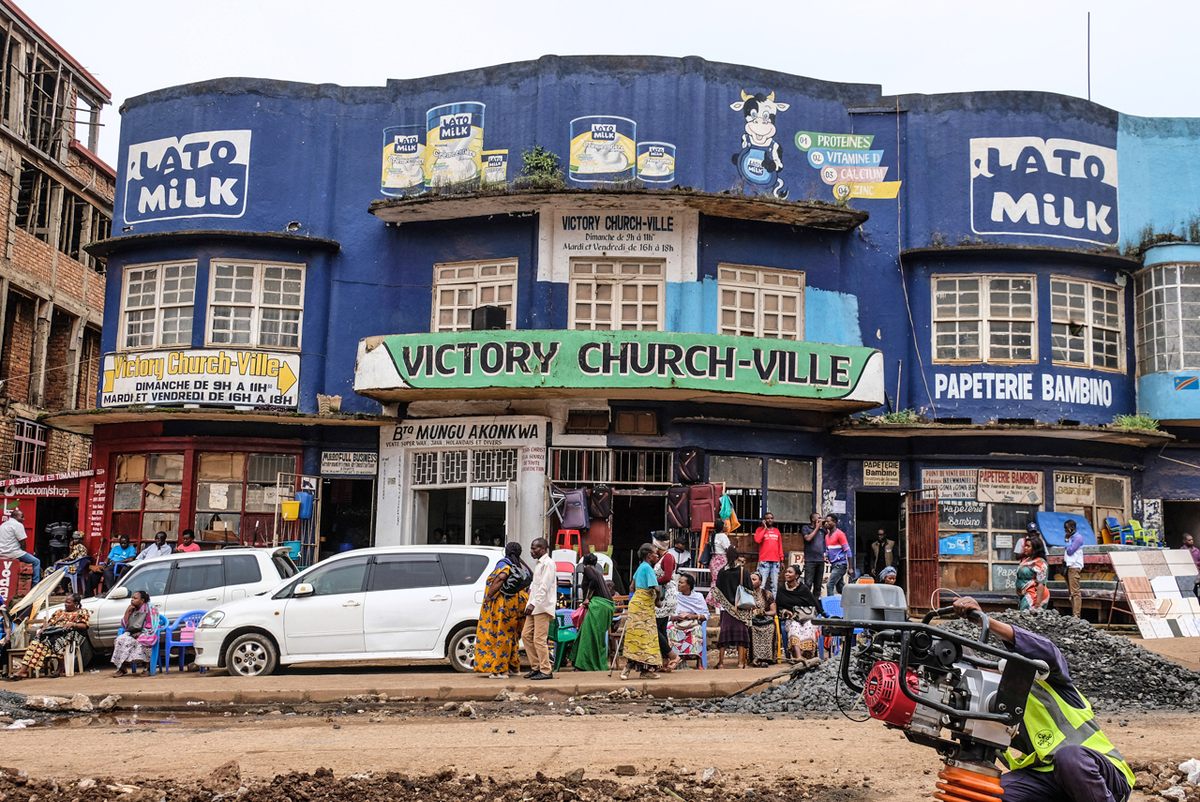 The Art Deco buildings in Bukavu were constructed a few decades later, for Belgian use only. "After 11 a.m., Congolese people—except housekeepers and help—weren't allowed in that part of the city," says Mpemba. "It was highly segregated." The Belgians were recreating their own white, European city on the shores of Lake Kivu.
In Mpemba's view, these old buildings, and the infrastructure built by the Belgians—schools, hospitals, roads—are some of the only redeeming remnants from the era. Bukavu had a reputation for being a strikingly beautiful place. "They left us this legacy. But Bukavu is losing its beauty. We haven't taken care of our heritage."
One of the problems is that Bukavu's population has skyrocketed since 1996, when the First Congo War began to decimate rural communities. People fled for safer ground in the city. Also to blame are the decades of exploitation by Congolese rulers, beginning with Mobutu Sese Seko's 31 years of kleptocracy after independence, which left Congolese communities impoverished and without effective leadership. "We need responsible leaders to keep these things up," says Mpemba. "But the Belgians didn't leave us with a legacy of good leadership."
Nicole Madjaliwa, who is 27, also wishes that locals would take better care of historic architecture. "We've let these buildings fall apart," she says. "And our own construction is uneven and unstable." In February, Madjaliwa stands outside her workplace, EquityBank, which is now housed in an Art Deco-style building. Its facade is beginning to crumble, and the once-streamlined curves that scalloped the roof are losing their shape. But Madjaliwa says she loves working there. "It's one of the buildings that everyone knows, from that time."
The house where Madjaliwa lives with her family was also constructed during the colonial period. Although it is not specifically in the Art Deco style, she appreciates its solid construction, its history, and the wood accents that line the ceiling's edges. But, she says, things are changing: "They're going to tear this down soon to build something else, because it's old. I'm not happy about it. I prefer this house. It feels more Congolese, with all the wood from our forests, than the new construction of concrete!"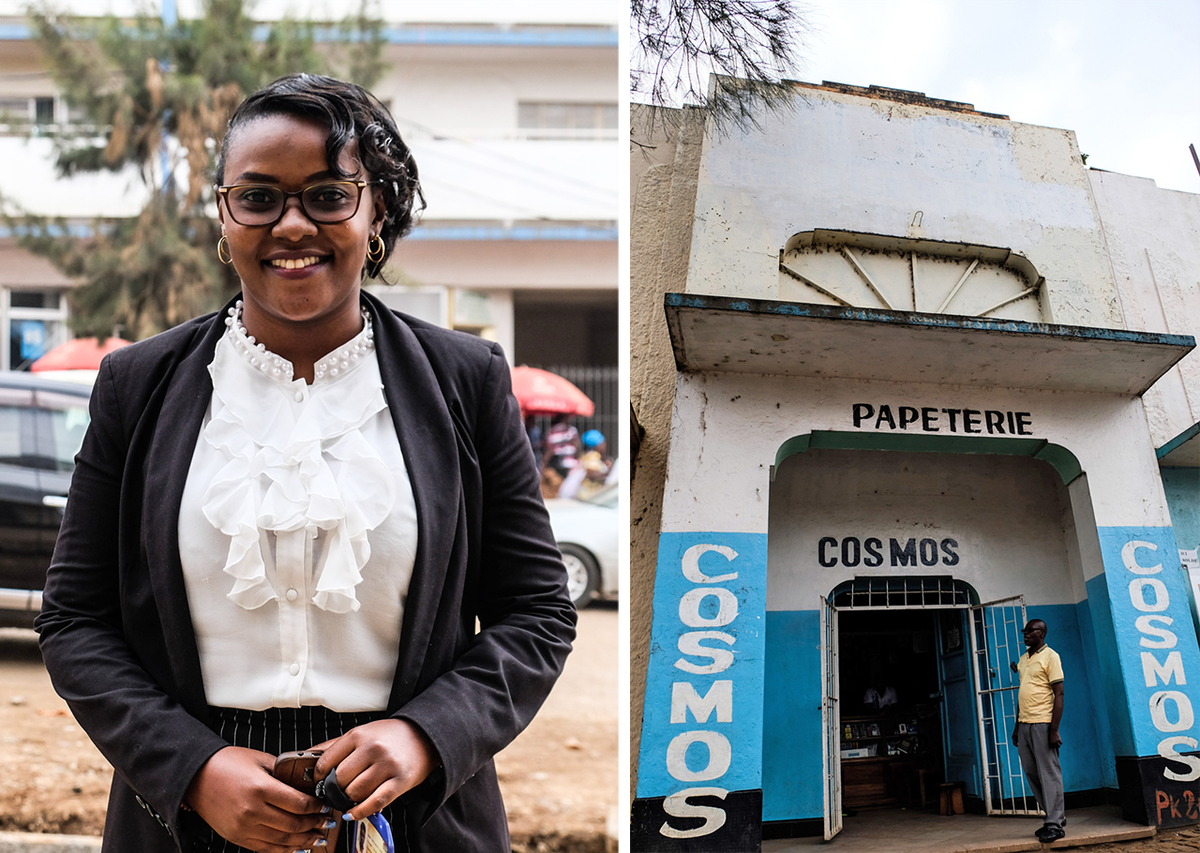 For Madjaliwa, the state of old buildings reflects Congo's ineffective political institutions, and the local government's inadequate response to the city's rapid growth. "It's a bit of a shame that because of politics and corruption, the structures that the Belgians put in place are now destroyed," she says. "We could have taken what was good from the bad. But it didn't turn out that way."
It may seem difficult to find anything redeeming in the oppression and violence of colonialism. But Valery Namuto, a 38-year-old development professional, says that Congolese people have a tendency to be optimistic—they've had to to survive. "We are forgiving. We are hopeful. This is what keeps us going," he says. "But there is a certain sadness because we've let the buildings go and haven't kept them up."
Namuto sees the potential for these relics from a different era to be transformed, renewed, and perhaps even made to be a tourist attraction. Napier, New Zealand, is famed for its 150 Art Deco buildings. Mumbai, Havana, Shanghai, and Miami top lists of the best Art Deco cities in the world. Bukavu is often left out. "There are cities in the world that are famous for this," he says. "Why not us?"
"What if tourists came here not just for gorillas, but for the city?" asks Namuto. "In a sense, we should be proud of these buildings. They may not have been designed by us or meant for us. But they were constructed from materials from Congo, from our sweat. They belong to us just as much as they did to them."