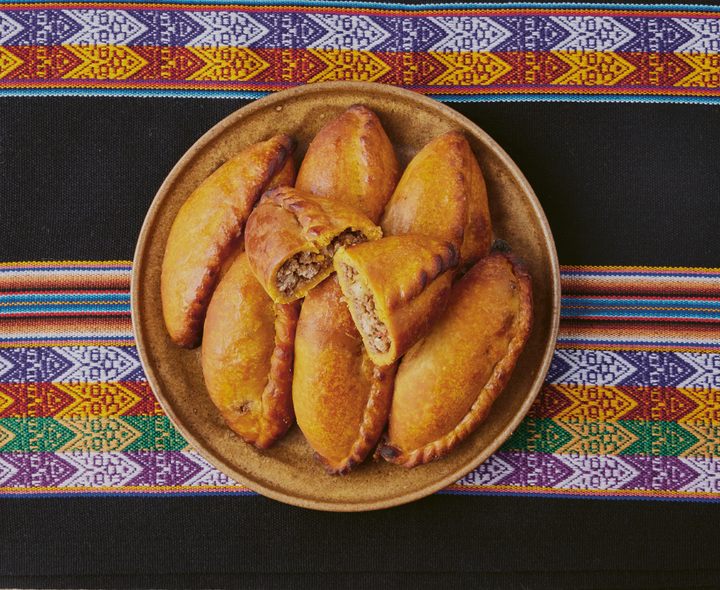 Gastro Obscura's Favorite Cookbook Stories of 2022
Learning to dine with the dead, eat well in Antarctica, and cook for the end of the world.
Like cooks themselves, cookbooks are often keepers of historical records. Whether it's recipes to survive a long, dark winter in Antarctica or to fuel a feminist revolution, the best examples of the genre often provide snapshots in time. Others speak to the current zeitgeist, including our current anxieties about the possible impending apocalypse.
At Gastro Obscura, we're all about using food to tell stories that go way beyond the kitchen, which is why these particular cookbooks and the people who made them resonated with us. Here are the backstories of cookbooks that we'll be thinking about for years to come.
Cinnamon buns, pork dumplings, cheese fondue—these aren't exactly the kinds of meals that early Antarctic explorers would have expected. In the days of Sir Ernest Shackelton, eating on the Earth's southernmost continent was a matter of survival and occasionally stewed seal.
According to Wendy Trusler and Carol Devine, authors of The Antarctic Book of Cooking and Cleaning, the researchers who brave the cold dine rather differently these days. This memoir and cookbook delves into the challenges of feeding oneself and a whole crew in one of the most hostile places to human life on the planet.
Death is delicious, at least if the recipes in Mariana Nuño-Ruiz McEnroe's cookbook are anything to go by. In Dining With the Dead, the Guadalajara native explores regional ofrendas, or offerings, made for the Día de Muertos. You'll find a recipe for sugar skulls here, along with detailed instructions on how to decorate them, but McEnroe also includes less-expected options such as amaranth-and-honey skulls.
There are also recipes for everything from Yucatán's mukbil pibipollo, a rich tamale that must be "buried" in an underground oven, and Oaxaca's querubines Oaxaqueños de pan de yema, sweet breads shaped like bodies and crowned with cherub heads.
Let's face it: the current news cycle doesn't inspire much optimism. Given the state of, well, everything, it's not hard to understand why the demand for off-grid prepper bunkers is on the rise. The Anthropocene Cookbook: Recipes and Opportunities for Future Catastrophes is not so much a conventional cookbook as a series of thought experiments in the spirit of planning for doomsday.
Oslo-based authors Zane Cerpina and Stahl Stenslie include both feasible and far-fetched ideas, such as the Human Hyena, a 2014 work by artist Paul Gong, that imagines a world in which humans could digest putrid food courtesy of hyena stomach bacteria.
While it might seem counterintuitive for suffragettes to circulate recipes that require women going back to the kitchen to make them, that is precisely what radical 19th-century feminists, including Alice B. Stockham and Carrie Chapman Catt did. Part of this was a canny PR strategy; by reaching out to the public through recipes, these women were subtly challenging their misogynist critics, who claimed that suffragettes would abandon their domestic duties.
The Woman's Suffrage Cookbook, a recipe collection compiled in 1886 by Hattie Burr, offers fascinating insights into race, class, and gender politics of its era—along with recipes like Harriet Beecher Stowe's Graham Bread. It also contains plenty of digs at the patriarchy, like a instructions on how to make a bacon-and-cheese sandwich by Susan B. Anthony's niece, Lucy, who quips, "I never did it, but somebody must be able to do it who could do it well."
With 430 pages containing 600-plus recipes from 22 countries, The Latin American Cookbook is a beast. Virgilio Martínez, chef at the award-winning restaurant Central in Lima, wanted to create a tome that captured the staggering cultural, geographical, and culinary diversity of a region that runs from Mexico through Central America down to the very tip of South America.
The result is delicious, both for the recipes themselves and for the deeply researched nuances between them. This is where readers will learn why alfajores, the flaky cookies brought by Spanish colonists to the Americas, come frosted in Argentina, loaded with a spicy-sweet filling in Chile, or in a super-sized, four-layered creation known as "King Kong" in northern Peru.
Gastro Obscura covers the world's most wondrous food and drink.
Sign up for our email, delivered twice a week.