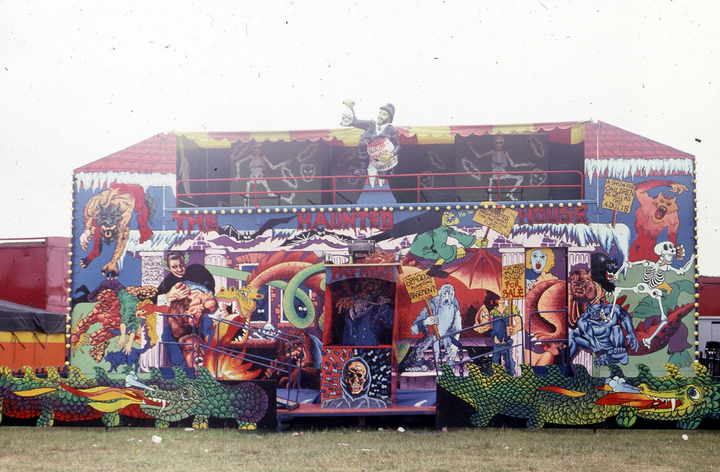 This British University Has an Archive of Ye Olde Haunted Houses
The times have changed, but the thrill remains the same.
The photographs housed at the University of Sheffield's National Fairground and Circus Archive aren't really meant to be spooky, but there's just something about a vintage snapshot of a vacant carnival ride or empty sideshow stage that feels like a peek onto a horror movie set.
That makes sense to collections manager Arantza Barrutia. She points out that, for many, fear is integral to the experience of a fair of any sort. The draw is "the thrill experience, the feeling of fear you get when you go on a ride or into a funhouse." In the heyday of Britain's fairgrounds, from the Victorian era and into the early 20th century, the country's showmen were savvy businessmen, Barrutia says, who played with this idea of titillating audiences with fear. "Anything that entertained the public, the showmen would have been there, developing that idea," she says. By the early 20th century, that often included the haunted house and the ghost train, in which fairgoers rode through dark tunnels inhabited by mechanized ghouls (commonly known in the amusement world as a "dark ride"). Barrutia speculates that widespread interest in spiritualism and communicating with those in the great beyond were responsible for these carnival mainstays.
The fairground has long played an important role in the culture of Britain. "In the Victorian era, it was the hub for the working people to go and get together to escape their drab life," says Barrutia. "It was the place where they saw electricity for the first time, steam power for the first time, moving pictures for the first time."
All those stories, as well as the lives of the show families who created these fantastical spaces, are told in the National Fairground and Circus Archive, which spans some 400 years of history. And in the haunted houses included among the archive's nearly 80,000 digitized images we can find a delightful kind of horror story: a catalog of what has scared us, both now and then.
Here's a selection from the archive.