India's 'Land of Toys' Has an Uncertain Future
Channapatna's wooden creations are on the brink of fading out in the next couple of decades.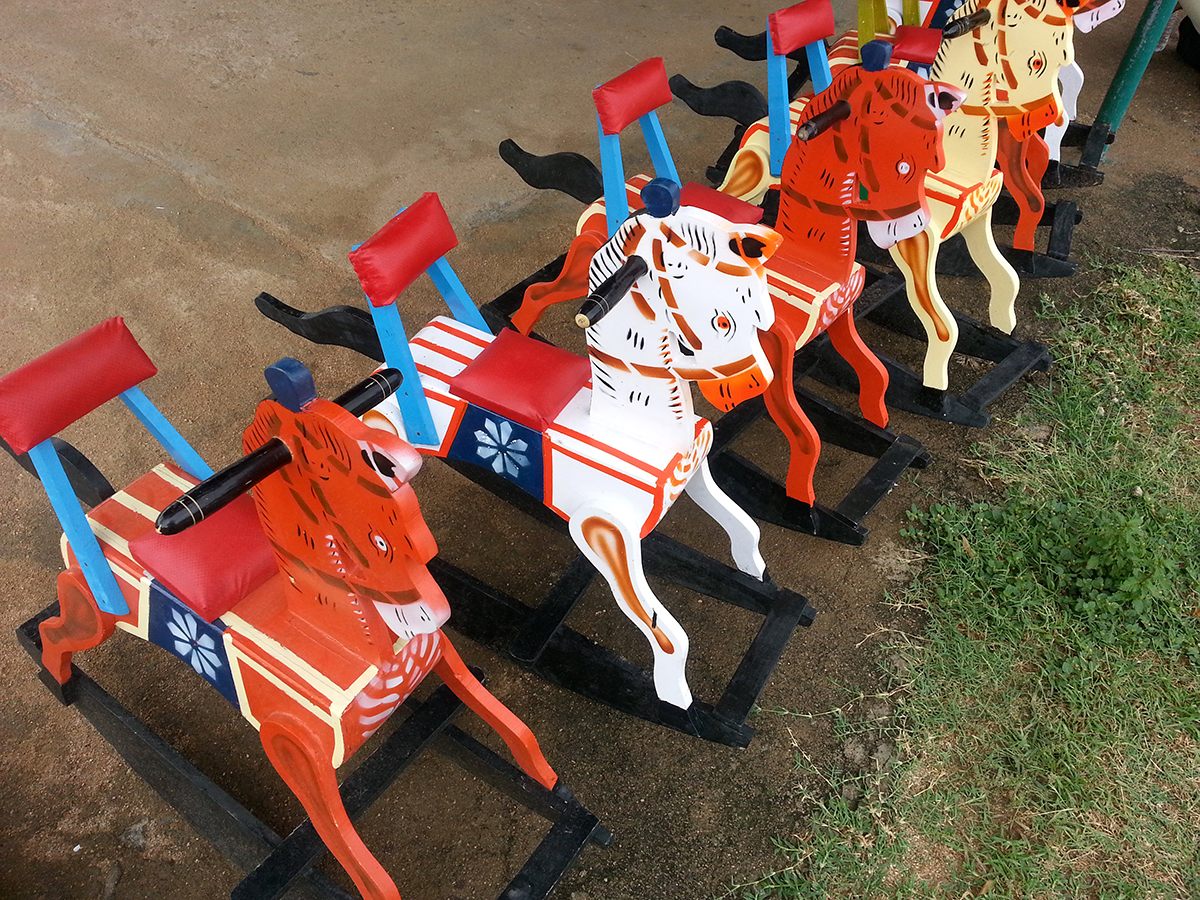 Just an hour's drive out of the south Indian city of Bengaluru, a green overhead signboard welcomes visitors to the "Land of Toys"—Channapatna. The wide highway to Mysuru that cuts across the town is lined with small shops with dozens of wooden rocking horses outside that beckon shoppers with their cheerful colors. The interiors of these stores overflow with a dazzling array of lacquered toys of all shapes and designs.
All these are made in this very town, Channapatna, where local artists have been keeping the Persian art form of toy-making alive for over two centuries now. The craft was brought to this region by the local ruler Tipu Sultan in the 18th century; he was so charmed by a toy he received as a gift that he invited Persian artisans to train his people. Many houses in Channapatna still double up as workshops, where entire families—both Hindu and Muslim—are involved in the process of making and selling the toys.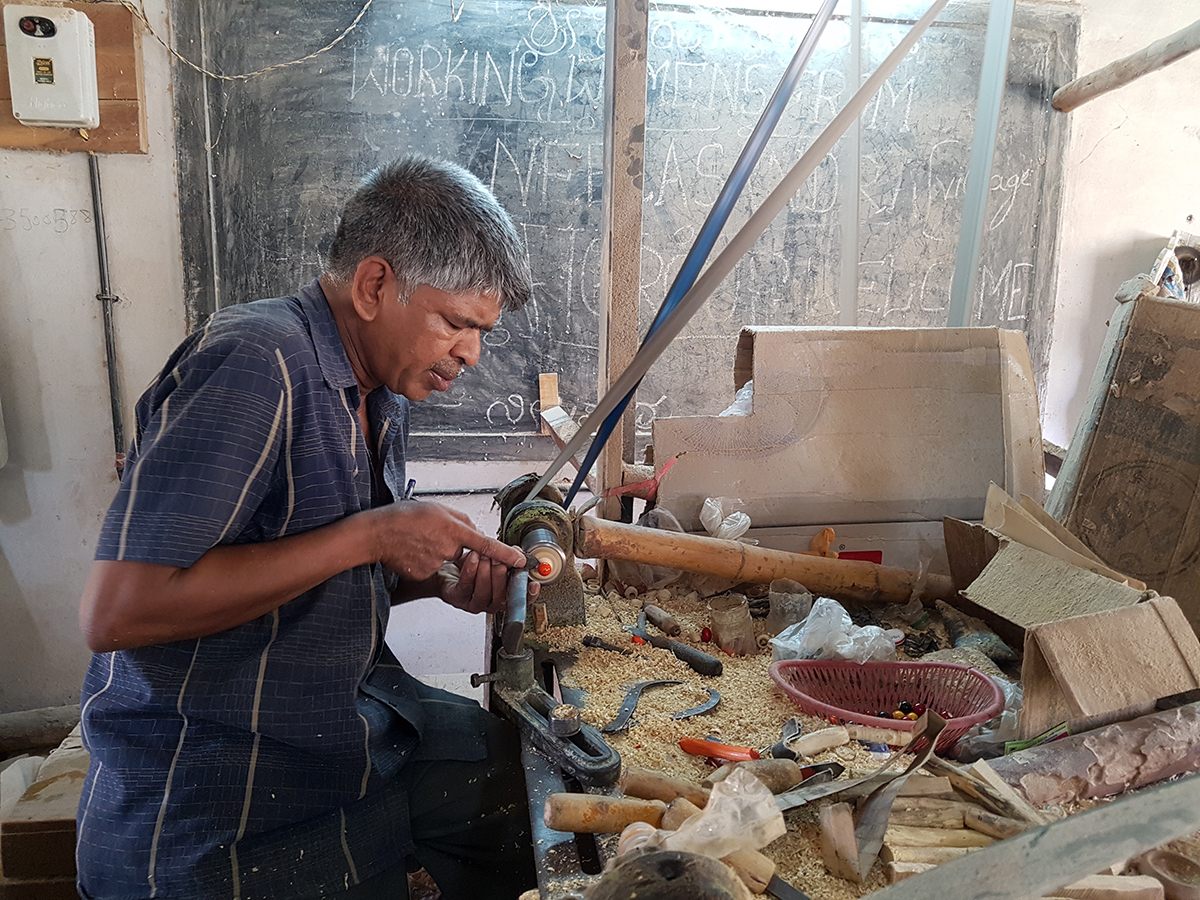 Turning off the main highway into the town, the workshop of the Karnataka State Handicraft Development Corporation comes into view. Inside the hot and dusty workshop, six machines are in full whirl, the fine sawdust and splinters from the wood flying in the air and falling in heaps everywhere. Most of the dozen-odd artisans at this government-sponsored workshop are shirtless, in a nod to the sweltering afternoon of an Indian summer.
Ignoring—or immune to—the dust and noise, the craftsmen carry on with practiced ease, cutting, chiseling and lacquering a variety of products, from bangles and hair clips to animal figures and spinning tops.
Channapatna toys are made from the wood of a local tree called Haale Mara (Wrightia Tinctoria), too soft to be used in furniture. The wood is dried under the sun for nearly two months to remove all traces of moisture, and then chopped up into uneven blocks. These slowly take on shape and meaning at a mechanized lathe at the hands of these skilled craftsmen, who then spread lacquer till the product assumes a glossy finish.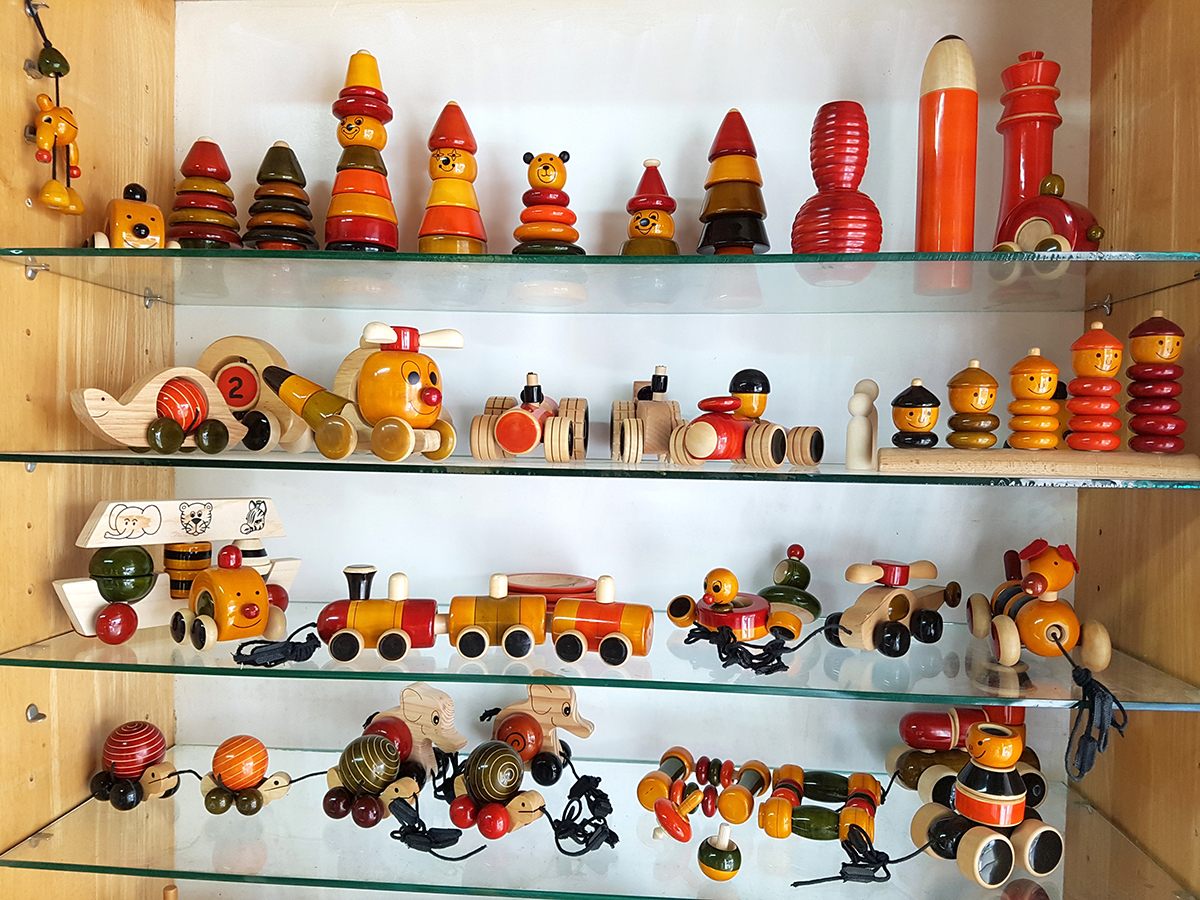 Mohammad Shariff, 49, has been in this trade for over 35 years now, starting out as an apprentice under his father, who in turn learned the skill from his own. When things got tough in the market, his father shut down the home production unit, while Shariff found work at this small factory. Today, apart from the local shops, he has dedicated buyers across India.
The Channapatna toys range was initially limited to animal and human figures, and simple games for children, popular mainly in the southern parts of the country. But over a decade ago, competition from the China—whose inexpensive, machine-made toys flooded the Indian market—left many of these toy-makers in dire straits. Combined with a lack of knowledge about marketing, and middlemen who did not pay fair prices to the producers, the industry began to flounder.
The situation improved soon enough on its own, when the imported Chinese toys, with toxic dyes and cheap materials, were found to be unsafe for children.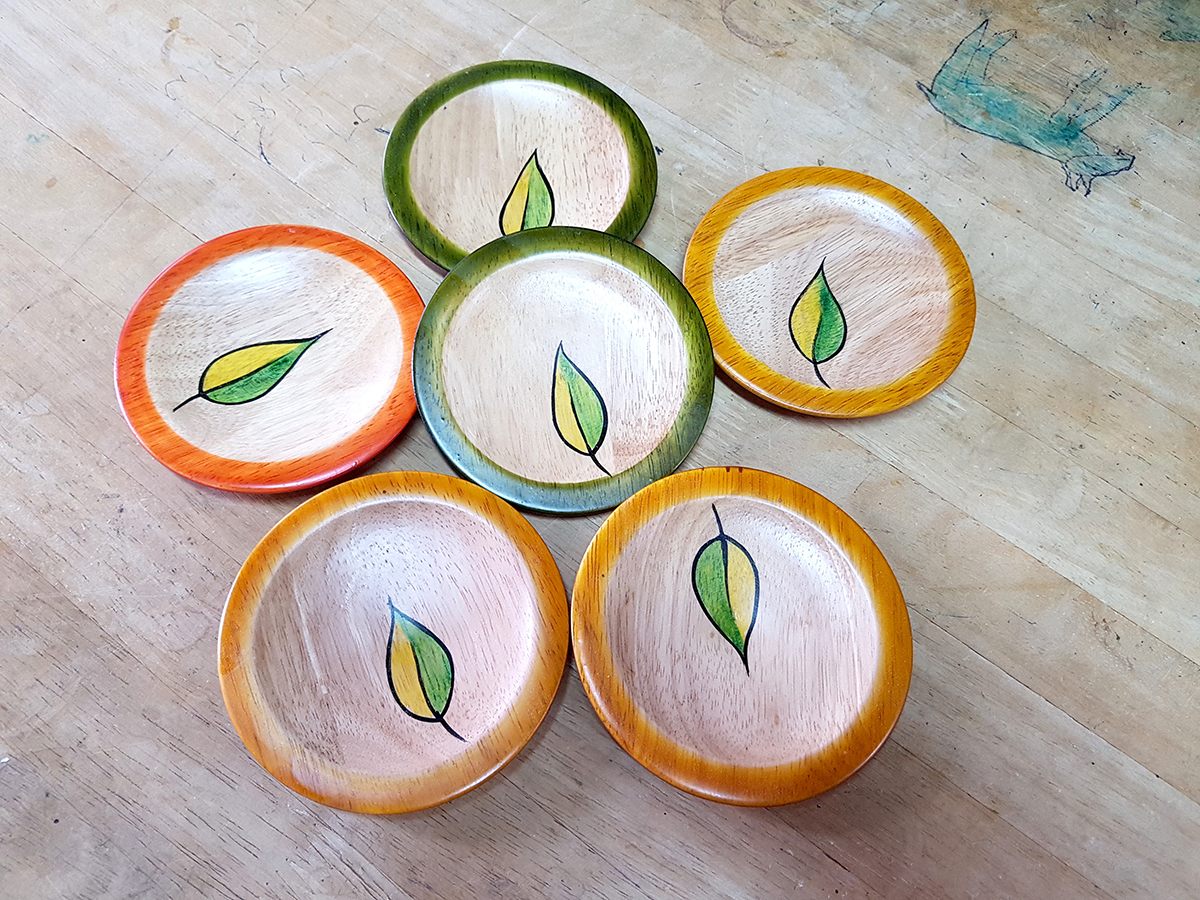 The good thing about the brief slump was that the Channapatna artisans, with the help of a few not-for-profit agencies and product designers, started creating more sophisticated and contemporary toys and puzzles, home décor items like napkin rings, salt and pepper shakers, and storage jars. Another boost came in the form of a GI (Geographical Indication) status given by the World Trade Organization, a recognition of the uniqueness of this region's craft.
Shariff is among those who benefitted from this. He says over the unrelenting din of the machines, "Earlier there were limited designs, and everyone used to make and sell the same things day after day. Now, there are new designs we are taught every few months, so there is more demand outside (the country)." He is just one among the thousands of experienced and skilled toymakers in Channapatna today, each with similar life stories.
Apart from the unique and delightful designs, Channapatna toys (as all products coming from this town are informally called) have the advantage of being completely eco-friendly. Even 10 years ago, all of the work used to be done by hand, but now most of the basic production is done on machines operated by hand. The lacquer is created with totally natural dyes, such as turmeric for yellow, indigo for blue and vermillion for red, all of which lend themselves to a rich and alluring finish.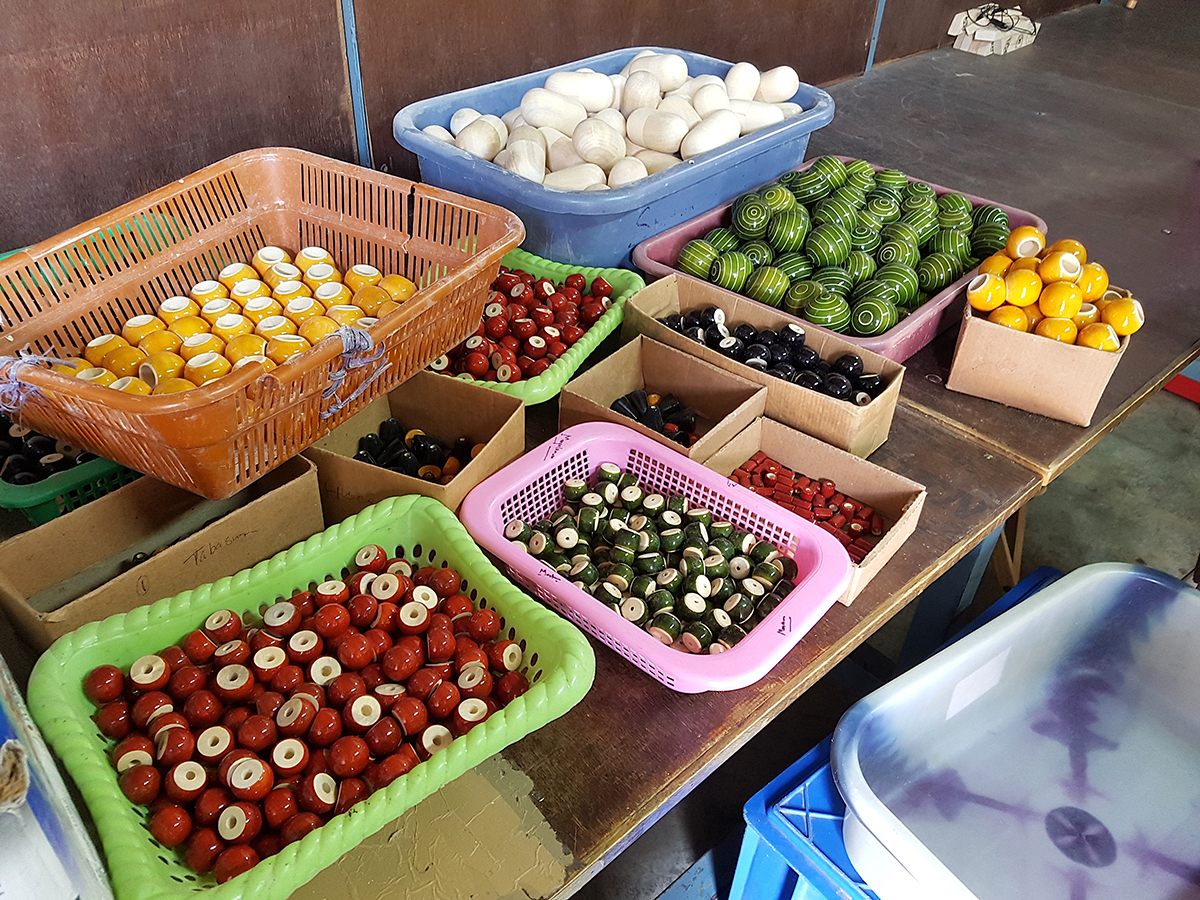 There has been a growing demand for Channapatna toys overseas, with significant exports to countries as far away as Japan and the United States. Michelle Obama, in her 2010 visit to India, bought some from the National Handicrafts and Handloom Museum in New Delhi, suddenly shining the spotlight on the town. And Microsoft India is one of their largest regulars, sourcing mathematical and logical games and puzzles for use in their education projects in rural India and other developing countries.
In this town of just over 70,000 people, more than 1,000 families are involved in the trade in some form, either from home or small collective workshops. However, despite all the interest shown by the outside world in this traditional form of toy-making, there is no sense of hope or optimism among the Channapatna artisans.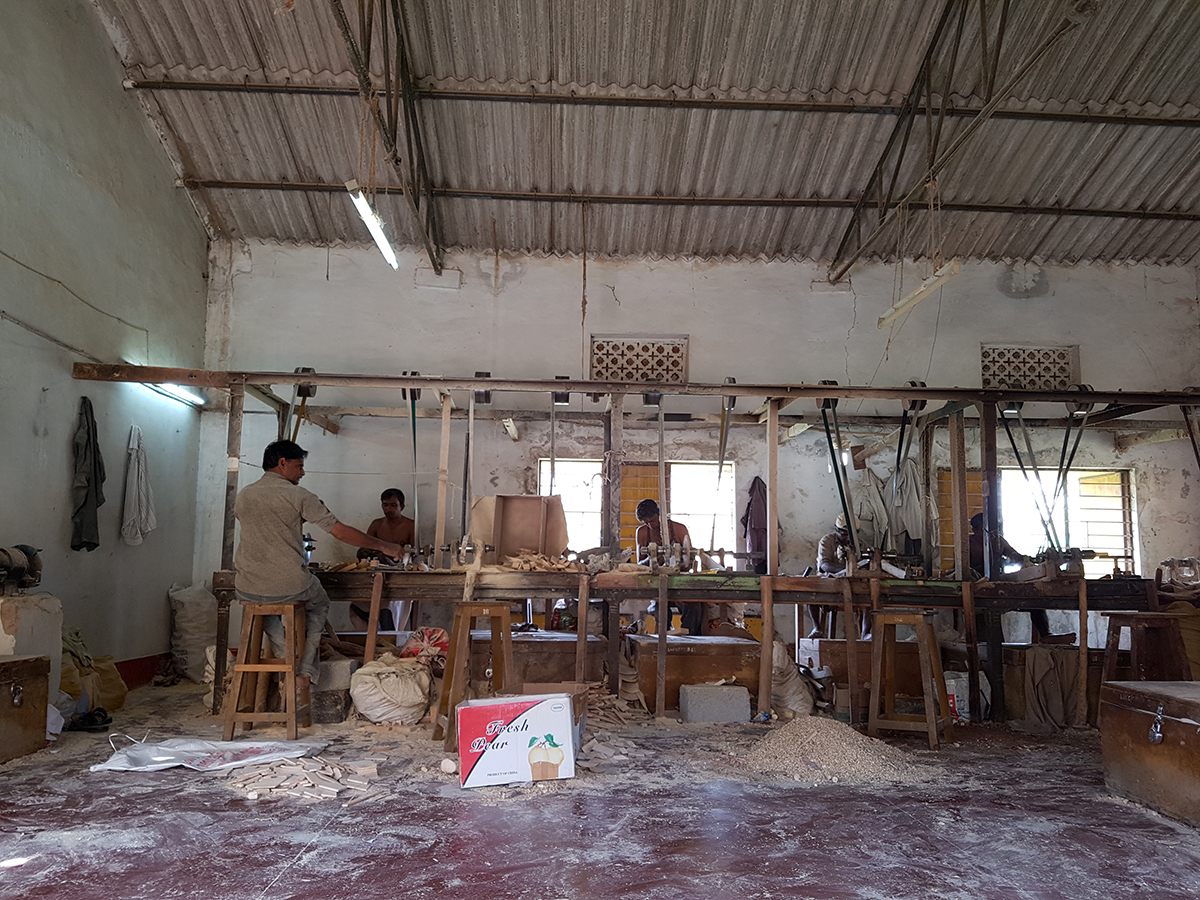 There used to be a time when three generations of craftsmen worked together at home. Increasingly though, artisans no longer want to introduce their children to this work, with the younger generations preferring to study or find easier employment in the big cities. For instance, Shariff (who has no formal education) made sure his two sons completed high school, and is proud of the fact they now work outside Channapatna. Like many other indigenous crafts in India, Channapatna toys are on the brink of fading out in the next couple of decades.
But for now, plump Santa Claus figures, sunglassed drivers inside snazzy racing cars, pull-along cutesy turtles, winding trains with interlocking coaches, stackable counting aids and stylish chess sets: Channapatna offers up something for everyone.