The First Cat in Space Deserves a Memorial
And if all goes well, she's finally going to get one.
On October 18, 1963, a small rocket took off from a launchpad in Hammaguir, Algeria. It rose about 100 miles, cutting through the atmosphere, before it hit its upper limit and began plunging back to Earth. A small capsule separated from the rocket and floated down to land in the desert, and a team of French scientists helicoptered over and retrieved its inhabitant: a black and white cat named Félicette.
Fifty-four years later, this fluffy pioneer will finally get her due. Thanks to a successful Kickstarter started by Matthew Serge Guy, preparations have begun for a permanent memorial to the world's first astro-cat.
Guy, a creative director at a London ad firm, was originally inspired in his pursuit by a chance encounter with a Félicette-themed tea towel, which he found in the kitchen of his shared office space. He had grabbed the cloth to dry a cup, and when he noticed what it said—"TO COMMEMORATE THE 50TH ANNIVERSARY OF THE FIRST CAT IN SPACE"—he stopped mid-drip.
"I just stared at it for about a minute," he says. "I had no idea that a cat went to space."
He's not alone. While America's space monkeys and Russia's cosmonaut dogs have imprinted on the popular consciousness, Félicette and her journey are shrouded in obscurity, legend, and confusion.
A short documentary preserved by France's National Audiovisual Institute provides some information about the purpose of her journey. Scientists hoped to measure the impact of space travel on brain activity, and implanted an electrode in her head for this purpose.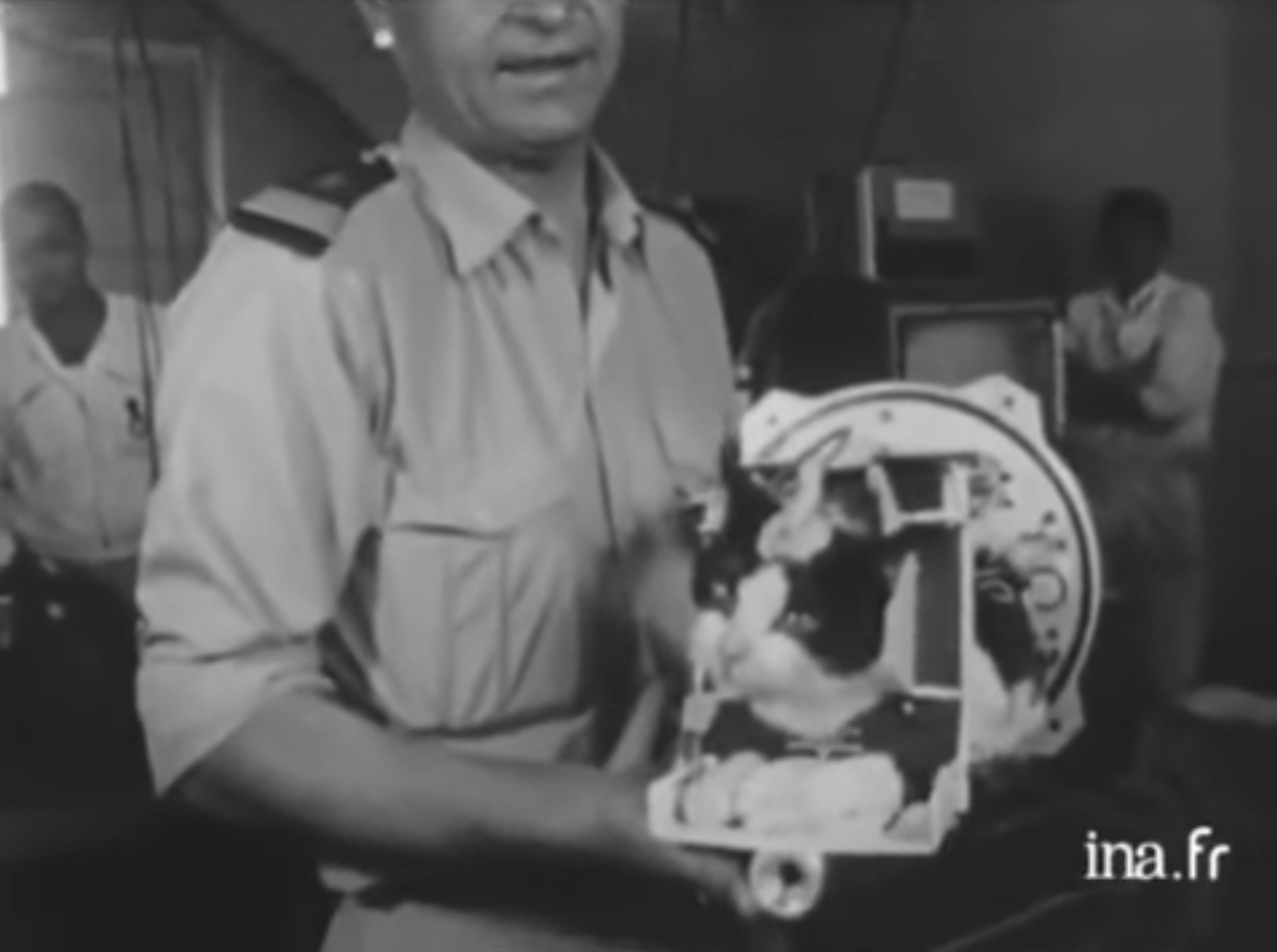 It also shows some highlights of feline space school, which involved cats gamely whirling about in a series of small boxes, and details how Félicette was chosen out of a whole lineup of trainees (she was the calmest). This conflicts with several newspaper accounts, which say she got the job because she weighed the right amount. Visually identifying Félicette is also difficult, as several clearly different cats are called by that name, both in the documentary and in news photos.
One thing is certain, however. Félicette was not merely the first feline in space. She remains, to this day, the only cat who has ever left the atmosphere. (A second attempt a week later ended in disaster, halting this particular program for good.) When you consider the sacrifices she made to get there—the long weeks of training, the invasive skull surgery, and her euthanasia afterwards so that she could be studied further—her absence from the pantheon rankles.
After all, Laika the space dog has a monument in Moscow, Sam the rhesus monkey got a temporary memorial in Riga, and Ham the Astrochimp has a plaque in his honor at the New Mexico Museum of Space History, complete with a plastic banana.
Meanwhile, zilch for the space cat. Those Félicette tributes that do exist are often incorrect: "There was a series of commemorative stamps made, but addressed to Felix rather than Félicette," says Guy. "It's not like Laika gets confused with a male dog named Larry. I just got struck by the injustice of it all."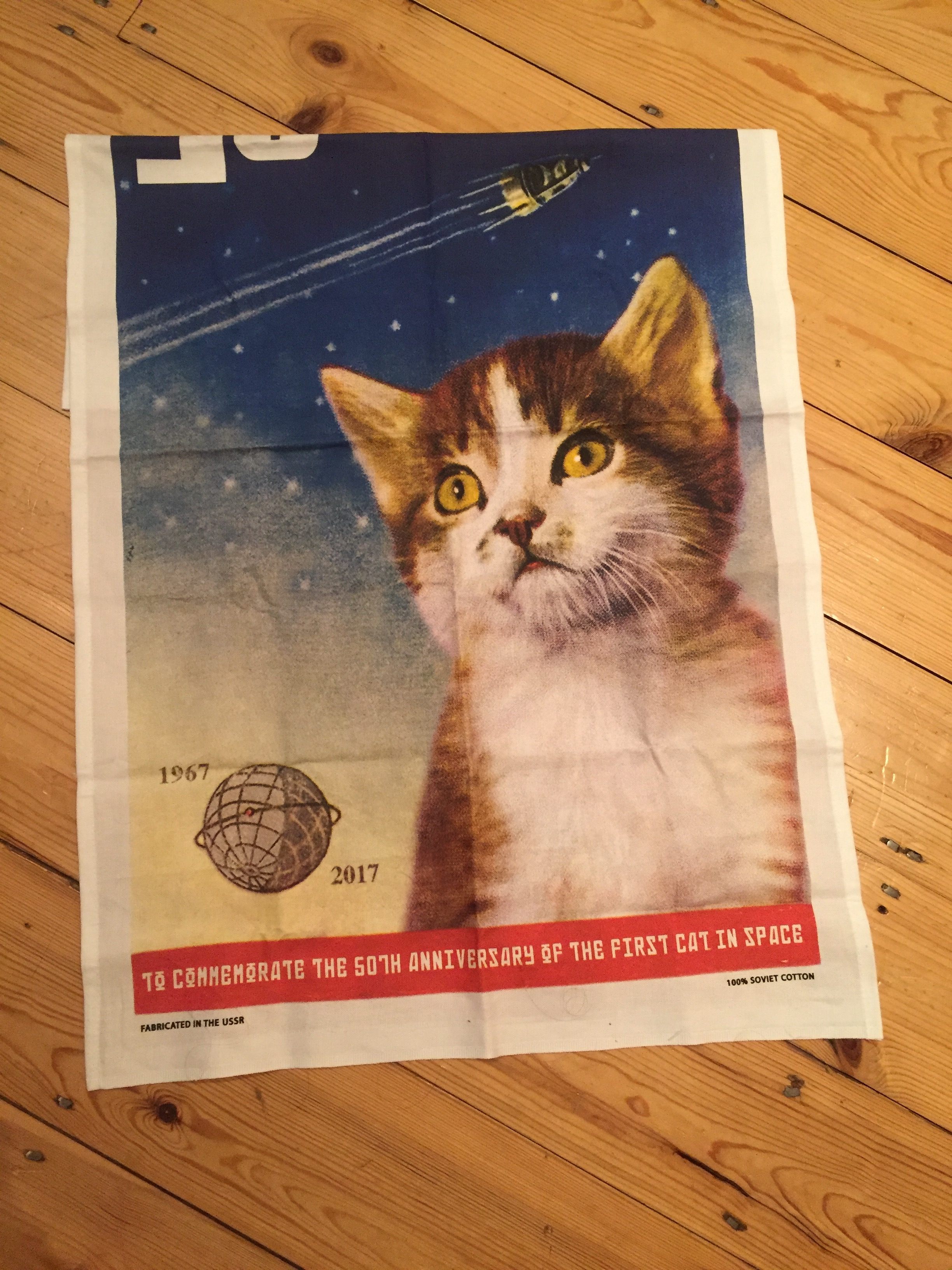 This indignation eventually proved contagious. On November 16, just a day before the countdown clock was set to expire, the Kickstarter reached its goal. Guy now has £43,323 (about $57,000) to get Félicette off the ground once again. Plenty of people have agreed to help out, including sculptor Gill Parker, whose specialty is animals cast evocatively in bronze.
His first priority, he says, is to find a willing site, preferably in Paris. He wants Félicette to avoid the fate of, say, Detroit's proposed Robocop statue (which, despite the will of the people, has taken many years to materialize).
"The last thing I want is her commemoration to be shoved in a garage somewhere," Guy says. Any cat would hate that, especially, we might imagine, one that once reached a perch higher than any other.