Found: Two Mysterious Signatures on the Wing of a WWII Plane
Who were Eva and Edith?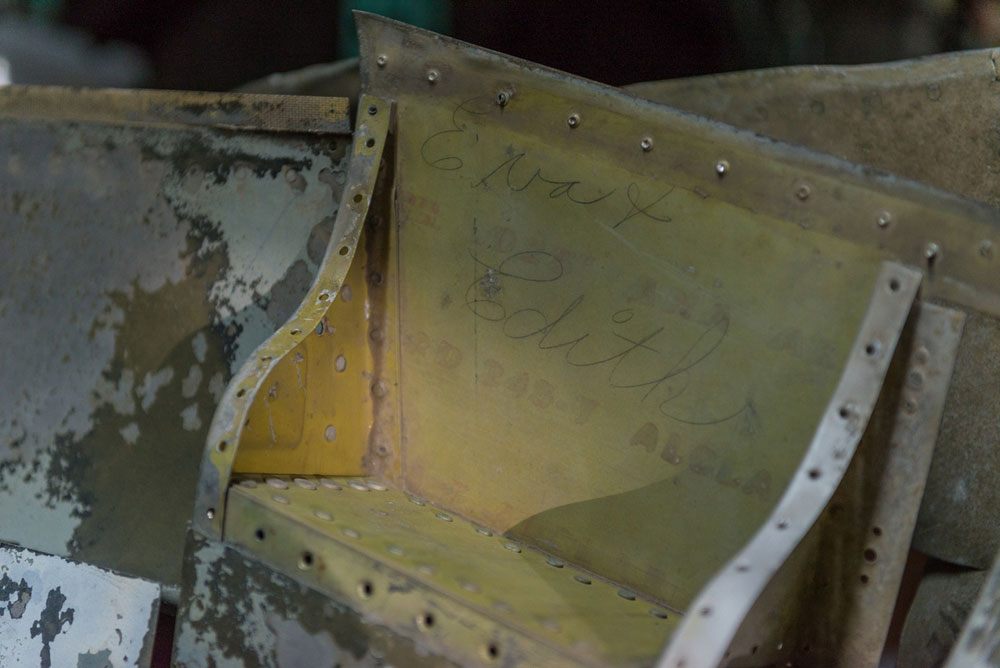 AirCorps Aviation, in Bemidji, Minnesota, has a very particular business: they restore, maintain and rebuild vintage planes, from the World War II era. All sorts of amazing aircraft come through their shop, but recently a P-47 Thunderbolt brought with it a particular mystery.
On the inside of the wing, the names of two women were written in grease pen. It was impossible not to wonder: Who were Eva & Edith?
The first clue came from the plane's identification number, P-47D-23RA. The RA at the end told the company where the plane was built—at Republic Aviation's factory in Evansville, Indiana.* The factory produced thousands of planes for the war effort; this one was finished in 1944.
It made sense that Eva and Edith might have worked at the factory, which had about 5,000 workers, about half of whom were women, AirCorps Aviation found. Perhaps the two women scrawled their name on the wing while working to build it.
As the company looked into the mystery, though, they found another clue. The wing itself probably didn't come from Illinois originally, but from the Curtiss-Wright Company in Buffalo, New York. Republic Aviation licensed the Buffalo company to build P-47G models. They were "pretty much identical" to the razorback models built at the Evansville factory, according to AirCorps Aviation's Sara Zimmerman, and the body of the plane was produced in Evansville.
So far, the identity of Eva and Edith is still a mystery, but the company is digging in and looking for more clues. They're trying to gather as much information as they can about the people who worked on the original aircraft, the identity of these two women, and the people who flew the plane in the past. (Its serial number is 42-27609.) "It would also be a huge accomplishment if we could turn up a picture of the actual P-47, so we could learn more about who flew it and any other pieces of its history," Zimmerman writes in an email. Anyone with information can contact the company.
*CORRECTION: This post previously stated that the factory was located in Evanston, Illinois.