Meet the Sword-Wielding Grandmother Bringing Women Back to Indian Martial Arts
Women who practiced kalaripayattu were a thing of the past—until Meenakshi Amma.
Clad in a red sari with a gold border, Meenakshi Raghavan wields a sword and a shield. The petite woman assumes a formidable stance and matches each strike from her opponent—twice her size and less than half her age—with an alert ferocity that reflects in her eyes. Meenakshi Amma, as her family and disciples fondly call her, is at the "kalari," or arena, in Vadakara, a small town in northern Kerala, India, training her students the moves of the martial art of kalaripayattu. One disciple, as her students are known, swings his sword through the air but Meenakshi Amma suddenly twists on the mud floor dodging the attack and counter striking, taking her disciple by surprise.
Everything about Meenakshi Amma is a surprise. At 81 years of age, Meenakshi Amma is the oldest woman "gurukkal," or teacher, actively practicing this ancient practice from the southern Indian state of Kerala. She is credited in popularizing the once-banned practice and with inspiring women—long excluded from the kalari—to take up the martial art as means to self-defense.
Derived from the Sanskrit word "khalurika" meaning battlefield or military training ground, kalaripayattu—or simply, payattu—dates back thousands of years and was traditionally practiced by the Nair community warriors of Kerala. Yoga postures paired with wooden sticks, metal blades and bare-hand combat techniques make it one of the more complex martial arts. "Kalaripayattu is a complete art form that has the grace of a dancer and lethal moves of a warrior. It synchronizes both mental and physical faculties and tests the extreme limits of the body and mind.' says Meenakshi Amma.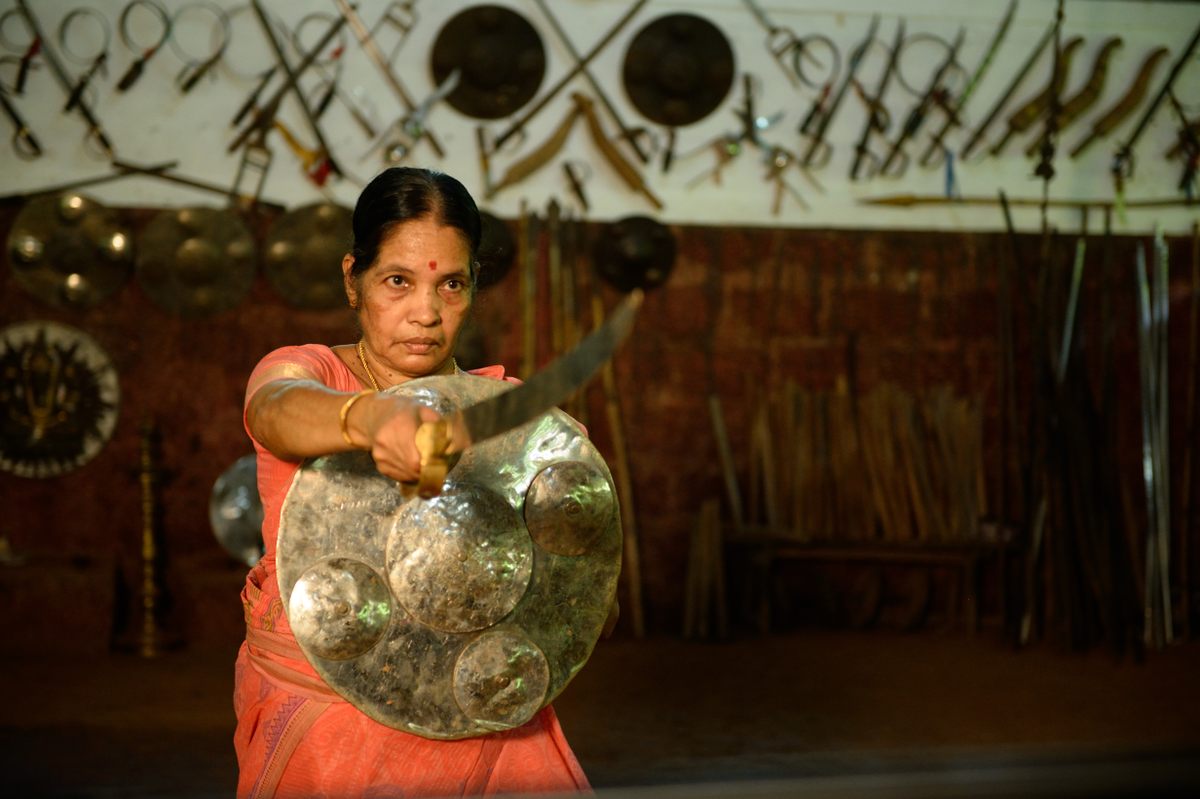 For centuries kalarippayattu was deeply ingrained in the culture of Kerala, according to the late historian and Kalaripayattu master, Chirakkal T. Sreedharan Nair. It was both a mode of warfare and a method of settling disputes between feuding families. Throughout this time, women trained along with men. Some, such as Unniyarcha, identified as a 16th-century woman warrior, became fixtures in the folklore of Kerala.
But the prominence of kalaripayattu had already begun its slow decline with the arrival of Europeans on the shores of Kerala around the late 15th century. Its traditional weapons were no match for the firearms of the Portuguese. The final blow came with British rule. An armed revolt between 1796 and 1805 by the combined forces of Pazhassi Raza, Nair warriors, and Kurchiya tribes of Wayanad, resulted in the British officer Lord William Bentick issuing a government order in 1804, permanently banning possession of weapons and weapons training to curb future revolts. For almost 150 years under the oppressive British rule, the young men and women could not learn and practice the traditional martial art.
The ban on the practice of kalaripayattu by the British lasted until the countrywide Swadeshi Movement, defying British rule, began in the early 1900s. The century-and-half ban had almost wiped away the tradition of systematic practice of the martial art. With the Swadeshi movement, however, began the slow revival when some of the traditionally trained gurus restarted training villagers covertly. It was only in 1958, almost a decade after independence of India that an organized effort towards the revival of martial arts started with the formation of the State Kalaripayattu Association.
Meenakshi Amma was seven, the traditional age for starting kalaripayattu training, when her father introduced her to the practice on the advice of her Bharatanatyam (Indian classical dance) teacher. She started training under her future husband, the legendary late VP Raghavan Gurukkal in 1949 at Kadathanad Kalari Sangham in Kerala. "It is so much a part of me now, just like breathing" the matriarch says now.
But in the mid-20th century, it was unusual to see a woman in the kalari. Women had become homebound, and the legends of 16th century female warriors like Unniyarcha were history, cited and extolled only in ballads. "I got a lot of encouragement though," says Meenakshi Amma. "My dance guru and most of the family supported the idea of me being trained in an activity that was predominantly a male bastion."
While most of the small number of women who did study kalaripayattu gave up after marriage and childbirth, Meenakshi Amma, who married her kalaripayattu teacher, continued her practice. "I took a break during my pregnancies and when my children were younger, but I was always by my husband's side every day at the kalari. I prepared the herbal oils and Ayurvedic medicines for 'marmchikilsa' [massage treatment for vital pressure points of the body], cuts, bruises, pains and aches, an essential part of training of kalaripayattu," she recalls.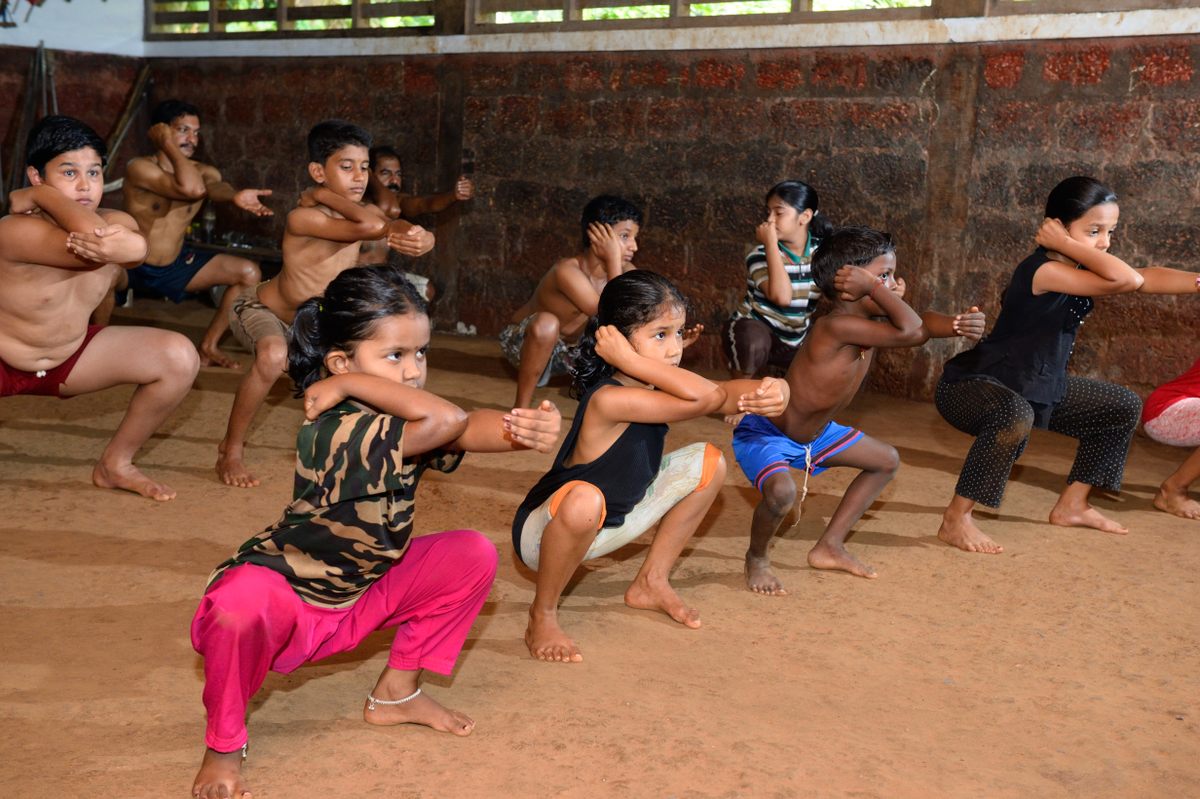 Meenakshi Amma stepped into her husband's shoes as a gurukkal after his death in 2009 and has been training young and old, men and women from across the country and abroad. In 2017, "She was like a mother to her students," says Kunnathukuzhi Francis Thomas Gurukkal, one of her students who runs a kalaripayattu school of his own in Wayanad.
In 2017, Meenakshi Amma was awarded the Padma Shri, one of India's highest civilian awards for her work. In her paper in Women's Studies, Ashitha Mandakathingal writes, "The massive media coverage Meenakshi received after her national recognition placed Kalaripayattu in limelight in national headlines making it popular talking point, leading to the revival of Kalaripayattu in contemporary Kerala."
Seeing an old woman handling spears, swords and sticks effortlessly generated a desire and confidence among young women to learn kalaripayattu. "Women should take up payattu to empower themselves," Meenakshi Amma says. "It not only makes the body stronger but also helps in improving stamina, concentration, and control over motor skills." She adds, "Learning the martial arts makes women fearless."
Correction: An earlier version of this story included an image that was incorrectly identified as a childhood photo of Meenakshi Raghavan.