The Harrowing Tale of Afghanistan's 'Haunted' Outpost
Centuries-old culture and modern military psychology intertwined at Observation Point Rock.
It should come as no surprise that the country known as the "Graveyard of Empires" should have its share of ghost stories. Over just the last couple of centuries, countless local fighters and civilians, as well as soldiers from the British Empire, the Soviet Union, and the U.S./NATO–led coalition have died on the battlefields of Afghanistan. At one small outpost in the country's deep south, both locals and foreign soldiers alike have reported experiencing apparitions, unexplained events, and mystical curses—all in the psychological shadow of years of conflict and death.
One U.S. Marine wrote in a Reddit thread that his experience at this remote site scarred him. "My unit's motto was 'Not for self but for the country'… If I knew what I was going to have to witness there, I would not do it for myself, and I also would not have done it for my country." He went on to describe his stint at the post as "one of the few absurdly negative experiences I have had being in the Marines."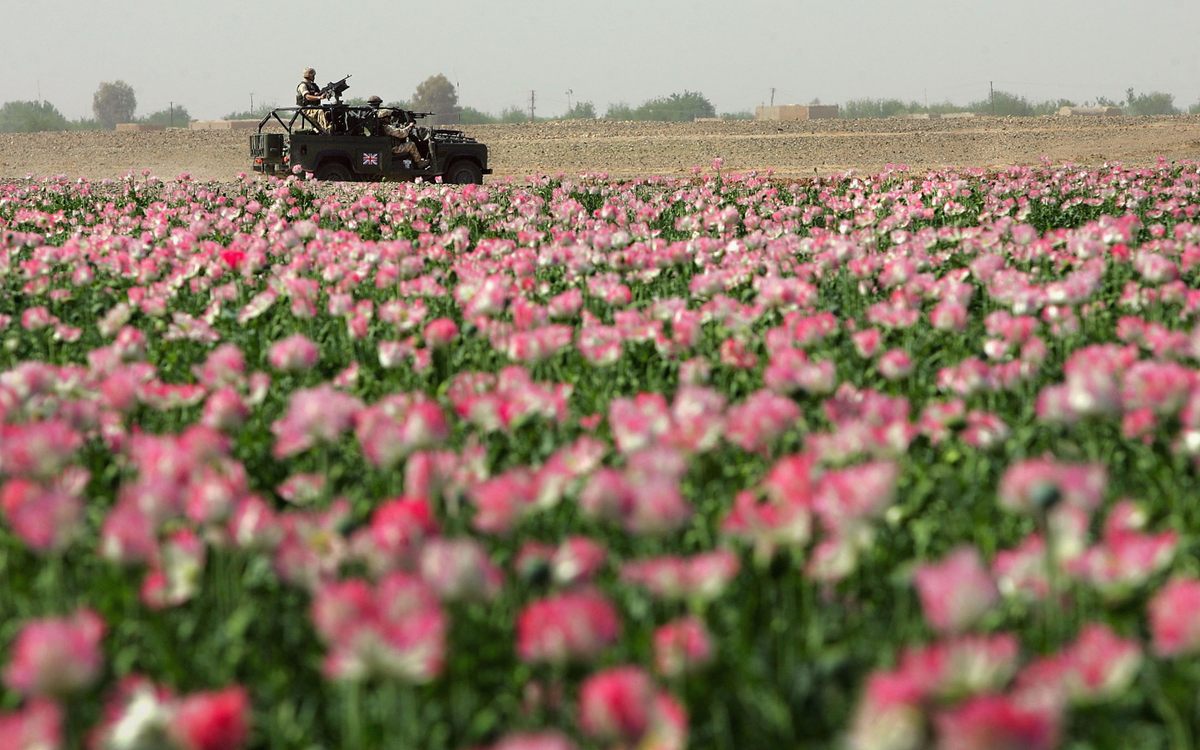 The province of Helmand is infamous for two reasons. First, it is the center of Afghanistan's opium poppy agriculture, and, at least before the Taliban returned to power in 2021, was believed to supply as much as 39 percent of the world's heroin, according to the BBC. The second is that, as the heartland of the Taliban, it was where more British and American troops were killed than anywhere else in the country during the occupation of the region. Those troops are gone now, and the Taliban has returned to power, so the region is no longer ridden with conflict. As a result, more of its secrets are beginning to be revealed.
In Helmand, Observation Point Rock, or "OP Rock" as the soldiers stationed there called it, is indistinguishable from the countless abandoned NATO or Afghan National Army bases or outposts. The odd string of barbed wire, packaging from rations, discarded sandbags, these are the only indications that anyone was ever there. The rock that gives it that name is a nondescript, 100-foot-tall mound with a small collapsed tunnel system underneath, apparently built by the Taliban as a defensive position. When the U.S. Marines and British soldiers occupied the area and started digging to find or create defensive positions, they made a frightening discovery.
"As we were digging, we started to find bones. Not one bone, not two bones, tons of bones, there were bones for days," wrote the marine who posted his account online. "We could have built our whole Observation Point out of bones." Locals say that the area had been used as a gravesite for centuries, and that it had also been the site of several massacres committed by both sides during the Afghan-Soviet War of the 1980s.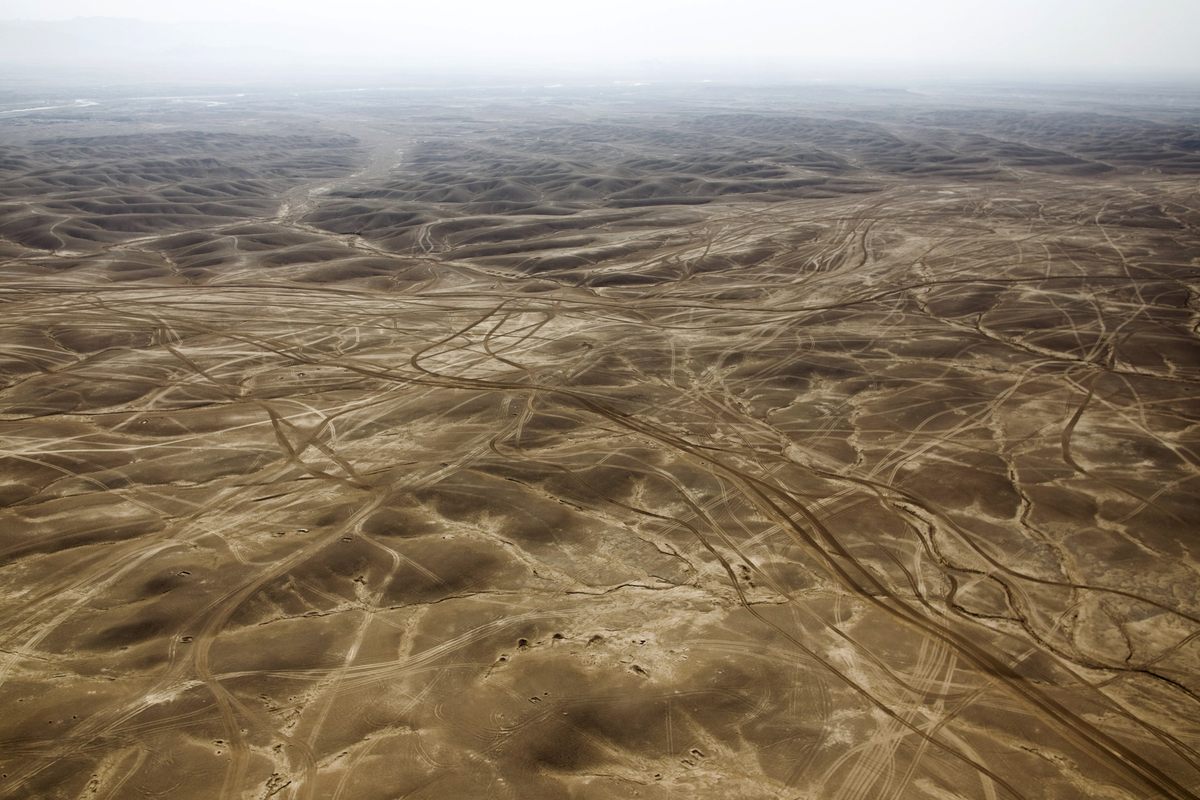 British and American soldiers who occupied the post thereafter reported eerie experiences, some of which were reported in The New York Times.
"I swear there were muzzle flashes. I saw the dim flares again, it seemed like the entire position was being lit up," the marine wrote. "At first, I ducked for cover, but there was no physical or auditory evidence, just the lights. Then, almost as abruptly as it started it ended, and I was back to looking at the land through a fuzzy green lens. A whisper in my ear: 'Brozay oruziye.' This, loosely translated from Russian, means 'Drop your weapon.'"
Others swore they saw and heard figures in the distance that no one else could see, experienced mysterious radio static, or felt drastic changes in temperature. They also reported distressing psychological events—not unusual in a conflict zone—such as constant nightmares, episodes of sleep paralysis, and a constant feeling of being watched. They had adopted a local dog they called Ugly Betty, who barked loudly and unpredictably when there was no one there.
When one group of marines passed control of OP Rock to British soldiers, they said that they believed the place to be haunted. One marine told The New York Times that he believed it was a conduit for "paranormal activity." (It was later the subject of an episode of the Syfy Channel show Paranormal Witness.)
The experience of the supernatural was not limited to the invading forces. Locals believe that the area is both sacred and cursed, owing to the presence of a shrine in the nearby village of Amir Agha. When the U.S. Marines were stationed here, the old bazaar of the town was almost completely deserted and destroyed. Now, as with much of rural Afghanistan, commercial activity has begun to return. A few rickety wooden stores sell household goods, and a couple of motorbikes are parked on the street nearby. The white flag with the black Quranic verses symbolizing the Islamic Emirate of Afghanistan, as the Taliban-run country is now officially known, flies over many of the shacks.
The small, single-room shrine in the town remains, though it is clearly neglected. Graffiti in Pashto, the most common local language, is scribbled over many of the walls, and chunks of paint are missing from the ceiling. In the center is a tall marble tablet with verses from the Quran scribbled around it. It is enclosed in a green metal cage to deter would-be thieves. The shrine is dedicated to Amir Hamza, supposedly the uncle of Muhammad and one of his most trusted commanders. Locals revere him and one of his descendants, Amir Agha, as guardians. His grave is said to lie beneath the shrine, and the town is named in their honor.
Juma Gull, a 35-year-old from the local district, Garmsir, heard many stories from his father, a local mullah, about the powers associated with the area. "We heard many stories about the U.S. and British Marines who were scared of hearing voices and noises or felt the presence of someone near them. But this isn't the first time this has happened," he says through a translator. "When the Russians attacked Amir Agha, we remember that the tanks that came to attack the shrine got stuck in the mud," where they could be quickly destroyed by mujahideen fighters. "To this day, they are stuck, and no one can get them out. This is because of the power of Amir Hamza, and the holy land of Amir Agha."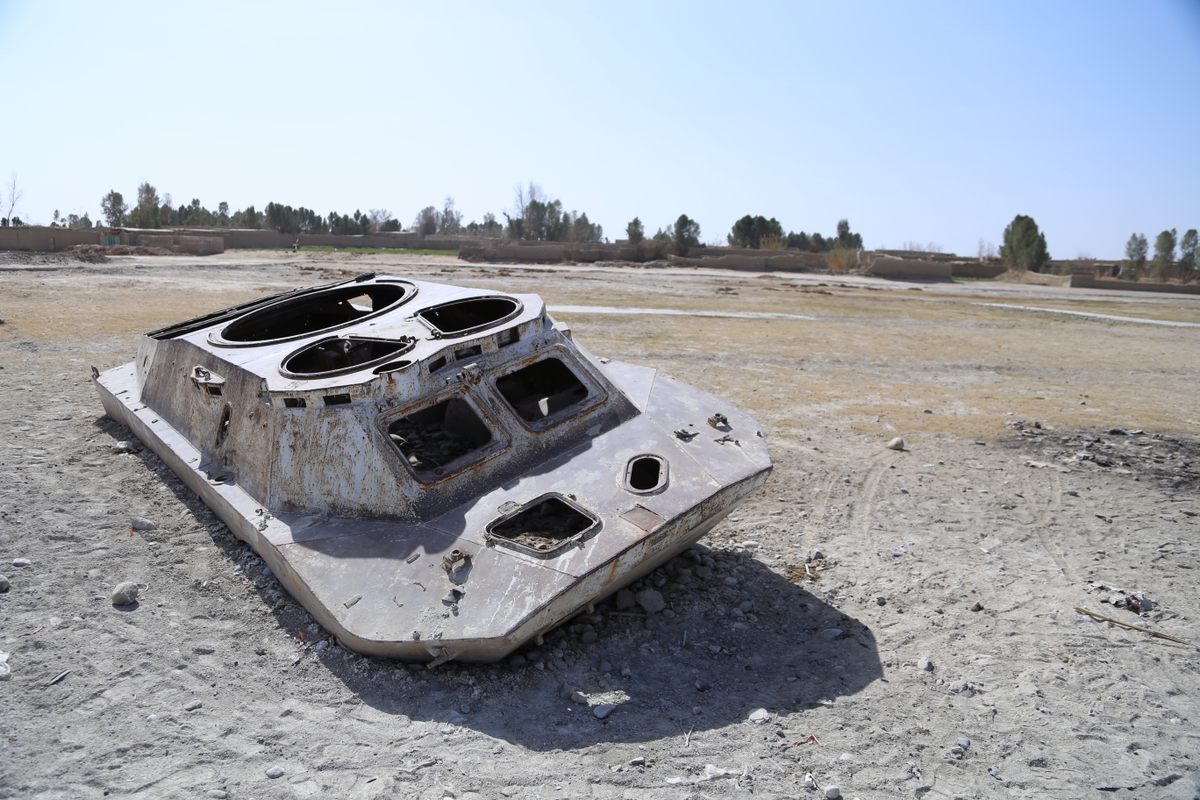 The wreckage of these "tanks"—actually armored personnel carriers—is still scattered in the surrounding region. This wreckage, like the debris from the abandoned outpost, is like an ancient midden of failed foreign invasions.
Gull says that his father also told him how, in 1982, "The Russians launched two rockets at the shrine, but the people claim that despite going through a hole in the roof, it disappeared before it hit the grave, and also because of the power of Amir Agha, it went out through a window."
Lala Jan, the 60-year-old caretaker of the shrine, has his own explanation for the strange happenings. He says that marines in the area came to the shrine many times at night. This scared the locals, he reports, who tried to stop them going in, but the marines forced everyone to stay inside their houses. The marines are said to have taken precious objects from the shrine, such as white marble stones with Quranic verses inscribed on them, which the locals claim had been there for centuries.
Jan believes that this set a curse in motion, punishing the foreign soldiers for the act of desecration. "The kapperan [foreign soldiers] plundered the shrine and took all the expensive stones and heritage," he says. "We couldn't do anything. They made us stay in our rooms and they took the stones away. This is a clean land of shaheedan, or people who die in the Islamic way. We have lost our old stones that provided us with protection for centuries."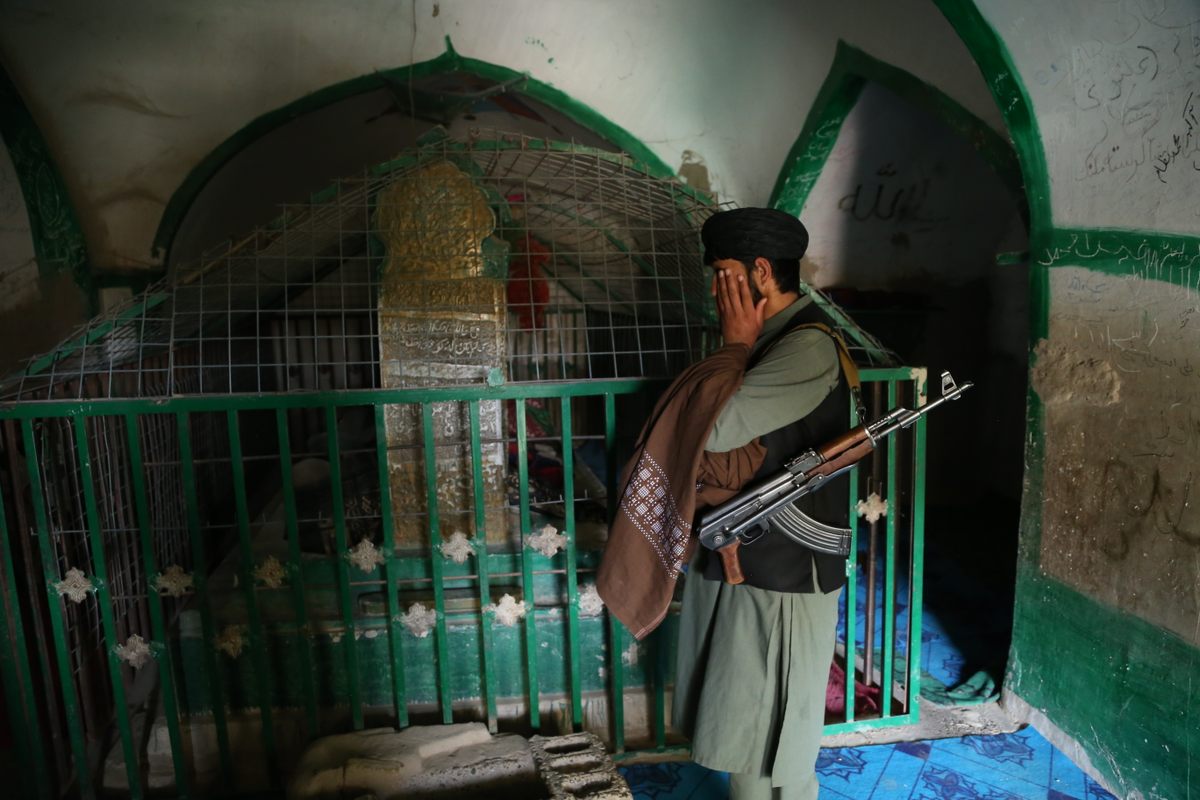 Afghanistan's religious and spiritual traditions augment Islam with local mythology, as well as elements of Buddhism and Zoroastrianism, but the Islamic tradition of djinns also resonates with the stories of hauntings and the unexplainable. Djinns are spirits that inhabit the unseen world of Islam, Al-Ghaib, that occasionally meddle in the human world, for good or ill.

Regardless of one's belief system, it is no surprise that a place so scarred by conflict and suffering would generate such feelings of unease and even terror. Human psychology does a lot of that work.

"Hearing voices or seeing hallucinations are not symptoms of PTSD [posttraumatic stress disorder], but people who are traumatized can dissociate, where you can have abnormal perceptual experiences," says psychiatrist Anthony Feinstein of the University of Toronto, who specializes in the psychological effects of conflict. "There is a cultural psychiatry history of this. The classic example of this was Cambodian refugees fleeing from the Vietnam War who would be traumatized by their war experiences, and in their culture they would believe that spirits were haunting them. They would hear things and think they were having contact with spirits, which was linked with obvious trauma.

"I can't diagnose anything because I'm not speaking to a patient, which is a very dangerous thing for psychiatry to do," he cautions.

While this intertwining of folklore and trauma could explain some individual experiences, there could be other psychological forces behind the wider phenomenon of groups of soldiers and locals attributing supernatural forces to this location.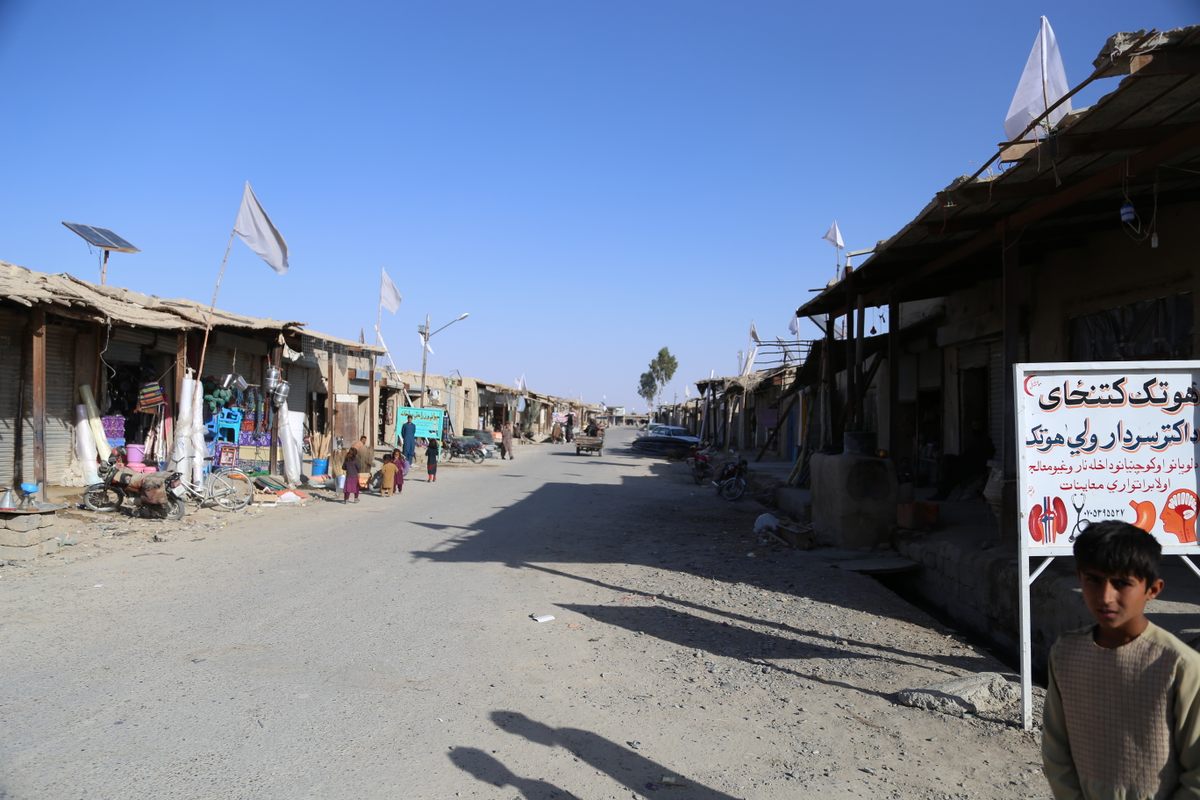 "Perhaps a couple of soldiers dissociated in this base, [and] they shared what they were experiencing with others. This belief took root and it passed on to others who replaced them, who [then] know, 'We're going into a place where strange things are happening.' They get sensitized beforehand," Feinstein says, of the psychological phenomenon known as "priming." "They get primed to expect things and when they get there, these things actually happen because they are receptive to it. And their experience solidifies what the previous group experienced, and it is passed on to the next group that is coming in, you get a belief system developing over time and suddenly, 'Oh, hey, we're going to a place that is haunted!'"

Feinstein posits that there's a long tradition of this in a variety of religious traditions and contexts, and not just related to hauntings. "When Catholics who go to Lourdes want miracles, they go along to a place where they expect they will be healed. [They] go to Lourdes with this very strong religious belief that this is where miracles take place, and they believe when they get there that they can get healed from physical ailments, that things take place that defy medical belief. And a place takes on a certain reputation."
In the case of the military outpost, he says, "It doesn't help that you are very cut off from things, your only company is a small group of men. That can contribute to it, you don't have any reality checks because you're only interacting with your company. You can't interact with anyone else. Because there are no contact with others, you are locked in and baked in your own belief system. That is how I would conceptualize something like this."
The war, for now, has ceased, and an uneasy peace has returned to most of these lands, with the strictures and religious rules of the Taliban. American and British soldiers have departed all of Afghanistan, not just OP Rock. As with so much in this series of twisted and messy wars, things can look different depending on one's perspective. In this case, one culture's vengeful spirit is another's guardian angel. And whether those who experienced these phenomena are in Amir Agha or the American Midwest, the ghosts of OP Rock have stayed with them.
Additional reporting and translation for this story was provided by Elhan Afzal.