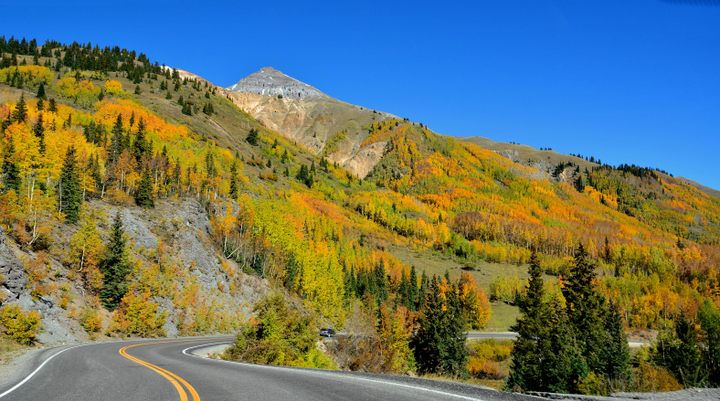 Haunted Stays and Autumn Days in Colorado
There's so much to love about fall in Colorado, some people never leave.
If an autumn breeze blowing through an alpine forest at the base of a majestic mountain fills your heart with joy, Colorado is a fantastic place to be in the fall. And if ghost-hunting in historic hotels, mines, and abandoned villages with Halloween around the corner is more your speed, Colorado also ticks those spooky boxes. Whether you have a penchant for mountain life or the afterlife, Colorado has your name written all over it. To help you make the most of your fall visit this year, we rounded up 10 ways to explore Colorado's haunted and wholesome wonders, from scenic byways and sky-high railroads to spooky hotels, abandoned villages and more.
Stephen King and his wife were on their way out of Boulder one weekend in the mid-1970s when foul weather forced them to spend a night in The Stanley Hotel. A nightmare he had that night inspired his 1977 novel The Shining, a masterpiece later adapted to film by Stanley Kubrick (whose uncut, R-rated version plays on repeat in all guest rooms). While the events therein are purely fictional, guests have long claimed supernatural activity at The Stanley. The likeness of the founder, Freelan O. Stanley, has been seen in the lobby and billiards room, while that of his wife Flora—a gifted pianist who often played at hotel parties—has been heard fingering keys from time to time. For the adventurous, the hotel offers both a 60-minute Spirited Night Tour through the dark corners of the historic building, as well as The Caretaker's Cottage—an onsite cottage whose bathroom was newly renovated to look just like the one featured in the film (you know the one).
For a scenic break from apparitions—and civilization altogether—this 137-year old railway offers an unparalleled excursion into pristine backcountry. Criss-crossing 11 times across the Colorado-New Mexico border, the six-hour, 62-mile journey carries passengers through forests of towering conifers, alpine meadows of waving grass, and rocky gorges that give way to breath-taking drop-offs. You'll pass through the tight rock walls of Toltec Gorge, several tunnels, the abandoned town of Sublette, NM, and of course, summit the Cumbres Pass, the highest mountain pass reached by rail in the U.S. On the Colorado side, the train departs from either Antonito or Cumbres, and on the New Mexico side, Chama, running six days a week (closed Monday).
Today's Black Monarch Hotel is housed within a former casino and brothel built in 1895 at the height of the Cripple Creek Gold Rush. While the rooms are named after a handful of macabre figures like Jack The Ripper and Dracula, it's the Nikola Tesla room that's borne the most claims of paranormal activity, oddly enough. Multiple guests have reported the sounds of women laughing and partying, typically around 3 a.m. If the hour comes and goes without ghastly babbling, the Phantom Canyon Coffee & Gifts on the first floor sells curios including taxidermy and antiques that may scratch the same morbid itch. And for more outdoor-adjacent explorers, the area is rife with alpine adventure from hikes to mines to vistas laden with outside art.
Despite being a "ghost town," this tiny abandoned village below Uncompahgre Peak is not (yet) said to harbor any paranormal activity, but it does retain a similarly eerie ambience. The mountains surrounding this 1889 settlement boasted 150 claims and produced over $1 million in silver, gold, lead, and copper, extracted by the 500 or so workers who once called Carson home. The mines were emptied of valuable resources in short order, such that by 1903 the town was completely abandoned, as it has stayed ever since, with the exception of decades of graffiti from backwoods travelers. Its inaccessibility makes it one of the best preserved ghost towns in the state – it's only reachable with a high-clearance, off-road vehicle and a highly competent driver.
At the time of its construction in 1892, the Brown Palace Hotel was the tallest building in Denver. Designed in the Italian renaissance style, its atrium rises eight stories, lined with balconies framed in cast iron railings, ornate paneling, and rare stones like onyx and granite. The ostentation is reminiscent of the late 19th century silver boom that spawned its creation – a point driven home by a cast of recurring apparitions from the hotel's past. A man in a dark suit and cap has been seen lurking in the entrance; music can be heard coming from the San Marco Room, which traditionally hosted big brass bands; and Denver socialite Louise Crawford Hill seems to have never checked out from room 904 despite dying in 1955.
For a more wholesome autumnal experience, the Greeley Farmers Market offers a charming blend of Colorado produce and artisanal goods in the heart of downtown Greeley. The market sells not only in-season produce like the pumpkins, squash, and root vegetables typical of the region in fall, but also locally raised meats, honey, roasted chiles, breads and other baked goods from local producers. Check the market's social media for live music, entertainment, and other scheduled events.
This historic hotel sits in the heart of the picturesque mountain town of Glenwood Springs, featuring a grand courtyard, Victorian garden, and bird sanctuary among other charming elements. It allegedly has more than a few ghosts, likely stemming from the fact that the basement was requisitioned by the navy as a hospital and morgue during World War II. Its most notable figure is a woman in a floral dress named "Bobbie." She's said to have been a nurse at the hospital who was murdered by a scorned lover, and whose presence is today marked by a signature scent, "Gardenia," a discontinued fragrance from the 1930s. Guests report flickering lights, pockets of cold air, and locking and unlocking doors across the hotel, while those in room 661 frequently claim to have seen a woman in a floral dress standing over their bed.
The San Juan Skyway is an expansive 235-mile loop of pure Colorado natural wonders. You'll see resort towns, mining towns, and Puebloan ruins, as well as biking trails, hiking trails, and ski slopes big and small, all while enveloped in the yellows, reds, and browns of Colorado's fall foliage. You'll pass by Mesa Verde, home to Mesa Verde National Park, as well as the 1.8 million acres of wilderness known as the San Juan National Forest, though you'll also pop into major towns like Durango, Telluride, Silverton, and Ouray. One stretch just below Trico Peak is known as the "Million Dollar Highway," though no one is quite sure if it's due to the spectacular views or the cost per mile to build.
Built in 1889 by the co-owner of Macy's Department Store, the Hotel Jerome is one of the oldest buildings in Aspen, a stately brick building at the foot of Mount Aspen. The sad story behind its haunting is that in 1936, a 10-year old guest drowned in the on-site pool. He can allegedly still be seen running the halls wrapped in a towel, leaving behind tiny wet footprints. According to guests, he may not be alone. Katie Kerrigan— a chambermaid from the 1890s—is said to have been a true beauty and the object of much envy from other maids. For this she was teased endlessly, until one night, having been told her cat fell through the ice of a small pond nearby, she rushed out to save him and fell in herself. She succumbed to pneumonia, yet staff today claim to still see her trying to turn down the covers.
On the weekend of September 15, the small resort town will transform into a veritable Munich-style street festival for the 27th iteration of Breckenridge Oktoberfest. Hosted by Breckenridge Brewery, the three-day festivities start with an official "Tapping of the Keg Ceremony" before segueing into a potpourri of live music (including The Pine Beatles, The Polkanauts, and Those Austrian Guys) as well as a Stein Hoisting Contest and a German dance troupe. Those feeling more active than festive can partake in an Oktoberfest 5K Trail Run, while folks with families can gather on the Riverwalk Center lawn for bounce houses, face painting, and other kid-friendly activities.