Inside the World of 'Art Dropping'
Why you should be on the lookout for free paintings this March 12th.
Imagine while on your morning coffee run, you find a package on a bench wrapped in brown paper, with a note saying there's art inside. Opening the package reveals an original piece of art, a small, acrylic painting with broad brushstrokes resembling the ocean, or maybe it's a mountain. While it may be surprising, it's sure to make your day. This is the goal of Toronto contemporary abstract artist Courtney Senior and her International Art and Found Day, the third annual celebration of which will be held on March 12, 2023. So far, 850 artists from 42 countries are scheduled to participate, with each contributing at least one, if not multiple works.
"Art doesn't have to be scary. I think people get very intimidated by the price tag that comes with a lot of art or feeling like they don't belong," says Senior, explaining that the day "introduces them to this vast world of artists that they didn't even know existed in their own backyard."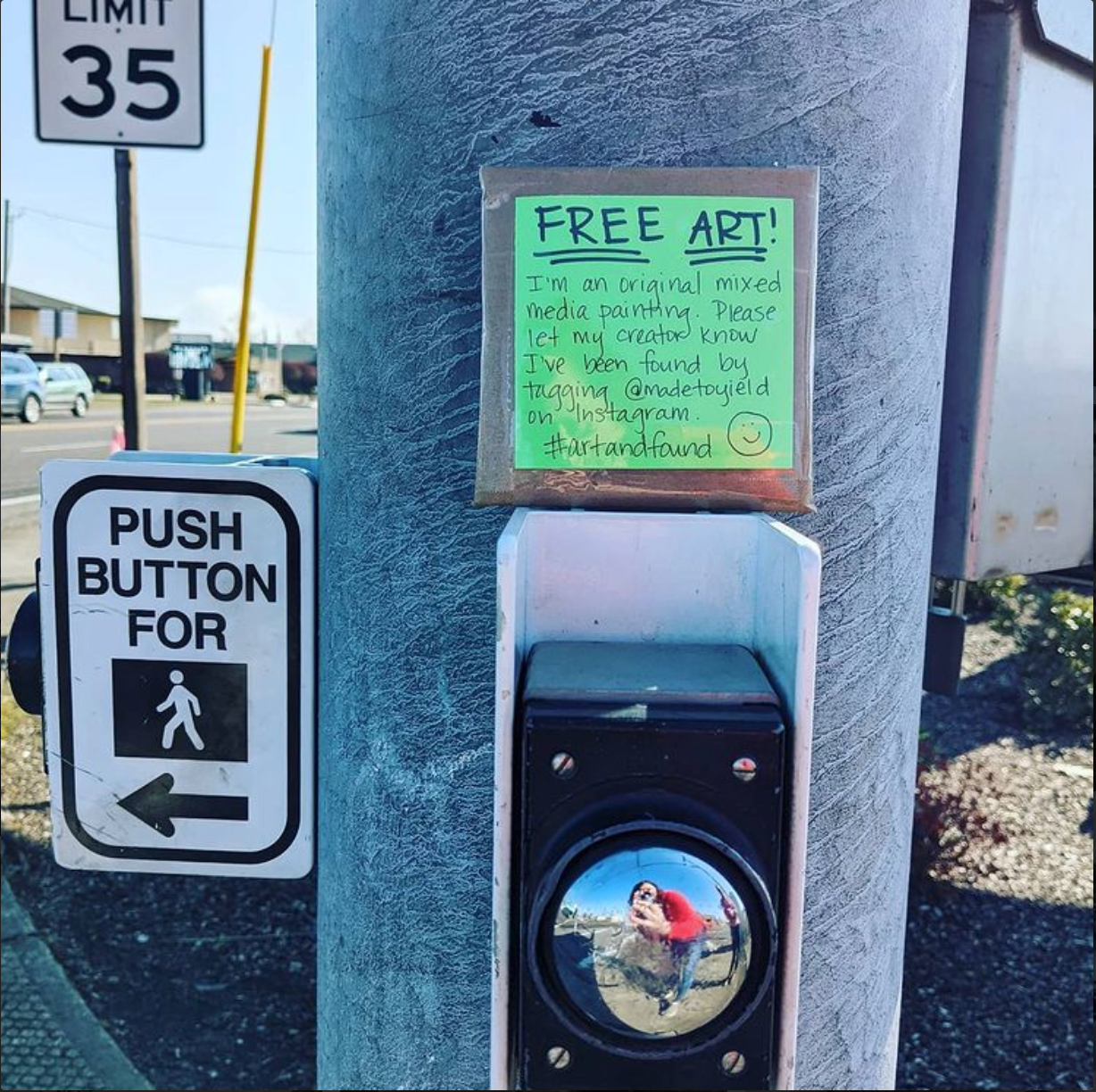 Senior began painting in her 20s to help with anxiety and became even more committed after her father's sudden death. But she soon realized she had made too many of her colorful paintings to fit in her small condo. Senior didn't have the confidence to sell her work but she had a background in marketing, which led to a lightbulb moment: Why not leave the works for people to take for free? Each has an explanatory note: "Hello, I'm an original abstract painting in need of a loving home. FREE ART #ArtandFound." Over the course of almost a decade, Senior has placed a piece somewhere about once a month (and sometimes daily during the holidays), and the Instagram hashtag has become a popular way for other artists to give away their work.
Senior says she's heard from more than 50 percent of the people who've taken her art and she particularly enjoys the kismet moments, when a piece comes into someone's life at just the right moment, like when they've just moved to a new city. During the height of the pandemic in 2020, she was looking for a way to uplift spirits and inspire the artist community and decided to launch her effort globally with International Art and Found Day. She was happy when some 50 artists initially signed up but was shocked as it continued to grow in the run-up to the first event, with 478 artists in 39 countries participating.
Senior isn't alone in wanting to spread the art. Cities like New York, Seattle, and Portland have been inspired by the Little Free Library movement to create public art exchanges. Many amateur or hobby artists also participate in "art dropping," and some renowned creatives have made it an integral part of their practice, often to impart a particular message. Australian-born artist CJ Hendry has garnered a large social media following with her hyper-realistic sketches. After being hit with a copyright infringement lawsuit, she made a game out of "disposing" the art she had to destroy. Her signature red boxes have now become a viral phenomenon, with Hendry leaving prints and merchandise in cities around the world.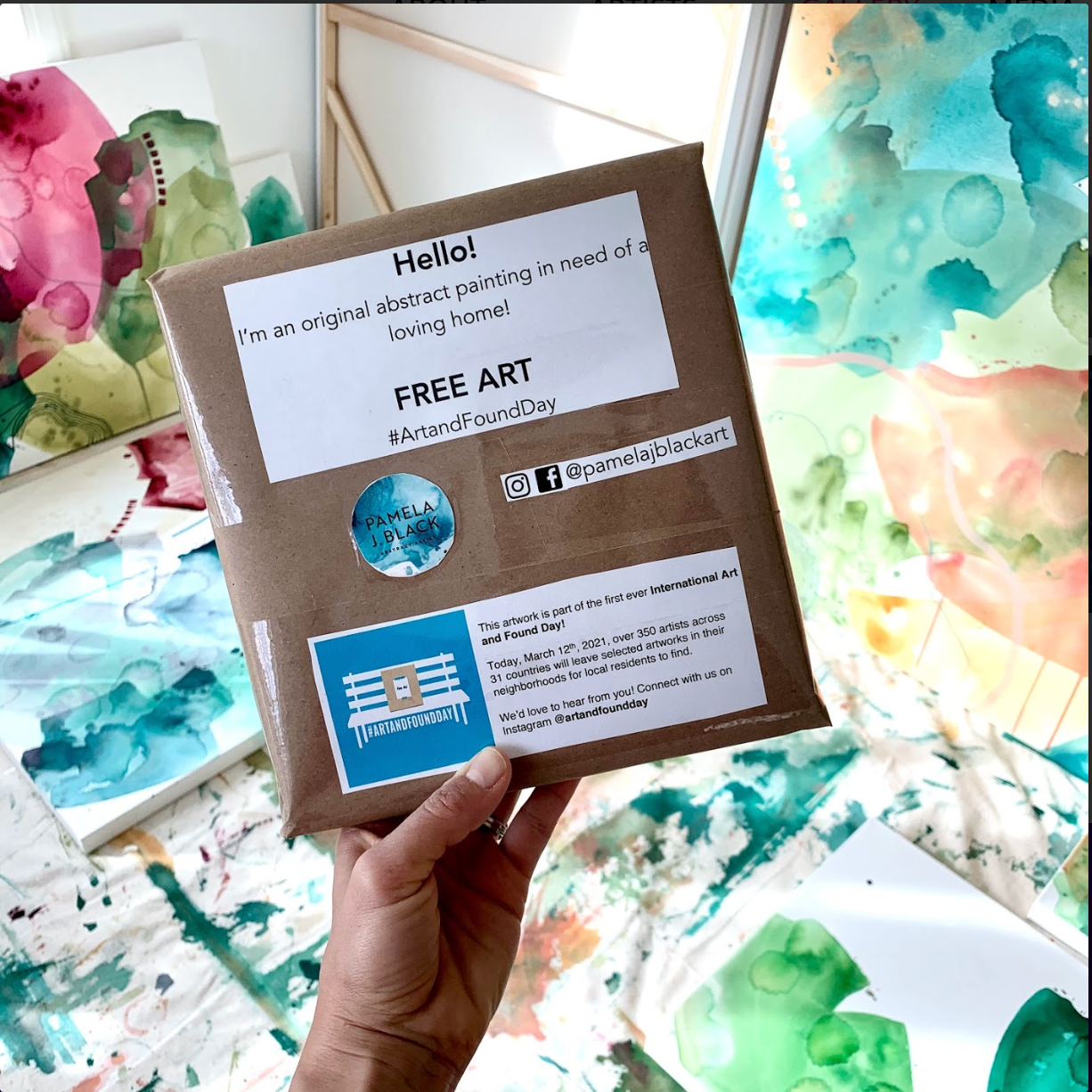 This distributive model also stands out in an age of NFTs and unprecedentedly high-priced art sales, which do benefit many artists but also raise questions about the commodification of art and in some ways make it more inaccessible than ever. In this context, giving away art for free and to complete strangers is almost revolutionary. Senior is also working to expand her "feel good" movement. This year she has partnered with a Toronto company to also place art kits out on the day, encouraging others to embrace their creative spirits.
Jo Lonsdale, who lives in Lancashire in the United Kingdom, has participated in every Art and Found Day. Lonsdale took care of special needs kids all her life but decided to pursue her artistic interests after she began looking after her dad. She became hooked on alcohol inks, an unpredictable medium that lets her create modern pieces in vivid colors and metallics.
"You don't really use a paintbrush or anything," says Lonsdale. "You just let the ink flow. And so it's very fluid, contemporary, and it kind of does its own thing, which I like. Every piece is totally unique."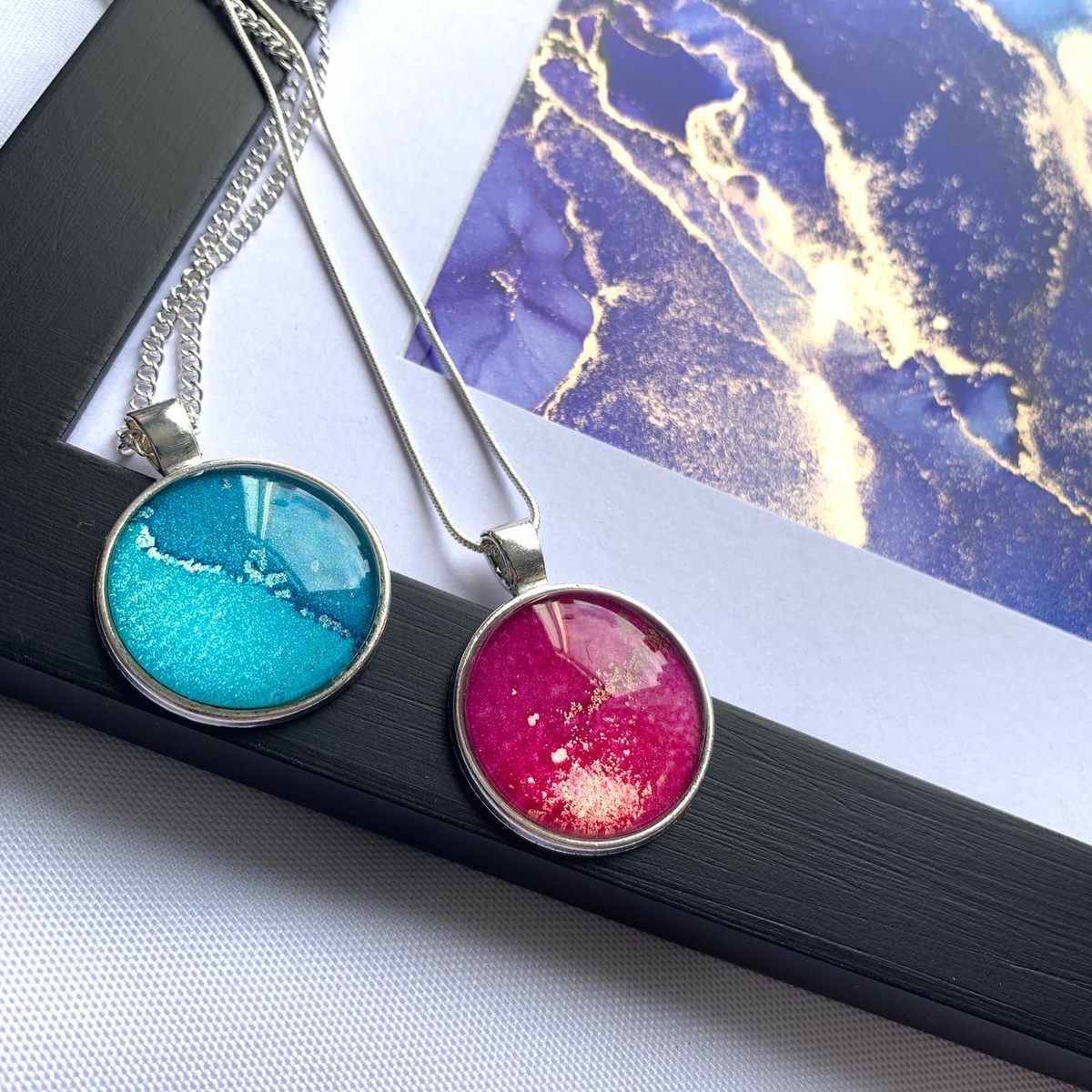 Lonsdale's friends soon wanted to purchase her pieces and she began sharing her process on Instagram, where she learned about Senior. "I think it's a brilliant thing because art can be so expensive. It's nice when it's achievable for everybody," she says.
Lonsdale has left her pieces, which include works on synthetic paper, jewelry, and cards, in the woods around her town and along the waterfront promenade. She remembers a particularly memorable finder who had just lost her mother. The woman wrote to Lonsdale, thanking her for giving "me such a lift. Your talent and heart have given me my biggest smile today."
While she is getting more and more commissions and interest through word of mouth and art fairs, Lonsdale says #ArtandFound has allowed her to connect with artists around the world she otherwise never would have met.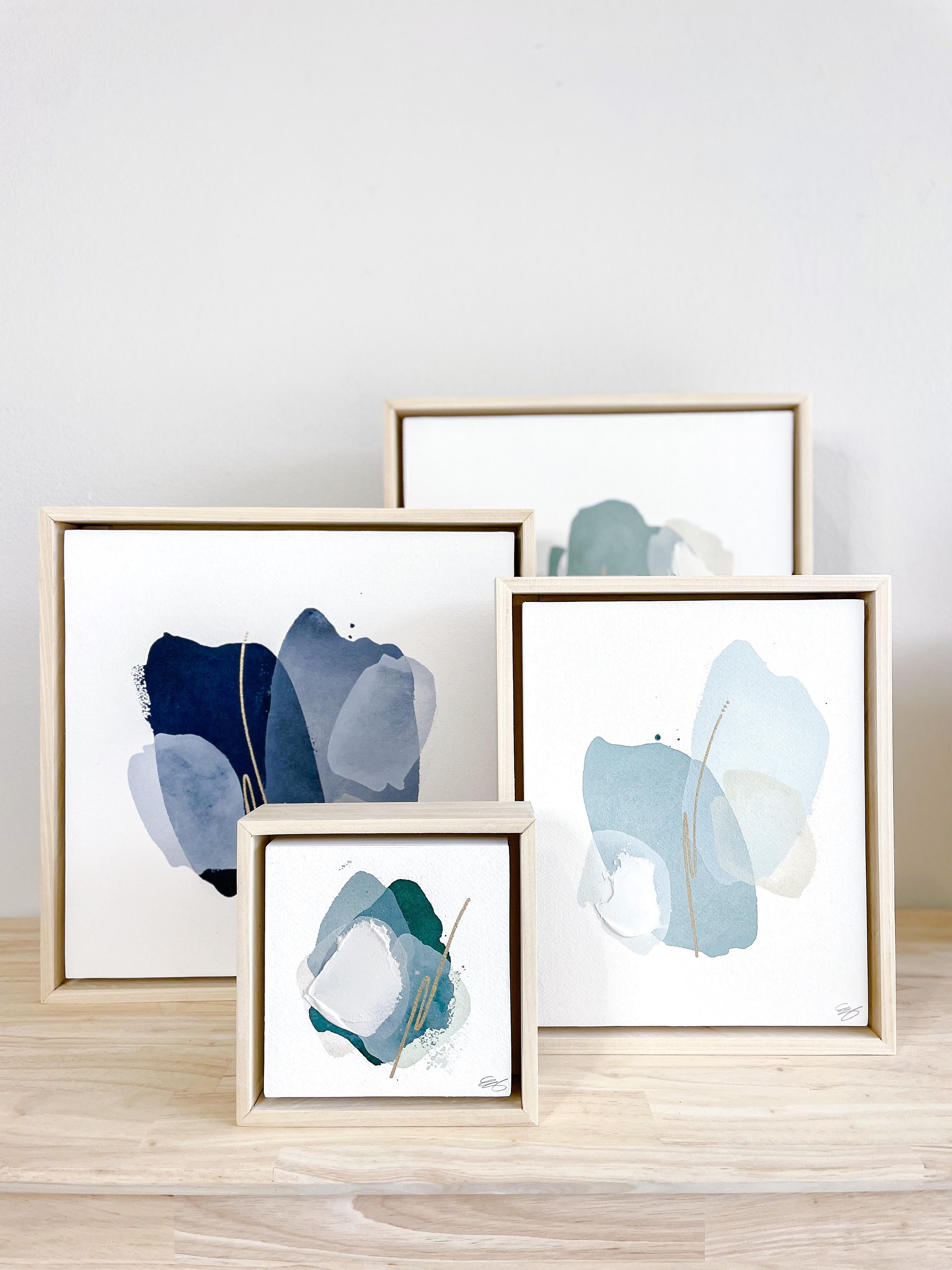 Erin Speights, who is located outside of Baton Rouge, Louisiana, also sees the event as a way for her career to grow. Speights took a few art classes in college but really got involved after she made paintings for her stepdaughters' room. She played around with different techniques and mediums, starting with landscapes and sunsets and expanding to gold leaf and finally more abstract watercolor designs.
"It's very soothing," she says of her work. "A lot of people tell me it's very peaceful and calming and reminds them of the ocean and the beach. Some people say it looks like sea glass."
Now in her third year of participating in International Art and Found Day, Speights enjoys giving hints about where she'll hide the piece on Instagram and then watching from a distance as someone discovers it. "Even if it's just that one person that finds my one piece, it's really nice to just give back and have that gratitude," she says.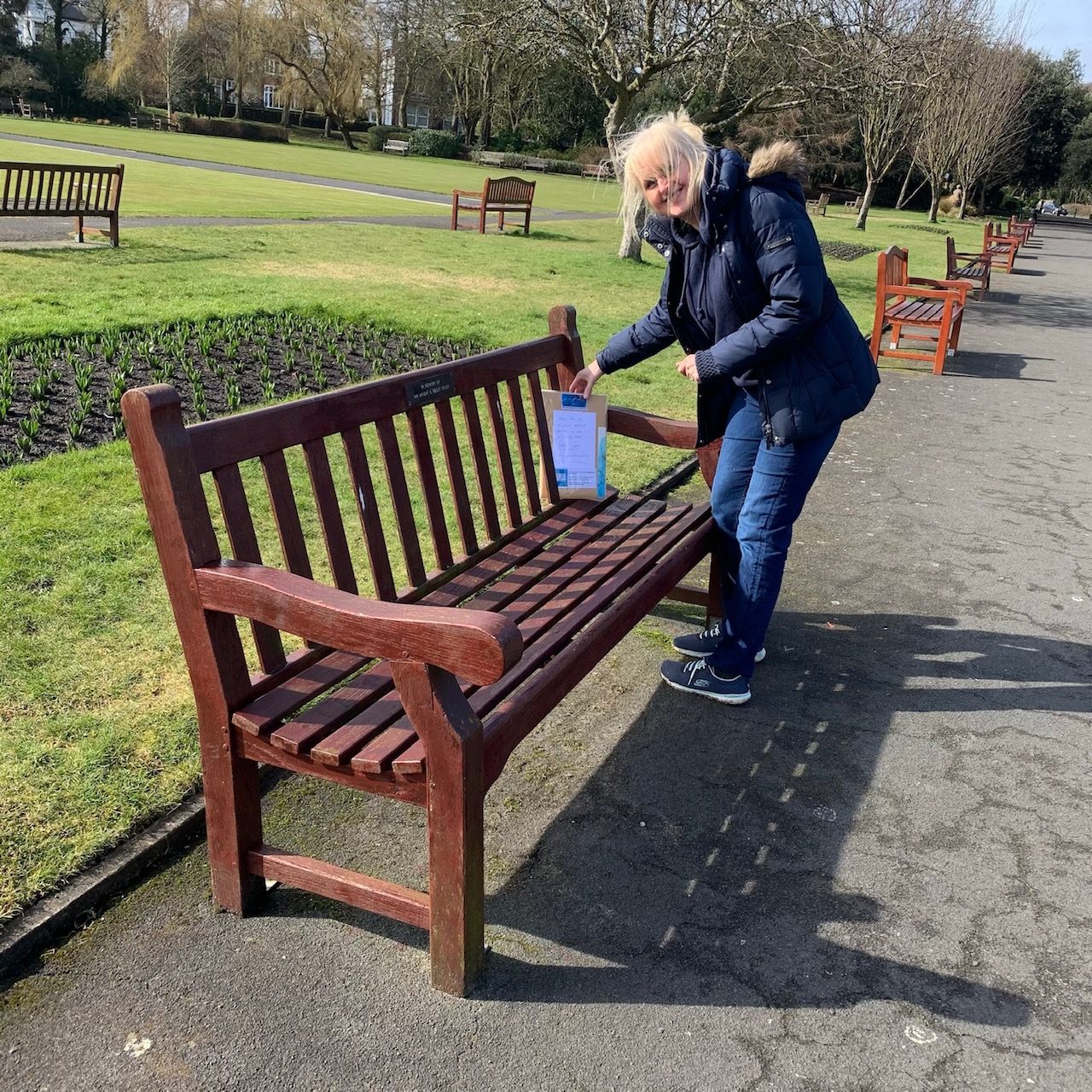 "I personally don't think there's anything better than having a physical piece of artwork that's just so personal in your home from an artist," says Senior. "It comes with such a story as well: Going around, you find this piece of work, you discover this day, you realize all these other people are doing it. I think there's almost a whole other piece of it than just the artwork itself."
For those wanting to find art on March 12, Senior, who jokes that she herself has never found a piece, suggests looking in high-traffic places in clear view. If you are hoping to spot a Senior original, she will be leaving four of her paintings in Palm Desert, California, and one in her beloved Toronto.