A Dispatch From the Other Side of the Veil
In Brooklyn's Green-Wood Cemetery, Atlas Obscura's "Into the Veil 2017" was a night of sublime contradictions.
Sensible shoes and cocktail attire, living life to the fullest in the home of the dead, the flicker of thousands of tea lights across acres of mid-October gloom. Over the two nights—Friday, October 13, and Saturday, October 14—of Atlas Obscura's Into the Veil 2017, some 3,500 revelers went on a journey filled with contradictions and hints of the transcendent in Brooklyn's Green-Wood Cemetery.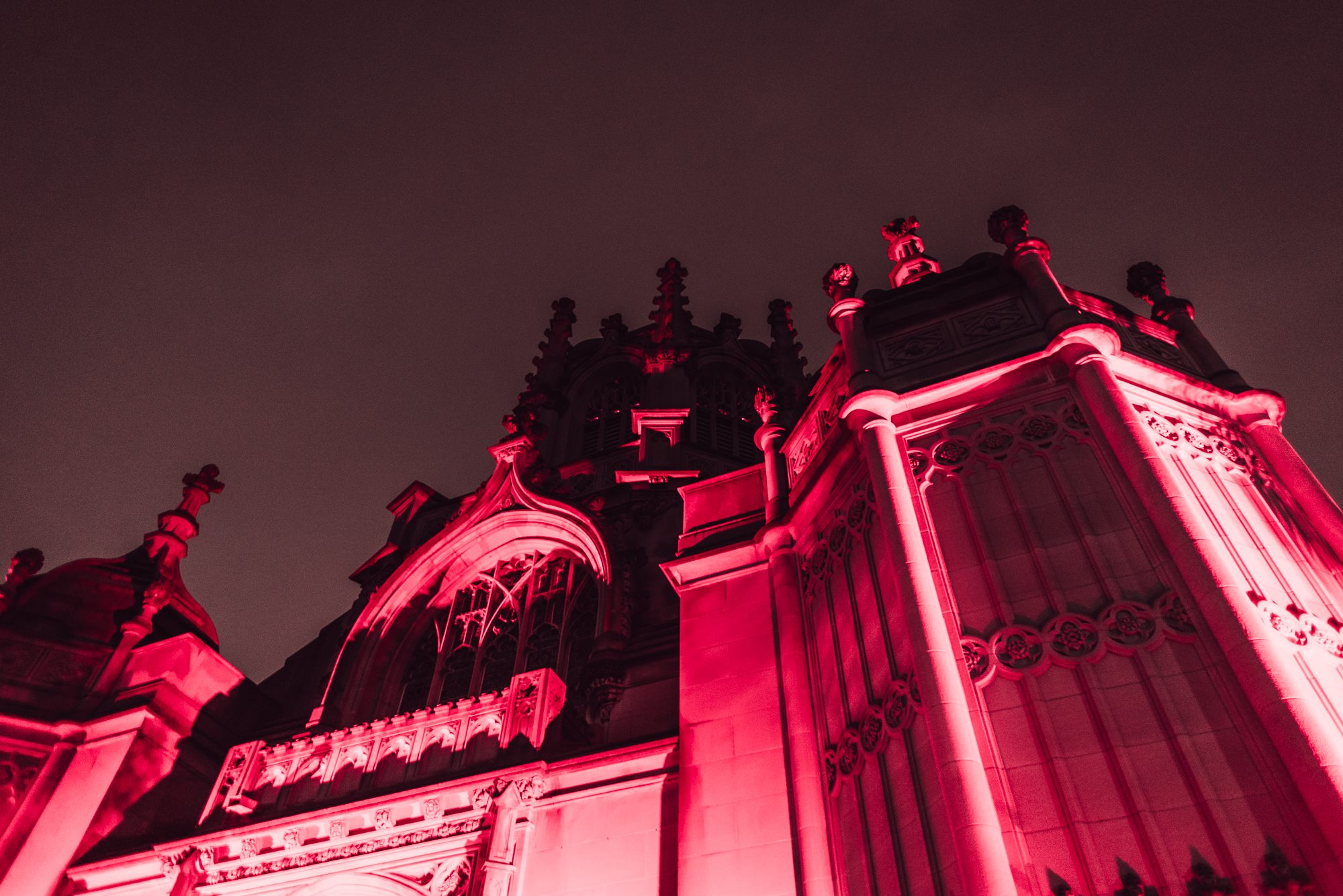 Here, for posterity, are a few exceptional moments from these two extraordinary evenings.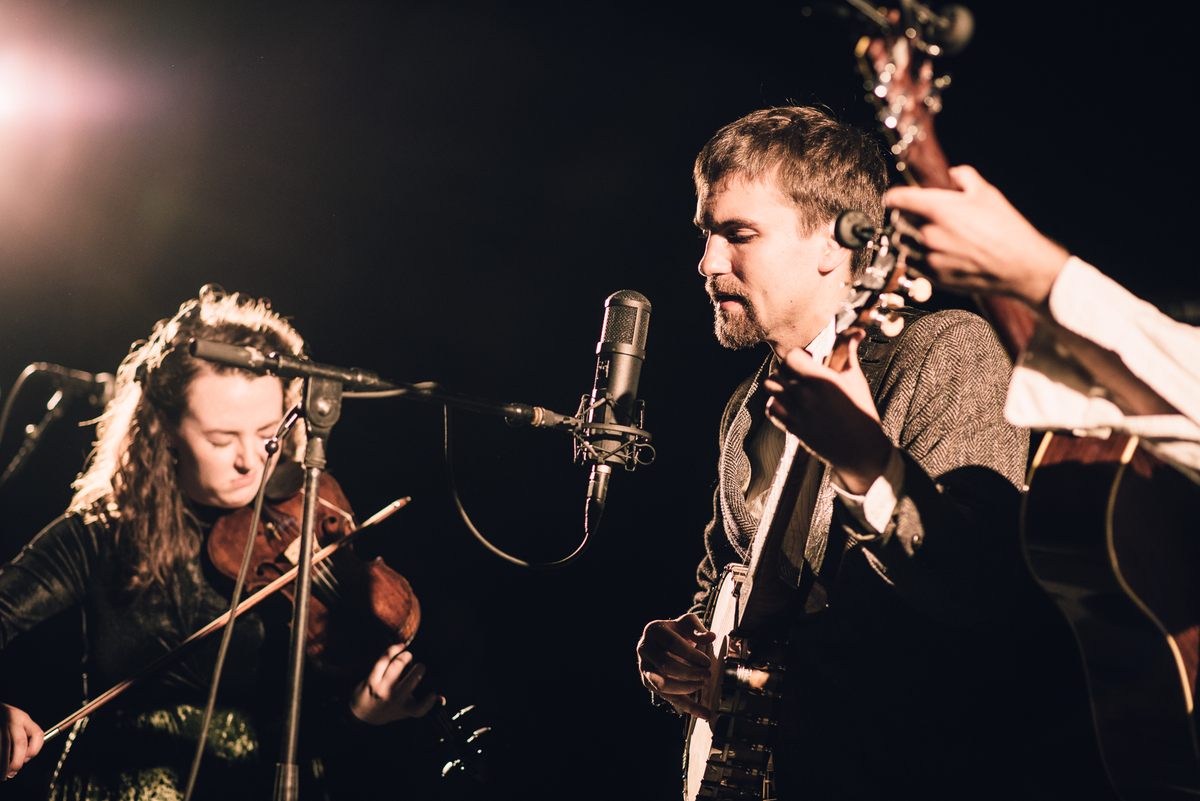 At the intersection of Pine and Central Avenues, guests in velvet and lace downed cider-sherry Jell-O shots, while the taps of a dancer's shoes echoed into the night. Three members of the Brooklyn Bluegrass Collective played to a rapt audience, before "dirty gospel" band the Reverend Vince Anderson and the Love Choir took up a spot in the clearing.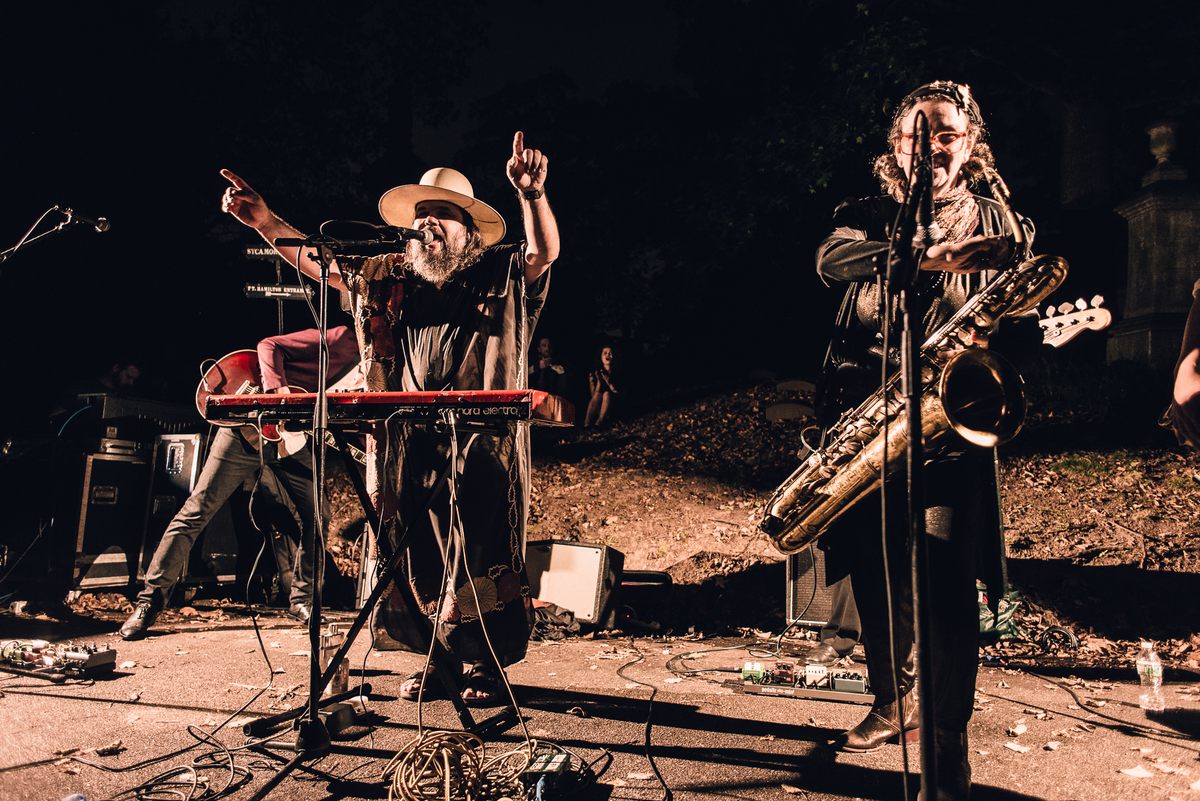 In a honey-gravel voice, Anderson sang about life, death, and his whisky-drinking grandmother. On the slope behind him, the audience gathered like a devout congregation.
Under a tree hung with lanterns, musician Laraaji went both fast—with his hammered dulcimer—and slow—with his voice. The effect was warming but persistent, as audience members sprawled on rugs like moon bathers.
Usually closed to the public, the catacombs were opened for the two special nights. By the entrance, living candelabras dripped milky candle wax, and deeper inside, the New Perplexity Daxophone Quartet made stunning, strange music. Artist and performer Lucien Shapiro began his Fear Collecting Ritual, with a mask, a vessel, and a circle of light. "The ritual shows that all darkness desires light and is symbolic of the continual search for guidance along the path of life," he says. "Participants … walk out of the darkness one faces through the realization of the light held within, and the journey does not end."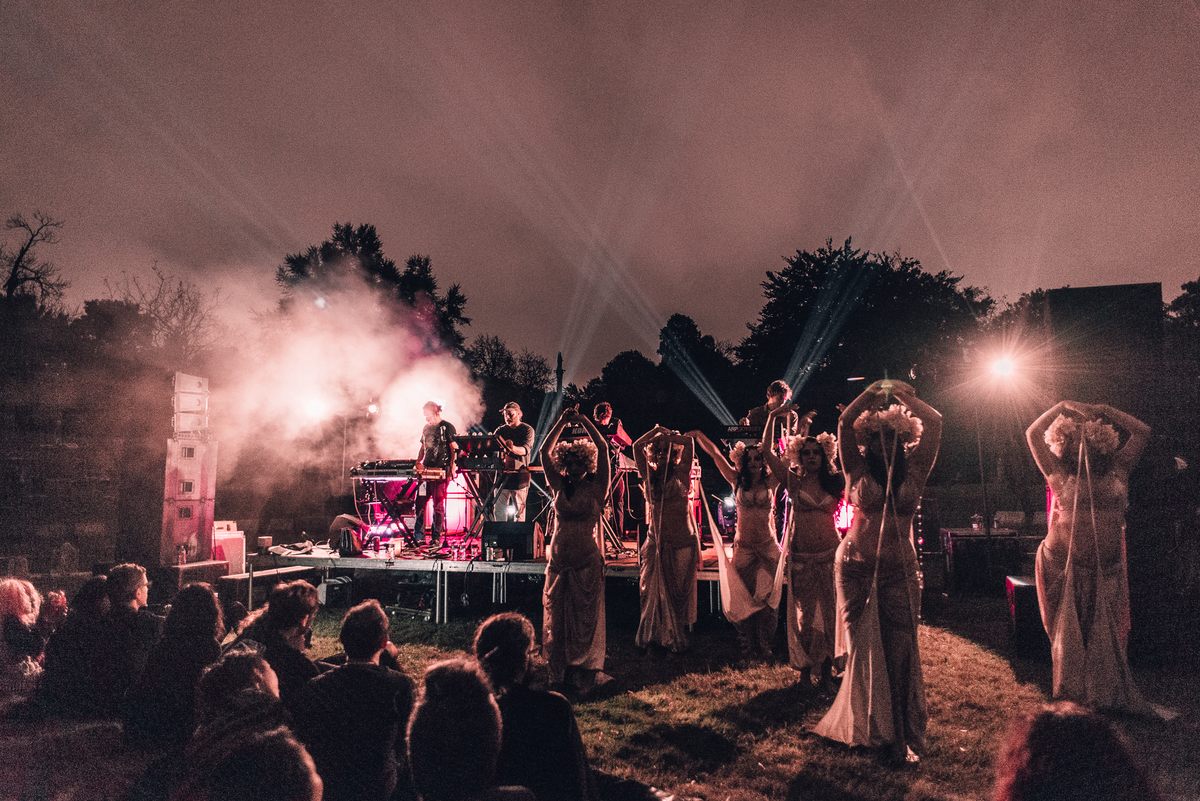 Headliner S U R V I V E lit up a huge natural amphitheater, and sent waves of lush electronica through the headstones and monuments as belly dancers swayed in time.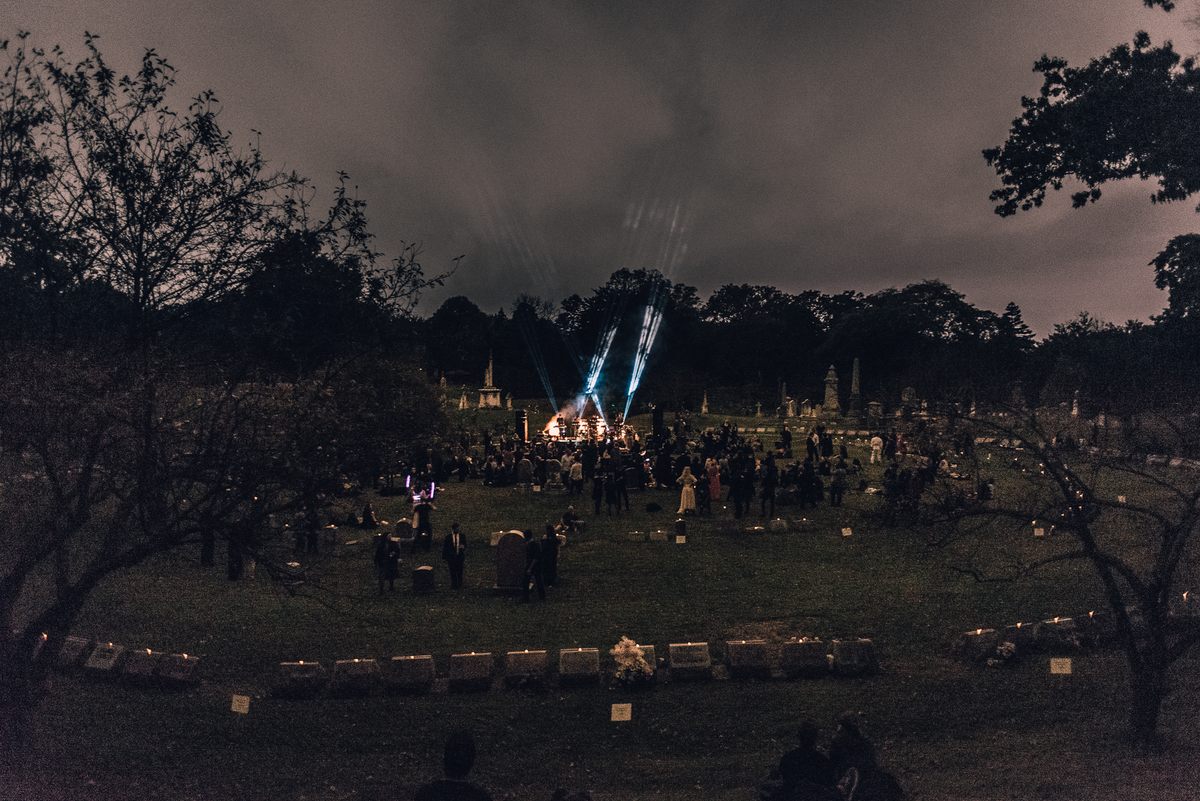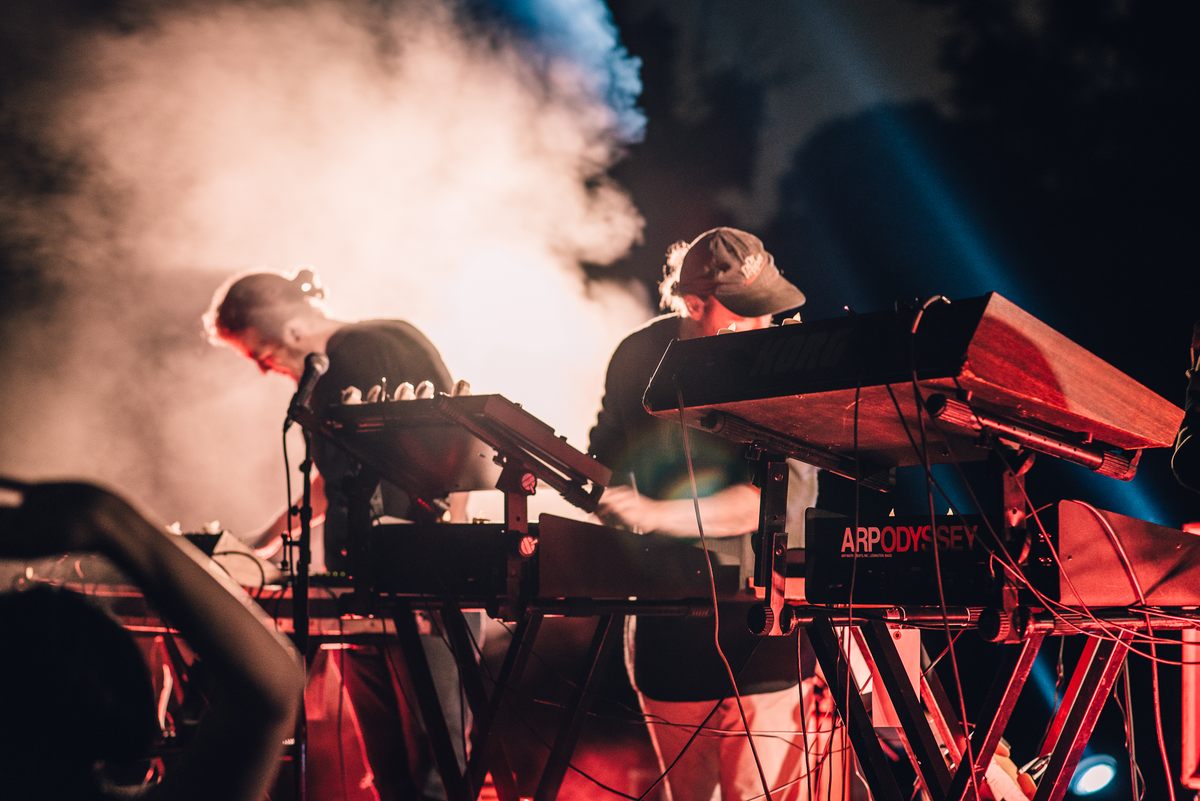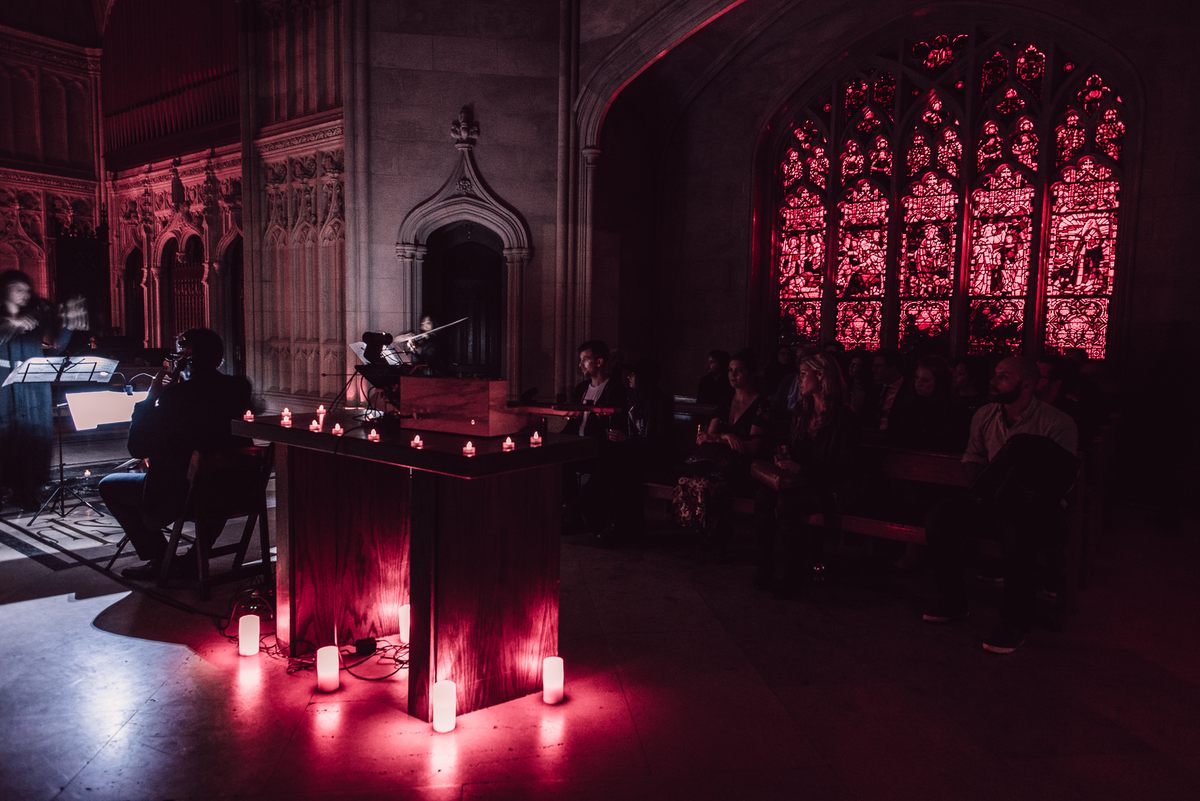 Among the cemetery's 560,000 graves, guests sipped cocktails, peered at headstones, or simply enjoyed the darkness. Edwardian brides slipped past men in evening dress, ladies in waistcoats and long skirts paused to take in a willow tree lit up with hundreds, perhaps thousands, of glinting tea lights. Green-Wood Cemetery dates back to 1838, and that provided inspiration for many of the outfits on display, even as the silhouette of One World Trade Center's spire peeked out above the trees.