The Karuk Cook Restoring California's Native Cuisine, One Acorn at a Time
Sara Calvosa Olson's cookbook shares delicious recipes and stories celebrating the oak's nut.
Sara Calvosa Olson grew up eating acorn soup on the Hoopa Valley Reservation in Northern California. But the traditional foods of her mother's Karuk community lived in the shadow of the big flavors of cheesy pastas from her father's Italian family. "Her contribution was really the part that sustained our lives," she says, "but his was the part that made it taste good."
After she left for college at 16, Calvosa Olson worked to keep her Karuk heritage at arm's length for many years. Only much later did she see how lucky she was to know those foods and traditions. "I realized so many of my peers that I went to school with, they didn't have the same connection, even growing up on the Rez," she says. "They didn't know how to filet a salmon." Many came from families where elders had been sent away to boarding schools, cutting off the pathways through which traditions and recipes normally pass. Each generation fought their own struggle to maintain connections to culture, and the results left some people disconnected from their ancestral traditions.
Calvosa Olson's new cookbook, Chími Nu'am: Native California Foodways for the Contemporary Kitchen, aims to bridge that gap. The title means "Let's Eat," a Karuk "bon appétit" that fits Calvosa Olson's inviting style as she presents her version of traditional cuisine through dishes such as spruce-tip syrup, white tepary bean soup, and red-chile rabbit tamales. Her writing brims with excitement over each ingredient and season. "Like little bears stumbling groggily from our winter hibernation to stretch our limbs, we are presented with this kaleidoscope of sweet, sour, umami gifts," she writes, imploring the reader to taste the flavors of spring. "We need to make and eat marshmallows in the wintertime," the introduction to the hot peppermint cocoa recipe begins. "It's for our HEALTH."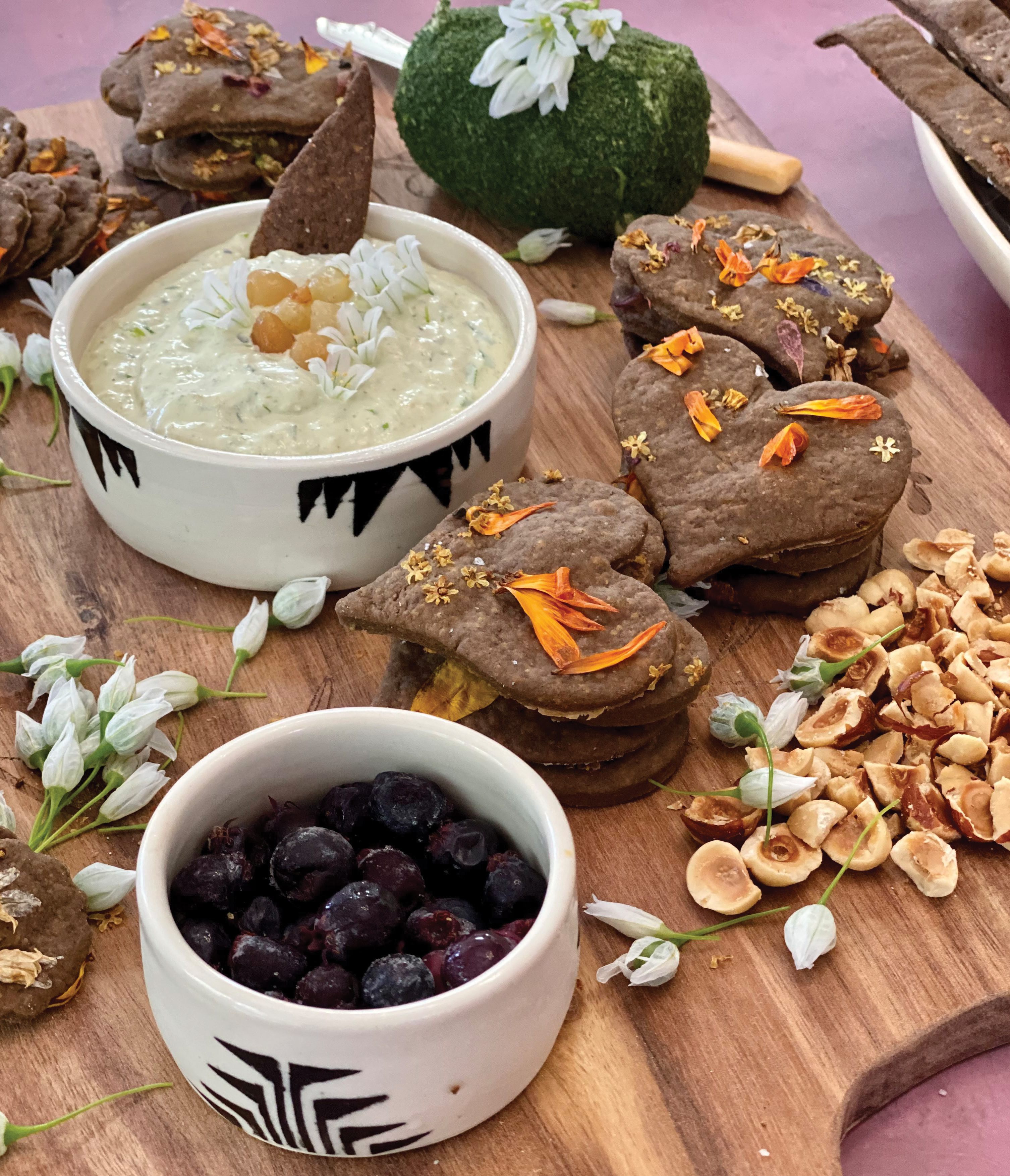 Jokes aside, Chími Nu'am is serious about taking a holistic view of reintegrating the healthfulness of traditional diets into modern lives, benefiting both personal well-being and the greater good. "Everything is interconnected," she says—an outlook that contributed to the origins of the book. After many years as a professional food writer, Calvosa Olson had an epiphany as she stood in a California orchard one day. She was talking to a walnut-butter producer when a slow horror overcame her: She was interviewing someone without any cultural connection to the land they inherited, to help them promote a "value-added" product that added value only to their own wallet, all while siphoning off significant amounts of water that the drought-stricken state sorely lacked. "I cannot celebrate this and it's just so extractive and ridiculous," she remembers thinking.
Her book doesn't feature California's commercial nut crops and instead paints a poetic ode to the acorn, a staple of Karuk cuisine. She begins by guiding readers first through both the physical and spiritual preparation of acorn flour, which appears in recipes for everything from bread, crepes, and hand pies to dumplings and miso. The versatile nut contains fats, proteins, carbohydrates, and a complete set of amino acids. Research shows that some 75 percent of Indigenous people in California once relied on acorns for daily nutrition.
"There were probably an infinite number of ways that people prepared acorns," Calvosa Olson says. The book adds a few new ones, such as acorn hummus, and reminds readers that, technically, you can eat the tiny moth grubs that bore into acorns—though Calvosa Olson doesn't judge you if you're not that far into decolonizing your diet yet.
In her own home, Calvosa Olson found ways for her sons to taste their heritage from a young age. "I want them to appreciate bitter things, and fishy things, I want them to not be afraid of them," she says. Waging a battle against the broader appeal of processed foods, she started them eating acorns early, incorporating the flour into their pancakes, waffles, and muffins. The book continues that mission, also nodding to her Italian heritage with meatballs and incorporating the global influences of the modern California kitchen with wildflower spring rolls and blackberry smoked salmon smörgåstårta.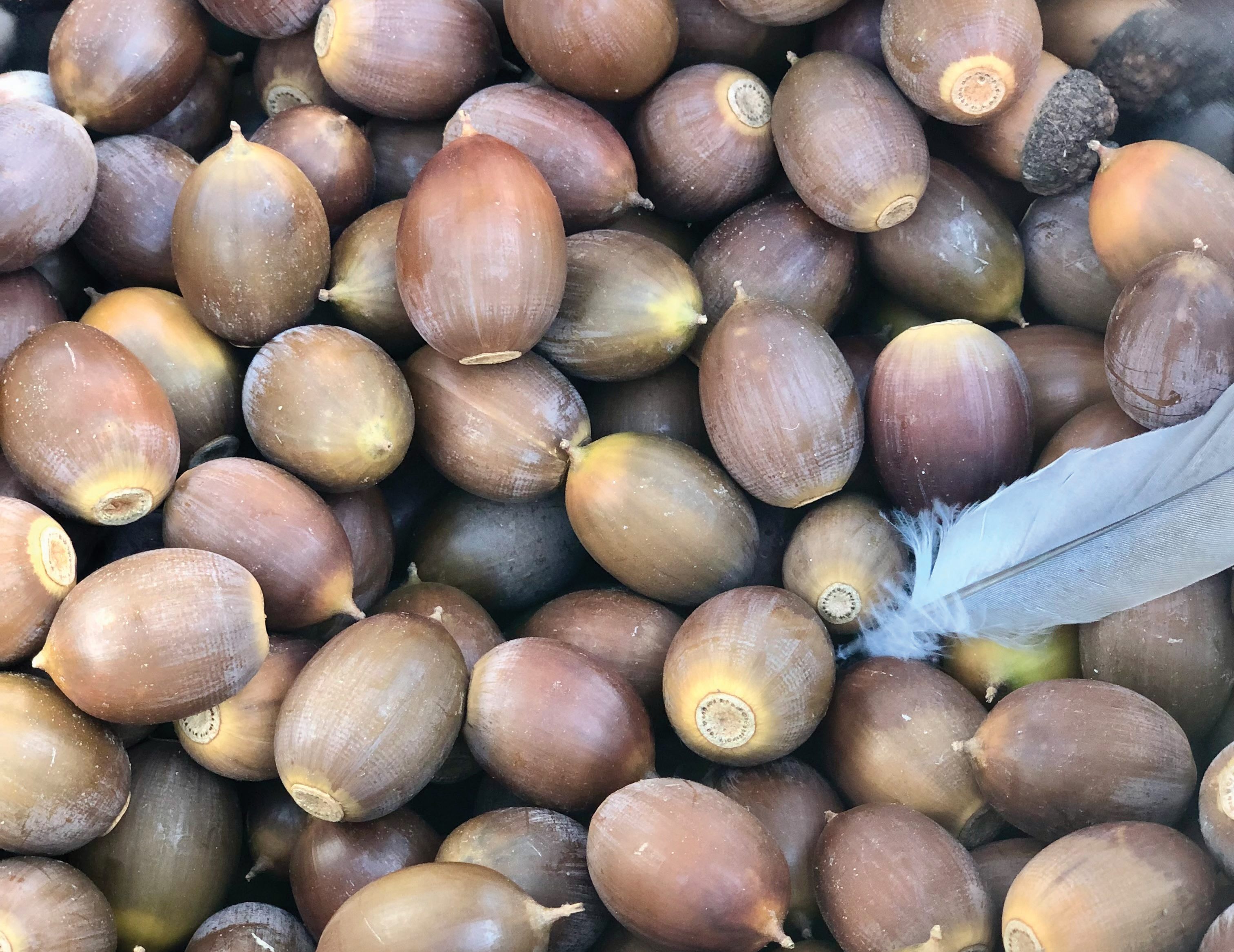 She shares much of this knowledge through storytelling, the same way her people have for thousands of years. "Storytelling is language, it's art, it's stewardship," she says. In Karuk mythology, the Creator gifted acorns to the "Upriver People" in the form of four spirit maidens. Calvosa Olson shares the story of the Acorn Maidens—Black Oak, Post Oak, Tan Oak, and Maul Oak—in the book, doing as much justice as she can to the tale when translating it from spoken Karuk to written English. In the story, the maidens must craft hats for themselves before falling to earth. Tan Oak, however, doesn't complete the task. Jealous of the other acorns, she wishes bad luck upon them and they never develop a pleasing taste. Tan Oak's flavor, meanwhile, tastes best. It is a creation story that serves many purposes, including teaching the community how to identify the various types of acorns as they gather, and which makes the most delicious soup (Tan, of course).
But Karuk stories aren't merely instructive. "When we're telling stories, it should be an act of healing," Calvosa Olson says. She saw this healing firsthand during the COVID-19 pandemic, when she put together kits and taught cooking classes to members of various California tribes over Zoom through the California Indian Museum and Cultural Center.
"It was a lot of people's first time touching acorn, or really interacting with it in this way," she says. "It was really powerful." For others, it was their first time touching acorns in a long time, and she watched the joy as they saw the acorns and the familiar scent returned to their lives. "This was the point, to connect."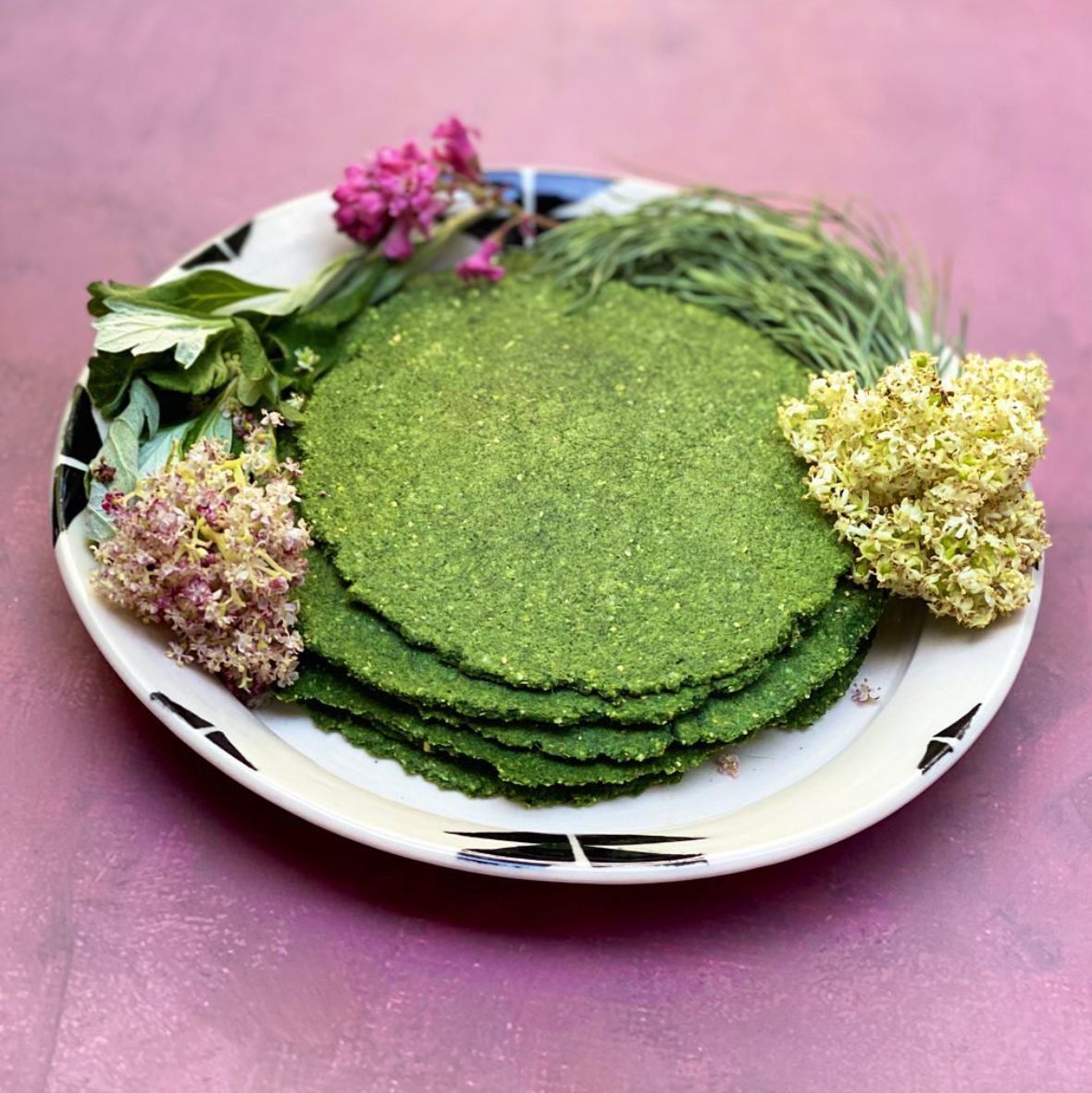 For Daisee Francour, the director of communications and media at the Indigenous Environmental Network, Chími Nu'am shows human-level actions in the fight against climate change. "Sara is illustrating in this book, and in her life's work, that those solutions have always been there," she says. "They have always been in practice, and they've always been in existence."
Calvosa Olson's demonstration of Indigenous practices and use of native ingredients encourages readers to replace resource-intensive meats with options such as rabbit and quail, and invites them to slowly start their journey toward gathering wild foods such as nettles or peppernuts (the nuts of the California bay laurel tree). "It's empowering, it's digestible, it's readily able to be put into action," says Francour. "She's weaving the solutions and the knowledge throughout the book. You walk away like, 'I can do this.'"
Calvosa Olson hopes that her Native community sees the book and thinks, "I can do this" about food writing and recipe development. Chími Nu'am stems from the food she makes for her own family, with no intentions of being encyclopedic. It is, she says, simply her food and her story, as a Karuk woman raised in an Indigenous community. "I wanted to have a place to consolidate what I know, so that I could give this to people, and they can combine it with what they know," she says. "And hopefully more books will come and more Native people will get into writing about our foods and this will ease that path for them a little bit."
Acorn Crackers With Edible Flowers
Excerpted from Chími Nu'am: Native California Foodways for the Contemporary Kitchen by Sara Calvosa Olson, reproduced with permission from Heyday © 2023
Ingredients
2 cups whole wheat or all-purpose flour 
1 cup acorn flour
3⁄4 teaspoon salt
1⁄3 cup olive oil
1 cup water
Fresh herbs and edible flowers
Salt for sprinkling
Instructions
In a small bowl, stir together the flours and salt. Add the oil and water and mix until just the dough is blended. 

Preheat the oven to 350°F. Line a baking sheet with parchment paper. 

On a lightly floured surface, roll out the dough until very thin, about 1/8 inch thick. Randomly scatter the herbs and/or flower petals on top of the dough, or place them how you'd like them, and run the rolling pin over them lightly to press them into the dough. Use a cookie cutter or pizza cutter to make cracker shapes. 

Place the shapes on the baking sheet. Poke with a fork all over and sprinkle with salt. 

Bake for 30 to 35 minutes, until the crackers are crisp and light brown. Remove the baking sheet from the oven and let the crackers cool on a wire rack. 
Acorn Hummus
Excerpted from Chími Nu'am: Native California Foodways for the Contemporary Kitchen by Sara Calvosa Olson, reproduced with permission from Heyday © 2023
Ingredients
3 garlic cloves, mashed
Juice from 2 lemons
1⁄2 cup acorn meal (slightly chunkier than flour) 
1 (15-ounce) can of chickpeas, drained and rinsed
3 dates, pitted
1⁄2 cup tahini
1⁄2 cup olive oil, plus more to finish
Salt to taste
1 teaspoon ground sumac (optional—see note) 
Instructions
Soak the garlic in the lemon juice for 10 to 20 minutes. It will take some of the bite out of the raw garlic. Add the garlic to a food processor when ready. Then add the acorn meal, chickpeas, dates, and tahini, then pulse until completely blended. 

Stream in the olive oil while pulsing until the hummus becomes smooth and creamy. Add salt to taste and blend it in. 

Scoop the hummus into a bowl, drizzle olive oil on top, sprinkle with sumac (if using), and cover and refrigerate for at least 1 hour for the flavors to mingle and develop.
Notes and Tips
Even though laurel sumac is native to Southern California, this hummus is best with a regular tangy, sour Mediterranean sumac, which can be found in the spice aisle of most grocery stores.
Gastro Obscura covers the world's most wondrous food and drink.
Sign up for our email, delivered twice a week.