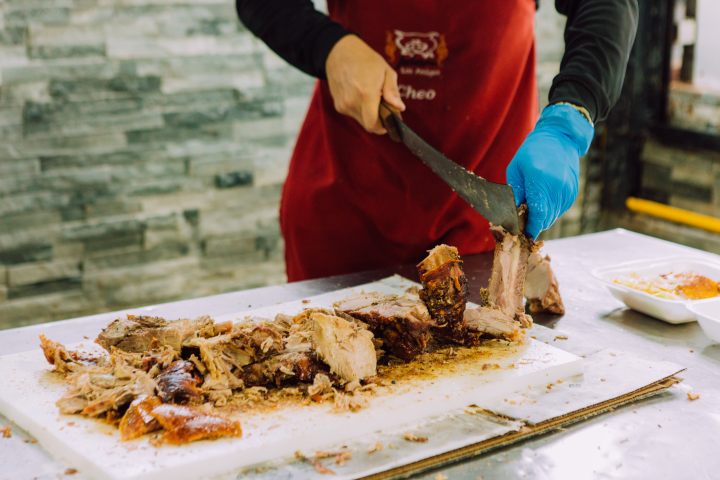 Navigating la Ruta del Lechón in Puerto Rico's Central Mountains
Explore the unexpected and tasty tradition of chinchorreo along the "Pork Highway" of Guavate.
Food and culture converge in Puerto Rico at legendary la Ruta del Lechón. Located along Road 184 in the mountain town of Cayey, the "Pork Highway" has earned cult status among locals and travelers alike. As the name implies, la Ruta del Lechón is known for its abundance of lechoneras, which are rustic, open-air roadside restaurants that specialize in slow-roasting whole pigs over hot charcoal. The Taínos, who are the original Indigenous people of the Caribbean, called this type of low and slow cooking barbacoa, which is where the word barbecue comes from.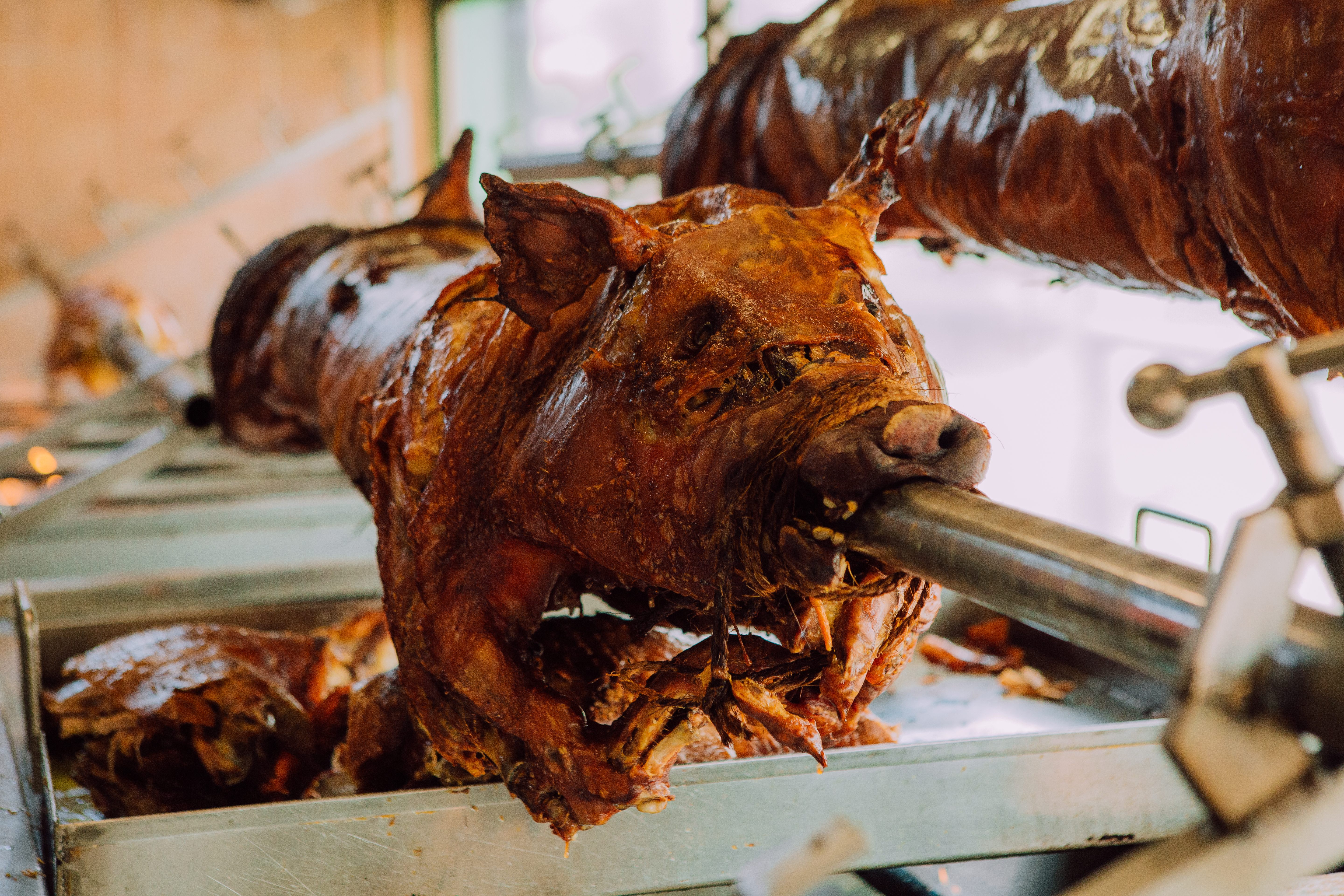 La Ruta del Lechón is part of a Puerto Rican tradition called chinchorreo, where friends and family members come together and go restaurant hopping. The term chinchorreo comes from chinchorro, a local word for a kiosk or small shack serving food or drinks.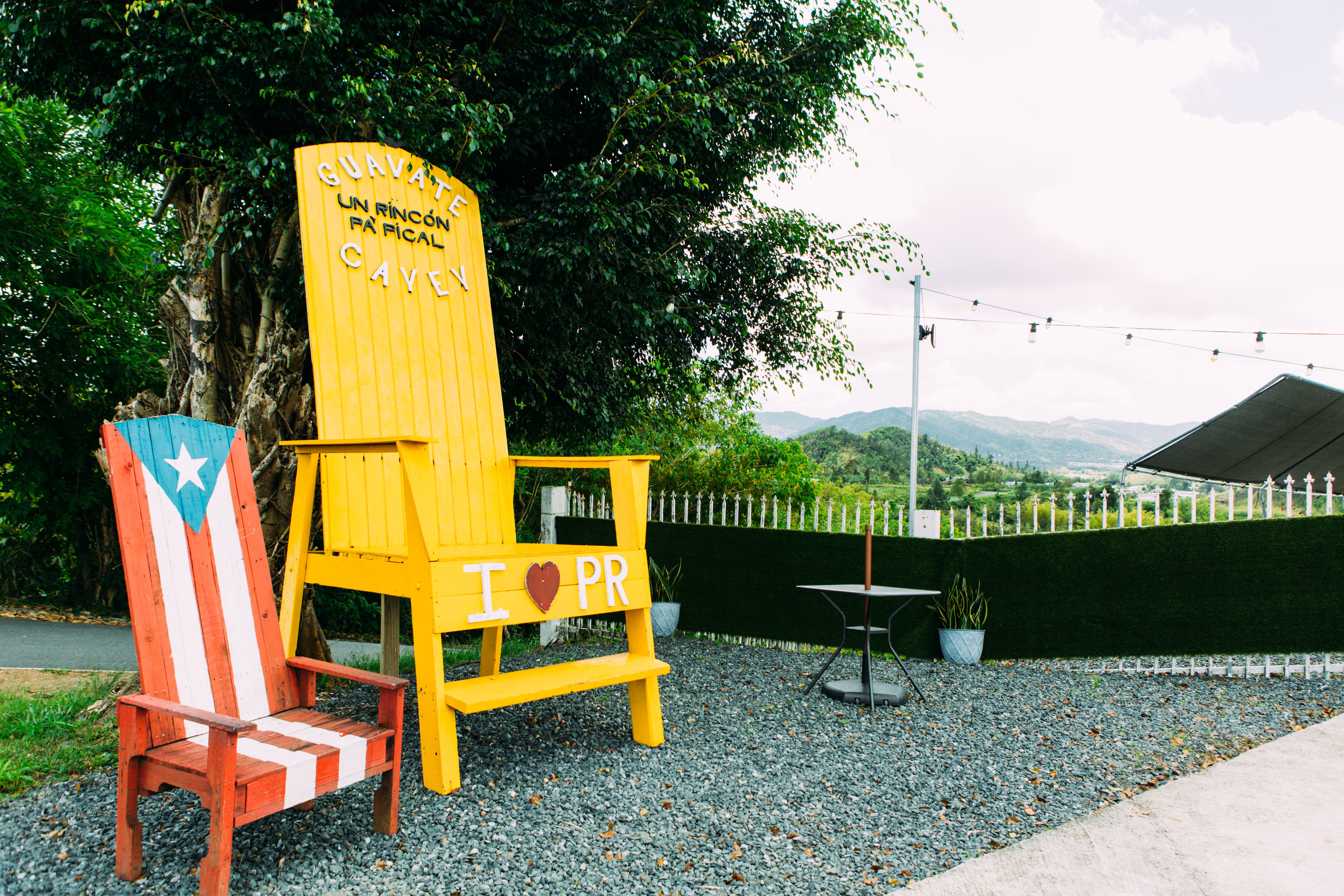 With its rich mix of African, Spanish, and Indigenous Taíno roots, Puerto Rico has a long history of merging diverse culinary traditions to create new flavors. From plantains brought to the Island by enslaved Africans, to yuca cultivated by the Taíno, to rice brought by the Spaniards, Puerto Rican food has evolved throughout the centuries, and it continues to do so with young creative chefs in lechoneras along the Pork Highway.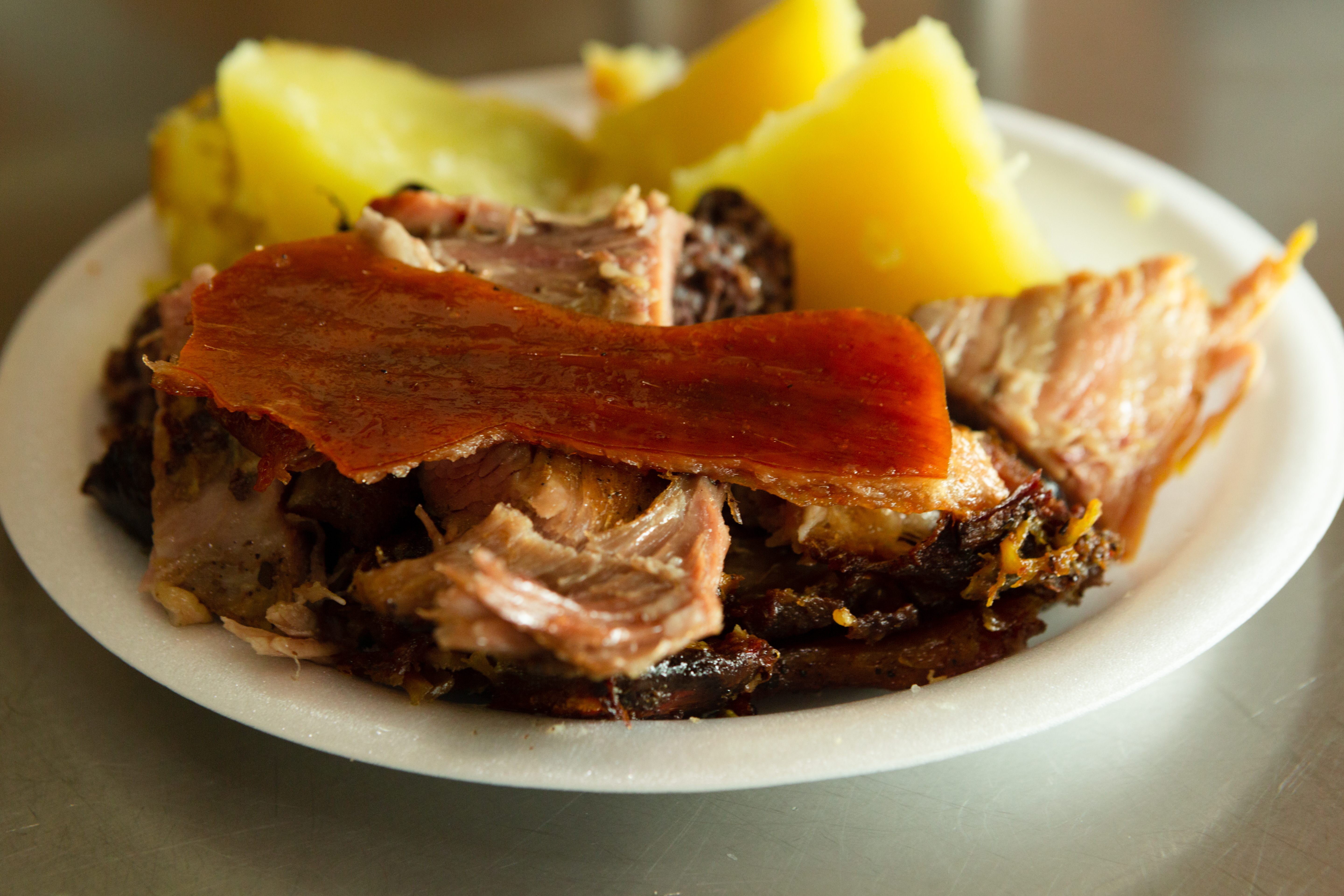 The art of pig roasting is taken so seriously in Puerto Rico that lechón asado was declared an official part of the Island's gastronomic heritage. Cooking lechón is a ritual; the pig roasts for over eight hours before being skillfully carved behind the counters with machetes. Every lechonera has a unique recipe, but one constant is the adobo; a seasoning containing salt, pepper, oregano, garlic, annatto, and sometimes ajíes dulces—a mild sweet pepper which is a staple in Puerto Rican cuisine (it's one of the star ingredients in sofrito, a sauce considered the most important culinary component of the Island).
Preparing the lechones is not an easy feat. "An average day starts at 3 a.m., roasting 10 pigs that weigh about 150 pounds each," says Nashalee Rodríguez, an employee of Lechonera Los Amigos. This staple lechonera, located at the start of la Ruta del Lechón, offers side dishes, like rice with pigeon peas (arroz con gandules), boiled root vegetables like yuca and taro root (viandas), and pasteles. Pasteles, made from mashed green plantains with pork filling wrapped in banana leaves and boiled, are a classic Puerto Rican dish.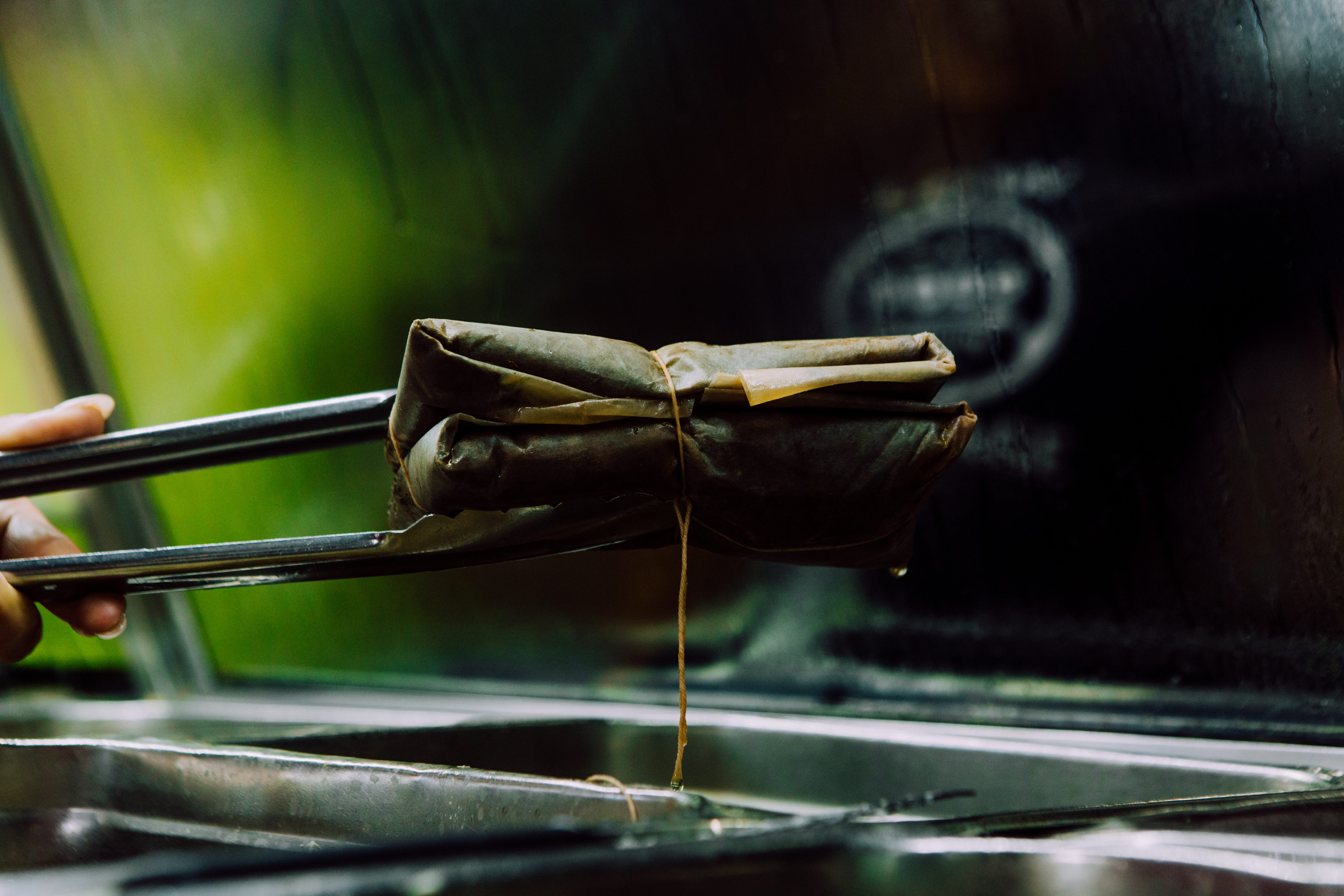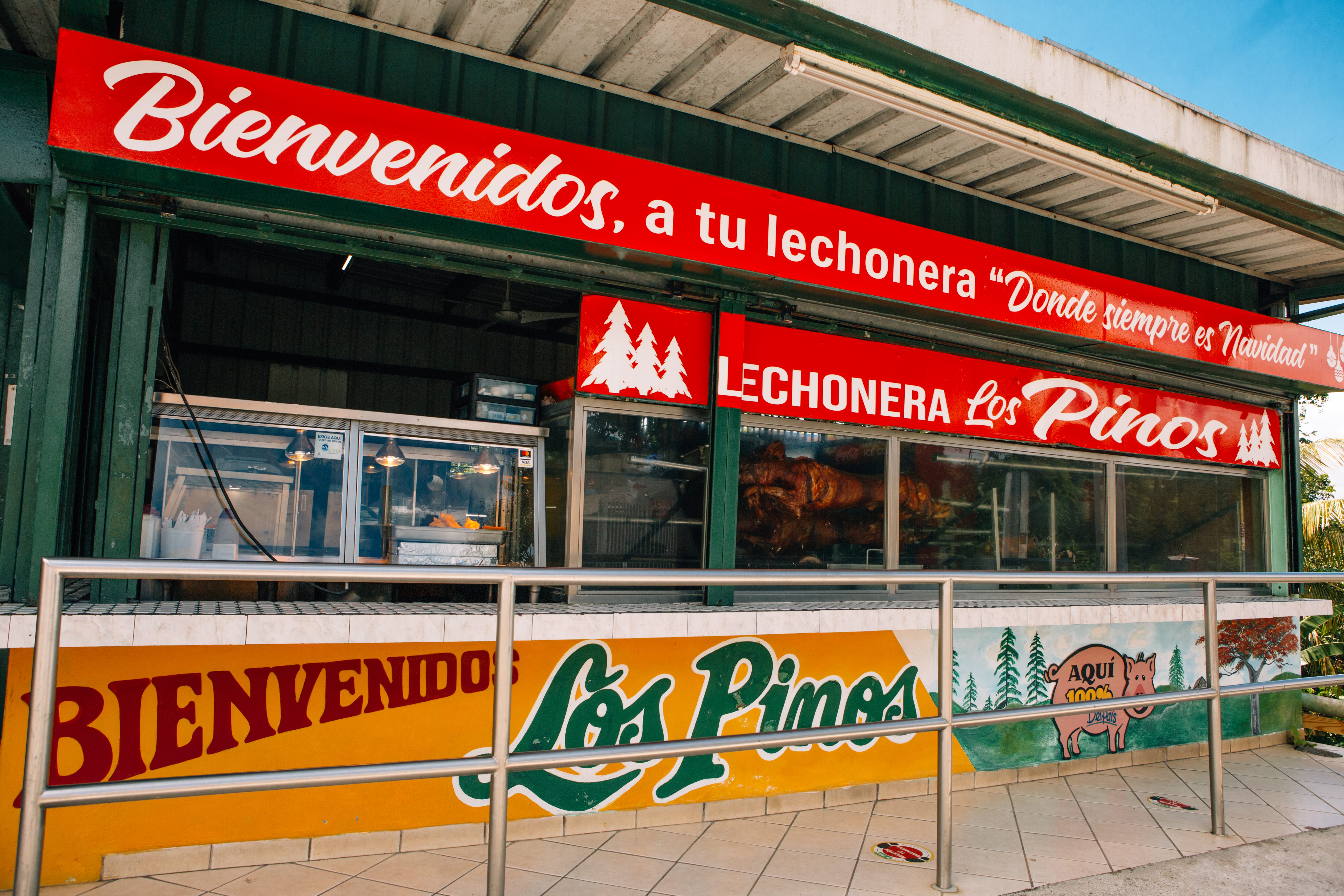 Farther north on la Ruta del Lechón, you can find Los Pinos, a lechonera that Anthony Bourdain touted as serving the best roast pork he'd ever had. Locals flock to Los Pinos in the early morning hours, arriving before noon to sample fresh-from-the-pit lechón. Los Pinos is also known for its delicious rice with guinea fowl, rennet, and liver stew. "I come here at least once a week just for the rice with guinea," says Carlos Rivera, a local visitor.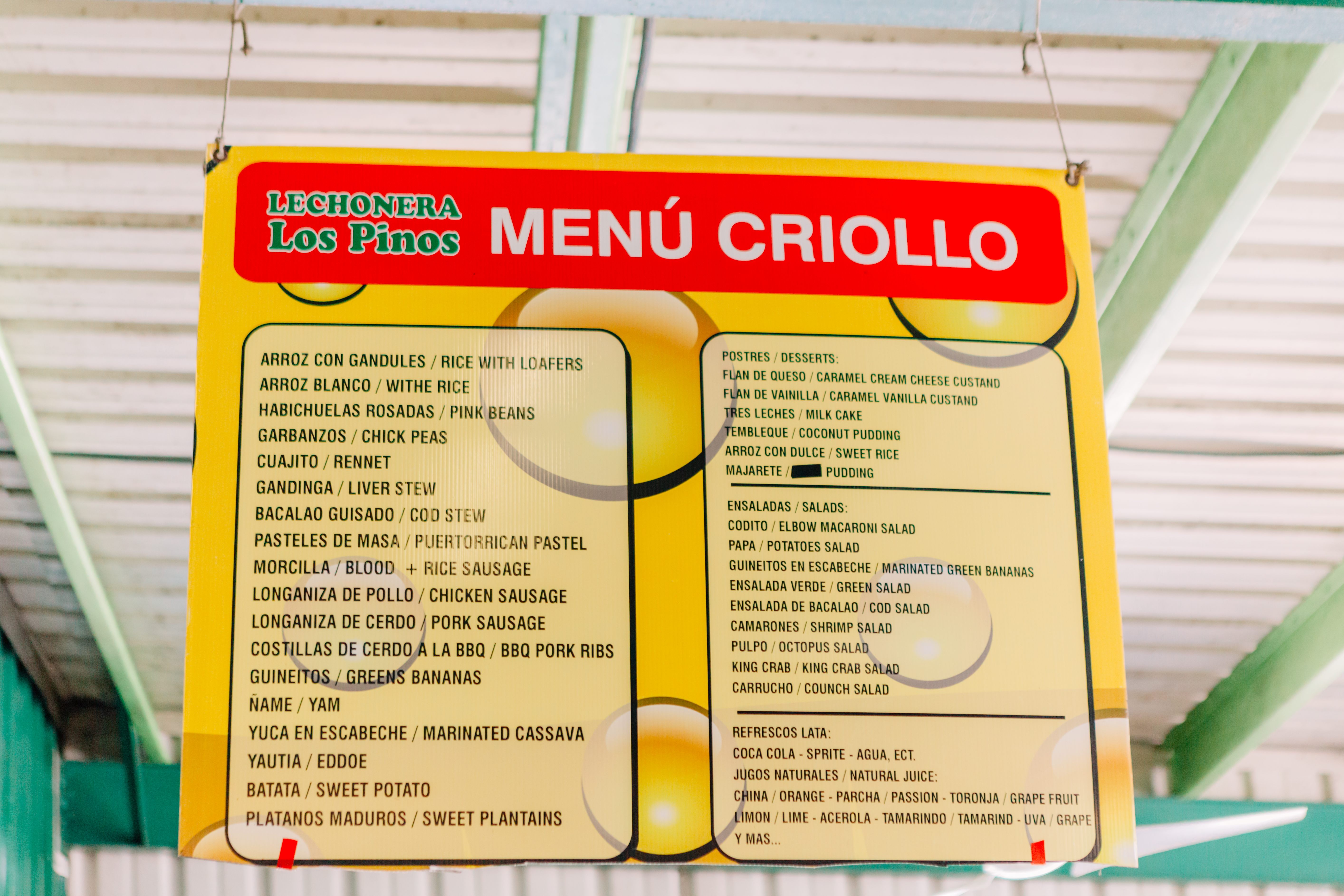 Although the roasted pig takes center stage, there are options for those who don't consume pork. "We have vegan options, and we often modify our dishes to satisfy customers," says Erica Rodríguez Figueroa, Manager of Los Pinos.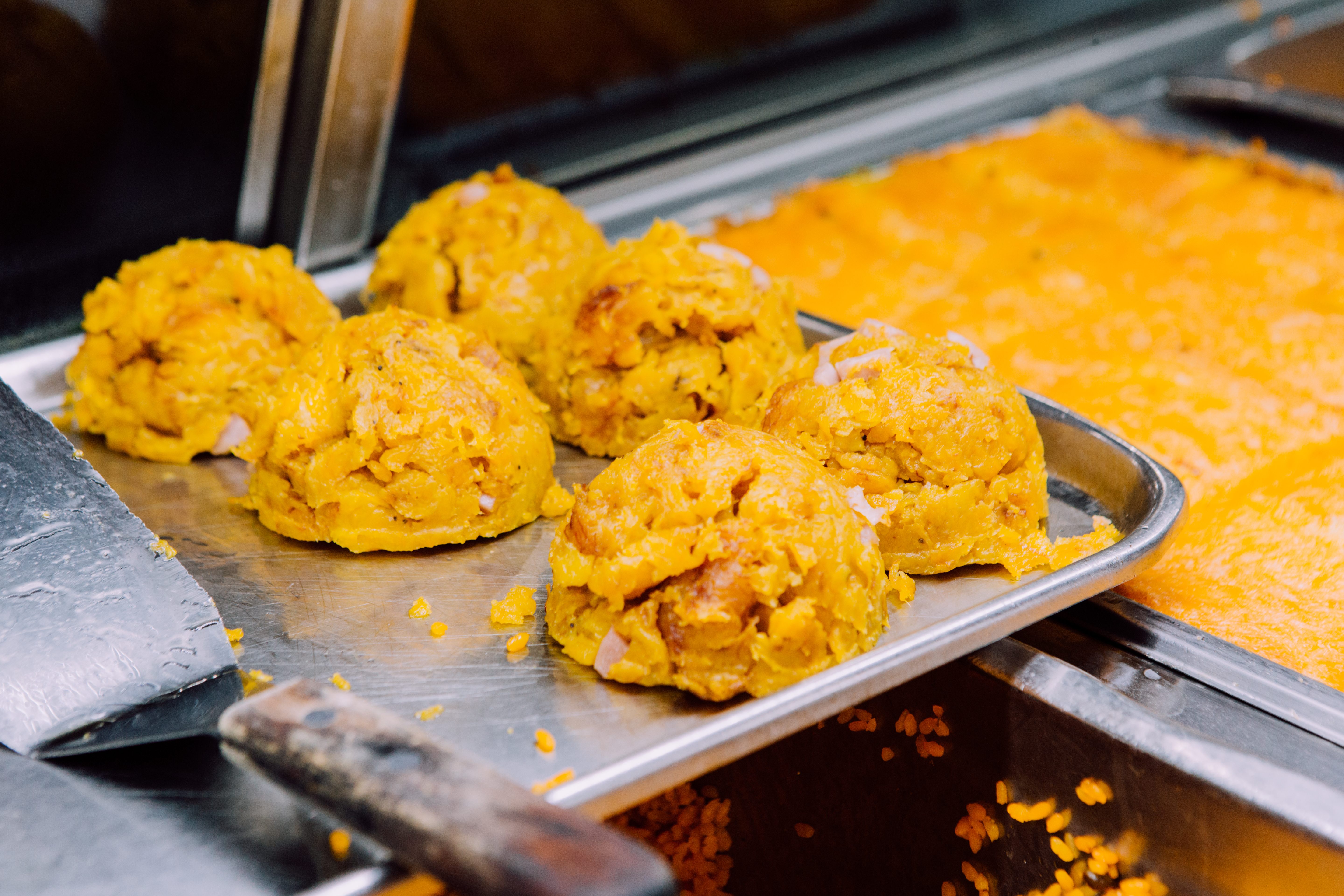 Another traditional dish found in Guavate is mofongo, made by mashing fried green plantains in a pilón, or mortar and pestle, along with garlic, olive oil, and chicharrón, fried pork skin. Mofongo comes from the Angolan technique of mashing large amounts of starchy foods, then adding liquid and fat to soften the mixture. According to Puerto Rican historian Cruz Miguel Ortíz Cuadra, enslaved Angolans and other West Africans brought this practice to Puerto Rico in the 1500s. The dish traces its roots to the West African fufu, a mash of boiled yams. La Placita de Guavate is known for its authentic mofongo.
Part of the celebratory experience of restaurant hopping on la Ruta is pairing your lechón with ice-cold Medalla, a locally produced, award-winning beer. Many lechoneras also serve mojitos featuring local fruits like passion fruit, soursop, and guava, as well as the Island's signature piña colada. As the birthplace of the piña colada, Puerto Rico— which produces 70 percent of rum sold worldwide—is considered the rum capital of the world. The rum manufacturing process is deeply rooted in this Caribbean Island's history, dating back to the 15th century, when sugarcane workers discovered the fermentation of mixed molasses and water.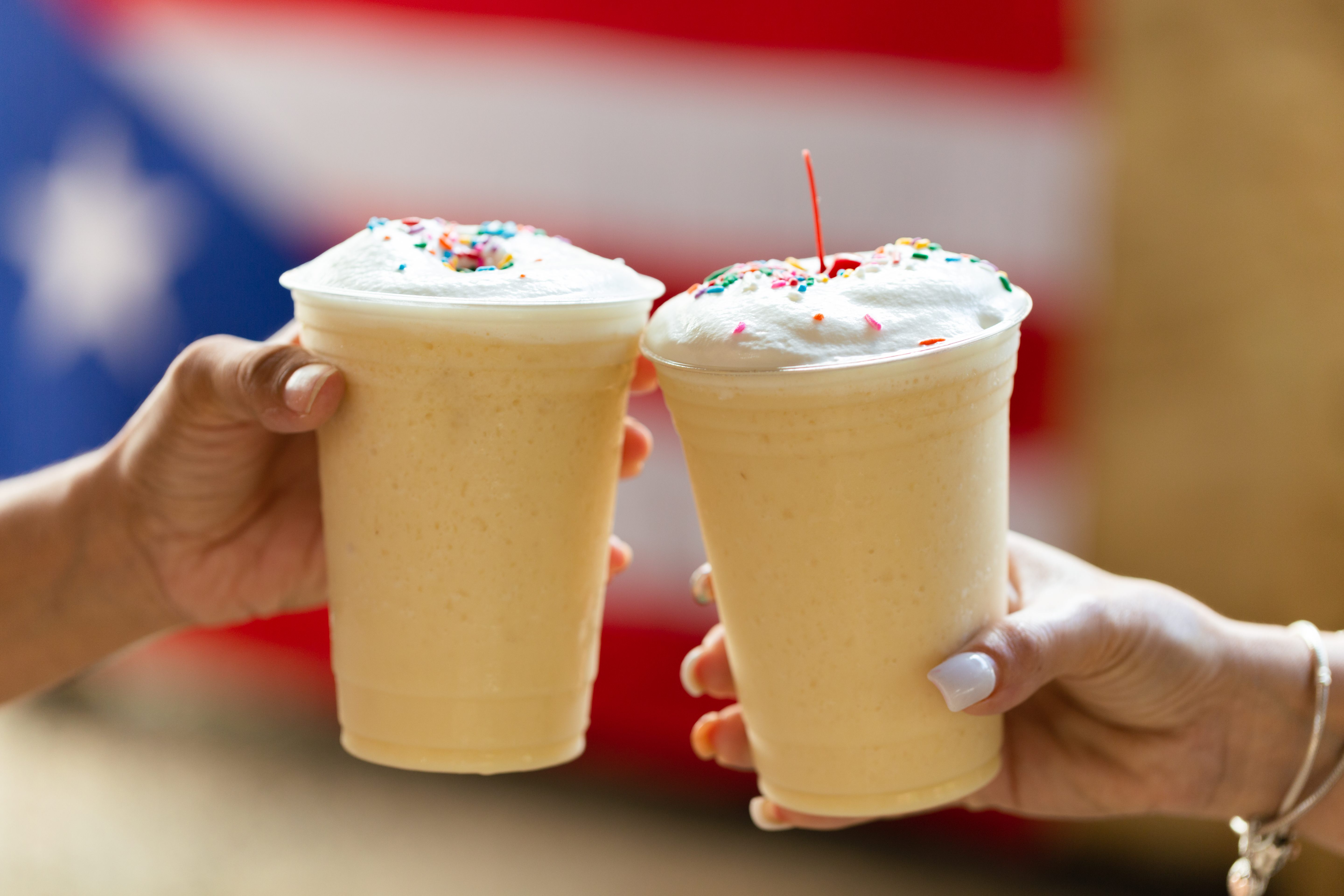 There are also plenty of non-alcoholic options to be enjoyed, including fresh juices made of local fruits like tamarind, passion fruit, or acerola, a tart cherry-like fruit popular throughout the Island. After a long day of feasting, a classic Puerto Rican cafecito, or coffee, is essential for catching a second wind.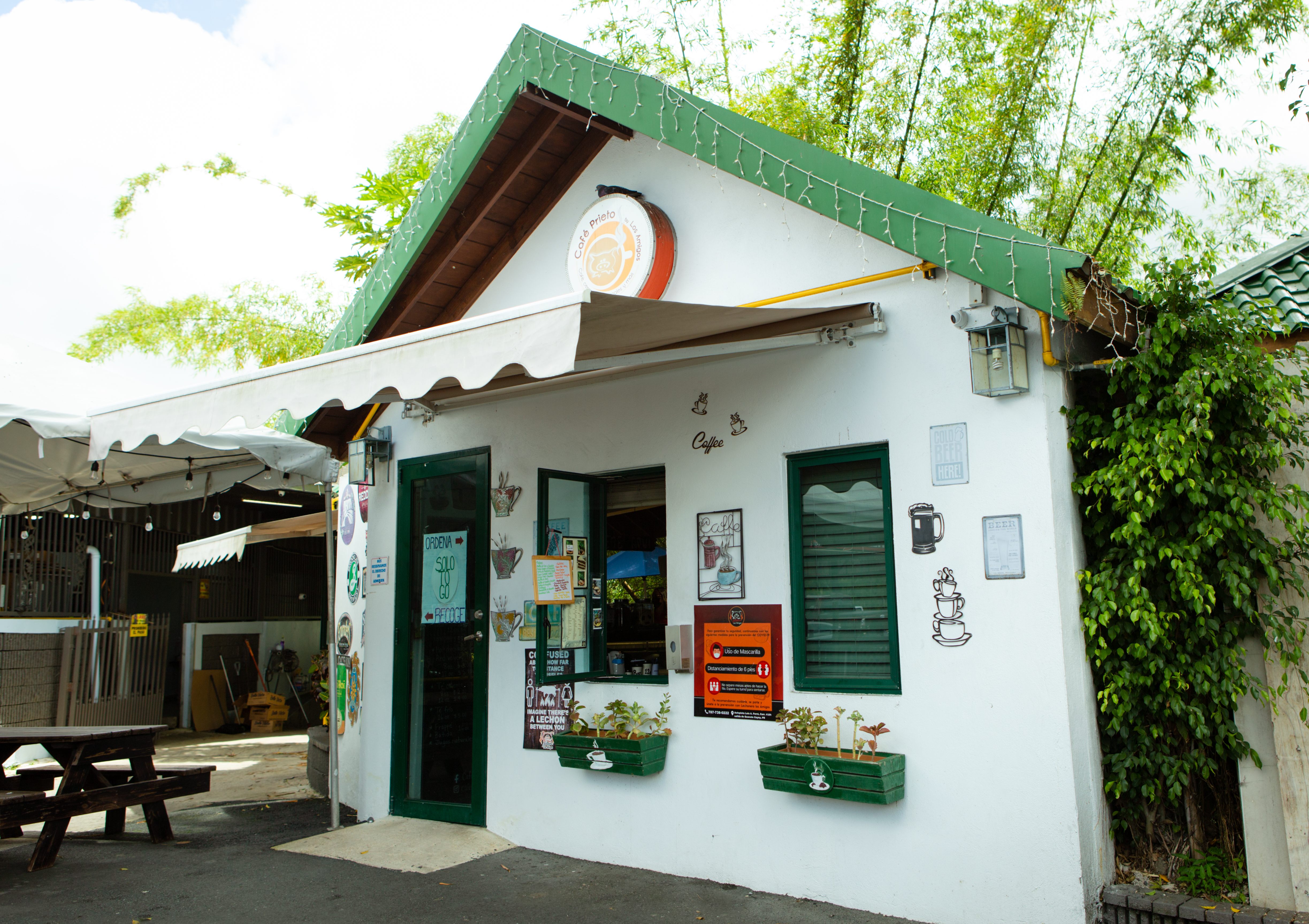 Puerto Rico has a coffee culture that dates back more than 100 years. Harvested in volcanic soil, Puerto Rican coffee is world-renowned for its deep, rich flavor. Cafe Prieto's coffee is particularly unique because of their exclusive use of Grano 20 beans, an intense flavor coffee bean that grows in the Hacienda Monte Alto in Adjuntas. Gorgeous coffee farms and haciendas are scattered across the Island and often provide family-friendly tours for coffee enthusiasts.
La Ruta del Lechón is also a place to explore the work of local artisans. As you enter Guavate, you will see a stone sculpture of three wise men sitting 33 feet high up on a hill. It's on this hill you'll find Monte Sagrado de los Tres Santos Reyes, the gallery and workshop of Juan Santos Torres, known as the "Picapiedras" (Flintstone) of Guavate. This sculptor has devoted himself to carving the three wise men that reflect the Puerto Rican family pillars of faith, culture, and tradition.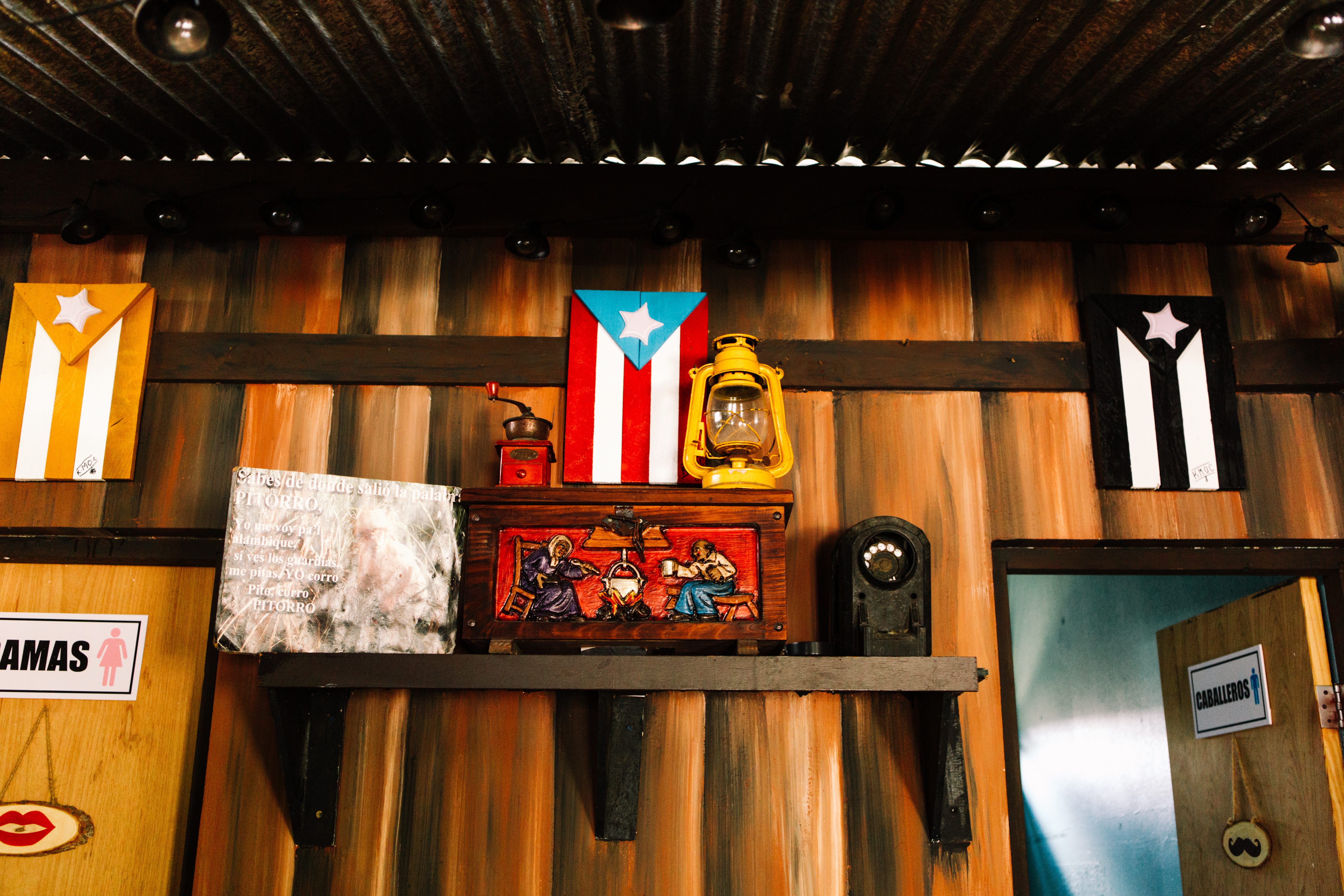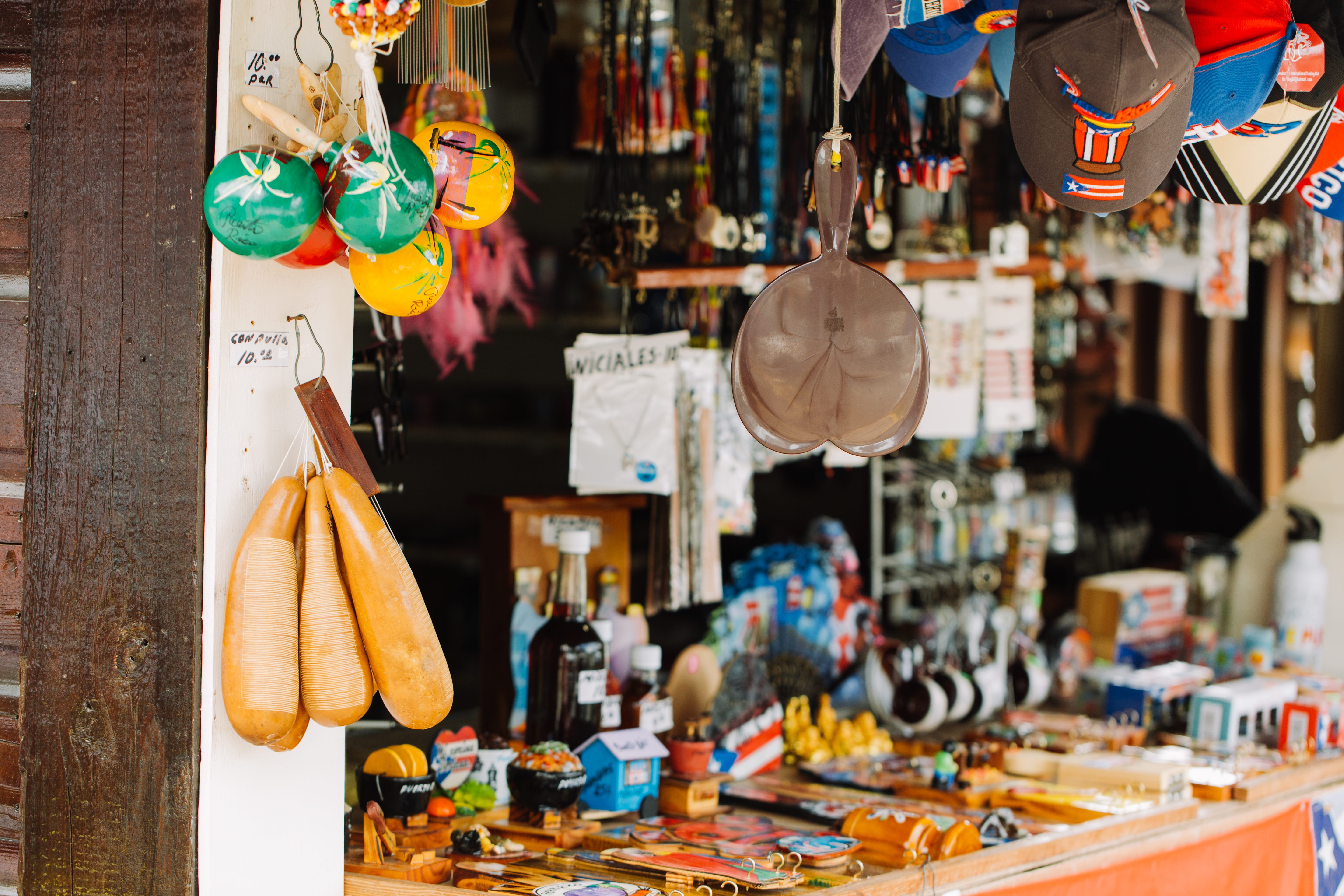 Another central component of chinchorreo is music: salsa, merengue, and reggaeton that fill the streets of Guavate, and play live at the lechoneras on weekends. Notably, El Rancho Original, a massive two-building lechonera, boasts a stage for live bands and a huge dance floor.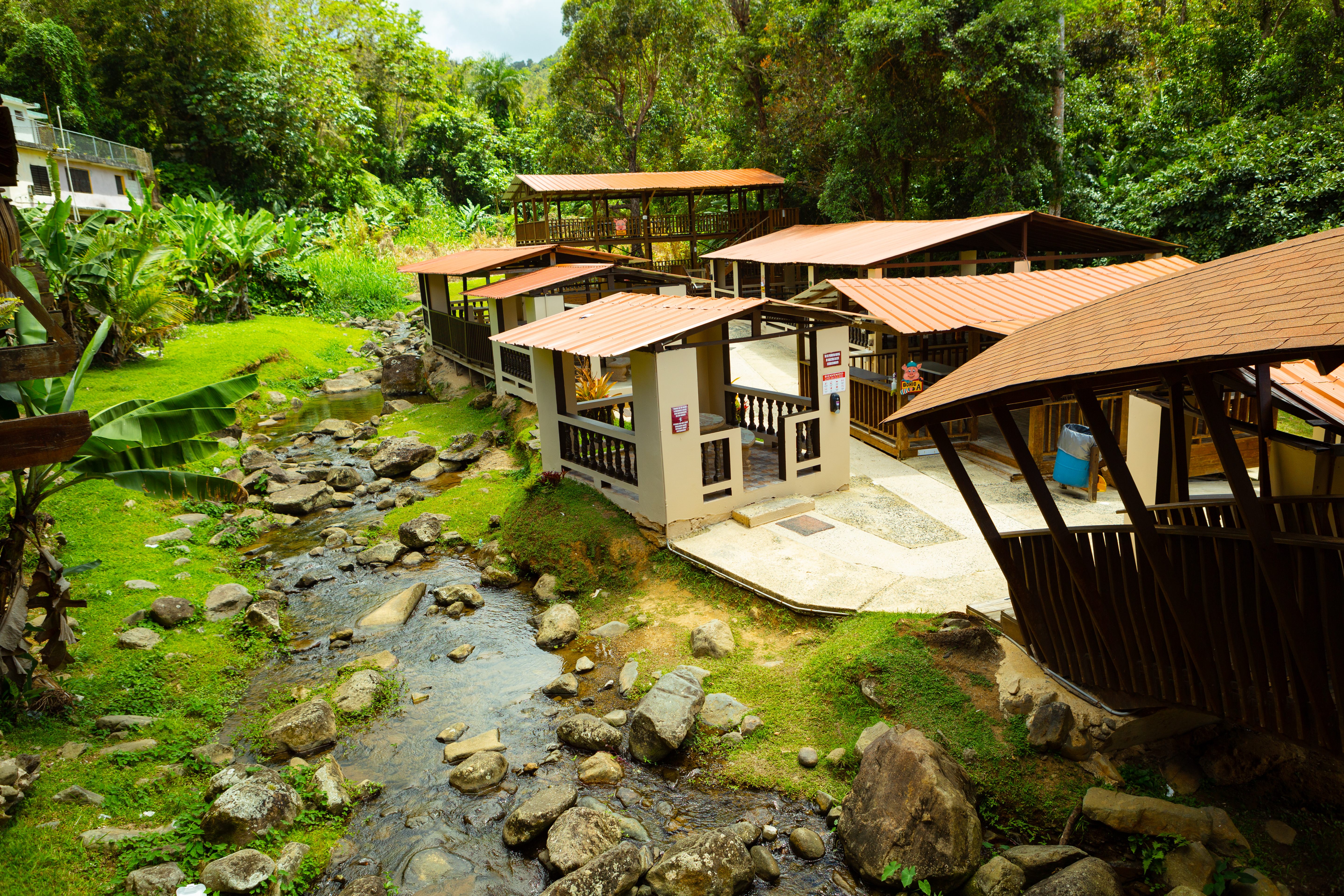 For foodies visiting Puerto Rico, experiencing la Ruta del Lechón—ideally while enjoying barbacoa and swaying to salsa—is a must. It's an opportunity to experience and celebrate the Island's history, cultural heritage, and spirit of community, one delicious stop at a time.