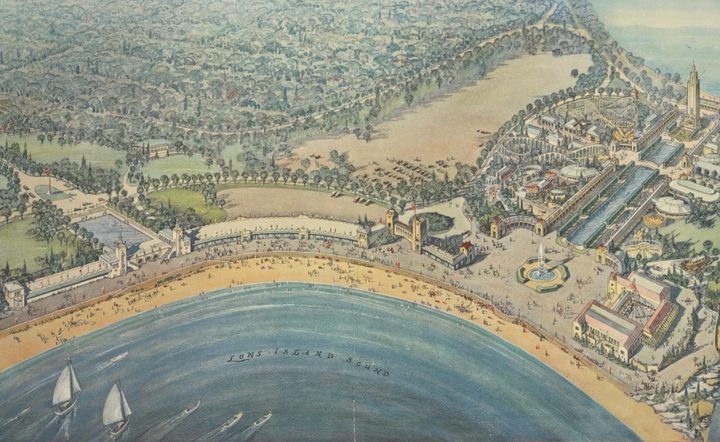 Let Your Mind Wander With These Gloriously Detailed Maps
Satisfy your urge to roam and while away some time with these picks from cartographic collectors, curators, and scholars.
If you're spending most of your time at home, you're probably looking out at the same landscape day after day. It's always changing in small ways, of course—fresh buds appear on branches, then burst with life; a sky might be smudged one day, and cloudless the next—but the streets and the buildings on it remain the same.
That may be an invitation to look closer, and become acquainted with the plant and animal neighbors that share your block. Or it might stoke the type of wanderlust that has you aching for new vistas, whether that's half a world away or just the next town over.
One way you can scratch that itch to roam is by journeying through digital map collections.
Maps can help viewers get their bearings and the lay of the land, or transport them into a realm of pure fantasy. A viewer might find a quiet thrill in poring over a map of a place they already know, or divert themselves by looking at a map that's "just fun and complex, with lots of things going on," says Matthew Edney, a scholar of cartography at the University of Southern Maine. "And it's easier to get lost within a detailed map of [a] place—one that shows features at a human scale, to which we can relate, so that we can imagine being inside the landscape."
Persuasive maps—ones that aren't designed as navigation aides, but rather to communicate ideas and influence beliefs—also give viewers a lot to chew on when it comes to symbols, colors, and fonts, among other things.
"You can spend a lot of time looking at a map and asking yourself, 'What was the mapmaker trying to accomplish, how did they do it, and how well was it done?" says PJ Mode, a map aficionado whose collection is accessible through Cornell University.
Atlas Obscura recently asked Mode, Edney, and other collectors and curators to share some maps that might distract and delight you, wherever you are.
Dive into details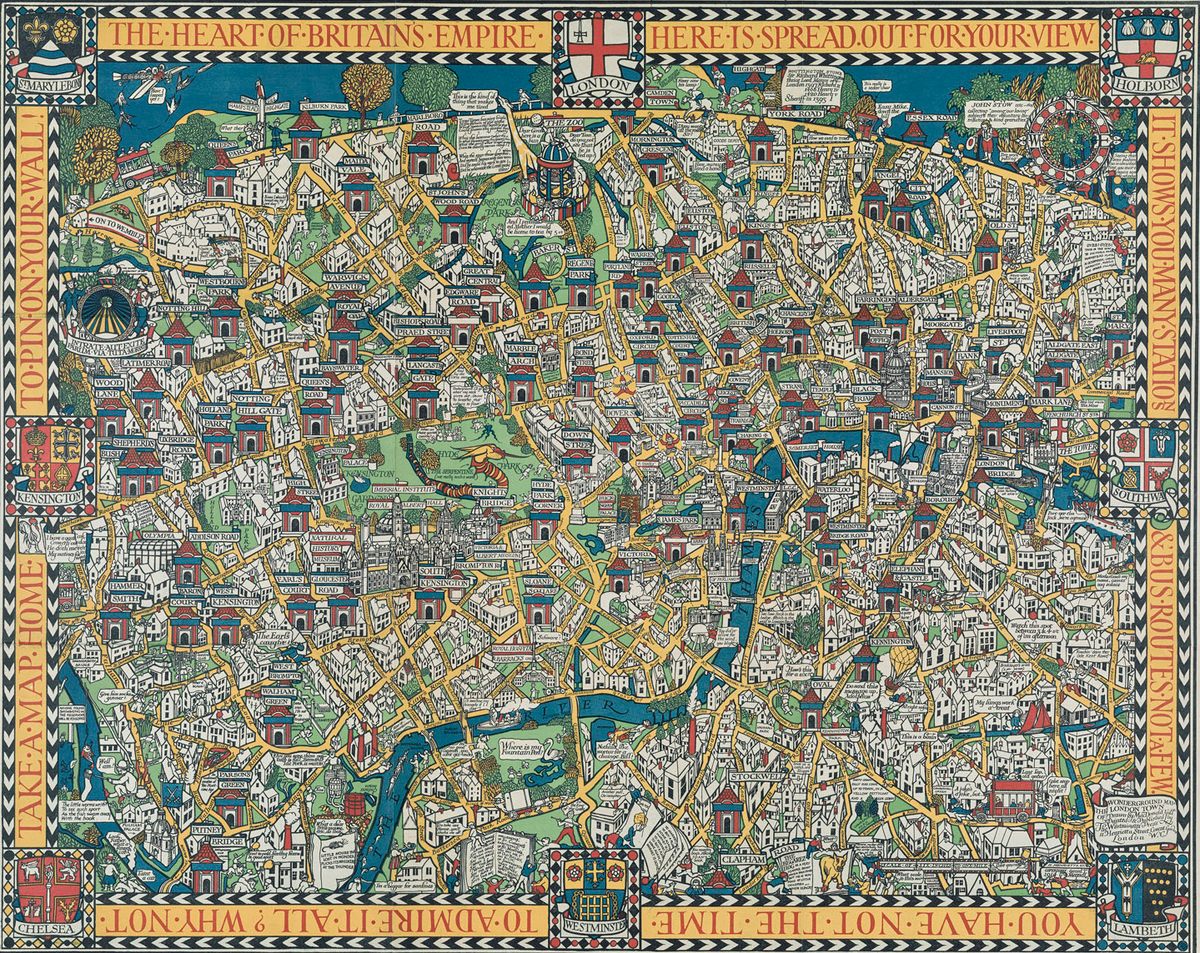 "The Wonderground Map of London"
This jam-packed pictorial map from 1927 highlights attractions that were accessible from various Underground stations (marked by little cabin-like structures). London is Edney's home city, and where he went to college. But even if you're not an Anglophile, you could still happily spend a chunk of time zooming in on the dense details.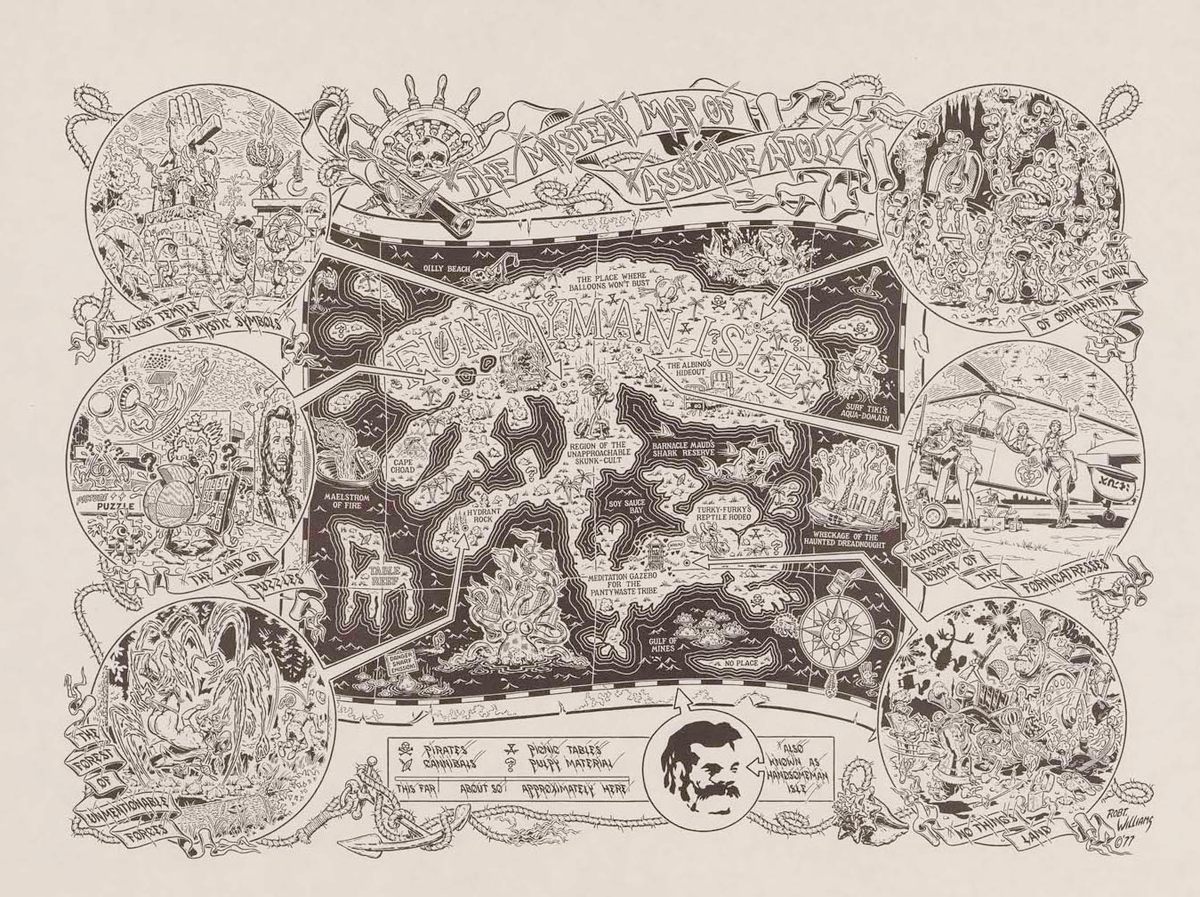 "The Mystery Map of Assinine Atoll"
This one, which dates to 1977, feels like a cartographic fever dream. It's "pure and simple fascination—a surreal map from the drugged-out 1970s," Edney says. Linger at "Turkey Furky's Reptile Rodeo," "The Place Where Balloons Won't Bust," or "Barnacle Maud's Shark Reserve." And rejoice that you're not hunkering down on "Oilly Beach."
"France kilométrique: carte indiquant les distances kilométriques sur tous les réseaux de chemins de fer" ["France in kilometers: Map showing the kilometric distance on all railway networks"]
You could spend several hours following the winding routes of France's railways, as they existed in 1906. Go ahead and imagine the views out the windows, and then look out your own.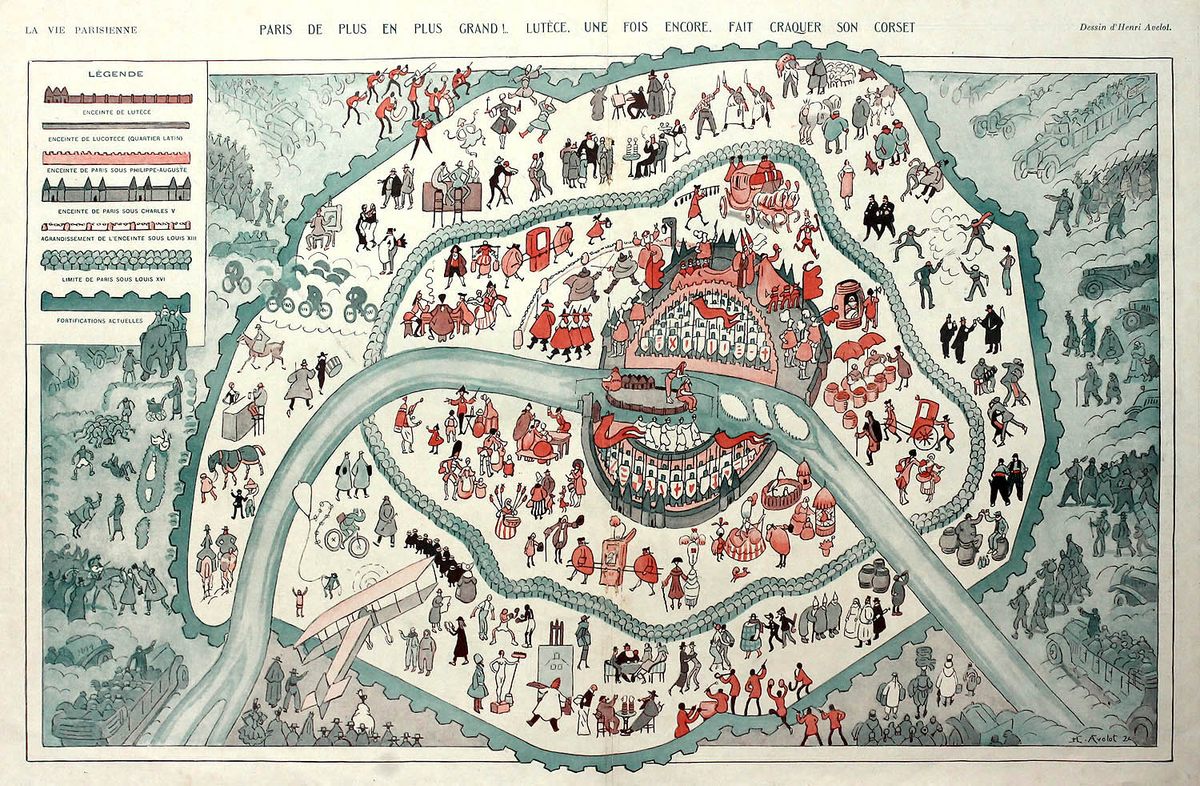 "Paris De Plus En Plus Grand! Lutece. Une Fois Encore, Fait Craquer Son Corset." ["Paris Bigger and Bigger! Lutece. Once Again, Bursts Its Corset."]
This satirical map by Henri Avelot, which appeared in La Vie Parisienne in November 1924, shows the expanding limits of the city over time, marking the bounds of contemporary Paris against those during the eras of Kings Philippe Auguste, Charles V, Louis XIII, and Louis XVI. There's a lot of merriment, Mode points out, with drinking and dancing, but a somber note as well—groups of approaching "outsiders," welcome or not. With maps that make an argument, a close look can reveal the subtle or covert messages that a mapmaker was trying to convey.
Lose yourself in a dreamy landscape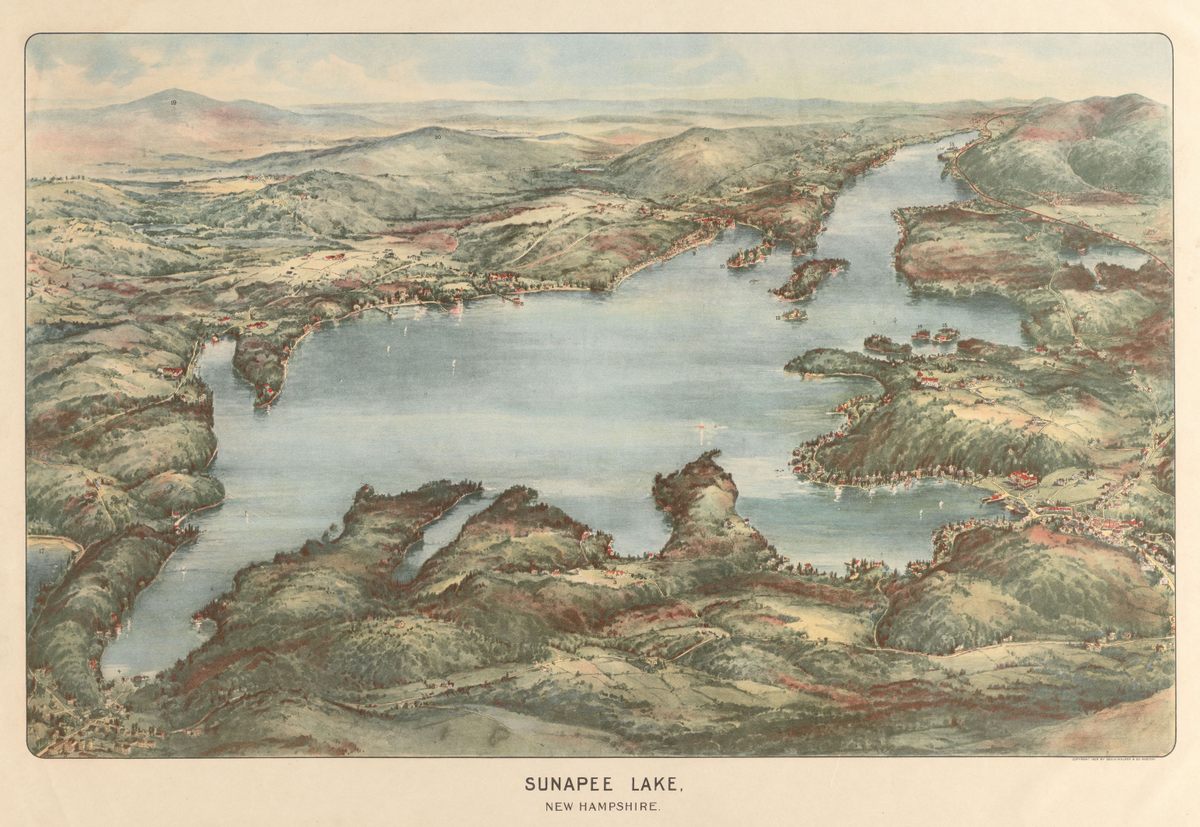 "Sunapee Lake, New Hampshire"
This look over the New Hampshire landscape of 1905 is lush and alluring. The map was produced by the George H. Walker Co., which depicted spots across the state that were attracting the attention of middle-class tourists. Looking at it "makes you want to walk, fly, and swim all at once," writes Garrett Dash Nelson, curator of maps and director of geographic scholarship at the Boston Public Library's Norman B. Leventhal Map & Education Center, in an email.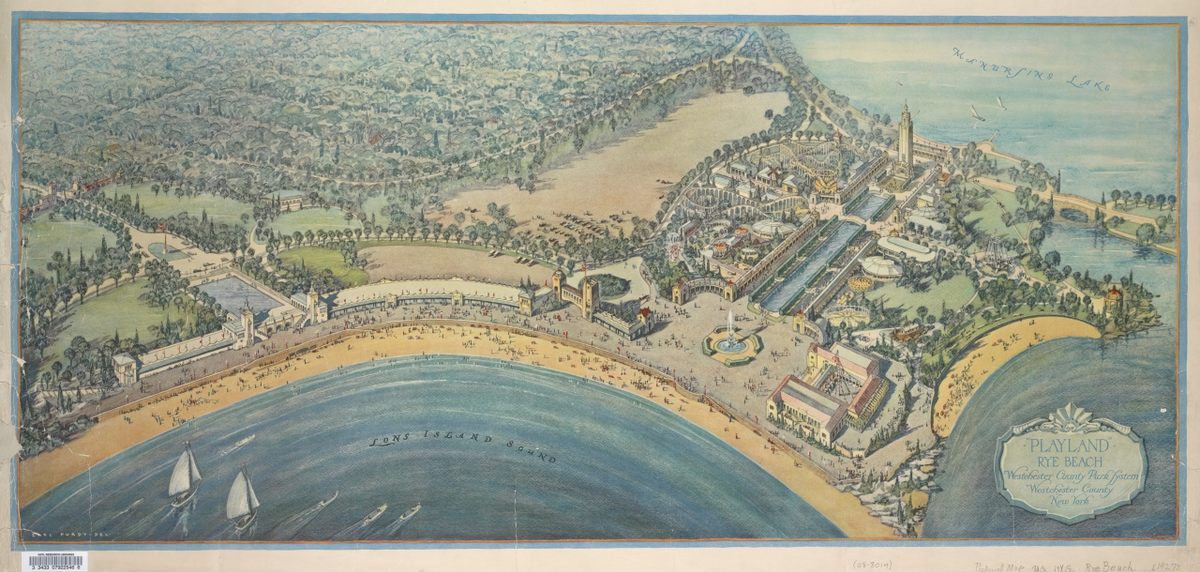 "'Playland,' Rye Beach: Westchester County Park System, Westchester County, New York"
Drop into this alluring view of Rye Beach, published by New York's Westchester County Park Commission in 1927, and savor the sailboat-specked water and crowded shore, long before social distancing swept visitors from beaches and boardwalks. "The aerial view was especially popular at that time," says Ian Fowler, maps curator at the New York Public Library. "And as advances in lithography progressed, they got larger and more detailed." This map was intended to lure visitors to the shore, Fowler says, so it's "kind of a cross between schematic and poster," showing off both the beauty of the environment and all the attractions that dot it.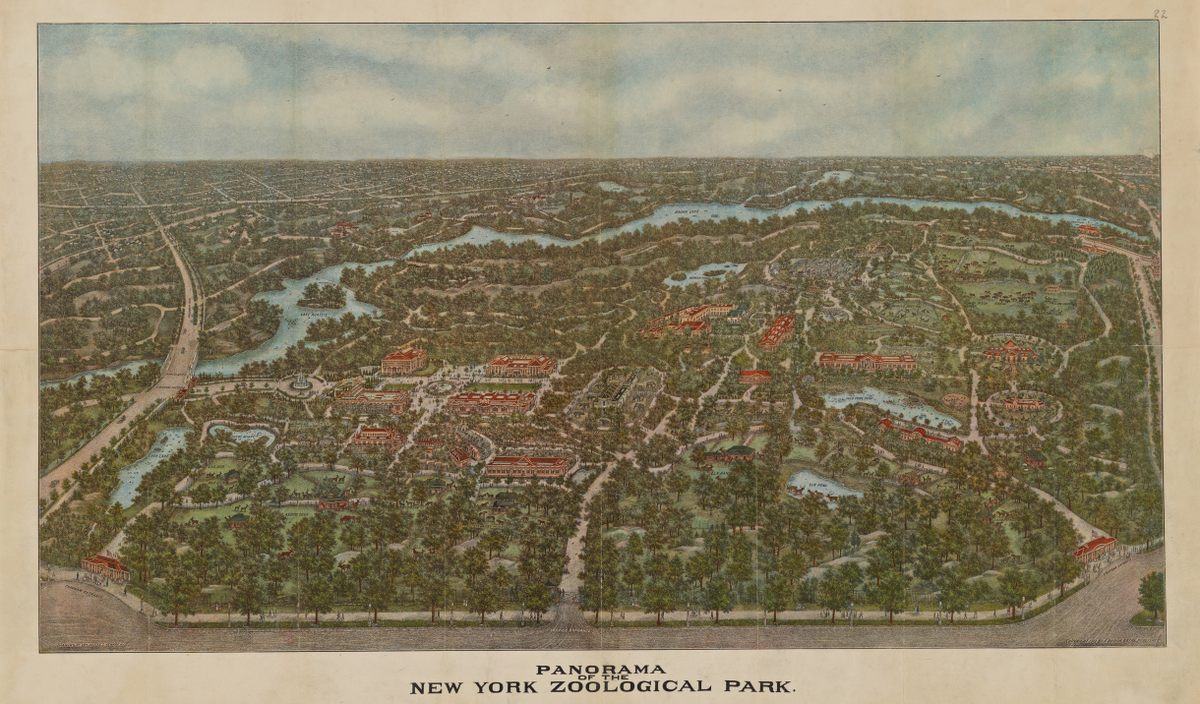 "Panorama of the New York Zoological Park"
Thick with handsome trees, this 1913 map of the New York Zoo is plenty appealing from a distance. But it really rewards close looking. Zoom way in to see grazing reindeer, ranging bison, and wading elk, as well as tiny visitors drifting around the complex. Like the previous entry, this map "plays on the idea of being at once an escape from the larger city but also connected to it," Fowler says. "Thus the roadways you can see around the borders."
Do you know of any other digital maps we missed? You can join the conversation about this and other stories in the Atlas Obscura Community Forums.