Monarch Butterflies Really Need Your Urban Plants
A new paper argues that cities can make a lot more space for milkweed, in particular.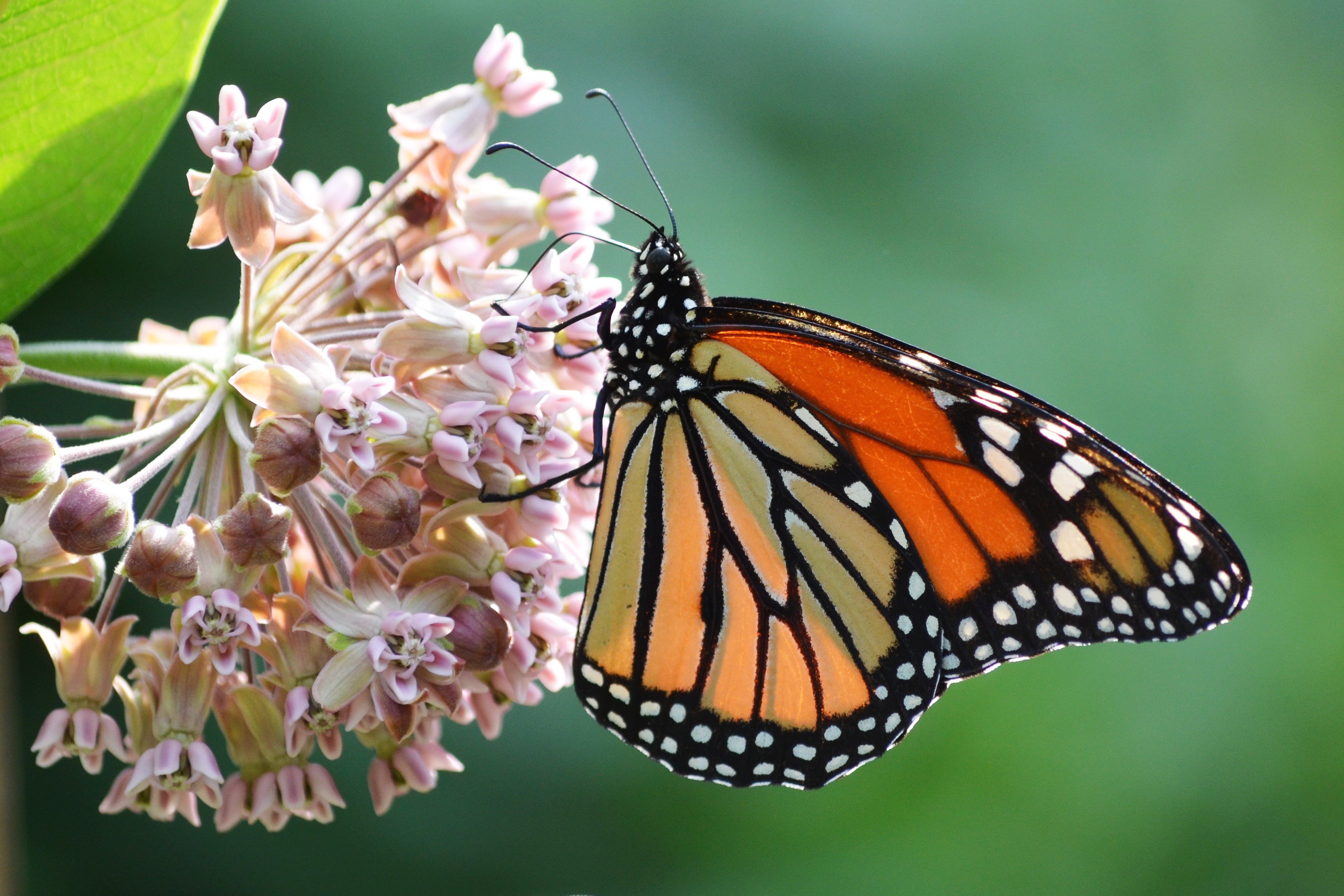 Many creatures hurrying along Chicago's busy streets are pursuing distinctly metropolitan pleasures—spying the city's skyline reflected in Millennium Park legume-shaped sculpture, maybe, or gazing down at the grid from vertiginous observation platforms. Some of the city's smallest, lightest denizens, though, including monarch butterflies, are seeking leafier delights. They're looking for clusters of milkweed crowned with globes of dusty-rose flowers.
These plants are basically well-stocked bodegas for monarchs, whose caterpillars nosh on them, and roughly 450 other species. (The U.S. Fish and Wildlife Service once referred to common milkweed as "nature's mega food market for insects.") They're sorely needed, because the American Midwest doesn't have as many monarchs as it used to.
Each year, as summer days grow shorter and cooler, the monarchs that live east of the Rocky Mountains will take flight for the forests of Mexico, where they blanket the fir trees like shaggy coats. But the number of individuals flitting around the Midwest and preparing to make the journey has tumbled: Researchers estimate that the eastern population has plummeted by more than 80 percent over the last two decades. (Meanwhile, the population west of the Rocky Mountains—which overwinters in California—has seen an even grimmer decline of more than 97 percent.) The culprit is probably a combination of habitat destruction, sprawl, pesticide use, and more.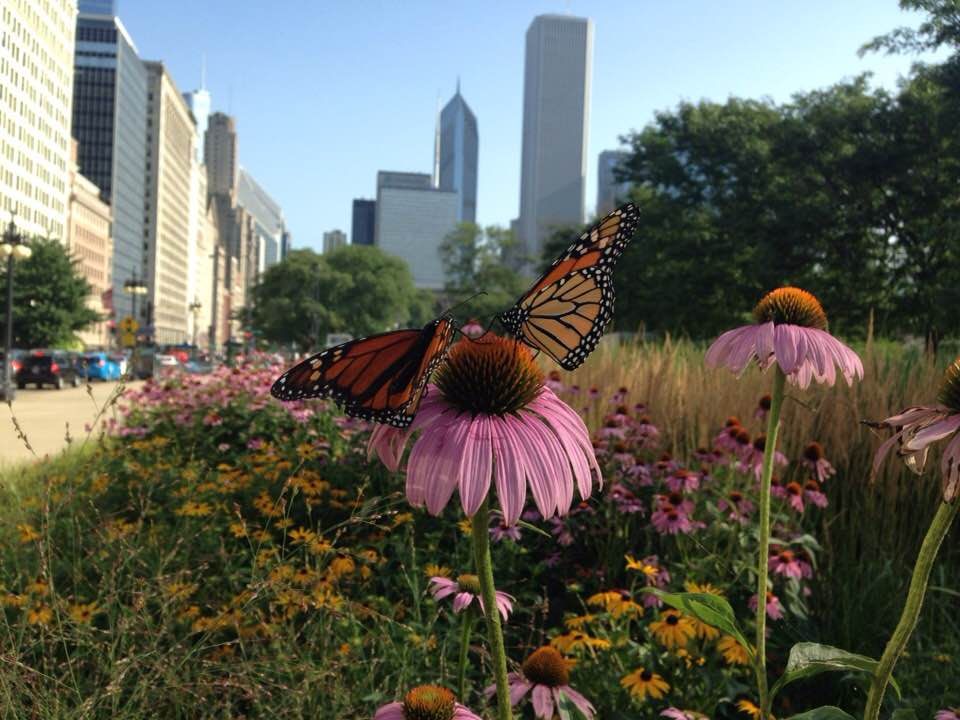 It might be tempting to point the finger at vanishing meadows and wetlands, but many ecologists argue that cities aren't just the enemy of biodiversity—they can be useful habitats, too. "Metropolitan areas actually matter for wildlife conservation, and that's especially true for pollinators like the monarch that can survive with very small patches of habitat," said Abigail Derby Lewis, a senior conservation ecologist at the Field Museum and paper co-author, in a statement. While they're no substitutes for wilder environs, the argument goes, rivers of concrete and mountains of glass and steel could be doing more to roll out the welcome mat for the little residents that crawl or fly around them.
In a new paper in the journal Frontiers in Ecology and Evolution, researchers from the Field Museum in Chicago take stock of the milkweed situation on the ground in a handful of U.S. cities along the butterfly's flyway, and calculate how much more of the plant these cities could sprout. (Researchers from the FWS collaborated with the Field Museum team on a second, related article about the real-world implications of the research.)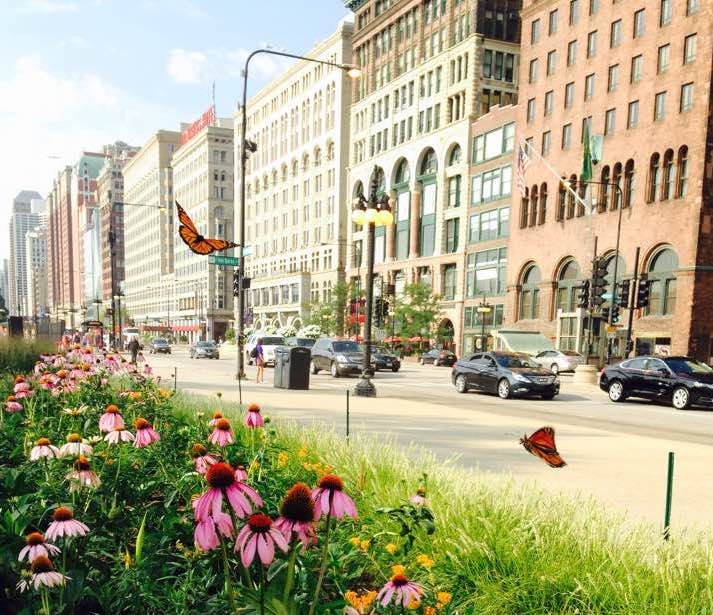 By combining land-use data, high-resolution spatial images, sampling, interviews, and other information, they estimated how much milkweed is currently growing in Chicago, Kansas City, Minneapolis-St. Paul, and Austin, and concluded that Chicago had the most milkweed of the bunch, with about 15.3 million stems. In all of the cities, milkweed plantings were the thickest in land that was managed for conservation.
The researchers also found many swaths that could be calling out for a bit of milkweed, especially within "existing non-forested green spaces." Not all green spaces fit the bill—ripping up agricultural land would be a tough sell, for instance, and no one is suggesting clusters in the middle of a soccer field, or below dense canopies, whose leaves would snuff out too much light. But yards, traffic medians, and vacant lots all held promise.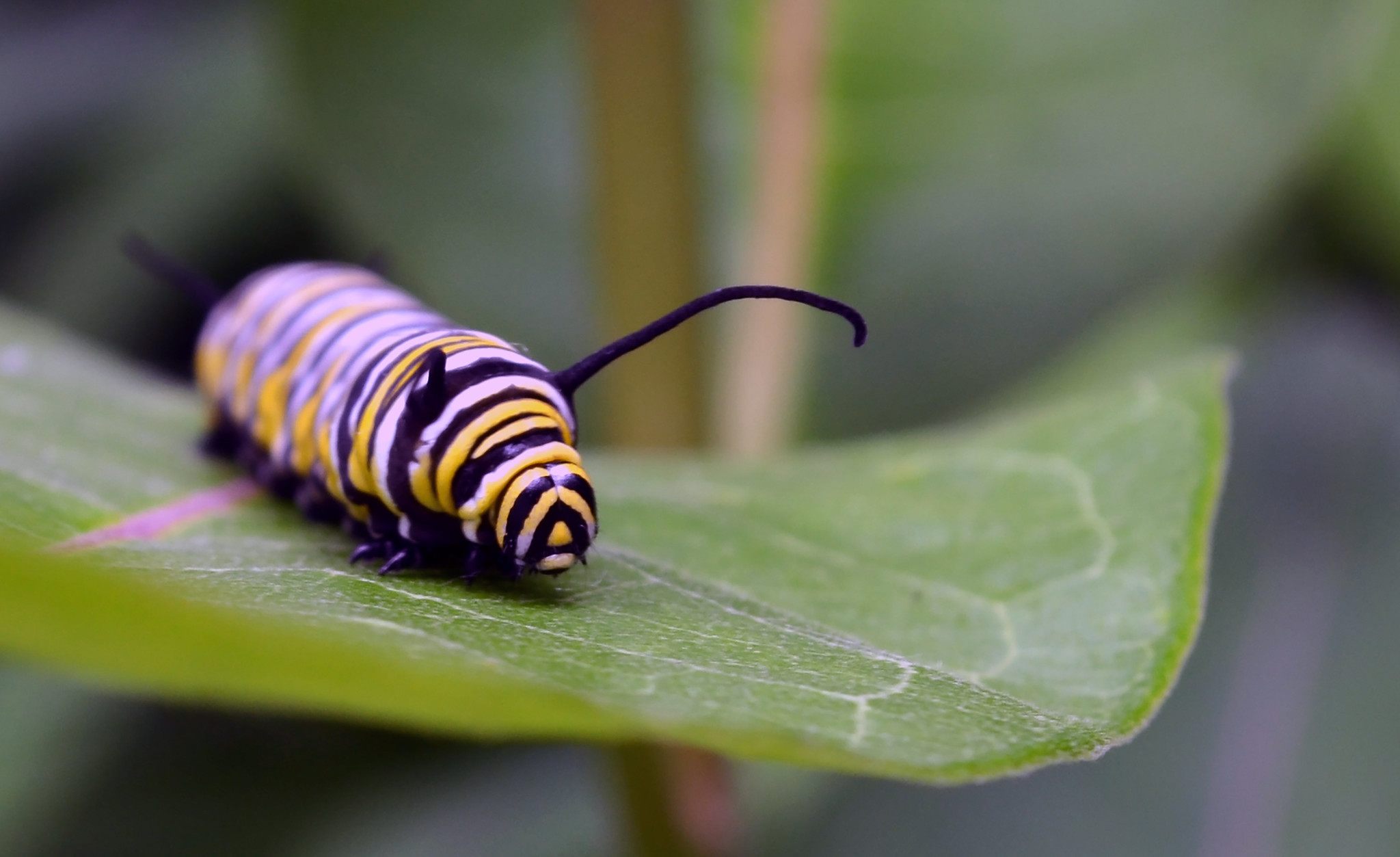 It's often said that it would take some 1.8 billion stems of milkweed to buoy monarch populations—and if those were all planted close to each other, they'd fill a garden roughly the size of Washington, D.C. Converting a whole city into a sea of milkweed is probably a nonstarter, but the researchers estimated that relatively small changes could add up. Even if only two percent of these plantable green spaces were converted into milkweed jungles, the researchers suggest, these cities could hold millions of additional stems. "We think that cities could support 15 to 30 percent of the milkweed that's needed to save monarchs," said Mark Johnston, a conservation ecologist at the Field Museum, and the paper's lead author, in a statement.
In interviews and surveys, the team found that the residents they spoke with were fairly game to go mad for milkweed. And there are already signs that planting efforts pay off: In 2018, eastern monarch populations were the highest they'd been in a decade, which the National Wildlife Federation attributes in part to cities' efforts to double down on milkweed and other butterfly-friendly plants. These can help buoy other insects, too—milkweed is among the plants that the FWS encourages human residents to plant in order to extend a neighborly welcome to the beleaguered rusty patched bumblebees, the first U.S. bumblebee to be classified as endangered. "I would encourage people to question the grassy lawns that dominate our urban landscape," Johnston said. "Could we plant something else that would provide habitat for monarchs and other wildlife?"