What Should Happen to this California Folk-Art Landmark?
The artist's descendants see a family legacy. The college where the statues are displayed sees harmful stereotypes.
The women seemed to be waiting for something or someone. Paint peeled from their knees and elbows and cheeks, revealing gray concrete below. Their expressions were lifelike, but they had the bodies of dolls: hands and feet a little too big and no angle to mark the bend of joints. Still, it was hard to resist the idea that they were about to begin a conversation.
"That's Aunt Lorraine and Lovely Louise is my mom," explained Marsha Klopfenstein.* "They're dressed like dancehall girls, which was right out of my grandfather's imagination because they didn't have a fancy thing to their name."
On a hot day in early September 2022, Klopfenstein and Kristen Cassidy*, her niece,* had traveled to a remote corner of Pierce College in Woodland Hills, California, to survey what was left of John Ehn's legacy, California Historic Landmark 939.5. After thirty years of hosting the folk-art creation known as "Old Trapper's Lodge," the Los Angeles Community College District, which oversees nine colleges including Pierce, had given the family 60 days to remove the remainder of the collection from the property.
"We have only five weeks or less to come up with a plan," Klopfenstein said.
The statement was true, but there is always more than one place to begin a story.
At the center of the dust-up was Ehn's statue, "The Fight." Identified as "Peg Leg Smith and Big Bear," the giant concrete figures of two grimacing, bare-chested men—one white, one brown—are locked in violent conflict and tower over the assortment of cowboys, goodtime girls, and stoic pioneer mothers. While Ehn's surviving relations consider this weather-beaten assemblage part of the family, students and faculty at Pierce College see disturbing remnants of frontier mythology.
Tall tales came naturally to John Ehn. Born in 1897 into a temporary lodging camp outside Viola, Michigan, he dropped out of school in the 7th grade to care for an ailing father. As the story goes, he worked in a lumber mill, and later as a game warden and trapper, pursuing everything from raccoons to Florida alligators. In 1941, suffering from spinal inflammation, Ehn moved west to California and opened a motel in Sun Valley. Ever the showman, he decorated his office with an assortment of old-time memorabilia, and decked himself out in fringed jackets and turquoise jewelry.
Dry pine needles crunched underfoot as Klopfenstein made her way to the larger-than-life statue commemorating her grandfather's transformation into "Trapper John." Commissioned by Ehn from Claude Bell (builder of the Cabazon dinosaurs), the statue, which once stood in front of the motel, sparked Ehn's own surge of expression.
"Grandpa was not a trained artist," Klopfenstein explained. "But from watching and learning, he created the rest of the statues."
Taking tips from Bell, Ehn used rebar to support layers of concrete embedded with found materials such as costume jewelry, polished stones, and even a set of what appear to be real teeth. Working for over thirty years and using life casts of his family members as inspiration, the ebullient Ehn constructed dozens of statues.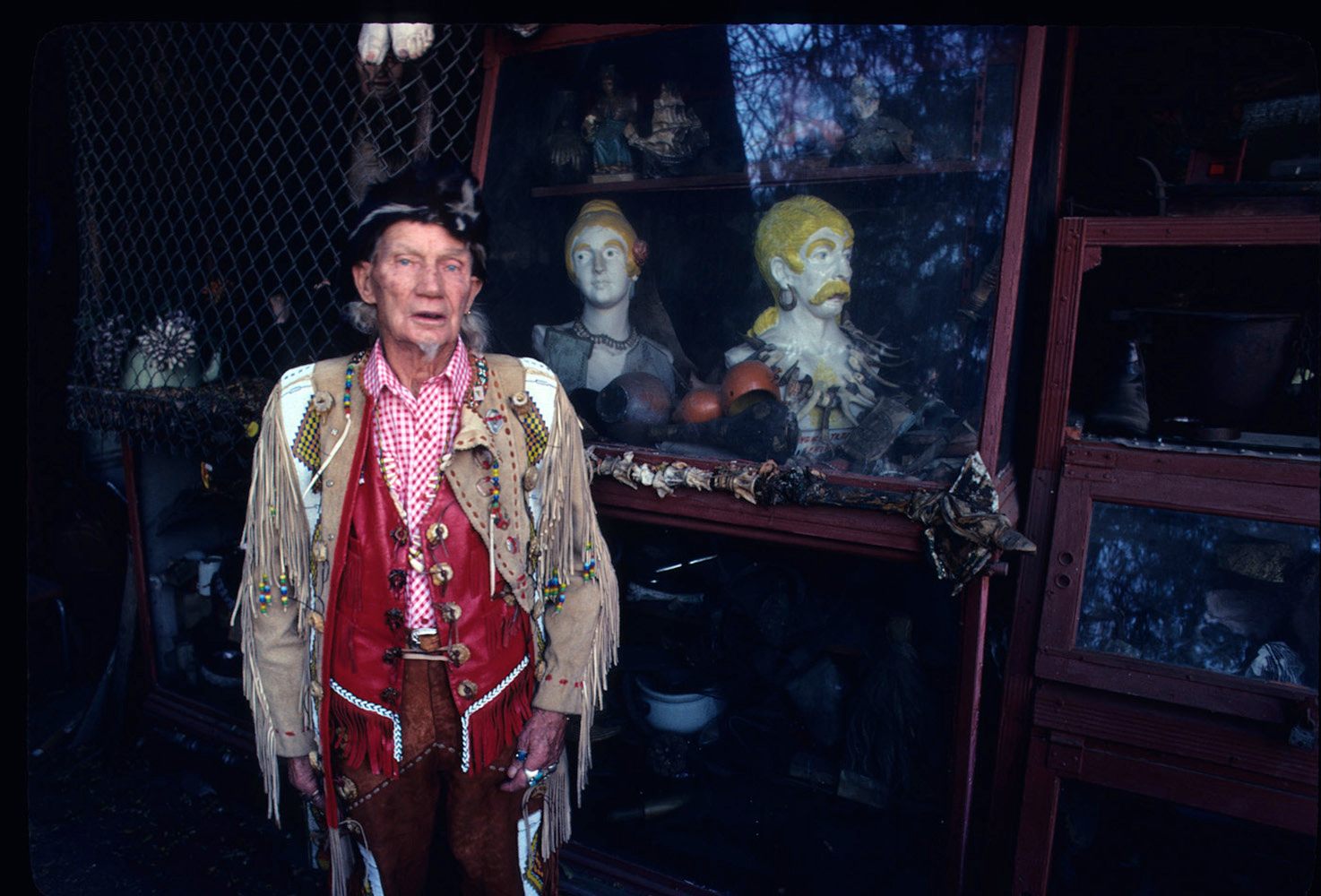 "He put plaster of Paris on our faces and a straw in our mouth to breath," Klopfenstein said, admitting that she'd become overwhelmed and removed her mask while the plaster was still wet.
Through this intimate process Ehn may have felt he was preserving the square jaw of his wife and the high forehead of his brother-in-law* for eternity. But change, especially in ever-sprawling Los Angeles, is inevitable. Ehn died in 1981 without knowing his work would be named a California Historic Landmark. The designation by the California State Parks Office of Historic Preservation singled out the work as an example of "remarkable 20th century folk art," but it offered little protection, when the family, burdened by taxes, sold the land occupied by the lodge in 1987.
Following the sale, the Lodge buildings were slated for demolition but, Ehn's daughter, Rosemarie Farish, hoped to preserve her father's artwork. She enlisted the help of Seymour Rosen, the California preservationist who had nominated the site for landmark status and, most famously assisted in saving Watt's Towers. Reams of archival material document Rosen's dedicated attempts to place the Trapper's Lodge figures. After a potential donation to the Simi Valley Board of Education fell through due to concerns that depictions of "Wild West" characters such as murderers, drunkards, and ladies of the evening might cause offense, the collection was embraced by then-Pierce College president David Wolf.
On the family's dime, more than twenty large statues and a "boot hill"—slang for a burial ground for Old West gunslingers—containing mock tombstones inscribed with jokey epitaphs were installed around a few picnic tables in a part of campus known as Alvin Cleveland Park. For a time, Fairish herself pulled weeds and retouched paint. Eventually, she moved to assisted living, and the family scattered. College administration changed and changed again and, with no signage save an overgrown landmark plaque, the statues became a Pierce mystery.
Flash forward to the fraught summer of 2020, when country-wide protests following the murder of George Floyd led to the removal of statues commemorating the Civil War and racial subjugation. Energized by this movement, the executive board of the college system faculty guild voted unanimously to remove the Old Trapper's Lodge figures from the grounds of Pierce College.
"The statues are not representative of our values," said history professor and faculty union president Brian Walsh. "We're trying to tell a more complete picture—this knee-jerk, back-to-John-Wayne mode isn't something we want to emphasize."
In an appraisal commissioned by the district, Escher Associates valued the artwork at $62,650, detailed Pierce's options for continued display or removal, and provided an estimate of relocation costs—well over $200,000. Los Angeles Community College District (LACCD) maintains that under Education Code 81450.5, the district can let go of items no longer required or no longer able to be maintained for educational purposes.
After shouldering the expense of the Escher Associates report and other internal labor costs relating to the matter, LACCD funding priorities lay beyond the statues. Walsh pointed out that beyond education, community colleges have increasingly been called upon to provide social services. "There have been long existing issues of housing insecurity, food scarcity, and basic needs inequities," he said. "If there is anyone out there who thinks we will spend a penny on anything other than supporting students, they have another thing coming."
To comply with the original donation conditions for deaccession of the collection, LACCD reached out to the Los Angeles Police Department missing persons unit for assistance in finding any remaining Ehn heirs.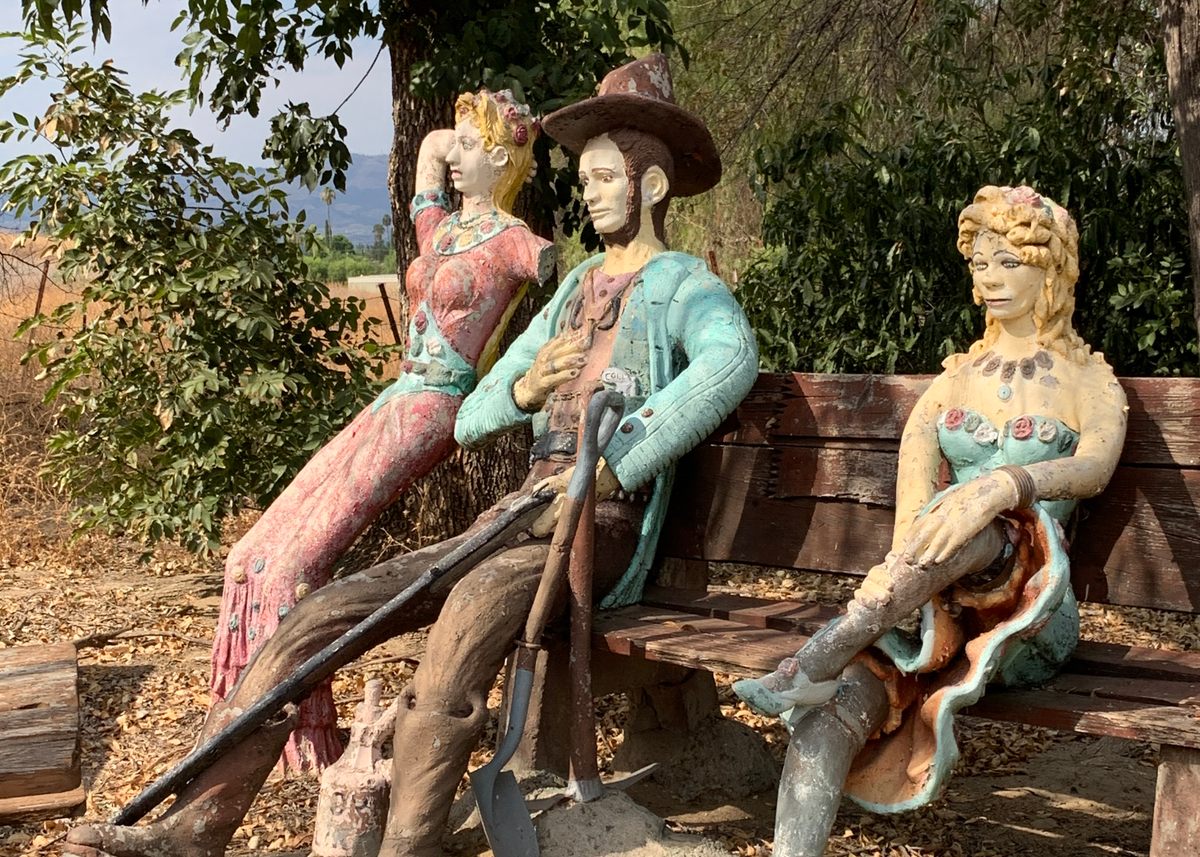 Linda Causey, mourning the very recent loss of her mother, Rosemarie Farish, was surprised to hear her grandfather's statues were in jeopardy. "We thought it was forever," said Causey of the placement at Pierce. "None of us ever imagined we'd ever hear about it again."
The next two years were a reunion of far-flung family members as Causey, Klopfenstein, and Cassidy met in various combinations with other relations and Pierce administrators. According to documents provided by LACCD, the district approached numerous local museums and institutions in search of a new home for the items. In July of 2021, the Ehn family (as represented by Linda Causey) released the collection to Tommy Gelinas for inclusion in Valley Relics, a trove of San Fernando Valley history located at the Van Nuys airport; Gelinas agreed to assume all moving expenses. The donation was approved in a September 2021 public meeting of the LACCD Board of Trustees.
And so, in early March 2022, with relocation imminent, Causey made a journey south from Santa Cruz. "I hadn't seen the statues in thirty years," she said. "They were calling me." The experience turned out to be an emotional one. "I'm trying to say goodbye to my grandma's and grandpa's statues," she said. "It sounds a little like a child, but I broke down a little bit."
Six months later, in September, plans for relocating the artwork had crumbled and Causey had ceded future negotiation to Klopfenstein and Cassidy. In a furnace hot wind, the two stepped over freshly turned earth, and around spikes of rebar and concrete rubble, investigating the remains of Ehn's "Boot Hill." "This is a skeleton of what was here," Klopfenstein said. "It's hard to know what was removed and to know, quite frankly, where it is."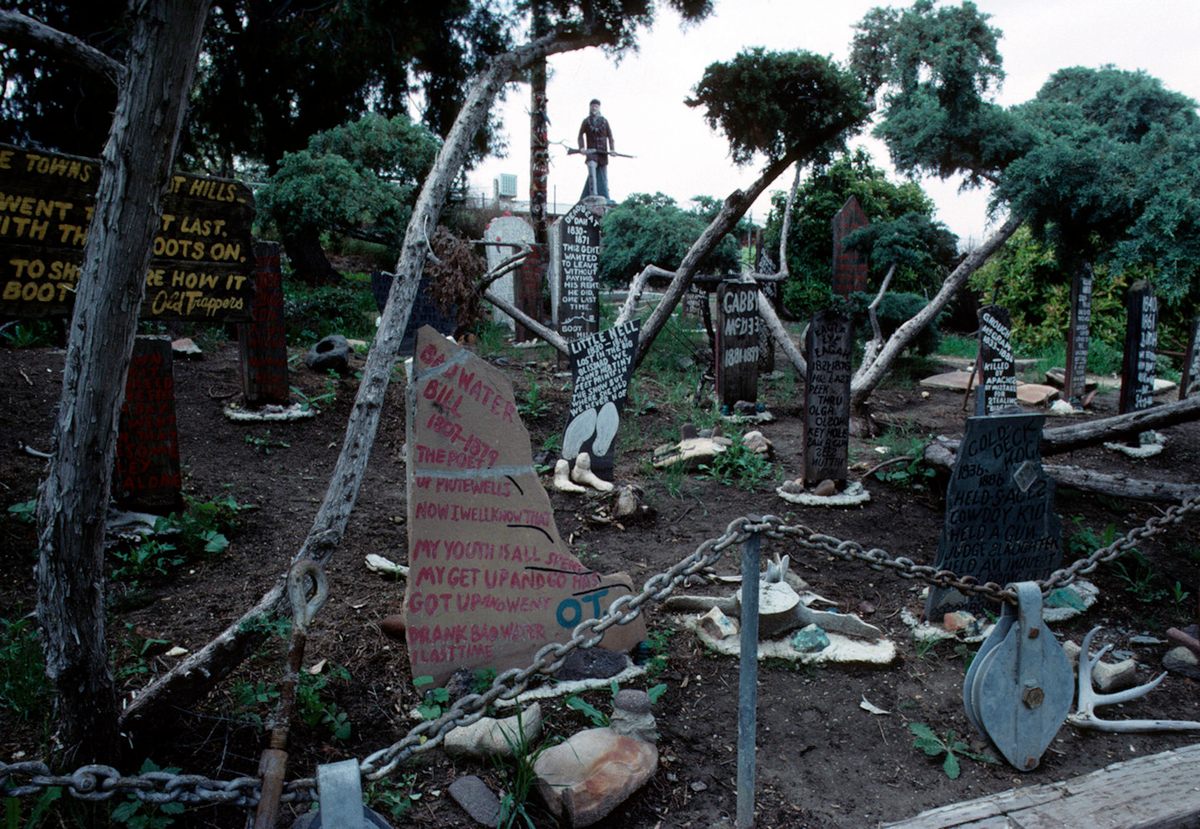 Tommy Gelinas of Valley Relics had the answers to these questions, but Klopfenstein and Cassidy hadn't talked to him.* Instead, the women had joined forces with Richard Schave and Kim Cooper, preservationists and proprietors of Los Angeles tour company, Esotouric. Cooper and Schave had been advocating on their blog for greater transparency around the process of the landmark's deaccession.* They decried the lack of access to the collection, the absence of public dialogue, and the dearth of press coverage.
After seeing an early spring Facebook post featuring numerous concrete slabs being loaded by Valley Relics volunteers into the bed of a pickup truck, Cooper and Schave reached out to offer support to Klopfenstein and Cassidy. They deemed the efforts of the Gelinas crew "deeply disturbing" and the Ehn family agreed.
According to Gelinas, removing the headstones was the first step in a multi-stage process. With "Boot Hill" out of the way, they would be able to clear trees and build crates around the fragile statues before bringing in a crane to transport them onto a truck. "All of those headstones are in perfect condition," Gelinas said. "I'm going to swear on my parents' graves, and my parents were awesome."
In lieu of personally checking on the state of the artwork, the Ehn heirs met with an attorney and sent a cease-and-desist request. Pleading for the salvation of their family legacy, they asked for more time to seek an alternative home for the artwork.
Frustrated by the delay and complication, Tommy Gelinas backed out of his agreement with the college. And with two years of effort in shambles, LACCD brought on their own legal representation, giving the Ehn heirs 60 days to move the collection off the grounds of Pierce College.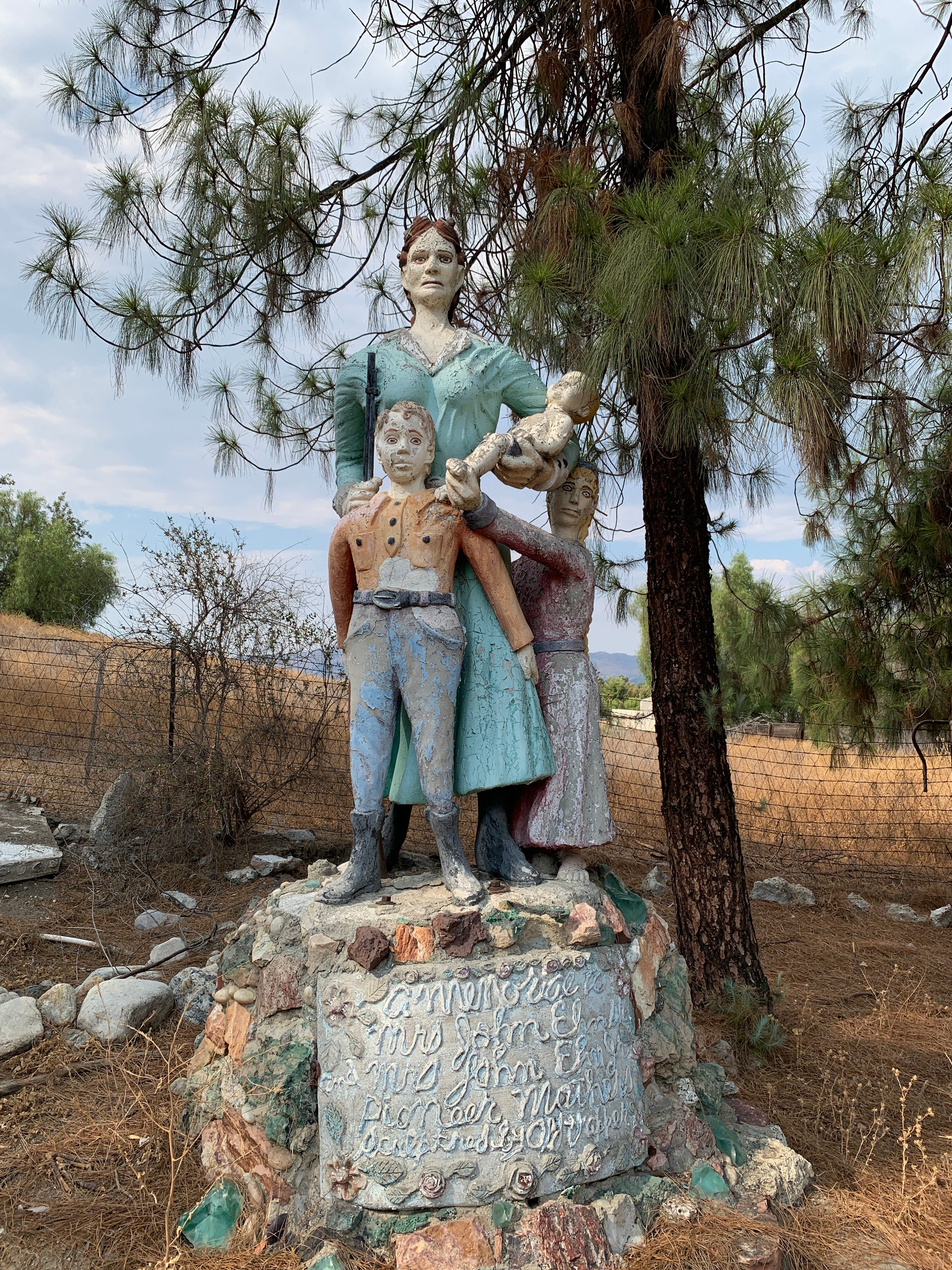 On that hot September day, a week into the stipulated time frame with no new plan in sight, Klopfenstein and Cassidy squinted into the sun, considering the gory battle depicted in John Ehn's statue, "The Fight." The faces of the shirtless men are sculpted into permanent snarls; painted blood forever drips from open knife wounds.
In a 1996 interview in the Los Angeles Times Ehn's daughter, Rosemarie Fairish explained the clash between Peg Leg Smith and Big Bear as a cautionary tale. As the story goes, two men fought to the death over the ownership of a cow, leaving two families bereft. It's an imagined scenario that leaves little room for all the facts, all the imaginings and, truthfully, all the grief.
"The saddest part," said Klopfenstein looking out across the rolling hills, "is that my family is gone – Rosie is gone, Clifford is gone, my mom is gone, my Aunt Lorraine… gone."
Of the 10 folk art sites designated California Historic Landmarks, only a few, such as Desert Tower in Jacumba, remain intact. Others have disappeared entirely. The Office of Historic Preservation tracks the location of landmarked sites, but has little power to protect them. After the death of the artist, the fate of these unique environments is often left to a handful of dedicated souls who don't always see eye to eye.
As the days grew short and the nights grew cold, Tommy Gelinas turned his attention to the installation of The Ellen H. Weis Museum of Modern Mythology, while the folks at Esotouric began to campaign to ensure that all human remains in the Potter's Field cemetery in Downey are removed before the planned redevelopment.* Both continue to use their social media accounts to daily highlight the endangered, the damaged, and the overlooked. There will always be something to save.
While the lawyers continue their restrained attempts at resolution, out at Pierce College, back behind the stables, surrounded by chain link fencing, the concrete statues remain. For the artist's daughter, Rosemary Fairish, the task of moving tons of concrete was difficult. In John Ehn's memory,* Klopfenstein and Cassidy hold out hope that it can be done again.
*Correction 01/06/2023: An earlier version of this story misstated when Cooper and Schave became aware of Gelinas's involvement and mischaracterized Cooper and Schave's advocacy regarding the Potter's Field redevelopment.
*Correction 02/16/2023: An earlier version of this story misspelled Klopfenstein and Cassidy, misstated the relationship between Klopfenstein and Cassidy, misidentified the model for the Lonesome George statue, mischaracterized the heirs' feelings toward speaking with Gelinas, and mischaracterized the motivation for their efforts.