Tasting the Fabled Peanut Butter Fruit
This elusive treat lives up to its nickname.
This article is adapted from the April 9, 2022, edition of Gastro Obscura's Favorite Things newsletter. You can sign up here.
We have written about thousands of intriguing foods and drinks over Gastro Obscura's history—everything from a soup steamed with volcanic rocks to a cocktail containing a human toe.
But nothing has intrigued me, made me desperately desire a taste, and driven me to distraction like peanut butter fruit.
That's not its official name. Bunchosia armeniaca, to go by its scientific classification, is known by several monikers in South America, where the plump red fruits grow on trees. This nickname, though, which promises the taste of peanut butter, a food I eat fiendishly, is what captured my imagination when I learned about it years ago.
Peanut butter fruit is elusive. For several years, I researched it online whenever I had a spare hour. I found small trees on the websites of nurseries that sell uncommon plants; I watched YouTube videos of hobbyists in Hawai'i plucking peanut butter fruits from backyard orchards.
But a market selling them that I could point Gastro Obscura readers to? Or a quirky restaurant run by a fruit-loving chef with a personal orchard? Nope.
I actually pumped my fist when, during a round of research in late 2019, I discovered a botanical garden in Australia that grows it as a culinary curiosity and offers seasonal samples. With the onset of the pandemic, though, I was no closer to trying it myself.
Finally, a few months ago, I got my wish.
---
Taste Test
My quest would have been less challenging if I lived in South America, where peanut butter fruit trees grow happily. But in the continental United States, there is one place with a tropical monsoon climate: Homestead, Florida. As a result, this agricultural area, which is also, incongruously, a Miami suburb, produces much of America's tropical produce: mangoes, guavas, jackfruit.
Late last year, Gretchen Schmidt, an editor at Edible South Florida, took pity on me. Hearing about my love for peanut butter fruit (in this newsletter), she offered to send me some. Several months later, Homestead's Fruit & Spice Park had ripe ones, which she shipped me.
They arrived in a padded manilla folder, with a cheery note. Each fit satisfyingly in the palm of my hand, smooth and round, with a little green stem still attached.
But new fruits bring novel challenges. In particular: uncertainty over when they're ripe and ready.
The first one I tried was overripe. The seed was large for a small fruit, leaving little to eat, and I didn't get a peanut taste. It felt so unfortunate, like a cosmic joke, after all the effort it took to get just a few of these red rubies into my hands.
Then I tried an underripe one. It was hard and terrible, and my friends, who'd assembled curiously around me, laughed at my dismay.
I apprehensively tried my final fruits a few days later. "That's it," I said aloud. The texture was, indeed, like peanut butter, with a bit of nutty taste and even a hint of jelly flavor, which I'd read about in accounts that joked the fruit was a PB&J sandwich in fruit form.
It was not quite a triumphant moment. Peanut butter fruit is only slightly sweet, and it's not juicy. This was not the explosive sensory overload typical of biting into tropical produce.
Still, I was hooked. With peanut butter fruit, I learned, one is not enough. Each offers only a few scraping bites, and, for me, a subtle new flavor frontier, one that my coworker described as like red bean paste and peanut mixed together.
I desperately wish I could buy a big bag to use in smoothies, baking projects, and more.
---
At Home With Peanut Butter Fruit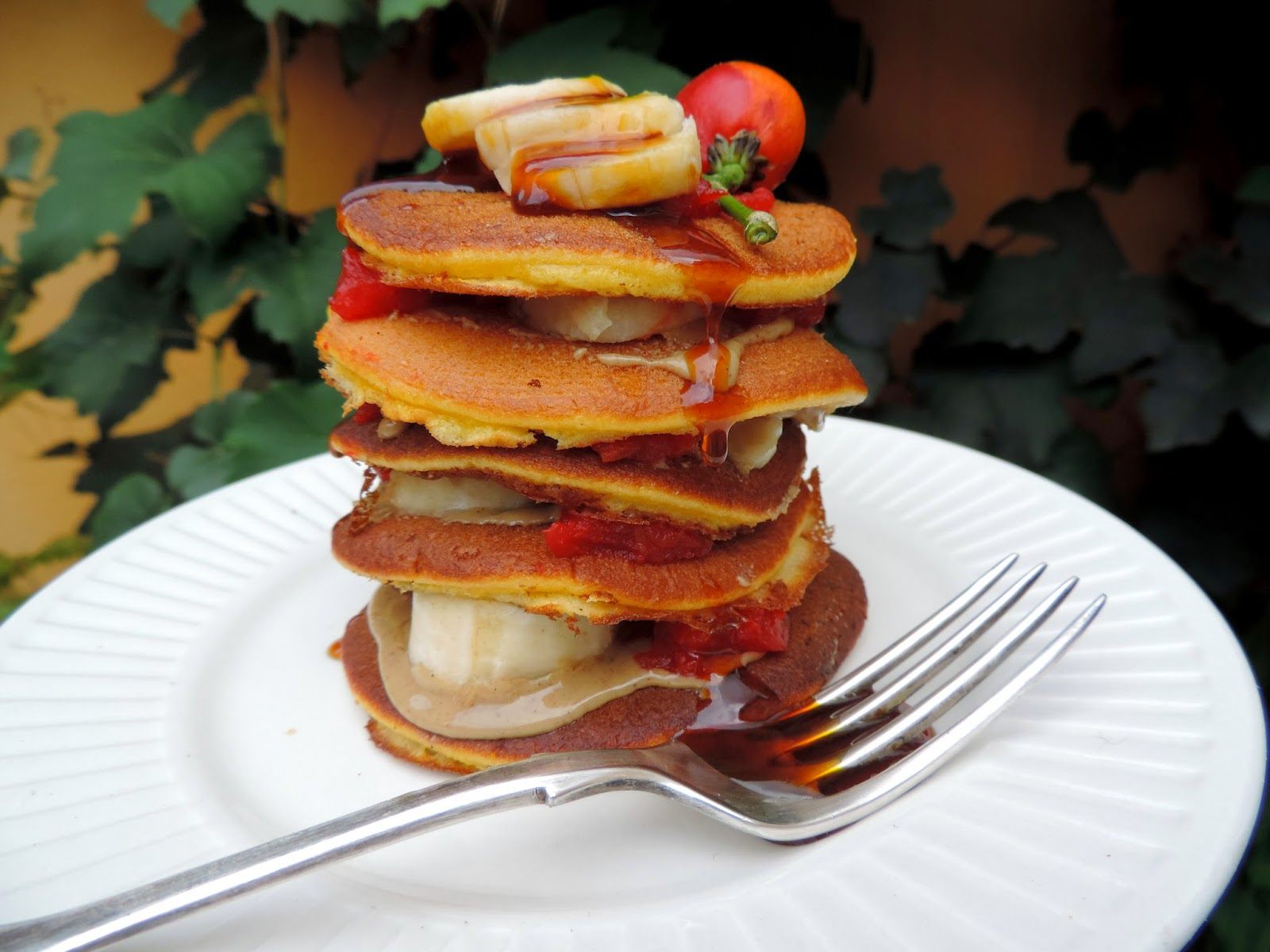 To learn more about how peanut butter fruit is used in its native South America, I got some help from Gastro Obscura contributor Rafael Tonon, who interviewed Brazilian food writer Neide Rigo.
An expert in lesser-known food plants, Rigo leads foraging tours in the city of São Paulo, following a route that passes by a peanut butter fruit tree. According to Rigo, her participants "go crazy for the taste and texture" of caferana, as the fruit is known in Brazil.
Rafael spoke to Rigo about her experiences with peanut butter fruit and how she enjoys using it for cooking and snacking.
When did you first try caferana?
My father had a caferana tree on his farm, in Fartura, Brazil, for at least 30 years. It was among the coffee trees, and it was a beautiful one—the leaves are similar to those of the coffee tree, so maybe this was where the name came from in Brazil (café, caferana). But every time I tried it, I can't say I liked it. It wasn't soft at all, and seemed not to be ripe enough, even though it had a very intense orange color. After a few tries, I just gave up.
And when did you finally enjoy the fruit?
Years later, in São Paulo. I found a tree in the parking lot of a club near my house, less than 100 meters from my door. It was beautiful, leafy. The fruit was redder. My friend and I picked some and tasted it, and it was a robust peanut flavor, between roasted peanuts and lighter peanut butter, with a very soft texture. It was different from anything I had ever tasted. I did some research and found out that it was caferana when it was ripe. I was delighted.
I know you've tried many recipes with caferana. What are your favorites?
It is a fascinating fruit when still raw. I especially like to spread it on bread, as if it were an avocado, because it has this very soft, greasy consistency. But I also made a "tomato sauce" out of it, which is excellent for pasta or meat dishes.
It is not easy to separate the pulp from the pits just by cutting it, but if you pass it through a sieve, the dense and soft pulp does not offer resistance. Another way that works is to freeze the fruit and remove small slices. I did this and mixed it with kefir—it goes well with sour ingredients, as you don't taste any acidity.
In addition to the beaten kefir, I cooked the fruit in olive oil with salt flakes, in a sauce for duck breast, and even spread it directly on bread with honey (just like Americans do with regular peanut butter). I thought it was all delicious. The peanut flavor disappears when combined with other elements. as it is very subtle, [but the texture remains].
How have you helped make caferana more popular in Brazil?
In addition to writing a blog post and newspaper article, I also grow seedlings that I distribute to friends and to those who participate in my Panc na City [foraging] expeditions.
Some people have trees by their houses or their country houses to this day, perpetuating the consumption of caferana, a fruit not common in our country.
A few years ago, a neighbor had a beautiful peanut butter tree in his garage, which he later cut down because "it was creating problems in his backyard," as he told me. I was outraged when I found out, but that's his loss, right?
---
How to Try It
Peanut butter fruit is not easy to find. It's found infrequently at markets in South America, or even more occasionally in areas such as Borneo that offer solid climates for the trees. And since the fruits are perishable and fragile, with no meaningful commercial market, they're nearly impossible to order or find elsewhere.
But if you're determined, here are a few options. May your quest for peanut butter fruit go more smoothly than mine!
Miami Fruit: This farm in Homestead, Florida, whose name you may recognize from our newsletter on non-Cavendish bananas, ships tropical produce across most of the U.S. and Canada. They're currently taking pre-orders for peanut butter fruit.
Fruit and Spice Park: At this food forest in Homestead, Florida, visitors are welcome to eat fruit they find that has fallen off the trees. Depending on the time of year, those could include black sapote (aka chocolate pudding fruit), durian, or even peanut butter fruit. It's also worth looking for some at the nearby fruit store Robert Is Here.
Bundaberg Botanic Gardens: People strolling around these gardens in Bundaberg, Australia, are similarly welcome to sample the trees' edible offerings. In addition to peanut butter fruit, look out for miracle berries and the alien-looking jaboticaba.
Nurseries: If you have a green thumb, as well as a warm and sunny yard, you could grow your own peanut butter fruit tree. A Google search along the lines of "order peanut butter fruit trees" will bring up a bevy of options.
Gastro Obscura covers the world's most wondrous food and drink.
Sign up for our email, delivered twice a week.