Found: Details of Picasso's Plan for His Most Massive Work of Art
"Bust of a Woman" would have soared 100 feet over Tampa.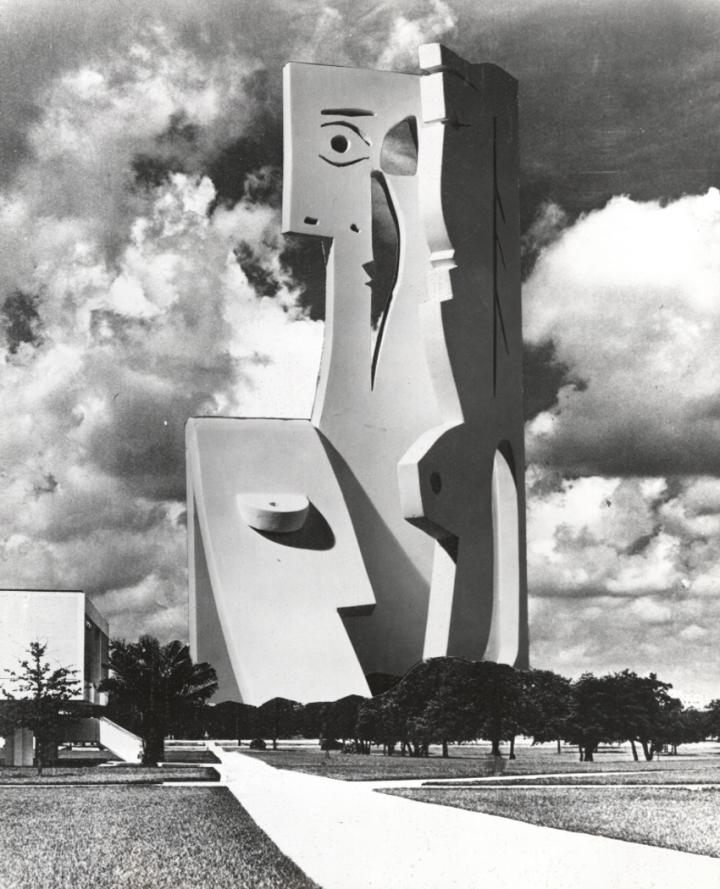 Pablo Picasso is known for the prodigiousness of his artistic output, but his most monumental work was never realized. In the early 1960s, he had been introduced to betograve, a concrete sculpting method, by Norwegian artist Carl Nesjar, who became Picasso's fabricator for the next 20 years. The two realized many imposing statues, some of which are found in the courtyards of American institutions of higher learning, from Princeton to New York University. But their most ambitious collaboration, a 100-foot concrete monument that would have dominated the campus of the University of South Florida (USF) in Tampa, was never made. The State Board of Regents approved it on April 9, 1973, a day after Picasso's death, but did not agree to fund its estimated $10 million budget.
Now, 45 years later, researchers at USF have found an audio reel describing the artists' plan, along with a copy of a composite photograph and sketches. "When I found the reel, I had a feeling it was going to be a major piece to the puzzle," said Kamila Oles, an art historian and archaeologist at USF, in a release. "When I realized it was Carl Nesjar speaking, my jaw nearly hit the floor."
Bust of a Woman was to measure 102 feet in height, which would have made it his largest single work and among the world's tallest concrete sculptures, and would come with an art center designed by modernist architect Paul Rudolph, who lived and worked in Florida at the time.
Oles is now working to combine Nesjar's description with other materials into a virtual version of the sculpture and its surroundings. "We are the next artisans who will bring to life the biggest project of the world's most renowned artist by means of new technologies," she added. "It is an extraordinary pleasure to realize Picasso's desire. I believe he would be very enthusiastic about our virtual reality methods."