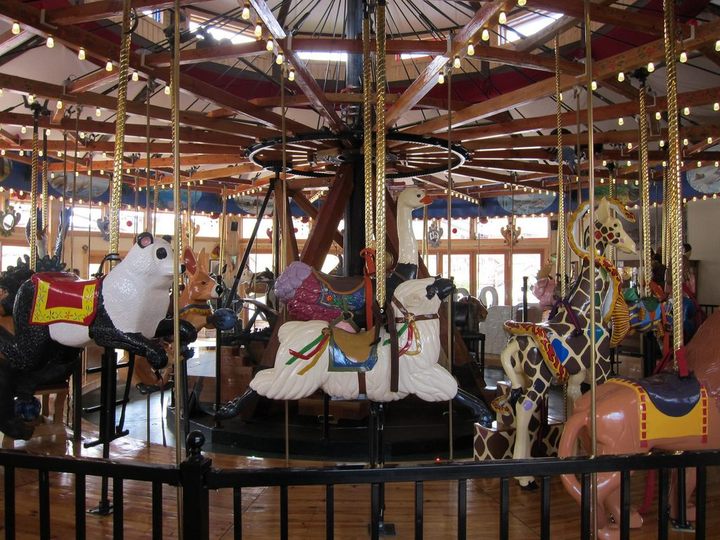 8 Podcast Episodes About Odd and Amazing Public Art
We've visited some surprising sculptures, monuments, and folk art masterpieces over the last two years.
Atlas Obscura has always been fascinated with unusual examples of public art, and we've taken that interest to our award-winning podcast as well. From a hand-carved carousel in Colorado, to a controversial dog statue in London, to a Christmas tree made entirely of tumbleweed in Arizona, here are some of our favorites from the first two years of our daily audio stories.
Inspired by a music box he received while he served in Vietnam, Scott Harrison created the hand-carved Carousel of Happiness in his hometown of Nederland, Colorado. Although he had never carved anything prior to undertaking the project, Harrison spent a quarter-century crafting a merry-go-round of playful animals and other fantastical figures. He had a vision: "I didn't want it to be a goofy kind of carnival ride. I wanted it to be something meaningful for others like it's been for me."
This renegade art project in a postage-stamp-sized park in Vancouver galvanized a small community and pitted residents against the city government. It all started in 1991, when sculptor Michael Dennis installed his work Reclining Figure, which looked to some like an impressionistic vision of just some guy kicking back, and ultimately resulted in an unusual new name for the space: Dude Chilling Park.
This is how you do Christmas in the desert: In Chandler, Arizona, December brings a 25-foot-tall, star-topped tree made entirely of the diaspore of the western plant. That's tumbleweed to most of us, painted white and covered in 65 pounds of glitter.
The tiny town of Wausau in the Florida panhandle has an unusual local hero: the possum. For more than 50 years it has hosted the Possum Festival, and the self-declared "Possum Capital of the World" is home to a 12-foot-tall monument to the marsupial. Its dedication reads, in part, "Their presence here has provided a source of nutritious and flavorful food in normal times and has been an important aid to human survival in times of distress and critical need."
In Thetford, Vermont, Atlas Obscura's Dylan Thuras and Chris Naka find a 122-foot-long, 25-foot-tall dinosaur made entirely of scrap wood. This folk art dino, created by artist Brian Boland, was almost pushed to extinction due to the lack of a building permit.
In Battersea Park in London, a bronze statue of a dog memorializes a pup who sparked riots over animal rights in turn-of-the-20th-century England. The original monument to this curious brown terrier was so controversial when it was erected in 1903 that it was given around-the-clock police protection—and ultimately torn down in 1910. A new brown dog took up residence in the park in 1985.
"What in the hell is all of this?" asked Jenenne Whitfield the first time she saw the Heidelberg Project. On the east side of Detroit, artist Tyree Guyton had transformed a largely abandoned street into an immersive, living museum—and it grew into something even bigger.
Was this the first dinosaur? Maybe, in a way. This enormous concrete brontosaurus in Creston, South Dakota, is believed to be the first of its kind in North America: a "life-sized" roadside dino. Designed and built by Creston resident and handyman Ike Murphy in 1933, the Creston Dinosaur was meant to draw tourists to the small town. Today it stands in an empty field, crumbling as it awaits its next visitor.
The Atlas Obscura Podcast is an audio guide to the world's wondrous, awe-inspiring, strange places. In under 15 minutes, we'll take you to an incredible site, and along the way you'll meet some fascinating people and hear their stories. Join us daily, Monday through Thursday, to explore a new wonder with cofounder Dylan Thuras and a neighborhood of Atlas Obscura reporters.