The Duck Brigade Behind a Farmer's Plentiful Rice Harvest
Erik Andrus is bringing the Japanese art of aigamo to Vermont.
Every summer, a pack of ducks roams a six-acre rice farm in Vergennes, Vermont. They wade through rice paddies, nibble at undergrowth, and waddle across fields. They're not just part of the idyllic landscape; they're working, performing the essential tasks of fertilization and weed control.
The ducks are part of a Japanese agricultural technique known as aigamo, and their Vermont home resembles flooded rice paddies found in eastern Asia, particularly those of Japan's Miyagi prefecture. It may seem random, or out of place to find this scene 6,000 miles away in the Northeast United States, but to Erik Andrus, owner of Boundbrook Farm, the ducks are the long-awaited solution to his pivot to rice farming.
Andrus, a Vermont native, lived in Sendai City for a year in 2000 when he first witnessed how rice was grown in moderate and cold climates, such as Hokkaido—the coldest region in Japan and where the cool, wet climate likened that in Vergennes. After purchasing Boundbrook with his wife in 2005 and producing everything from wheat to vegetables to grass-fed beef and pastured poultry, he found himself returning to Japanese rice. In 2010, he came across researchers Takeshi and Linda Akaogi, who were also experimenting with growing Japanese rice varieties in Vermont. This reinspired his connection to Japanese farming techniques and set in motion his switch from wheat to rice farming.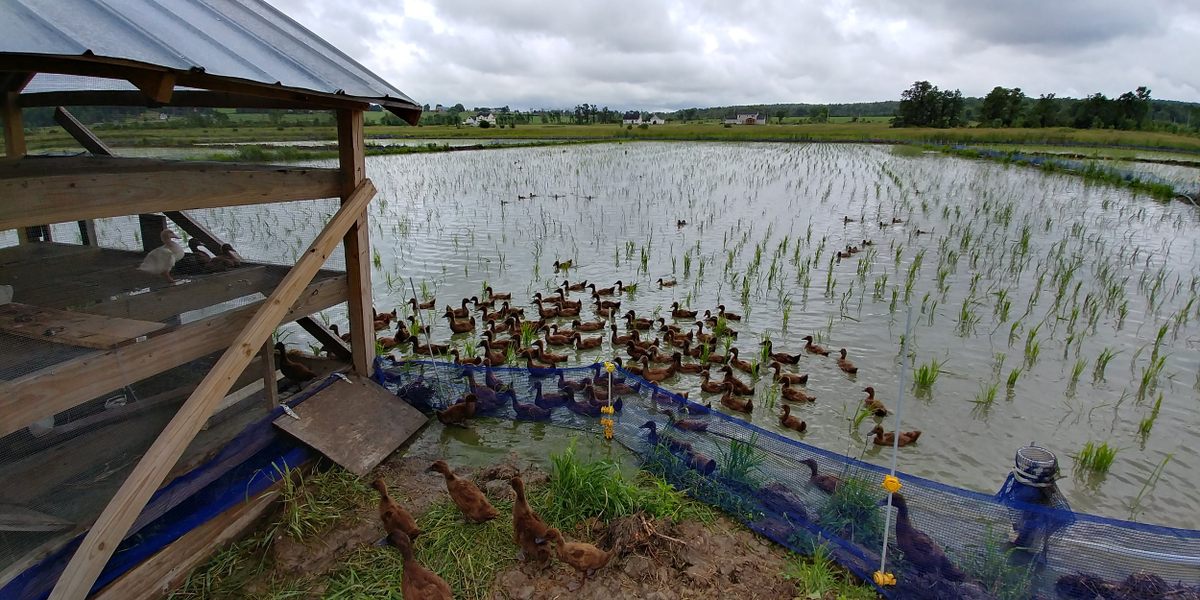 Compared to his other crops, Andrus found it was the small amount of rice he was growing that seemed to carry the most potential; after all, it sold out every year, so he knew it wasn't a marketing problem that was holding him back. The challenge was production, especially the weeds and overgrowth that he couldn't keep up with. To solve that problem and propel the farm to a place where he could make a living, he looked back to Japan.
"Rice-growing is complicated. Unless you make that your exclusive focus, all the adaptations of rice-farming are too challenging," says Andrus.
To address these complications, Andrus turned to Takao Furuno, author of The Power of Duck, a deep dive into aigamo and the origins of using waterfowl in commercial Japanese farms. "It was as close to a manual for ecologically-modeled rice agriculture I could find," says Andrus, who wrote to Furuno upon finding and reading the book. Furuno responded and invited Andrus to an upcoming conference.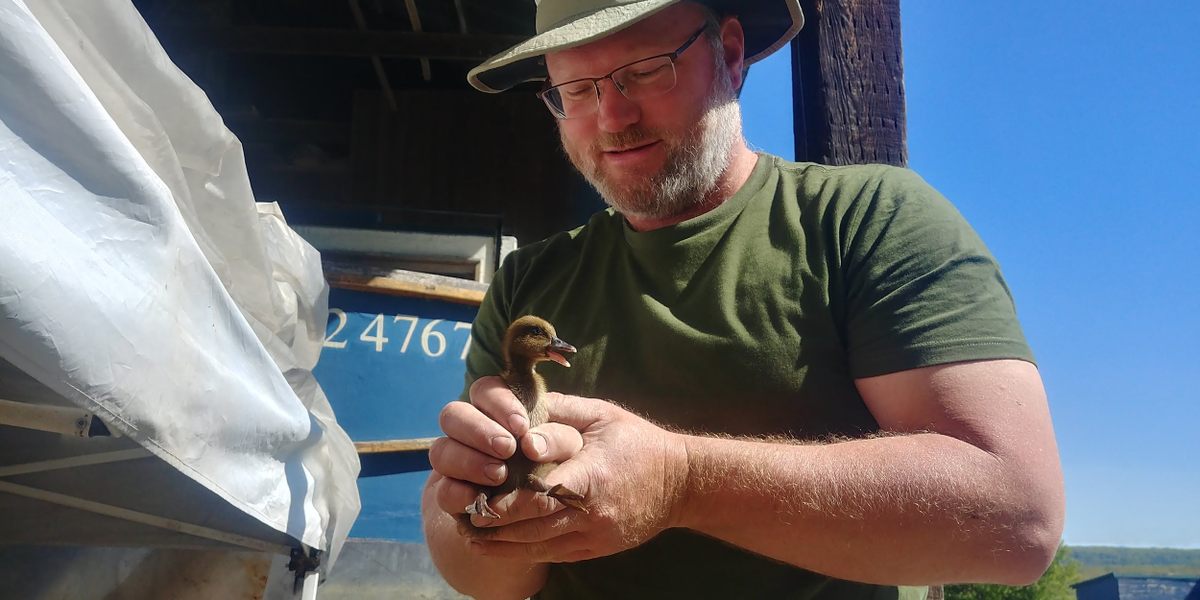 So, in 2015, Andrus found himself back in Japan—first in Hokkaido, in the town of Urausu, before traveling to Furuno's farm in Tento-shi—among Japanese farmers who had dedicated themselves to duck farming, and had "already worked out some of the kinks," says Andrus. Since then, Andrus has returned to Japan four times, including once to present at the Japan Duck Rice Conference in Kagoshima about the integration of ducks on his farm in Vermont. "The Japan connection is so crucial to my success," he says.
Though Andrus's integrated farm is inherently rooted in Japan, Boundbrook's globality spans further, to a duck farmer in France and a hatchery in Québec. Andrus explains that for the first couple years, he relied on Khaki Campbell ducks, but they fell short in the three specificities he looked for with ducks (foraging, laying eggs, and maturing into meat birds).
"In 2019, I heard about a farmer in France who uses a breed of ducks called mulards for rice farming; he assured me they are active and foragers," says Andrus, who found a mulard hatchery in Québec and purchased 600 ducklings. "They were fantastic," he says.
Andrus continues to purchase the ducklings, typically female, as they are smaller and more nimble than the males. The day-old ducklings arrive at the same time that the Northern Japanese short grain rice—milled in both white and brown—is transplanted from the nursery to the field in early June and the ducks are integrated about nine days later.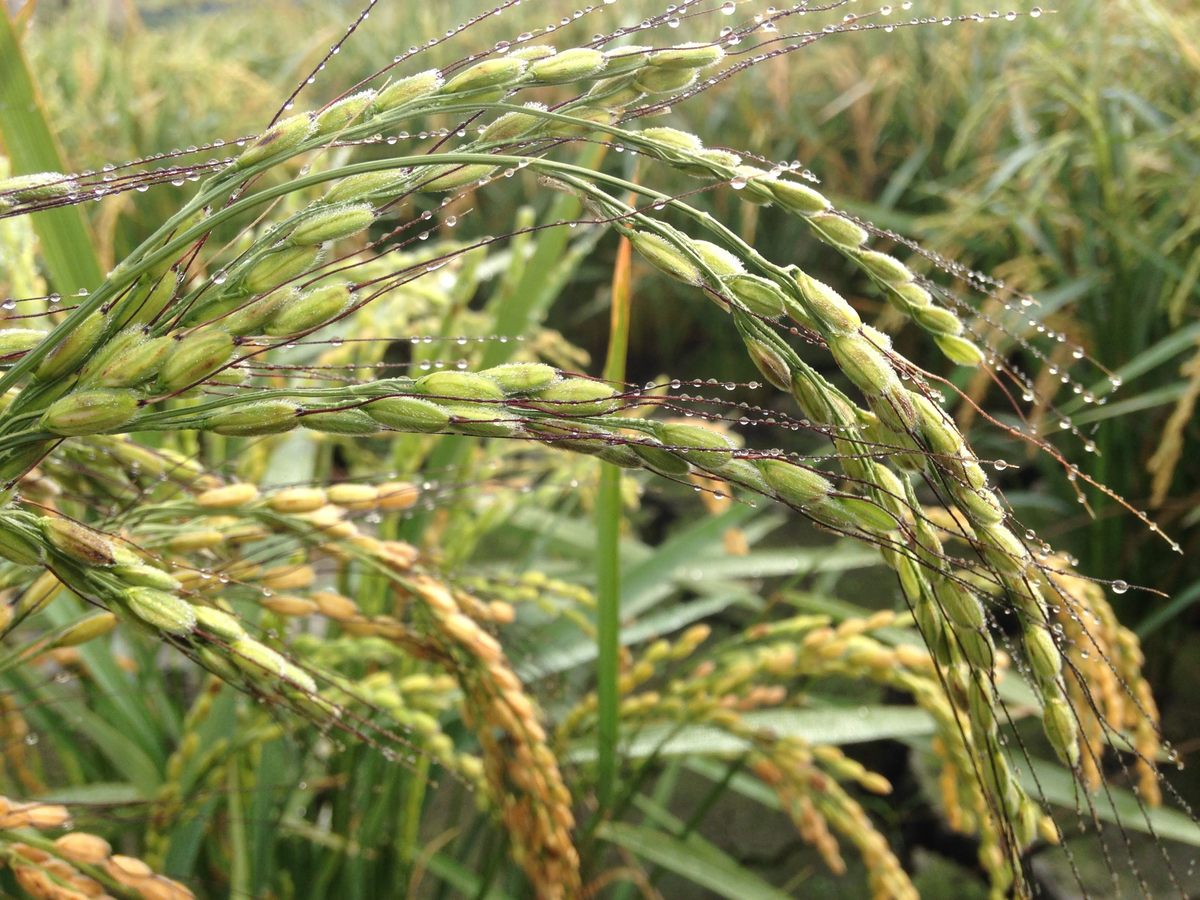 "The newly planted rice seedlings and ducks grow together so it's really important that everything is coordinated with a great deal of precision," says Andrus, stressing that if the ducks or rice grow too quickly, it throws the entire process off-balance. The ducks stay in the fields for roughly six weeks, or before the grain develops on the rice plant; up until then, they are on weed control and won't eat the rice plant because of the high silica content.
Once the ducks are removed from the rice paddies, Andrus ensures no waste; Boundbrook Farm is the only USDA-certified farm in Vermont to sell high-quality meat ducks. Today, Andrus continues to rely and respect ducks through the entirety of his efforts. "Raising chickens as a farmer made me like chicken less, but when I started raising ducks it made me like ducks more," he says. "I just love being around ducks."
Gastro Obscura covers the world's most wondrous food and drink.
Sign up for our email, delivered twice a week.