The Devilish Sexploitation Films That Combined Satan and Sensuality
Who needs a coherent plot when you have nudity and pitchforks?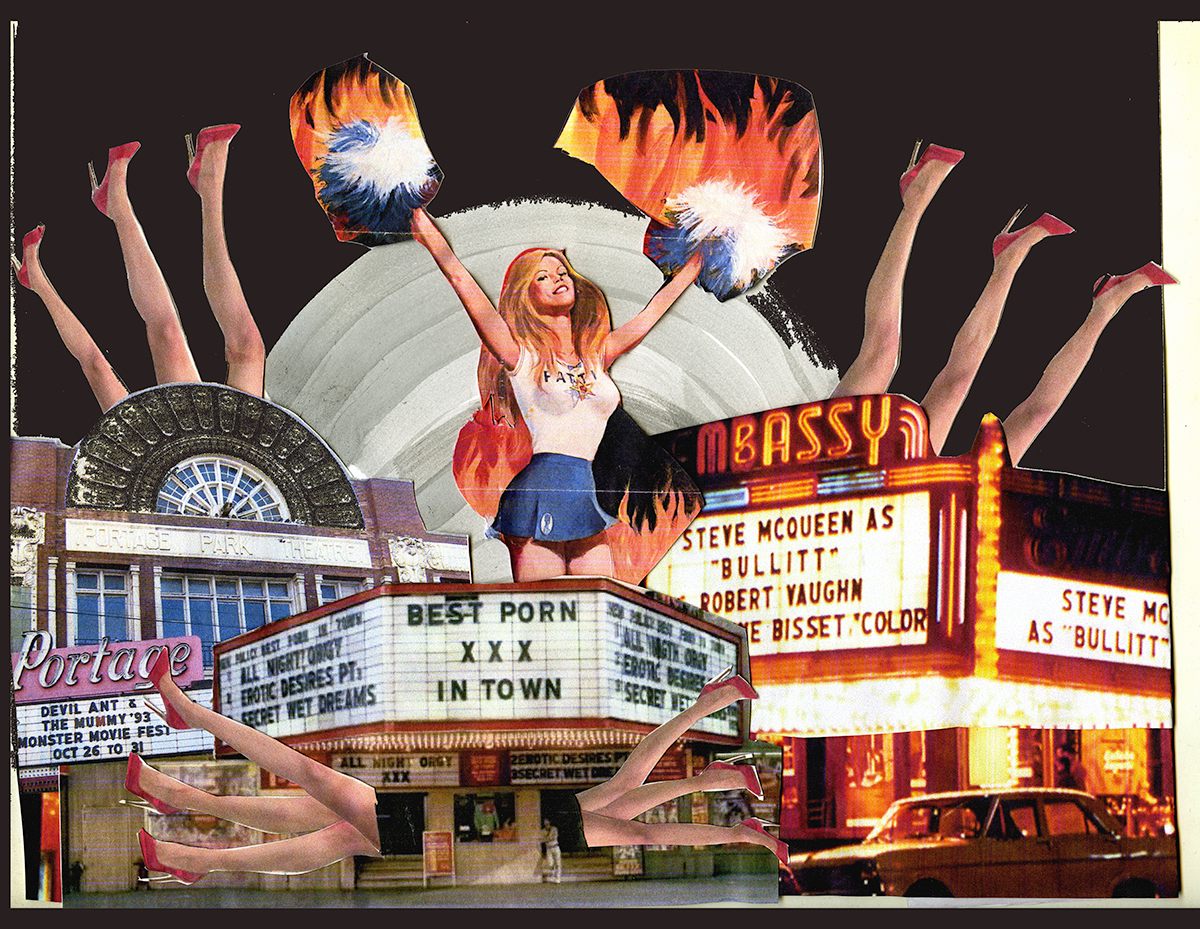 A man sits in his living room, quietly watching a Disney show on television in the 1960s. Suddenly, the devil, dressed in a red onesie and sporting a forked tail, pops up behind the man: now he's watching a burlesque routine—a woman dancing in a bikini. After her pasties bobble back and forth, the man watching gets visibly uncomfortable and turns to devil. "I wanted to watch a Walt Disney show!" shouts the man. "I didn't even care when you dug graves in my backyard, but this is enough!"
So goes part of the plot of the 1964 movie, My Tale is Hot. It's one of many similar films of the time, and the story of a man being pranked by the devil is wholly secondary to the main focus of the movie: gratuitous nudity. My Tale is Hot is a sexploitation film—a type of B-movie which alludes to sex and nudity as a selling point, though the content is not necessarily explicitly pornographic and actual sex may or may not be shown. These films, many of which were made in the 1950s through the 1970s on a very low budget in many different countries, feature sin, vulgar images, and extremely tenuous plots. The acting is sometimes so bad it's good. Sexploitation films, needless to say, have a cult following.
Sexploitative and pornographic films have been around since the 1910s, but a new spin on the genre emerged in the 1950s and '60s with supernatural elements. Technology allowed for more home-taught directors, like Russ Meyer, who became popular for his campy humor and big-breasted stars in titles he directed, like Faster, Pussycat! Kill! Kill!, Mondo Topless and The Immoral Mr. Teas. Some actors and actresses who got their start in cult and fringe films, including sexploitation pictures, continued to hone their skills and appear almost exclusively on the cult circuit.
Since 1930 in the U.S., cinema was largely regulated by the Hays Code, a non-legally binding yet influential industry standard that banned "lustful kissing" and nudity, among other things. While films were considered art under the First Amendment by the late 1950s in the United States, sexploitation filmmakers were creatively attempting to skirt commercially regulated cinema in a just-barely legal way. Many got away with their content because of their obscurity; often these films were not shown in regular theaters and were not advertised to the larger public.
Among these nude films, the devil was often a character or plot device amid excuses to get the female protagonist naked. In My Tale is Hot, Lucifer learns of the "most faithful husband alive," which, of course, incites the devil to convert this man to a life of sin. "I'm not getting any converts like I used to, not a good man gone wrong in months," says the devil, who sits with his devil-wife and their naked, silver-painted attending ladies, who are used as furniture. Lucifer's wife dares him to try to convert the world's best husband, and oh does Lucifer try. The plot, to say the least, is rather loose. From then on out increasingly more of the movie is devoted to naked women, women in lingerie, and the eventual corruption of the husband.
There were many kinds of plots for sexploitation films, from sexy female aliens on Venus to erotic adventures in Siberia; many hundreds of these fly-by-night projects were made. Prior to the late 1960s, these movies were often shown in portable movie theaters that hit the road with their traveling sin-filled stories, according to James Traub's book The Devil's Playground. The movies also found a home in city spaces, which gave way to 1970s grindhouse theaters that often welcomed exploitation films and porn. Traub writes that "video peeps" became one of the most popular ways to view these movies in the 1960s, which entailed theaters and shops in cities like New York building booths for private viewings. A U.S. Supreme Court ruling expanded the First Amendment in 1952 to consider even explicit films an art. This made all films fully legal to make and show, though state and local ordinances could still regulate where and when people saw risqué films. As a result, the genre continued to grow.
Since the devil himself represents sin, movies including the devil may also let the viewer poke fun at the idea that he or is about to be part of that sin as a voyeur partaking in the appeal of cheap thrills. Of course, some fans love sexploitation films specifically because of their campy nature; one of the titles in the genre is The Horrible Sexy Vampire.
Sexploitation films seem "to promise so much, and yet can never live up to the images they suggest to the imagination," wrote Jeffrey Sconce in Sleaze Artists. "What film, after all, could live up to the mental theater evoked by the words Nude for Satan?" Salacious photos and paintings on movie posters "translate in theater into brief and badly exposed moments of nudity," Sconce wrote, but that's also what made them conform to legal and social standards, and not always exactly porn per se. Sconce added that generally all films that exploit the body "remain so central to trash film culture. Nowhere is the gap dividing internal fantasy from public representation so profound."
At some points, the line between sexploitation and sexually exploitative horror movies blurred: sexploitation movies sometimes mirrored popular horror cinema and adopted aspects of popular movie plots, especially those that had to do with Lucifer. The movie Satan's Slave from 1976, for example, is supposedly about a girl caught up in her uncle's devil cult and the dead returning to haunt her as a result—which, of course, involves her being tied up naked. The Toy Box, a horror-murder sex-filled movie from 1971, adds gratuitous violence and cannibalism into the mix.
And, of course, some rode the coattails of more popular, major devil-centric movies. "Several sexploitation films released during this period evoked violent and sexual transgressions featured in The Exorcist," wrote Christopher Olson and CarrieLynn Reinhard in Possessed Women, Haunted States. Such films were sometimes given multiple titles and originally were imported from other countries, including one film marketed as Possessed by the Devil, Beyond the Darkness, and Devil's Female.
The devil and sex continued to appear together in sexploitation and B-movies for decades, and the sexploitation genre remains alive with titles like the 2008 film Zombie Strippers to assault any fine film sensibilities you might have. If you're intrigued—and if the poor acting and wonky plots don't get in your way, remember that you have a long line of old-time dirty filmmakers to thank.