In Singapore, Playgrounds Are Capsules of National Identity
The designer Khor Ean Ghee helped define the appearance of the city-state's leisure spaces.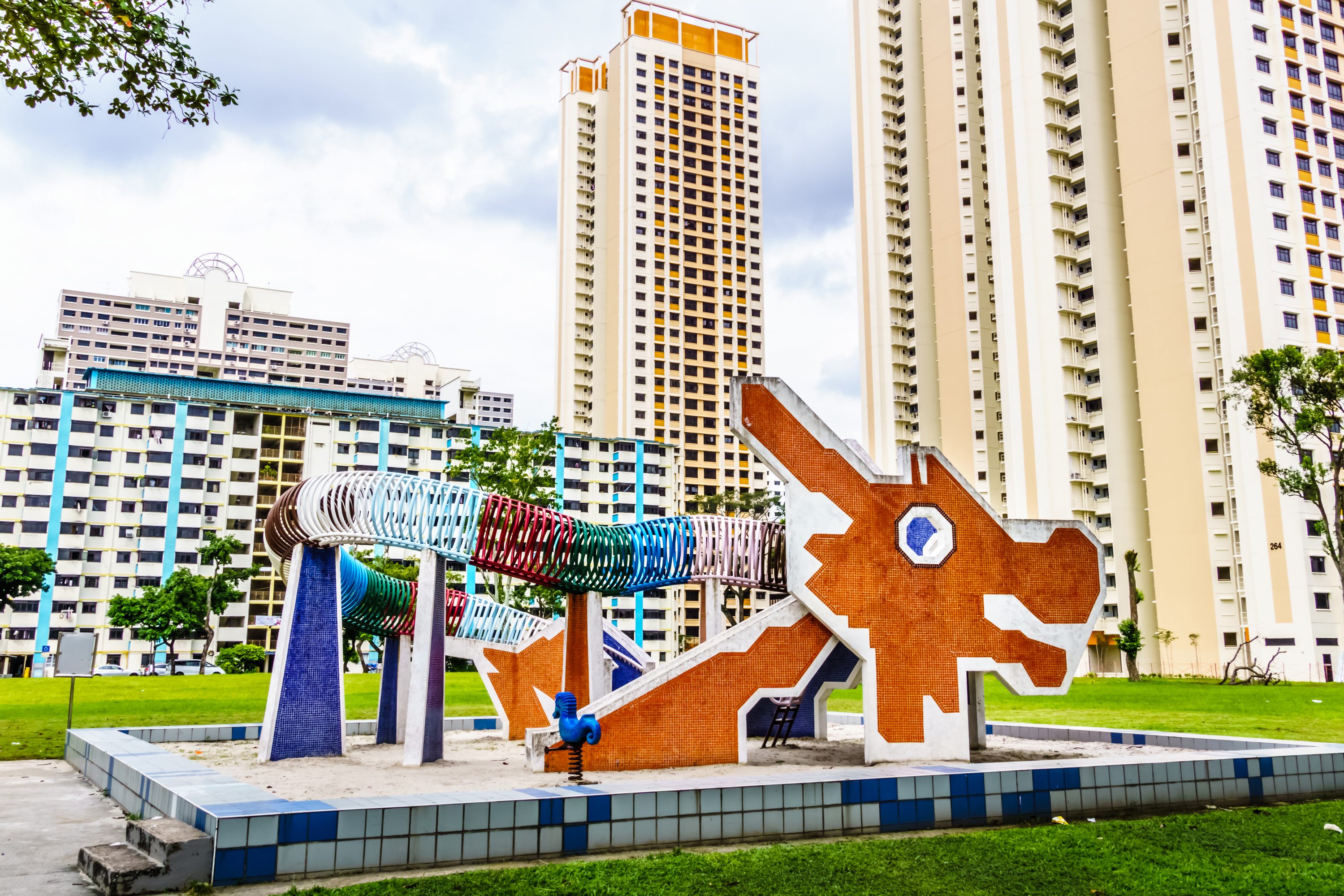 Decades ago, the Singapore River was teeming with small wooden rowboats known as sampans that carried fishermen and cargo. It can be easy to forget this former way of life, considering the city's cosmopolitan reputation, but a delightful ode to this history resides in the town of Pasir Ris, where a playground is shaped like this traditional vessel. Rising out of the sandpit as if bobbing on a gentle current, it features tires on its sides, perfect for scrambling up. Built in the early 1990s, shortly after sampans began disappearing from local waters, the mosaic structure is a relic of Singapore's urban planning history. It is also one of the last designs of Khor Ean Ghee, the country's first playground designer.
Over 15 years, Khor helped define the appearance of citywide leisure spaces. In envisioning sites that referenced local culture and popular imagery, he contributed to broader efforts to build a strong sense of self and nationhood.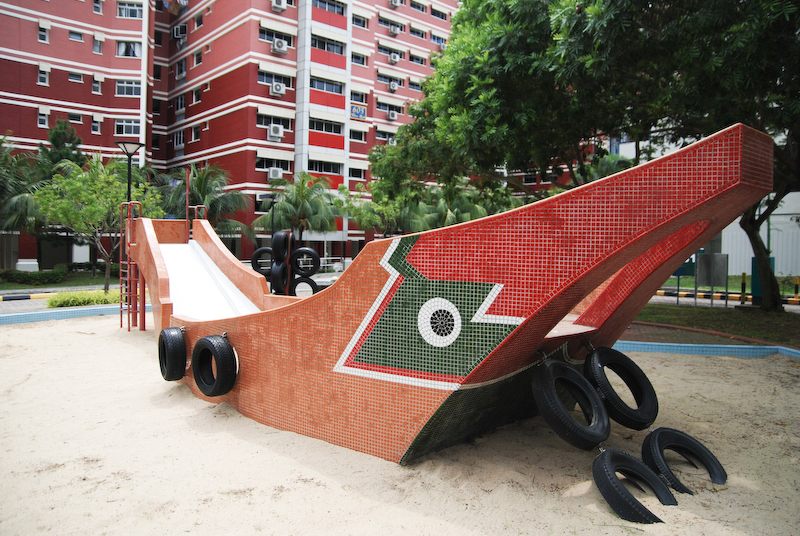 When Khor, now 84 years old, was hired by the Housing and Development Board (HDB) in 1969, the Republic of Singapore was not yet five years old. It declared independence on August 9, 1965, after having endured brutal massacres under Japanese occupation, civil unrest and political struggles under British colonial rule, and ethnic violence during a failed merger with Malaysia—all in the previous two decades. The challenges, as the first finance minister Goh Keng Swee bemoaned, "loomed in awesome and intimidating proportions." Aside from dealing with its economy and infrastructure, young Singapore faced a crisis of national identity.
The government had various solutions to bring together the population of predominantly Chinese, Malay, and Indian residents. Officials designated English as the common tongue (although they recognized four official languages), and introduced daily flag-raising and pledge-taking ceremonies in schools. They also continued efforts to build public housing, each apartment complex envisioned as a harmonious community.
Transitioning to this new lifestyle wasn't easy. "By 1975, the government's resettlement of residents from kampongs, slums, and shantytowns into modern HDB estates was fully underway, generating anxiety and excitement in equal measure," writes the historian Mark R. Frost in Singapore: A Biography. "Many rituals of rural life were disrupted or discarded."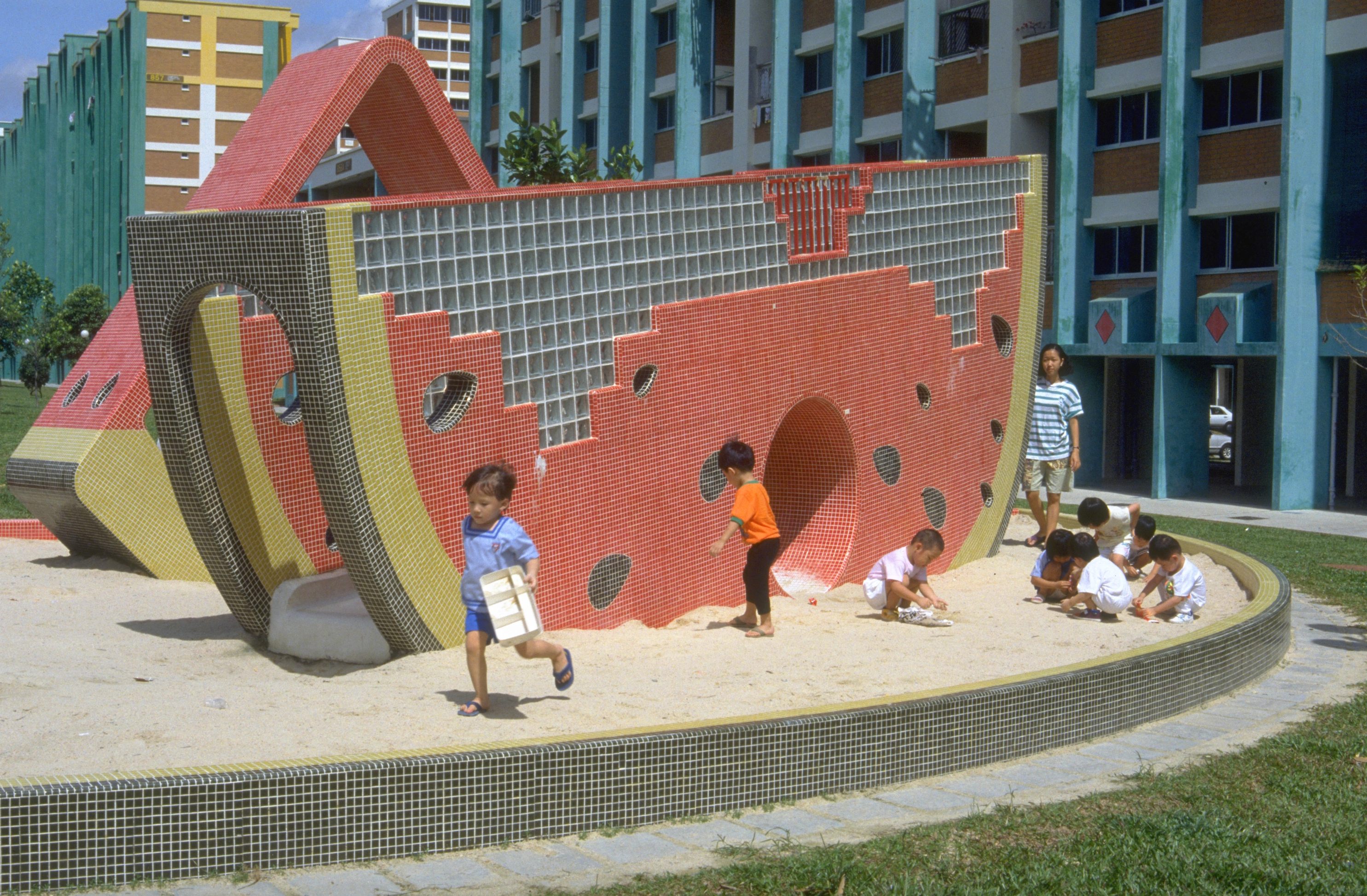 Playgrounds, often strategically built at the heart of each estate, became one way to foster a new sense of belonging, as sites where neighbors, regardless of race and age, could congregate. Khor's brief from HDB's chief architect was to create "something unique that couldn't be found anywhere else in the world," says Rachel Eng, an assistant curator at the National Museum of Singapore. In 2018, aiming to underscore the cultural importance of this built landscape, the museum hosted an exhibition that explored one century of local playground development, from 1930 into the future.
"Singapore's playgrounds occupy a unique position in both our physical landscape and collective memory," Eng adds. "They have come to represent Singaporean shared heritage, neighborhoods, and even national identity." Less than 300 square miles large, the country is reportedly one of the top cities with the world's highest density of playgrounds.
Khor trained as a watercolorist in Taiwan and studied interior design at London's School of Architecture. But when HDB hired him, he had never designed a playground before. Initially, he drew prototypes shaped like common animals, including a giraffe, a rabbit, and a tortoise. But then he thought of creating playscapes imbued with more meaning for locals.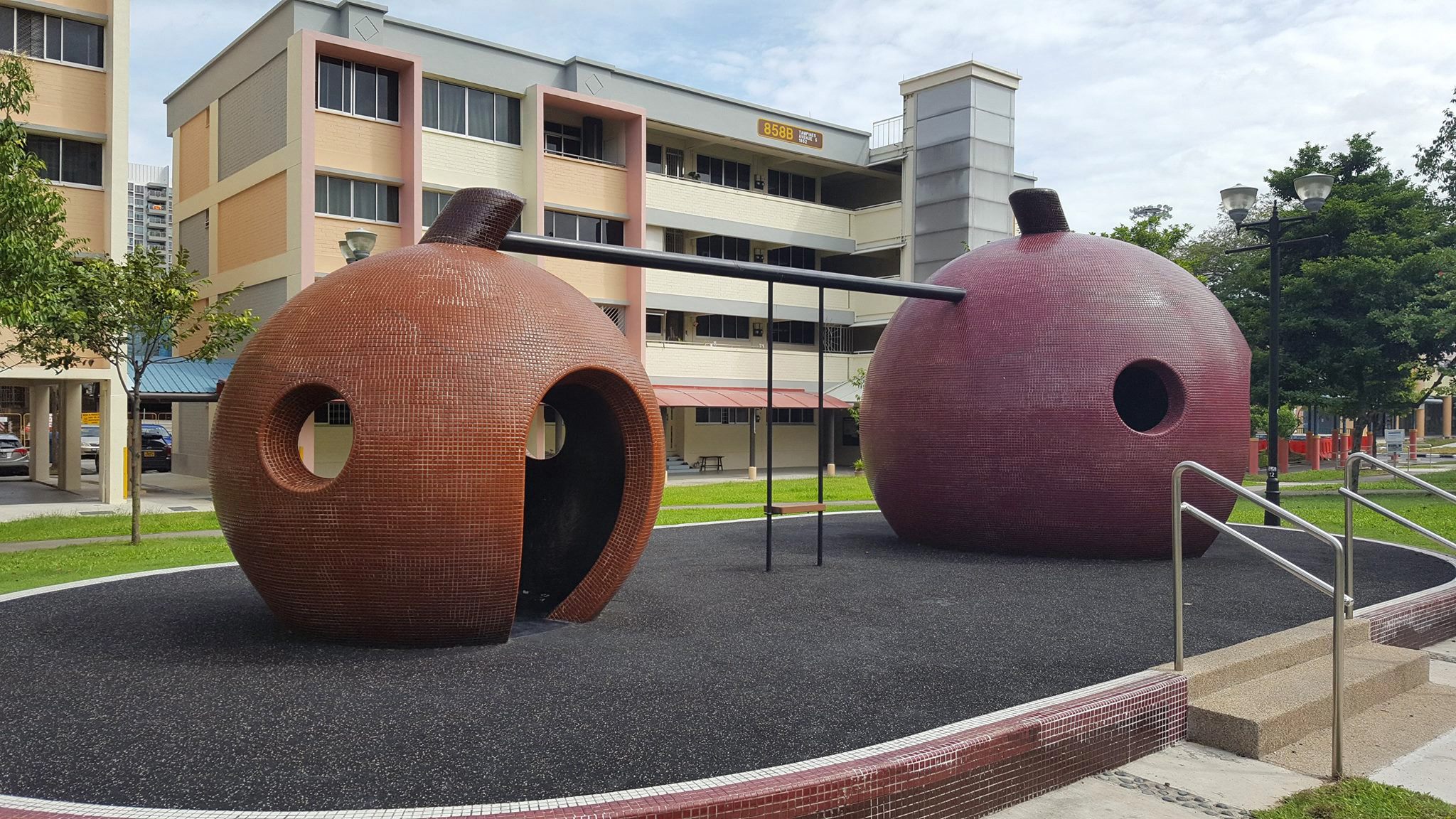 With pencil in hand, he found inspiration in the auspicious Chinese dragon, sketching blueprints for a beast with a curving spine of coils for kids to crawl through. Khor's ideas all went into a catalog that architects could consult as they planned HDB estates, and the dragon became his most popular design. The first one was built out of metal in 1975, at Toa Payoh Town Park; more dragons soon popped up at other playgrounds, including smaller versions. The more petite creatures were made of colorful glass tiles, which require little maintenance.
"His two motivations were marrying art and function," says Eng. "Because of his fine art background, he saw the playground as something of a sculpture or art piece. He was very insistent on making sure that the playgrounds were fun for children to play on and would check with his children whether they liked the design before proceeding."
Khor didn't introduce Singapore's first playgrounds, but he helped set them on a new design path. The earliest known one, according to Eng, was built in 1928 at the now-bustling district of Dhoby Ghaut. Donated by Chinese businessmen, the early playscape featured swings, seesaws, and a merry-go-round—efficient, but nondescript, much like what was to come.
"Early playgrounds were generally the result of philanthropic efforts and were meant to relieve overcrowding in the city area," says Eng. "Play equipment was manufactured according to American specifications, so all of it was quite standardized."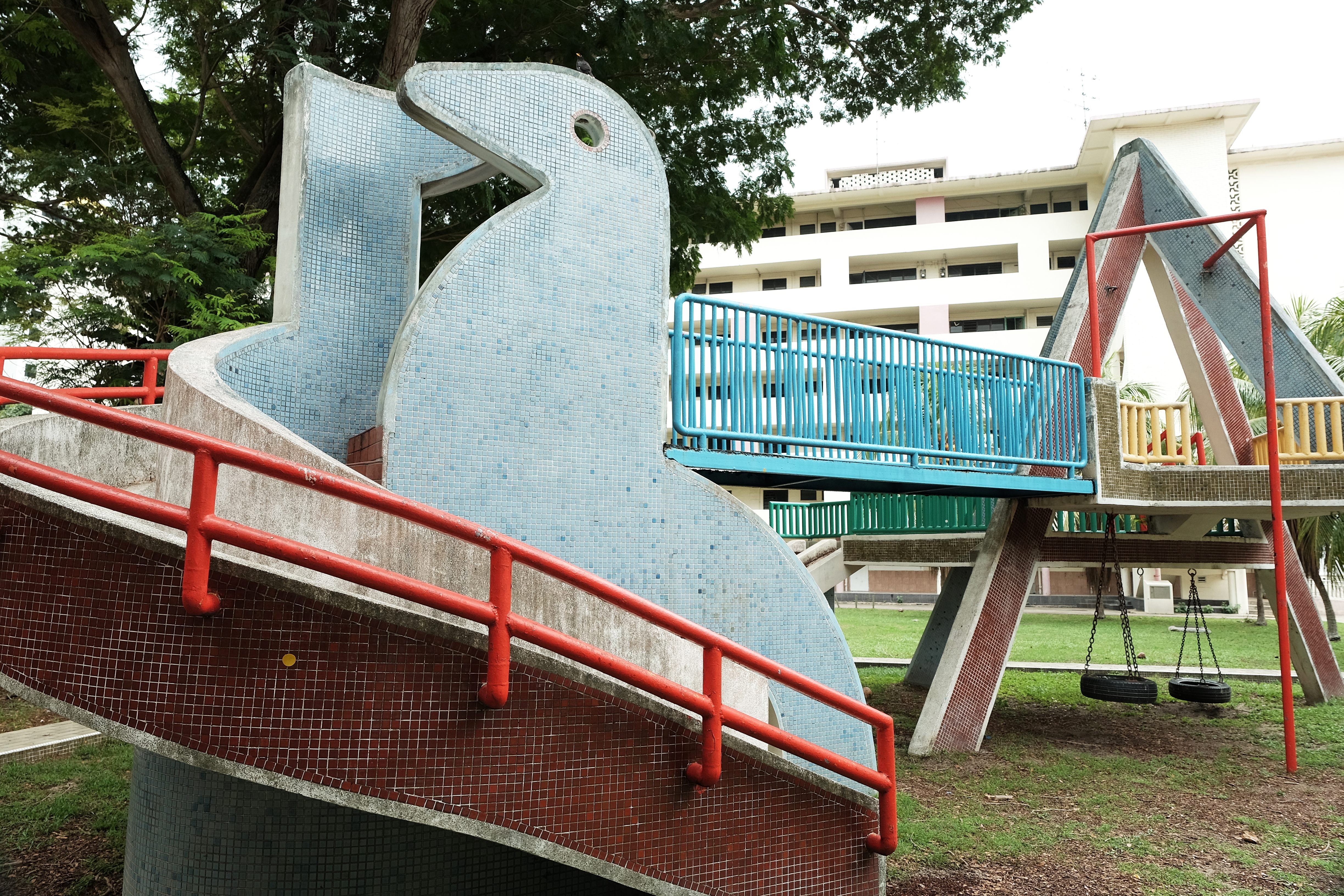 Under Khor's direction, however, the playgrounds from the 1970s onward became unique. In addition to dragons and a sampan, he introduced a rickshaw, bending the "handles" of the cart to form a slide. He also designed a playground based on a Malay fable, The Kanchil, or The Intelligent Mousedeer. A slide took the form of a mouse deer, the swings approximated a tiger, and a crawling area looked a lot like a crocodile.
Khor retired in 1984, after producing more than 30 designs. His successors Maria Boey, Chew Chek Peng, and Lee-Loy Kwee Wah—who have since moved on from this position—stayed true to his ethos. Many of their visions reflect the specific histories of towns, such as the playgrounds at Tampines, formerly home to rural orchards. Ladders, slides, and hidey-holes were built into forms that mimicked tropical fruit, like mangosteens, watermelons, and pineapples. "I thought of durian, but it has too many thorns and might not be very safe," Lee-Loy told The Straits Times in 2014. "I came up with a giant watermelon slice sinking into the sand. It is a common fruit that children can relate to. The same went for the mangosteens."
But the designers could be playful for only a few years. In the 1990s, HDB began importing playgrounds from overseas suppliers—standard plastic recreational equipment rooted in rubber mats. "This was generally because of maintenance and cost issues, but also because the old playgrounds didn't fit with safety standards introduced in 1999," Eng says.
The department even razed some of these dynamic structures, including the pineapples and the rickshaw. Eng estimates that at least six of Khor's playgrounds still exist. Children, fortunately, can still run along the backs of dragons at Toa Payoh and Ang Mo Kio, as their parents once did.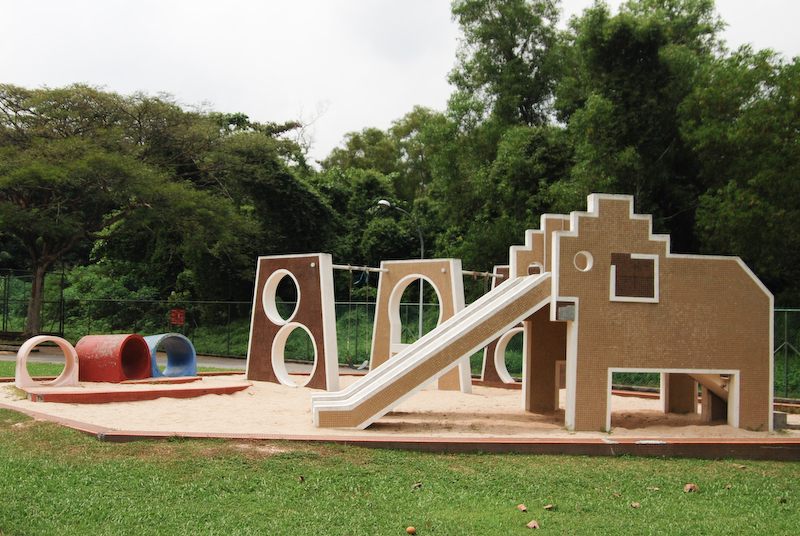 While many of these playground structures aren't uniquely Singaporean symbols, these designs have become meaningful markers of an old era, when the nation, young and tenacious, was undergoing sweeping transformation. In 2012, as part of a project to capture local memories, the writer Justin Zhuang interviewed locals, including Khor, about their relationship to playgrounds; he also compiled a Google Map of extant ones. During Singapore's 50th anniversary celebrations, Khor's dragon was selected as one of 50 essential Singaporean icons—alongside laksa, the Merlion, and "hanging clothes on bamboo poles." Artists have also been swept up by this wave of nostalgia, creating tributes to the playgrounds of yesteryear like toys, enamel pins, temporary tattoos, and tote bags.
Construction in Singapore is notoriously never-ending, and with new HDB flats comes the need for more playgrounds. In 2018, the government announced that it will build a new generation of thematic playgrounds, each intended to reflect its town's identity. HDB also has a Build-a-PlayGround initiative that invites residents of a housing estate to come together and design their own playground. The first finished project in the northern town of Sembawang honors its site's origins as a fishing village, complete with netted climbing structures and posts that evoke the stilts that supported homes. Not yet two years old, it is already an emblem of community and anchor of identity, much like Khor's climbable dragons and sampans.