Exit Interview: I Curated Rare Books for a 200-Year-Old Library
In his 47 years at the Boston Athenaeum, Stanley Cushing has handled everything from a magnetic "Squid Book" to an autobiography bound in its author's skin.
The Boston Athenaeum—a 211-year-old independent library in the center of Beacon Hill—is home to about 150,000 rare books. Some are old, and some are brand new. Some are huge, and some are tiny. Some are made of lead, some are made of shredded army uniforms, and one is, famously, made of human skin. Until recently, Stanley Ellis Cushing was in charge of all of them.
Cushing began his career at the Athenaeum in 1970, right after he graduated from college. He ended up staying for 47 years—"longer than anybody else in the last hundred years or so," he says—working as a bookbinder and conservator, then as the Chief of the Conservation Department, and finally as the first-ever Curator of Rare Books. While in this last position, he began the library's artists' books collection, and took the opportunity to scoop up everything from bark cloth catalogs to anti-war tracts.
Cushing retired in late 2017 (he is now the Rare Books Curator Emeritus) but his legacy remains on the Athenaeum's shelves, in the form of the many additions he has made to them. He spoke with Atlas Obscura about his favorite books, his chain of accidentally strategic resignation attempts, and the various priceless treasures he has rescued from the open stacks.
How did you become a rare books curator?
It really started because I came here right after college and started working in the conservation department. I became head of conservation. We're in charge of restoring and taking care of the paper-based collections—not the art, but the books and the prints. I did that for about 30 years. It was great.
And then I got to a point where I was turning 50 years old, and I thought there must be other things I should do. I handed in my resignation to the director. And he didn't want to accept it, which surprised me.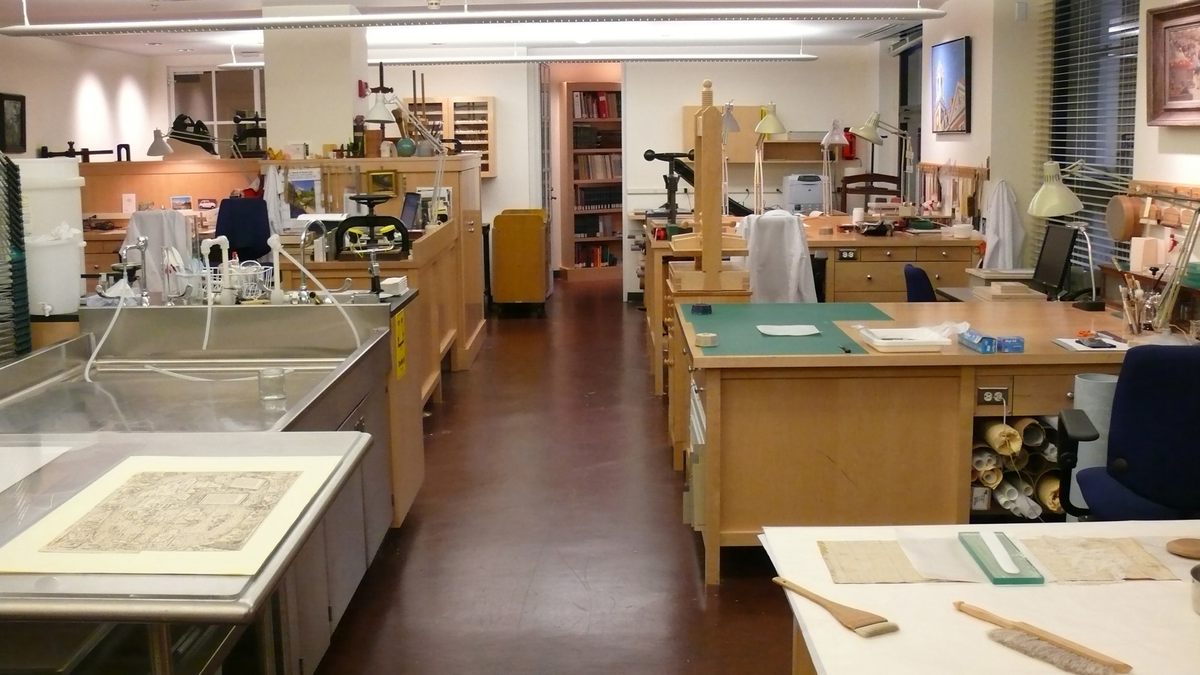 He offered me several options: I could work full-time, or I could work part-time, or I could take a sabbatical summer off and become Curator of Rare Books. So I decided to take the sabbatical and become the curator. For a while I was both [the conservator and the curator], until we found my replacement, and then I started building the collections.
The director offered me the job, really, because I knew the most about the collections of anybody in the building, because I had been restoring rare material for 30 years. That longevity gives you a better idea of what's here and what isn't here. There were things I thought we should have that we had missed over the years. It gave me a chance to do some retrospective buying, and also to try to figure out what we should be adding right now that was new. For instance, I started building the artists' book collection.
What is an artists' book?
Typically at the Athenaeum, some of the things I liked to collect were books with beautiful bindings, beautifully illustrated books, and beautifully printed books. And obviously it's nice if they have good texts! But all those things are important to me. The really creative energy that was going on when I started, and is still going on now, was going into newer forms of book-making, where artists were making books as art. Sometimes people think of artists' books as books about art, but they're not: they're books that are art.
I had been a very conservative book person, because I had been restoring other people's books. When you're the head of conservation at a book conservatory, you don't try to put your personality in the books. You're trying to be as discreet and innocuous and unnoticed as possible and save the other peoples' work. Artists' books are different than that. They're trying to be more creative. So it sort of switched my brain into trying to be tuned into creative work, rather than preserving other people's work.
Artists' books were also a field that was really beginning to develop just about when I was [beginning to enhance] the collection, in 2001. They've gotten more and more important since then. There certainly were artists' books made before that, and I later had a chance to go back and do some retrospective buying. But often with artists' books, they're very small editions, or they're unique, so if you don't get them when you're new, you don't get them at all.
Were there any early acquisitions that you got really excited about?
The first artists' book that I bought that I still love is called Garment Register, by Harriet Bart. She lives in Minnesota. It's about women working in the garment industry in the early 20th century. She took images of union lists of women working in garment workshops, and used that as the background of a page. And then she would have a picture of a woman wearing a typical outfit from that era. And she also found fabric samples that were the same vintage. They made beautiful combinations. Then she added great quotes from various women authors. That was a handsome book, beautifully made, and got me going on it.
On the first floor [of the Athenaeum], there are still some cases with books that I bought. One of them is called the Squid Book. It's a fabulous book. It's printed on incredibly thin Japanese paper, it's fairly large, and it's bound in very flexible vellum and held together by magnets. It's about discovering a giant squid deep in the ocean off of Tokyo. Beautiful production, and very scarce—there weren't very many made. So that kind of thing is really cool.
I've bought books that were bound in glass, and books that were printed on lead. I got one about Marie Curie and radiation. It comes in a lead box. The pages are lead, and it's got pictures of her and her husband working on studies of radiation. Of course, had she known more, she would have protected herself with lead. As it was, she died of radiation poisoning because she didn't realize that lead was the key to blocking it. It's a fabulous and sort of weird book—it's very heavy, because lead is very heavy, and the pages are soft. They'll bend, and the box will bend. It has a set of glass tubes in it—each tube is a test tube, and there's a glass rod in each one. You take it out and there's a text rolled around the glass rod, and you can read about Marie Curie.
How did you get into this field in general?
I came to the Athenaeum right out of college. I discovered that there was a conservation department here. I wasn't hired to be in it, but I maneuvered my way into it quickly. And then there was a real change in staff, and I was the only one left in the conservation department, and I didn't know enough to be there without a mentor. I was basically an apprentice.
In fact, I resigned then, also. I told the director, you know, "I don't know enough and there's no one here to help me, I should just leave." And he said, "Oh, Stanley, have you got another job you're going to?" And I said no. And he says, "Oh, that's not smart, Stanley."
Was this the same director?
A different one! I've worked for five directors.
This director said, "If you'll stay, the Athenaeum will pay to train you. You can find a bookbinder and study with them." And I did. I found a woman who lived on Beacon Hill at that time, who had studied bookbinding in Paris. She took me on, and she became a real mentor for me. I went to Paris with her. I met her teachers, and bought leather and paper and equipment there.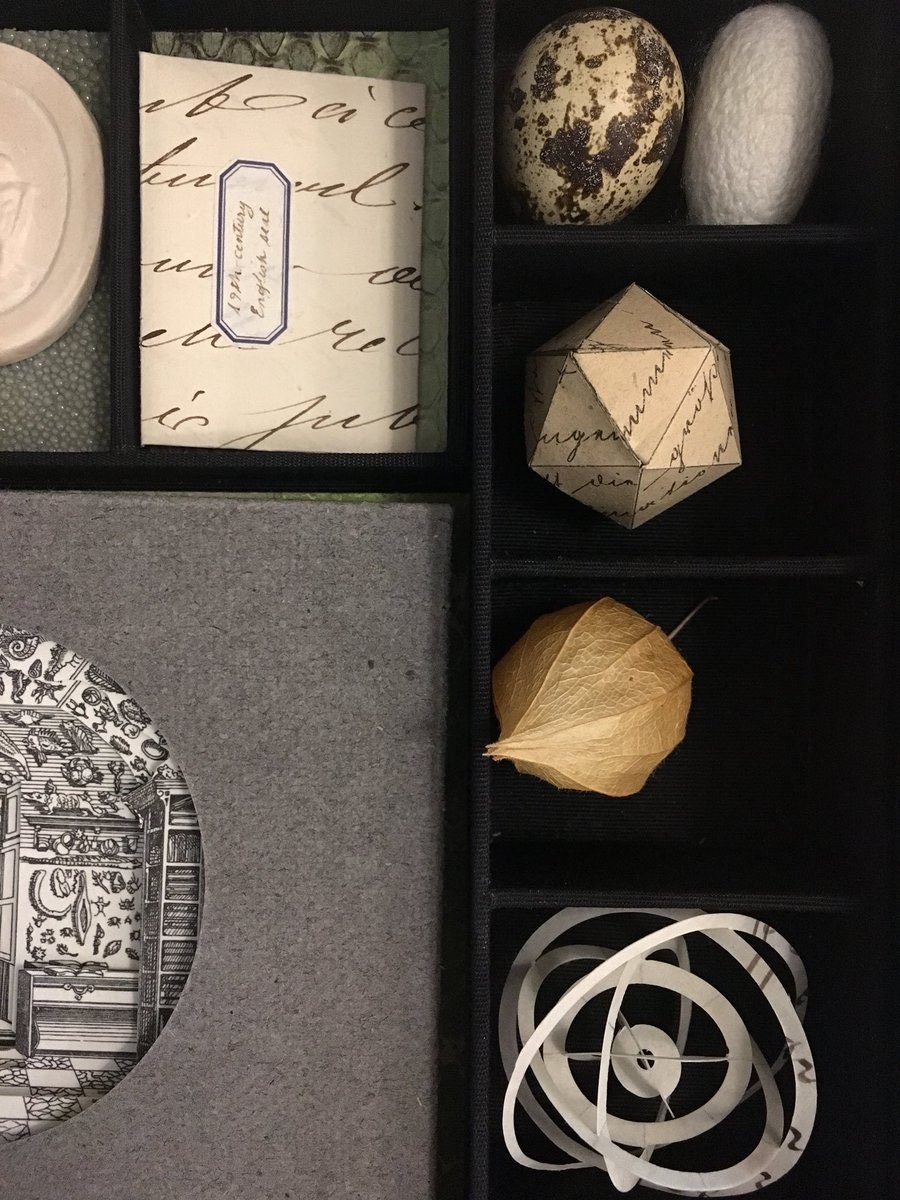 She opened all sorts of doors for me. She introduced me to a fellow named Philip Hofer, who was a major collector at Harvard, and had helped found Houghton Library. He took me on as a student. We would go over to Houghton and we would go down in the stacks, and he would just pull rare books out and explain to me why they were interesting and why he had bought them. He took me to London and I met various dealers and book people there.
There have been a lot of people who have been very nice to me who, as I say, have opened doors and then pushed me through them. And I try to do that for people now. Over the years, I have tried to share that knowledge, because book knowledge is not easily absorbed. You can read about it, obviously. But the best thing is to see the books and handle the books.
What other things have you been able to do with the rare book collection?
My position has also allowed me to buy all sorts of radical political stuff, which the Athenaeum probably isn't known for. But I could slide in all sorts of great things that I wanted to get. I bought one of the first books by Combat Paper, which a group doing anti-war propaganda, really, I suppose. It's made from paper that is made from the pulped uniforms of people in war, people who went to Iraq for the American invasion. There's a picture of a soldier cutting the uniform off of his own body, and the uniform gets pulped and turned into paper, and they print the picture on the paper made from his uniform.
There's amazing creativity out there that I didn't know about when I was doing conservation. It gave me a chance to really add to the diversity here. I got gay lib books in here too, which interest me a lot. It's a really cool way to make the collection current.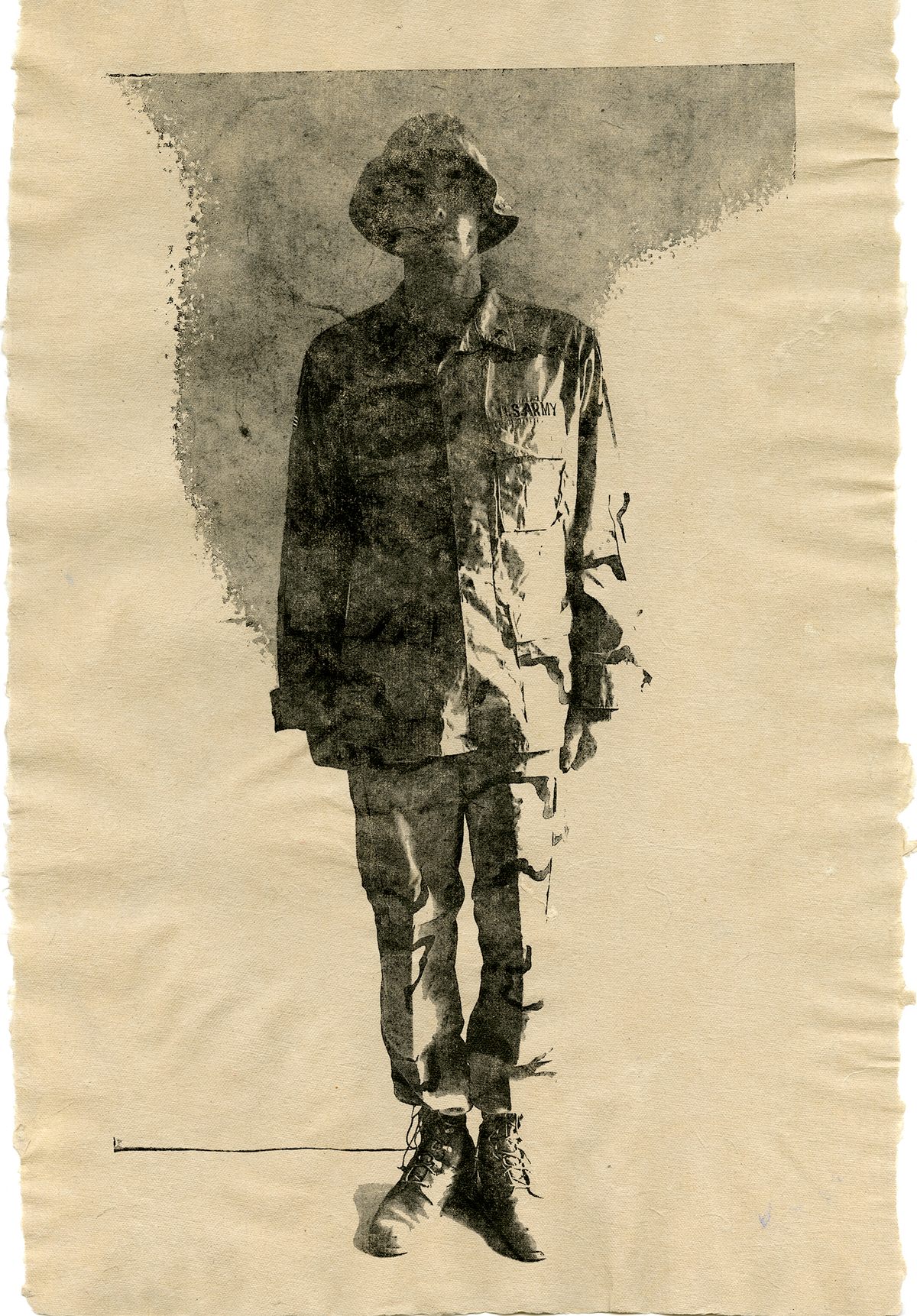 How would you find rare books to buy? Did you go to where they were, or were you able to purchase them from far away?
I would almost never buy a book that I didn't handle. I would go to London and New York and out to California for antiquarian book fairs. But it's also interesting that when you're working for a well-known institution, and you're known to be buying things, people will bring them to you.
There was this one time—I had bought a book in London from a particular dealer. He called me up and said he was coming to New York for a book fair, and he wanted to come see me. I said fine. So he arrived, and he was a very stylish guy—a long hair, Mick Jagger sort of looking guy.
He had a leather male pocketbook on, not very big. It turned out he had come all this way to show me one book. I looked at it, and it was a spectacular book on architecture. Beautiful condition. And I bought it, and then he went back to New York.
How many books do you think you've purchased during your tenure?
Oh, I don't know. No more than one or two thousand, because they are expensive. But that's because a lot of them are really important, and some of them are world-class.
Does the Boston Athenaeum ever get rid of books, or do you only acquire them?
We basically only acquire them. The Athenaeum is an unusual library in that it doesn't de-accession. It doesn't de-accession by use: If you go into the stacks, and you see a book that hasn't been used in a hundred years, it's still waiting for you. And we're not going to get rid of it, because somebody intelligent bought it in the past, and we think someone intelligent will use it in the future.
When we run out of space, we have typically given whole collections to other institutions. Our medical books, which we used to have a lot of, we gave to the Countway Library at Harvard. We had an enormous collection of bound newspapers, which take up a huge amount of space. We kept the ones that are of local interest, but we gave a great number of them to the American Antiquarian Society in Worcester, because they collect bound newspapers. We don't put them back on the market, but we don't have enough space to collect everything, which is what we used to do in the 19th century.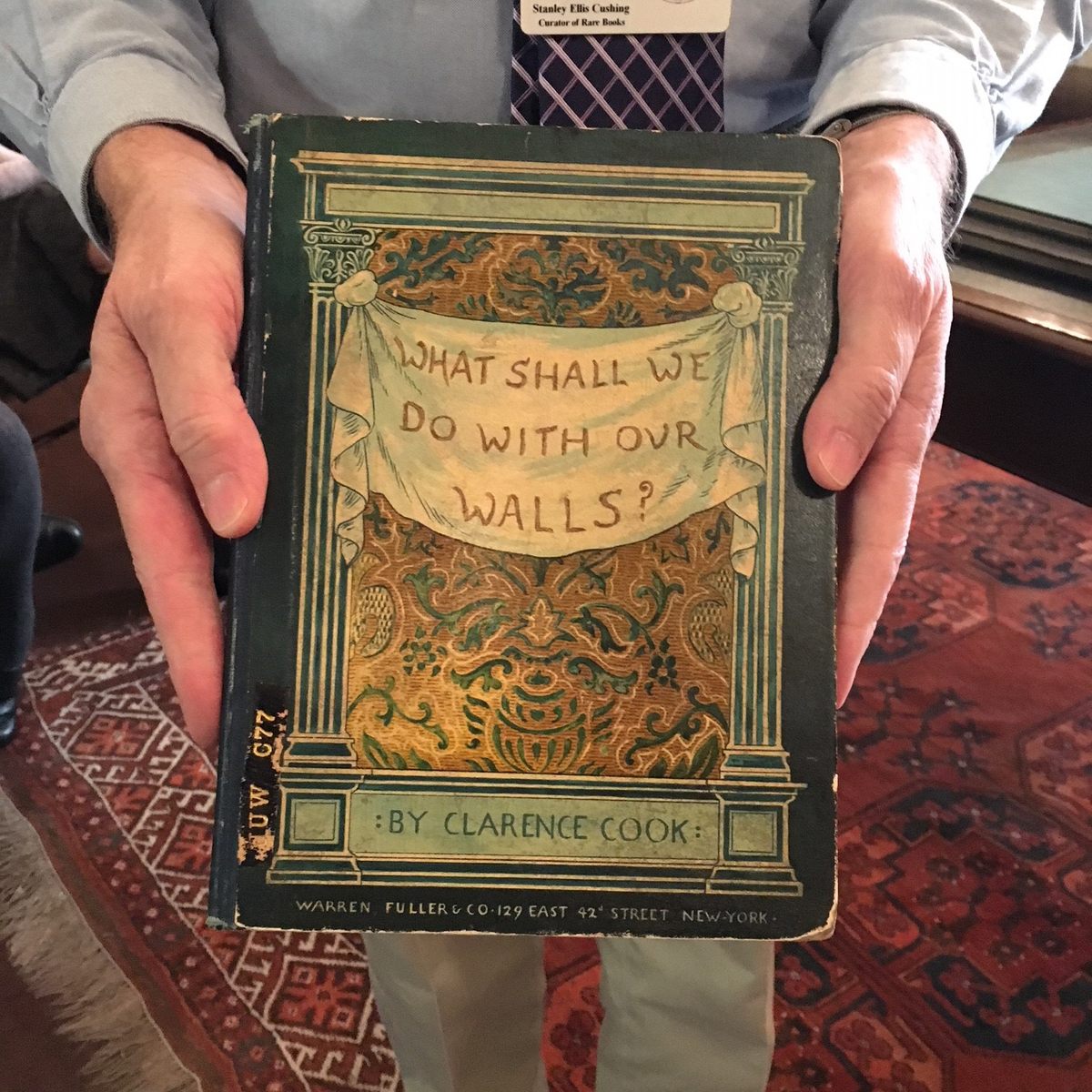 How has the library changed since you first started there in 1971?
It has become much less formal. I'm probably the last person who still wears a tie to work. When I first came here, I was totally intimidated. I came here as a reader when I was in college at Boston University. It felt like you were intruding to walk through the front doors, even though you were a member. It's a membership library, so it's got a different aura than a more public library. There's been an attempt to throw the net wider to get a more diverse group of people using us and enjoying us.
That's one of the things I think the administration likes about the artists' book collection—it attracts different people than you might think would come in just to study, say, American History. If you want people who are your age, who think, "What's cool, what's trendy," and they see these exotic books that they don't see anywhere else and they never have heard about, it gets a younger, more diverse group in.
What was it like being an out gay person working at the Athenaeum in the '70s?
I was the first staff member to come out. I felt we needed to break down some of that formality and some of that rigidity. I'm of the generation which first started to come out publicly, and it made all the difference in the world for me. I always felt at home here that way. Also, I've been able to buy all sorts of gay-oriented material for the library, which needs to be here.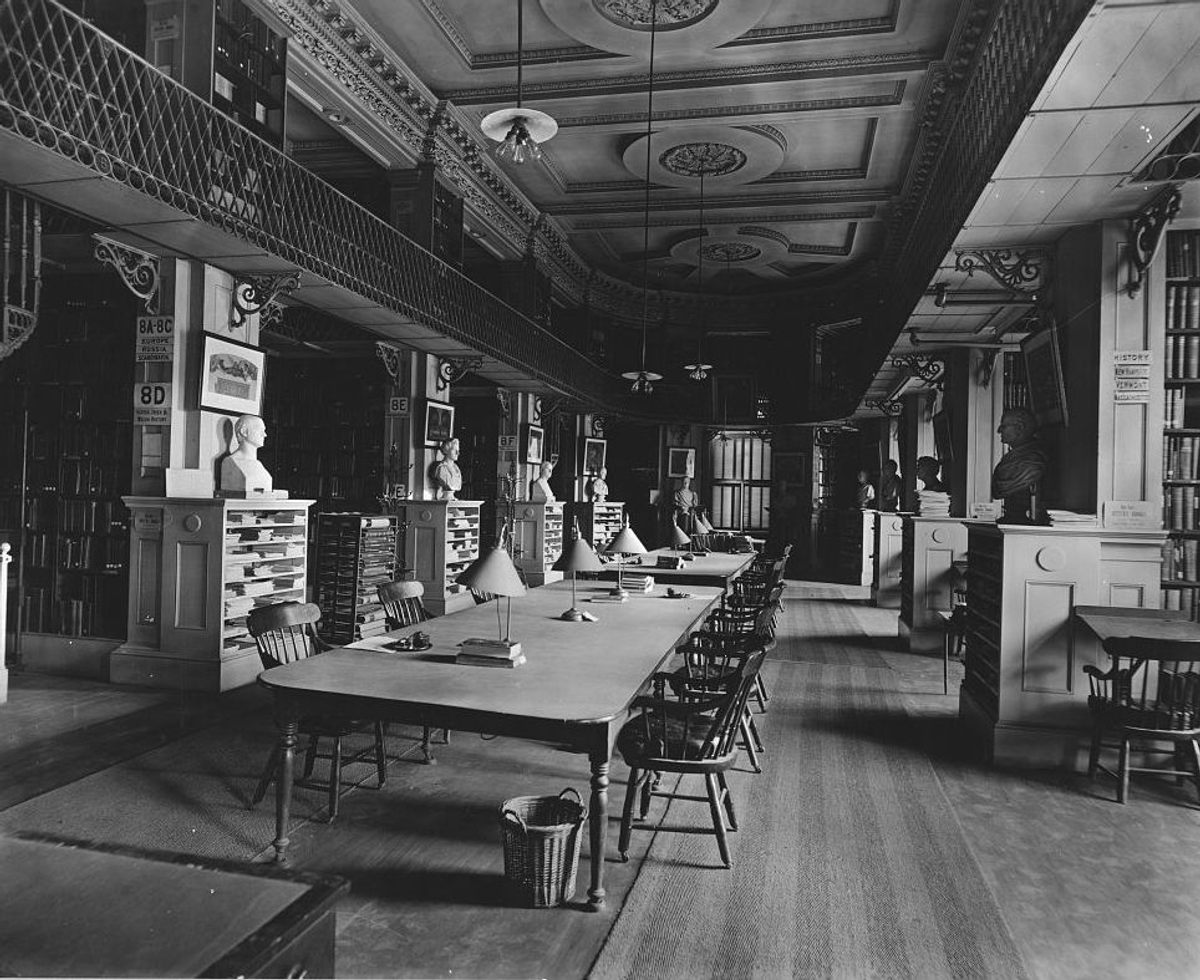 I would come into work wearing gay lib buttons, and people would ask me, "What are those?" and I'd tell them. And then I'd go and talk to a colleague—a lesbian who was hired shortly after me—and I'd say, "This person reacted well! This person reacted badly!" It was a whole process of sort of loosening up the place. A little later, three of us who were by then out at the Athenaeum, we wrote a memo to the straight fellow who was in charge of buying books, and said "We're really terrible on gay subjects. You should be buying this, this, and this. And you should consult with us." And he did!
What's the most surprising thing you've ever found here?
I get surprised all the time. I mean, we have 150,000 rare books. It's just astonishing what we have.
One of the ones that still sticks in my mind as an amazing discovery, I found on our open shelves. It's now in the locked room, to give it more security. But it's by John J. Audubon. We have the Birds of America, the great big folio multivolume set of images of birds. But he also wrote an accompanying text about birds, in five volumes.
I came across one of our copies of that on the open shelf, and I realized that it was not only contemporary, but he had signed it, and he had given it to somebody in Boston here. And in order to adorn it, he had included two watercolor paintings of birds, which he had done. They were male and female scarlet tanagers. The male scarlet tanager has black feathers and scarlet feathers, and he had painted the black parts in paint, but he had glued in individual scarlet feathers to fill in the scarlet part of the tanager. It was on our open shelves. I found it. I was like, "This is amazing."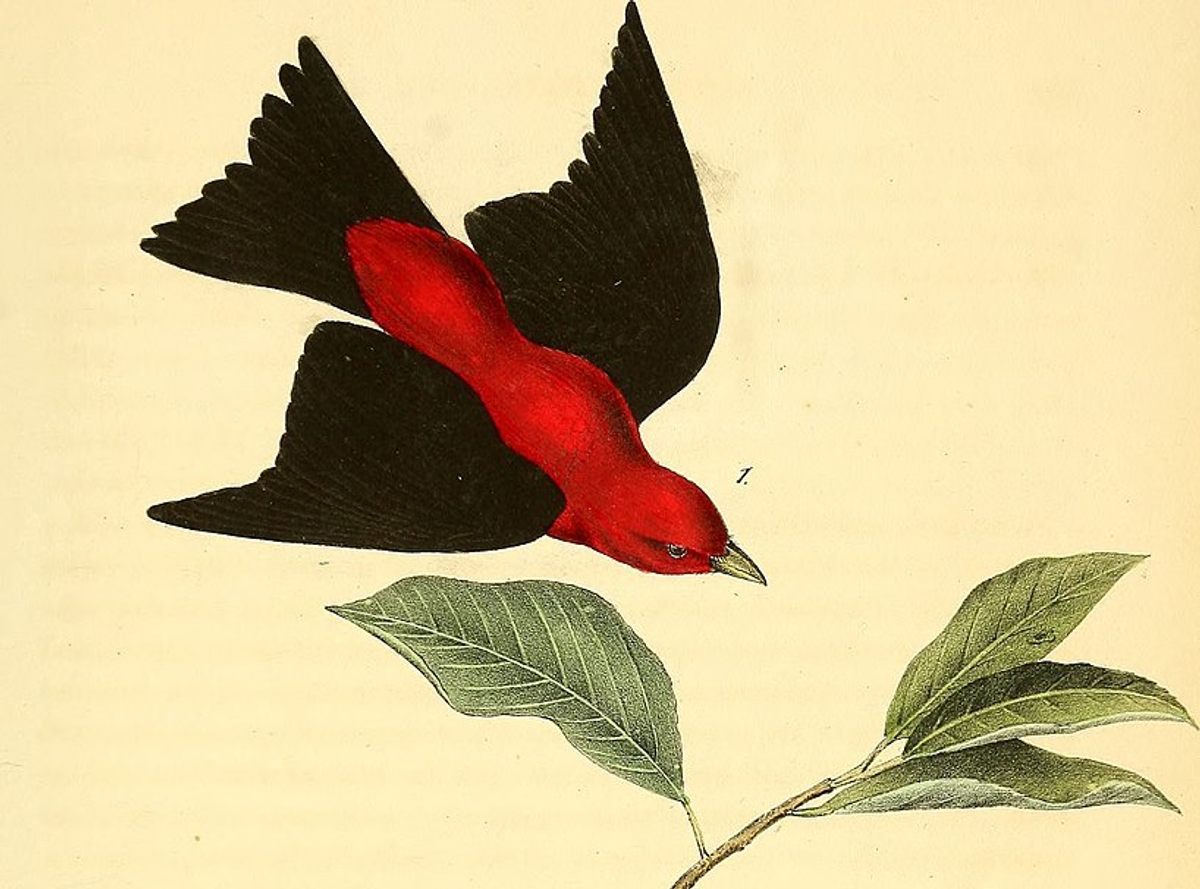 Another great thing I found, also on the open shelf, was a scrapbook of paper samples. It was a catalog of tapa cloth. If you've never run into tapa cloth, it's made from beating the inner bark of bushes that grow in the tropics. It can be very thin and supple. They would paint it with hand-done design work that looks very modern, but in fact it's not. It's early 19th century.
The scrapbook had probably come to Boston from missionaries to Hawaii. When it came in, long ago, nobody knew what it was. It was just given a generic catalog, as "paper samples." But in fact, tapa samples of that era are incredibly rare. And it's incredibly diverse stuff. It's beautiful. So I found that on the open shelf, but now that's not on the open shelf either.
If you go to the Bishop Museum in Honolulu, they have a great collection of tapa cloth, but people don't expect to find it in Boston. You have to realize what you've got. And since then I've just bought all kinds of great stuff about tapa cloth, and more samples, to make the story complete.
How can curating help complete a story?
I know Atlas Obscura has a thing on our skin book. The skin book has been here since before the Civil War. Unfortunately, it's one of the rare books we're known for, because it's so gruesome—bound in the skin of its author. In fact the text is very interesting, and we've put it online now, so you can read the story. He dictated it to the warden of the jail he was in when he was dying. It was here, in Charlestown [Massachusetts]. When I came to work here it was on display, and it was just sort of this oddity. It had been on display for like 40 years at least, and you don't leave things on display for that long, it's just not good for them. So I took it off display when I was finally head of conservation, and I had a box made for it and put it in the locked room. A custom, cloth-covered box.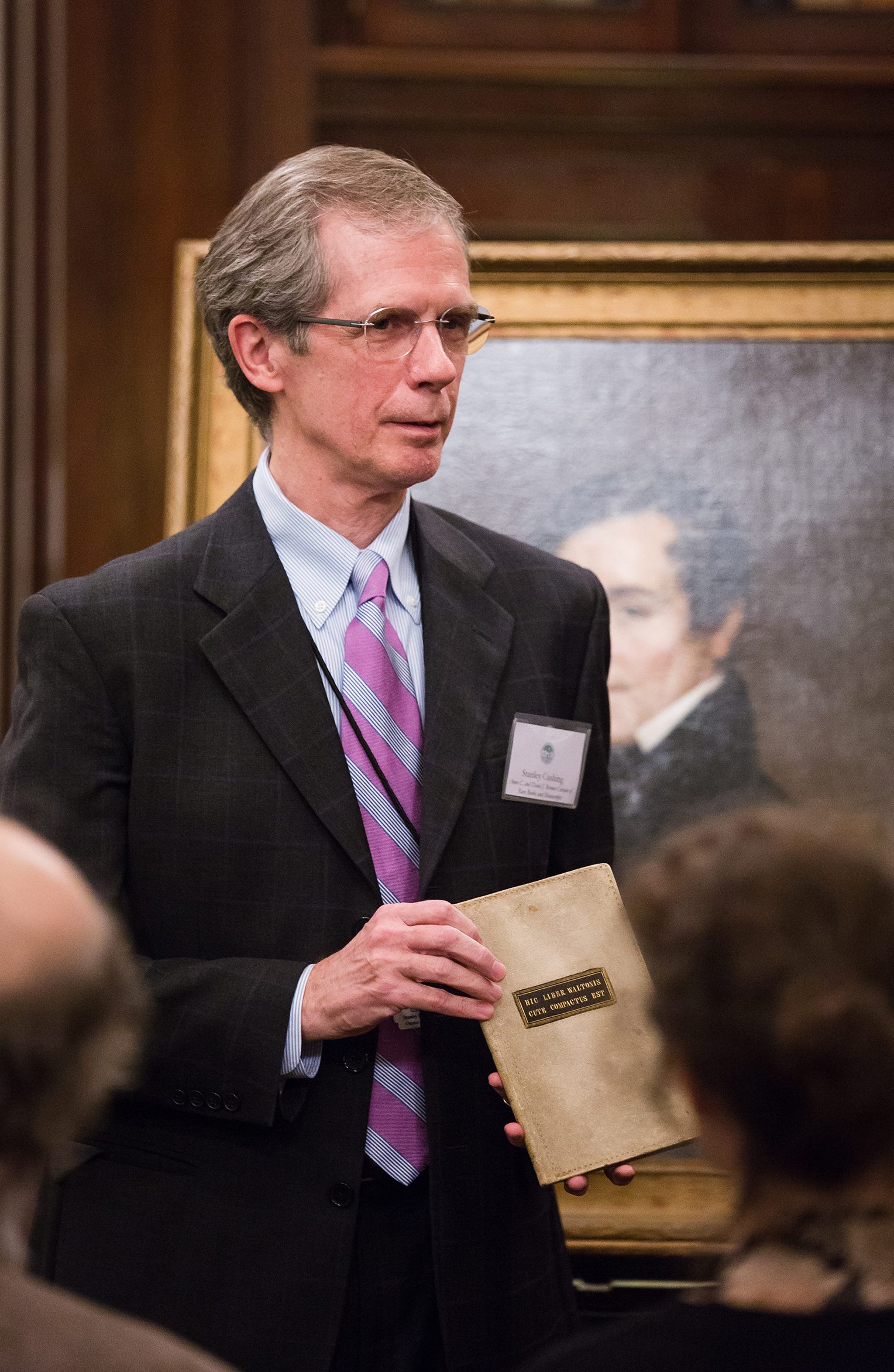 Then in 2008, I was in New York at the New York Book Fair, and for sale was a set of manuscript journals written by the warden of that jail, who had taken down the memoir of the highwayman. And he mentions the highwayman dying there in his memoirs, in his journal. so I was able to buy the journal ,and coming with the journal also was this large oil painting, a portrait of the warden. Which is a really good painting, it turned out. And also his sword cane, which he had with him to protect himself while he walked through the jail.
This didn't work, because it turned out he was murdered in the jail by an inmate. And the murder is interesting. because the inmate was one of the first people who used the insanity defense to get off, and it worked. He was not killed for it, he was put in an insane asylum. And then he leapt out a window and killed himself.
But the whole story becomes a whole story then. You can put the book into this context. And you can see, it's not just a freak show, it's really part of American history. And I even discovered that the warden was a distant cousin of my great-grandfather, so that was pretty interesting too. The whole thing became kind of fascinating. If you can do that to this iconic book and make it part of a big story, it's like a setting for a jewel. It's very satisfying.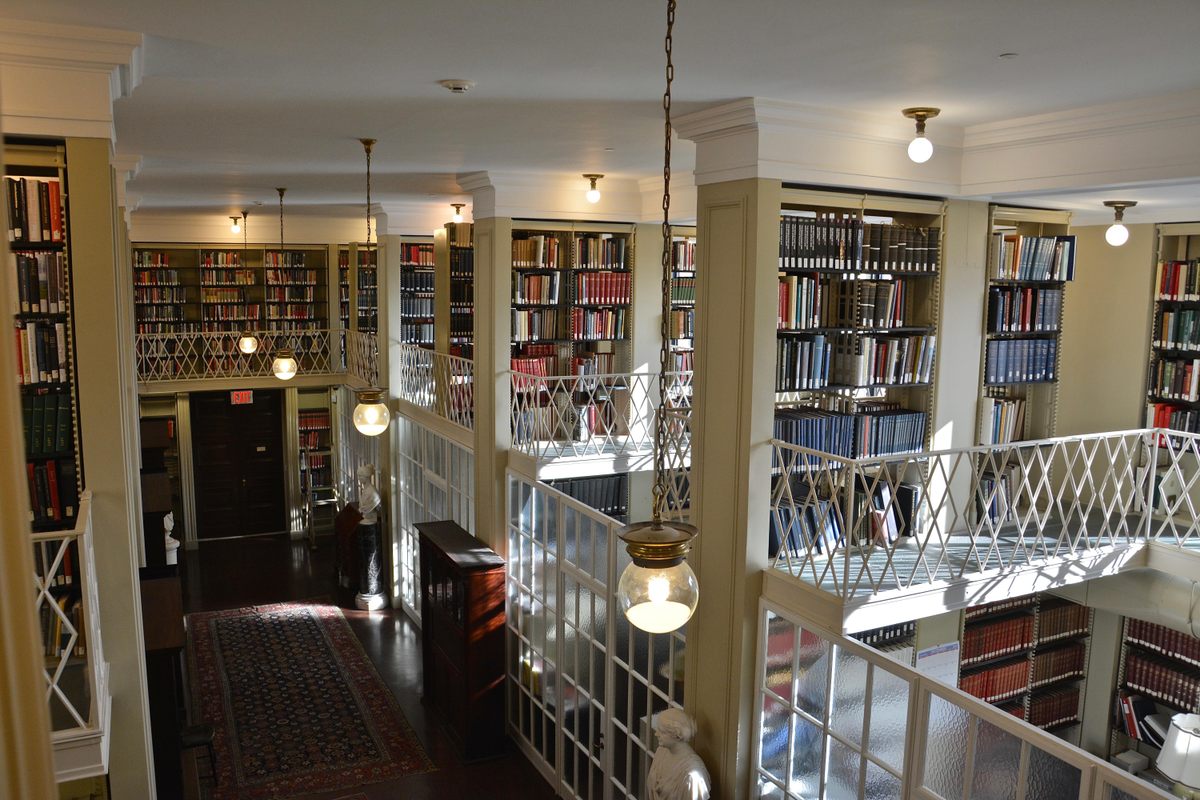 Did you have any restrictions on your collecting?
Of course, they can't just be because I like them. They have to also be suitable for what the Athenaeum collects. It's a humanities library, so anything in the humanities is pretty much fair game. The next person—because there's somebody else who's been hired now to take my place—he'll look at things differently. He'll say, "Oh, why didn't Stanley Cushing buy this? I love this!"
Do you collect books personally?
I don't collect books, because I figured it would be a conflict of interest. If some dealer brought me something that I really coveted, and I thought, "Well, I'll just buy that for me," that's really not ethical. And if it's really great, it should be going to the Athenaeum. So I thought I'd just stay out of that problem. I collect decorative arts for myself, and there is no conflict there. It uses up a lot of my collecting juices. I don't have to spend my own money looking for things for my husband and me, for our home, because I've used up a lot of that acquisitiveness trying to collect for here.
What do you hope people take away from the collection you're leaving behind?
Within our current day of digitization, and everything being on a computer, what I really want is for people to come in and see the books in the building. Artists' books don't digitize very well, because they work better as kinetic sculpture—you have to move with them. And that's harder to do in an effective way on the computer.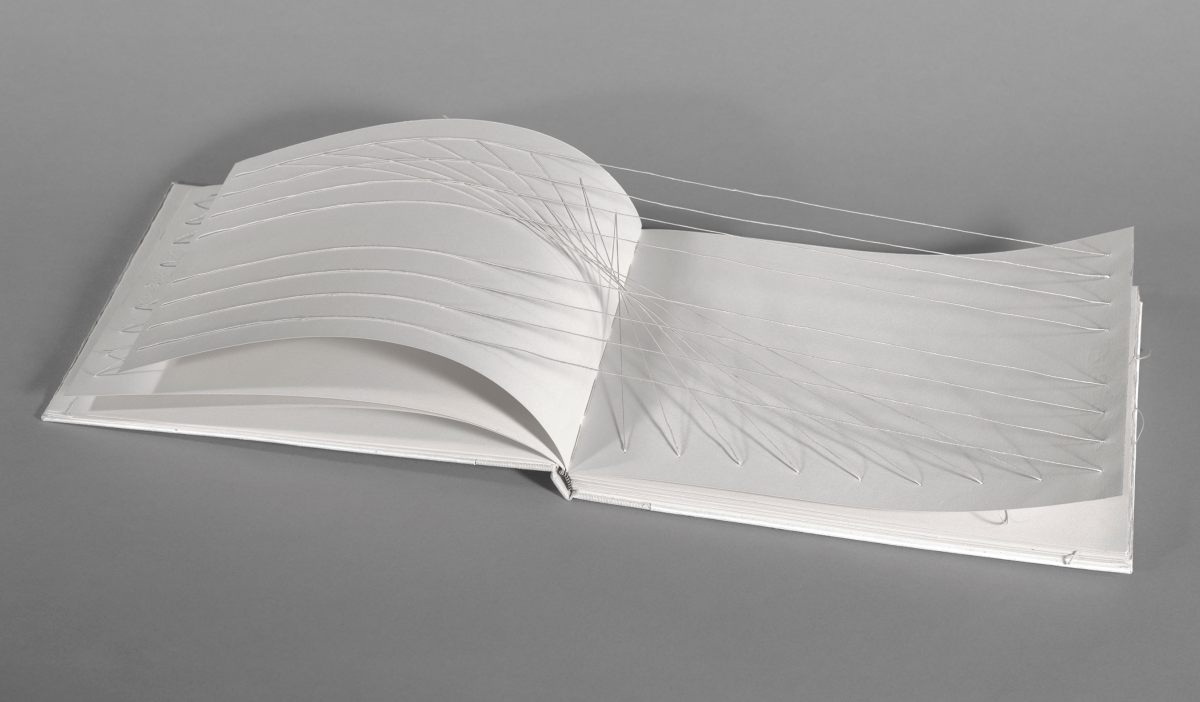 For instance, one of the books I've got is called the String Book. It's got pages of thick paper that are perforated, and strings run through them. As you turn the pages it makes a cat's cradle. They move and change. Every time you open the book it's a different arrangement. It also makes a sound—the sound of the string coming through those holes. The whole thing is best experienced in reality! It's best if you come in. And anybody can come in and see these books here, they just have to make an appointment. They don't have to be a member. The rare book collection is available for anyone who's interested in it.
Are you going to miss your job?
I'm definitely going to miss it. But it's the right time in my life to be letting other people carry this on day to day. I'm now the Emeritus Curator, so I can still be connected—I have my email account. And I'm a proprietor, so I can come in and use the place anytime I like. I bought a share here in 1973, the first time I resigned, because I figured that I wouldn't be able to use the collections, and I wanted to. So I expect I'll be using the collections as long as I'm living.
This interview was edited and condensed.