London's Subterranean Victorian Bathrooms Now House Bars and Cafés
People drink gin and coffee where gentlemen once relieved themselves.
You wouldn't see it unless you're looking for it. Directly in front of the busy junction on the north side of London's Waterloo Bridge, hiding in plain sight, is a cocktail bar. A trim pagoda of milky glass shelters a staircase leading beneath the pavement to a tiny, red-lit lounge. Cellar Door, which looks like a cross between a New York speakeasy and a Berlin cabaret, used to be a public lavatory. It's not the only one. Recent years have seen a number of London's Victorian public restrooms reopen as bars, restaurants, cafés, and even an art gallery.
In keeping with the bar's proximity to the West End, Cellar Door's décor is both intimate and more than a little outrageous. It's "a bit cheeky, a bit of fun," says Paul Kohler, one of the owners. A lascivious pink love seat shaped like a tongue lolls opposite the entrance, and banquettes embroidered to resemble bare bottoms run along the wall where toilet cubicles used to stand. Tall stools with crimson upholstery in the shape of lips cluster around little tables in the area formerly occupied by the urinals. "The one place we have the loos is where the loos weren't, of course," he chuckles, sipping pink gin.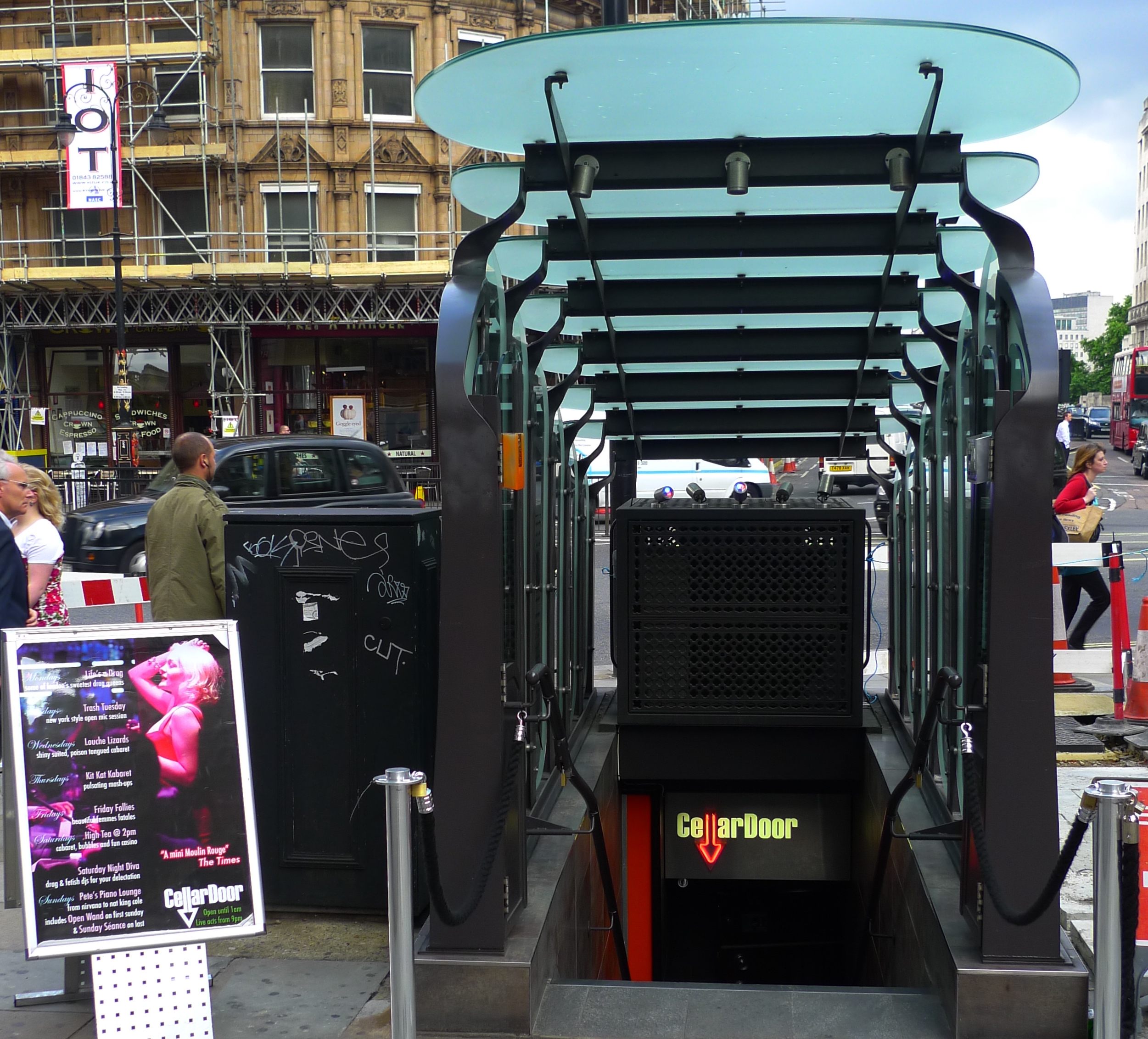 Public bathrooms have existed in London since Roman times, when large vessels stationed outside taverns served as urinals. In later centuries, latrines installed on bridges clogged the city's waterways (chamber-pots were emptied straight onto the street). But though the first flush toilet was invented in 1596 by Sir John Harington, godson of Queen Elizabeth I, it wasn't until the reign of Queen Victoria that an enterprising plumber from Hampshire made them popular and publicly available.
Where others saw empire, George Jennings saw opportunity. In 1851, his flush toilets were revealed to the public at the Great Exhibition in Hyde Park. Between gawping at exhibits from over 40 countries—including daguerreotypes, the Koh-I-Noor diamond, and minerals from New Zealand—visitors could spend a penny to use his "monkey closets." They attracted mockery in the press, but curiosity overcame "false delicacy," as Jennings himself put it. Of the estimated six million exhibition visitors, over 800,000 used the new-fangled contraption.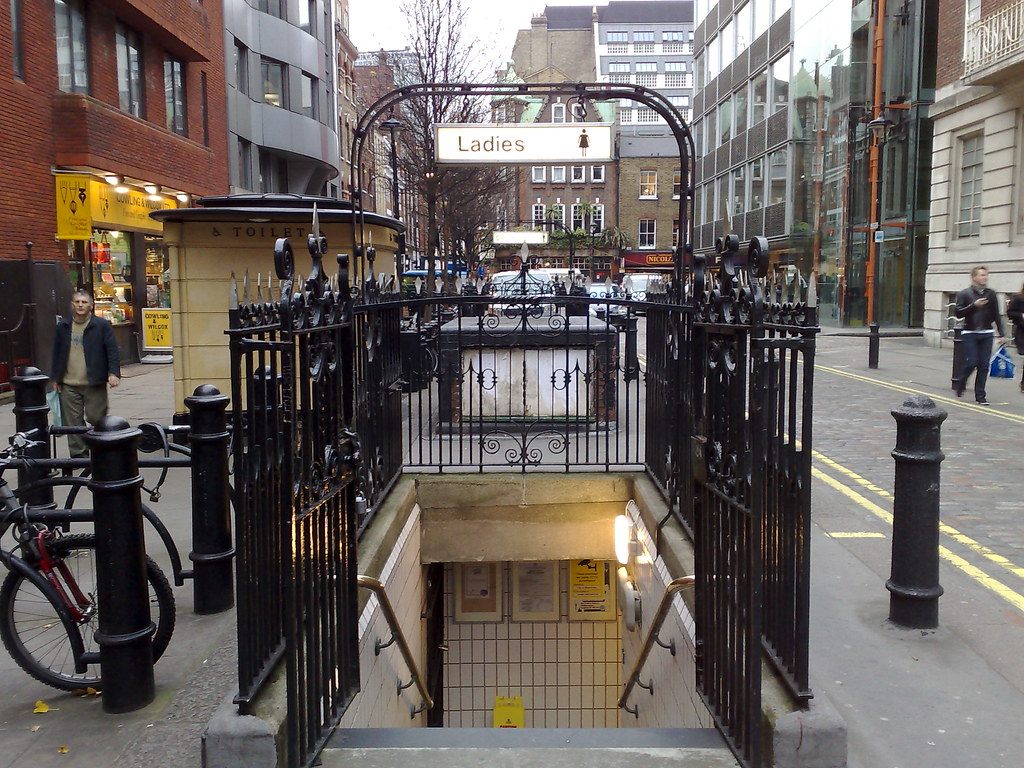 In London, Jennings's invention coincided with increased concern at the unsanitary conditions of London's slums. But his lavatories quickly spread beyond the capital to Europe, gracing the streets of Paris, Berlin, and Florence, and further afield, to burgeoning cities such as Hong Kong, Calcutta, and Sydney.
Their success lay in a combination of practicality and aesthetics. Entrances to London's underground lavatories were marked by wrought-iron cages that were nevertheless sufficiently discreet to avoid offense to delicate sensibilities; those above ground were decorated with classical architectural features. Interiors were fitted with the latest sanitary technologies and tiled walls which were easy to clean. Jennings even invented a urinal that spread out from a central column like a flower, a fetching design that ensured privacy for each user, as well as an efficient use of space and water.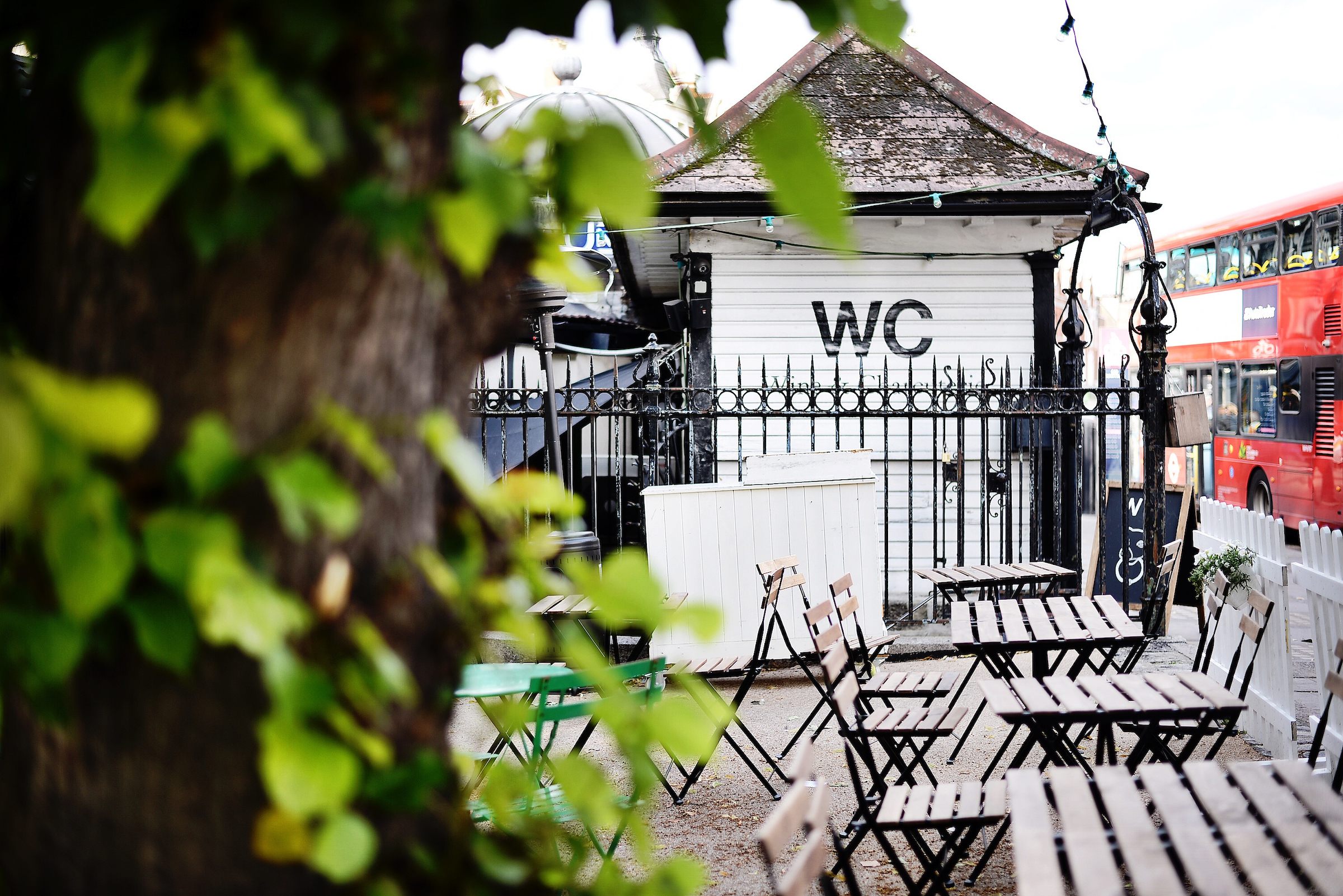 Public bathrooms continued to be built during the 20th century, but the majority were (and still are) run on an optional basis by local councils. At times of budgetary stress, such as the 1980s and early 2000s, many councils closed or sold off restrooms rather than continue to subsidize their existence or pay for necessary refurbishments.
With their convenient locations and attractive Victorian fixtures, several subterranean restrooms have found a new life as bars and eateries. South of Tower Bridge is the Bermondsey Arts Club. The original black and white floor traces the original layout of the lavatory, while dim lighting reduces the glare from tile-lined walls. At Attendant, on the Fitzrovia side of Oxford Street, cisterns still fixed to the walls indicate the café's former glory, and original Royal Doulton urinals have been turned into cosy carrels in which customers sip coffee and smoothies. Wine and charcuterie are on the menu at WC in Clapham, in what used to be the tube station's water-closets. Wooden bathroom stalls have been repurposed as private tables and the colorful tiles patterning the walls contribute to its louche, bohemian feel.
But London's public loos have always served unintentional ends. In 1937, three decades before the decriminalization of homosexuality, a slim volume titled For Your Convenience was published. The book, which purported to be a guide for the visitor beholden to his bladder, was in fact a thinly veiled run-down of the city's top "cottaging" spots for the discerning gentleman. And with few public lavatories for women, they soon became a testing-case in the women's rights movement: From the mid-19th century onwards, the Ladies Sanitary Association campaigned for greater provision of bathrooms for women.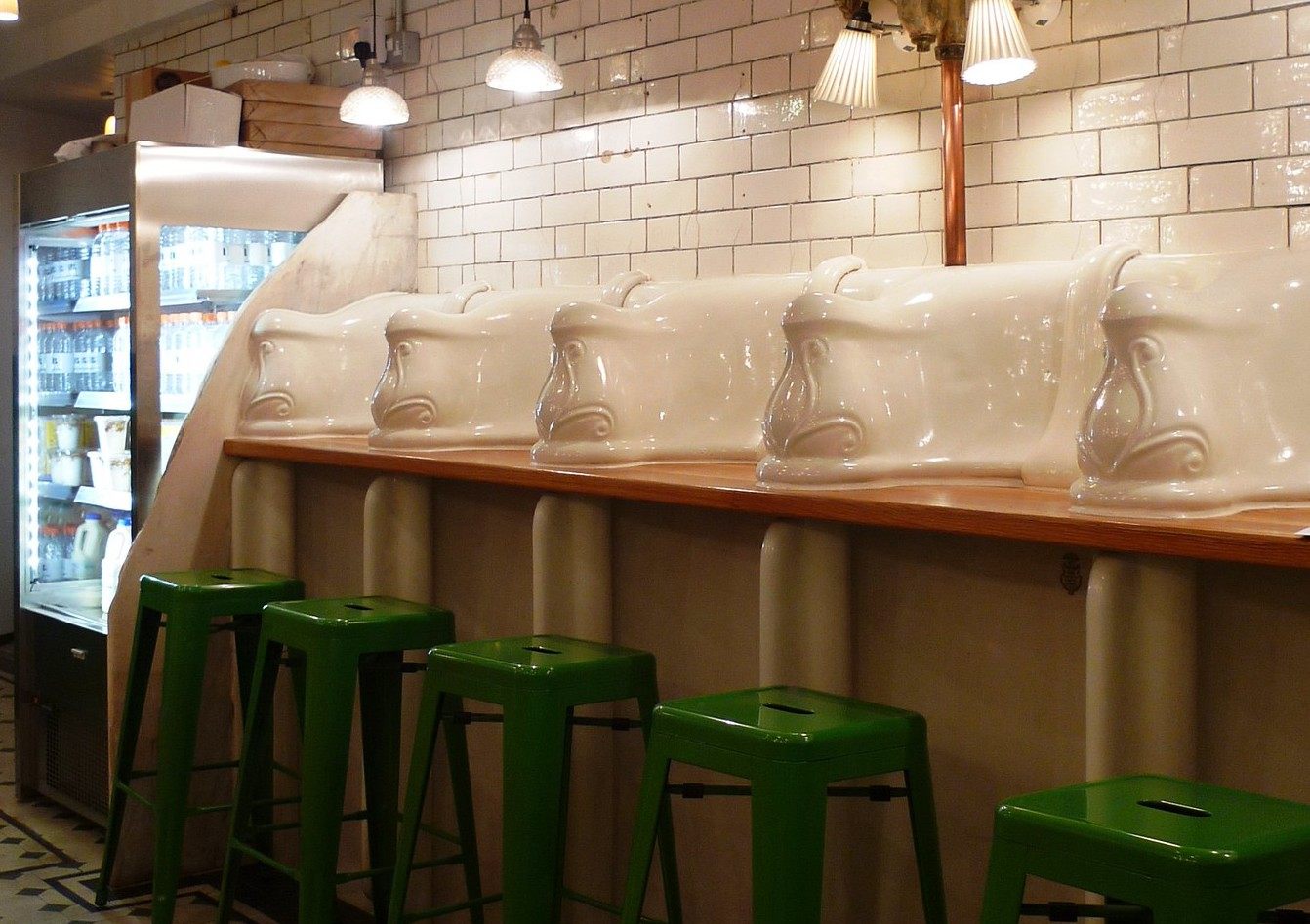 But despite its past as a men's room, Cellar Door is now open to everyone, from the office workers and students who abound in the area to those who flock to the daily shows and Monday drag nights. There's even a weekly political cabaret. "It's quite an institution now," says Kohler with pride. "I'm Gatsby. I love a good party." But even Gatsby never got to party in a bathroom.
What do you think of reusing a beautiful bathroom as a beautiful bar? Head over to the Atlas Obscura Community Forums and share your thoughts and comments!
Gastro Obscura covers the world's most wondrous food and drink.
Sign up for our email, delivered twice a week.