Why the Hallmark Card Company Owns Thousands of Priceless Artworks
Exploring the modern art collection at Hallmark HQ in Kansas City.
While visiting a Brooklyn church whose subterranean tunnels were part of the Underground Railroad, I came across an arresting painting. It was a copy of an 1860 oil painting by Eastman Johnson called The Freedom Ring, and showed a young slave girl in a red coat. That same year, the congregation at the Plymouth Church of the Pilgrims in Brooklyn Heights, led by pastor Henry Ward Beecher (and brother of activist Harriet Beecher Stowe), had raised enough money to buy her freedom.
Surprisingly, a caption noted the original painting was owned by Hallmark Cards Inc. of Kansas City, Missouri.
Most Americans don't realize that the massively successful greeting card company has its own museum-quality art collection, known as the Hallmark Art Collection, which was specially collected over the last century to inspire its staff artists. I sure didn't. But last year, Americans sent around seven billion greeting cards, over half of which were made by Hallmark Cards. All required original art.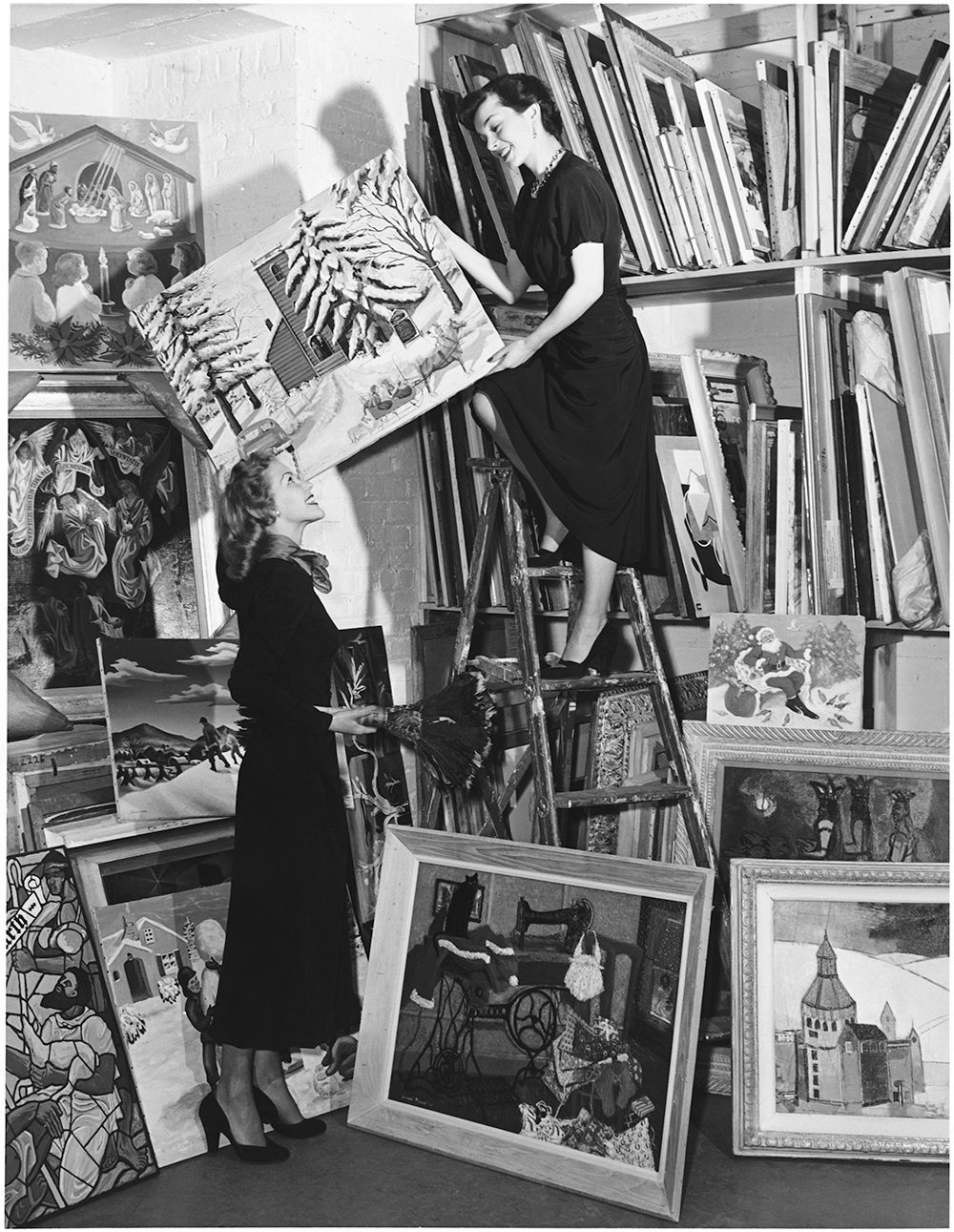 Part of the vast Hallmark art collection; here two women sort entries for the 1949-50 Hallmark Art Awards program. (Photo: Courtesy of the Hallmark Archives, Hallmark Cards, Inc)
Yet fuzzy animals and Christmas trees are not all you'll find in the company's collection of around 3,800 works in Kansas City. Their vast collection ranges from Norman Rockwell and Salvador Dali, to the folk art of Grandma Moses, and optical illusion artworks made in the 1950s and '60s.
It also includes thousands of Hallmark's own commissioned works, of everything from cats and teddy bears, to New England churches and villages covered in snow. This improbable mix of priceless modern art and snuggly card illustrations is surprisingly—and utterly—charming.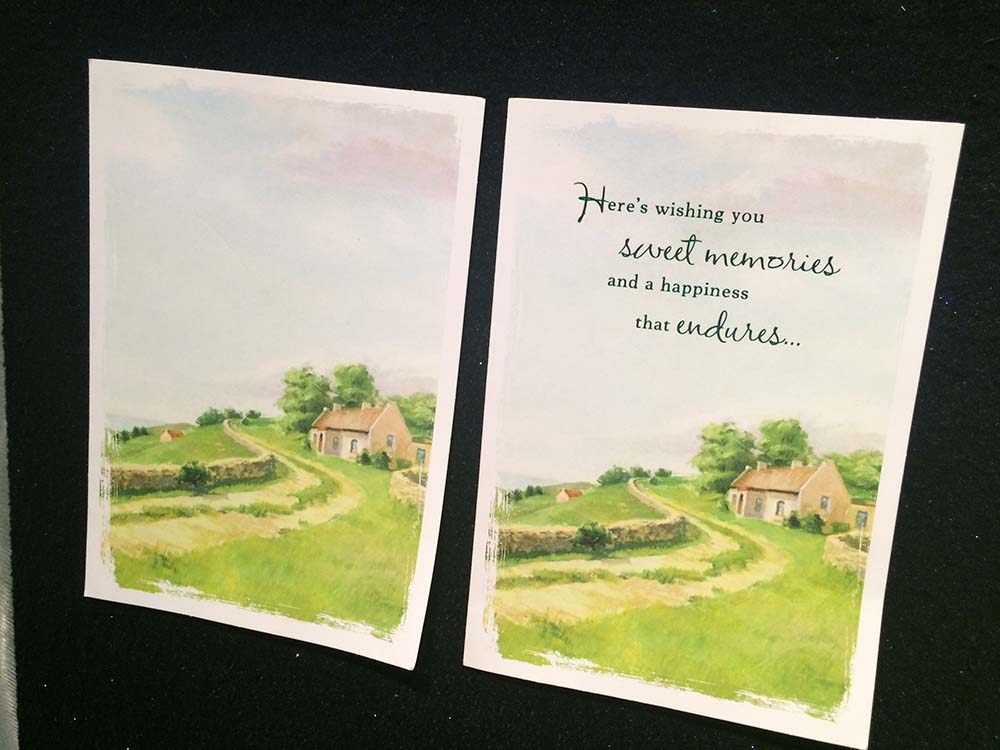 The combination of art and carefully crafted words that saw Hallmark become America's largest manufacturer of greeting cards. (Photo: Luke Spencer)
My contact at Hallmark Cards headquarters was Ron Worley, who for many years has worked as the Outreach Supervisor. Worley tells me how over 500 artists, writers, stylists, photographers, editors and production staff work there, designing around 10,000 cards a year.
But rather than a stale, corporate atmosphere, as one might expect at such a large company, walking into Hallmark Cards is like stepping into Willy Wonka's Chocolate Factory—if it were pastel-colored and located in the middle of an 85-acre complex in the middle of downtown Kansas City.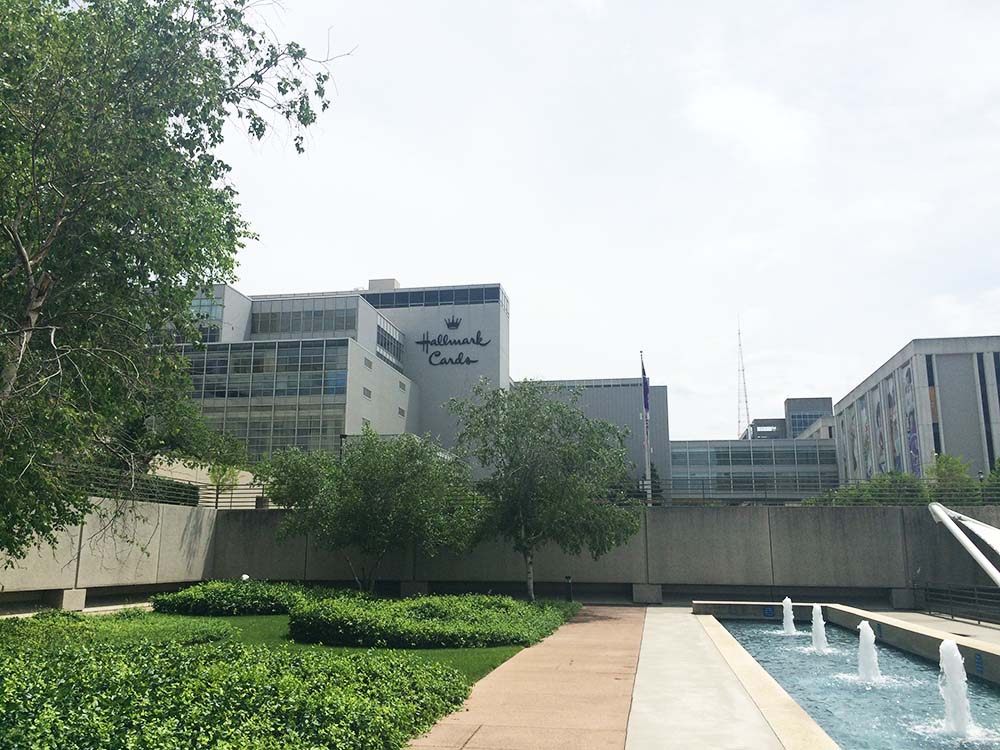 Crown Plaza, an 80 acre 'city-within-a-city' and home of Hallmark. (Photo: Luke Spencer)
Even more surprisingly, Hallmark, despite its vast size and reach, is still a family owned company, and largely the vision of a teenager who dropped out of high school.
At the turn of the last century, sending postcards was the height of fashion. An enterprising 16-year-old from Nebraska, Joyce Clyde Hall, set up his own part-time business with his two brothers, importing and selling foreign postcards. After quitting school, J.C. Hall took a train to Kansas City with two shoe boxes packed with postcards. Soon, he opened his own stationery store, called Hall Brothers.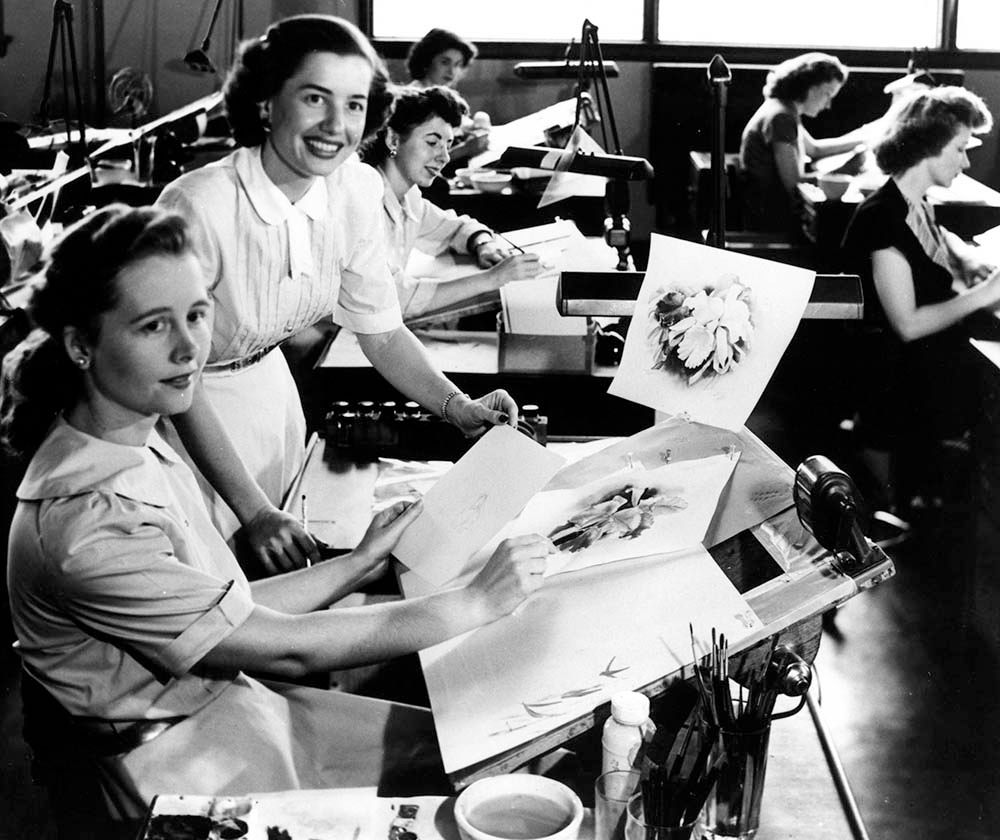 Hallmark artists working on flower designs at the card manufacturers headquarters in Kansas City. (Photo: Courtesy of the Hallmark Archives, Hallmark Cards, Inc)

He had a novel gimmick, though: Hall felt that greeting cards, sent in sealed envelopes, could provide a far more intimate way of sending a personal message than a postcard. At that time, greeting cards were only sent for Valentine's Day and Christmas.
In 1919, the Hall brothers created the first "everyday card," as they called it then. It featured a line from a poem by Edgar Guest: "I'd like to be the kind of friend you've been to me." The Hall Brothers' cards proved so popular that sending "everyday" cards fast became the preferred social custom.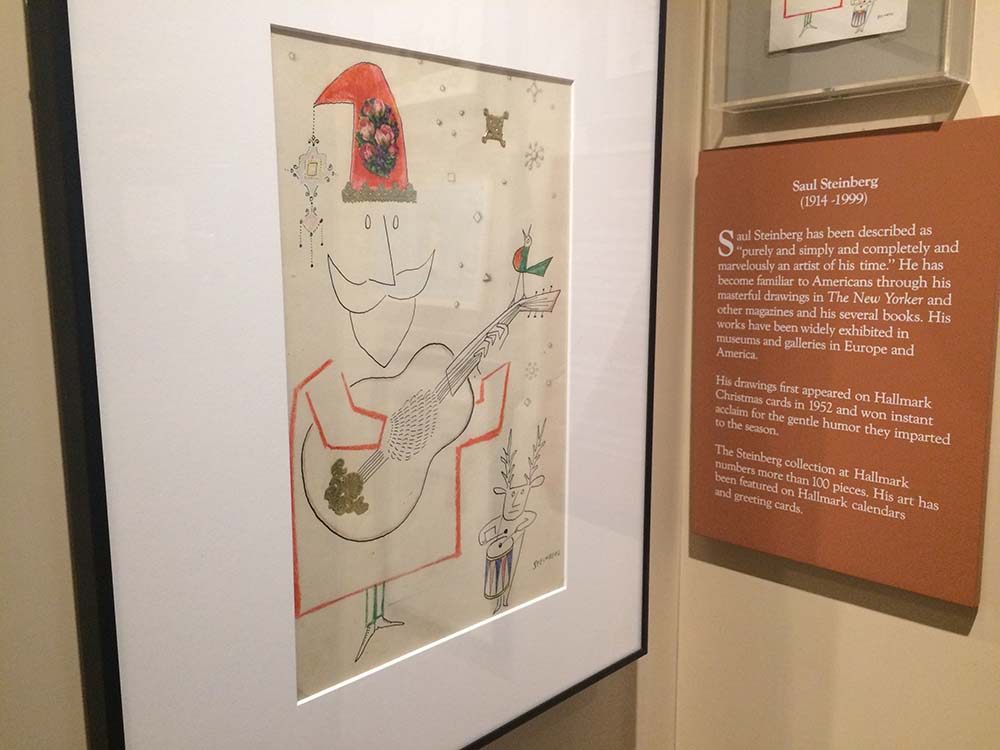 Saul Steinberg, one of the New Yorker's most iconic artists, started designing Hallmark cards for Christmas, 1952. (Photo: Luke Spencer)

In addition to pioneering the idea of sending greeting cards, the Hall brothers also created another universal holiday ritual. During one Christmas, sales at the store were going so well that they ran out of the tissue paper that, until then, was how Christmas store purchases were always wrapped.
Finding an unused stack of nicely decorated French paper that was designed for lining envelopes, the Hall brothers used decorative paper to wrap their holiday items, unwittingly inventing the idea of gift wrap.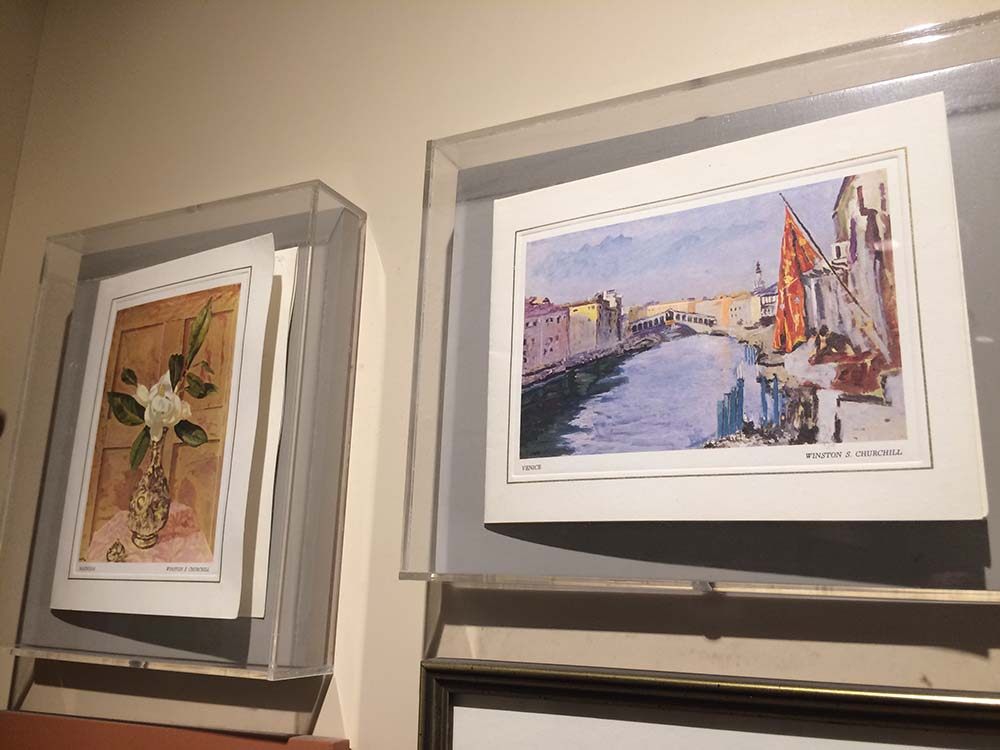 J.C.Hall's friendship with Sir Winston Churchill led to a series of cards bearing Churchill's paintings in the 1950s. (Photo: Luke Spencer)
By the 1920s, J.C. Hall replaced the Hall Brothers logo with a crown and the word 'mark', thinking that the name "Hallmark" would bring to mind the quality and craftsmanship of European gold and silversmiths.
But at the forefront of J.C. Hall's rapidly growing greeting card business was a love of art.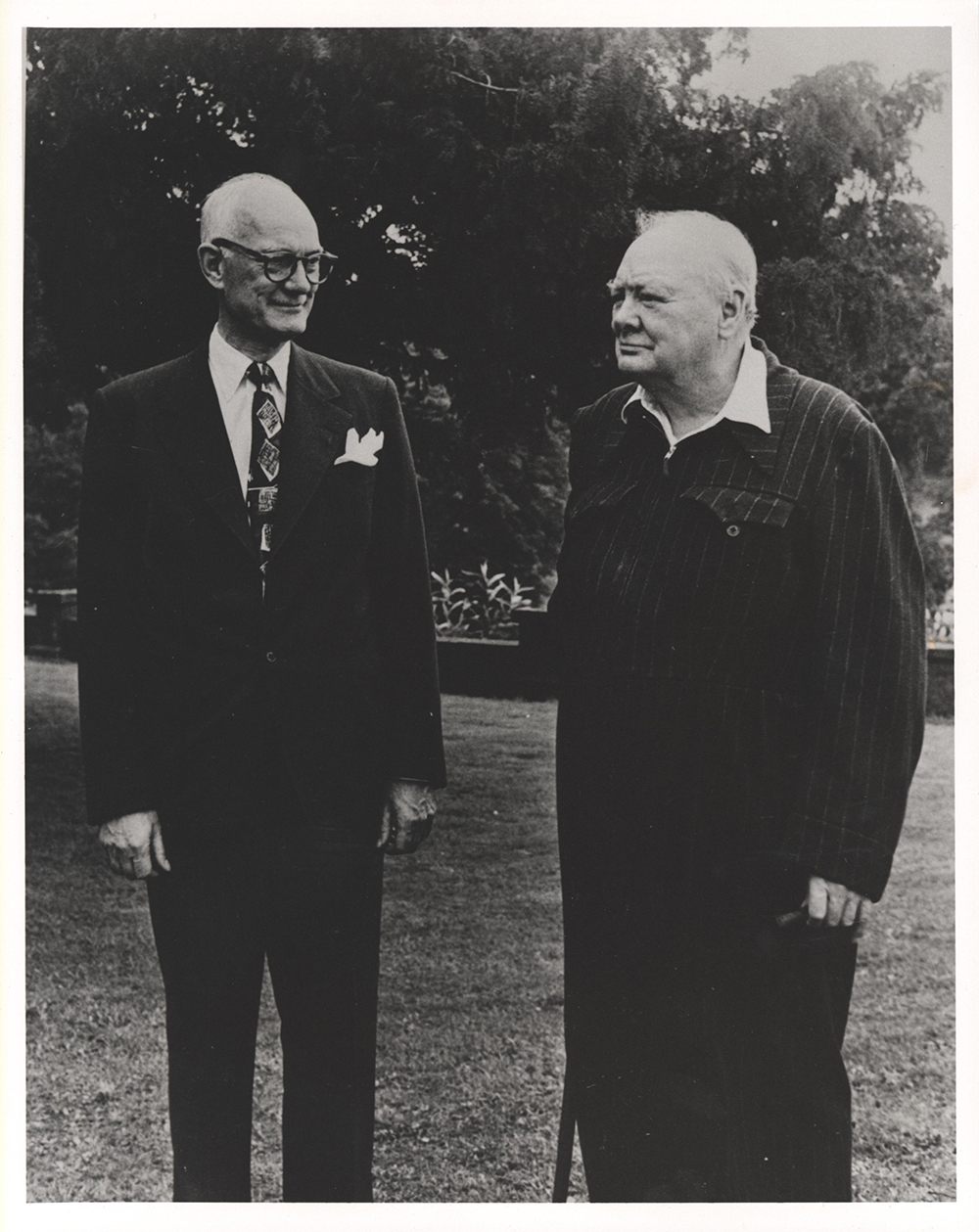 Sir Winston Churchill and J.C.Hall; the British prime minister, close friend, artist and Hallmark card illustrator. Photo: Courtesy of the Hallmark Archives, Hallmark Cards, Inc.)
Hall steadily began collecting contemporary art, not only to use on the front of his cards, but also to inspire the artists who worked for him. Feeling that it was crucial for his employees to enjoy and be stimulated by museum-quality art, he started collecting works by the likes of Edward Hopper and British statesman Winston Churchill, and commissioned original works by Salvador Dali and Saul Steinberg.
In 1948, he started a lecture program, wherein notable artists would come to Kansas City to give lessons and inspire the Hallmark staff. The first lecturer was Norman Rockwell.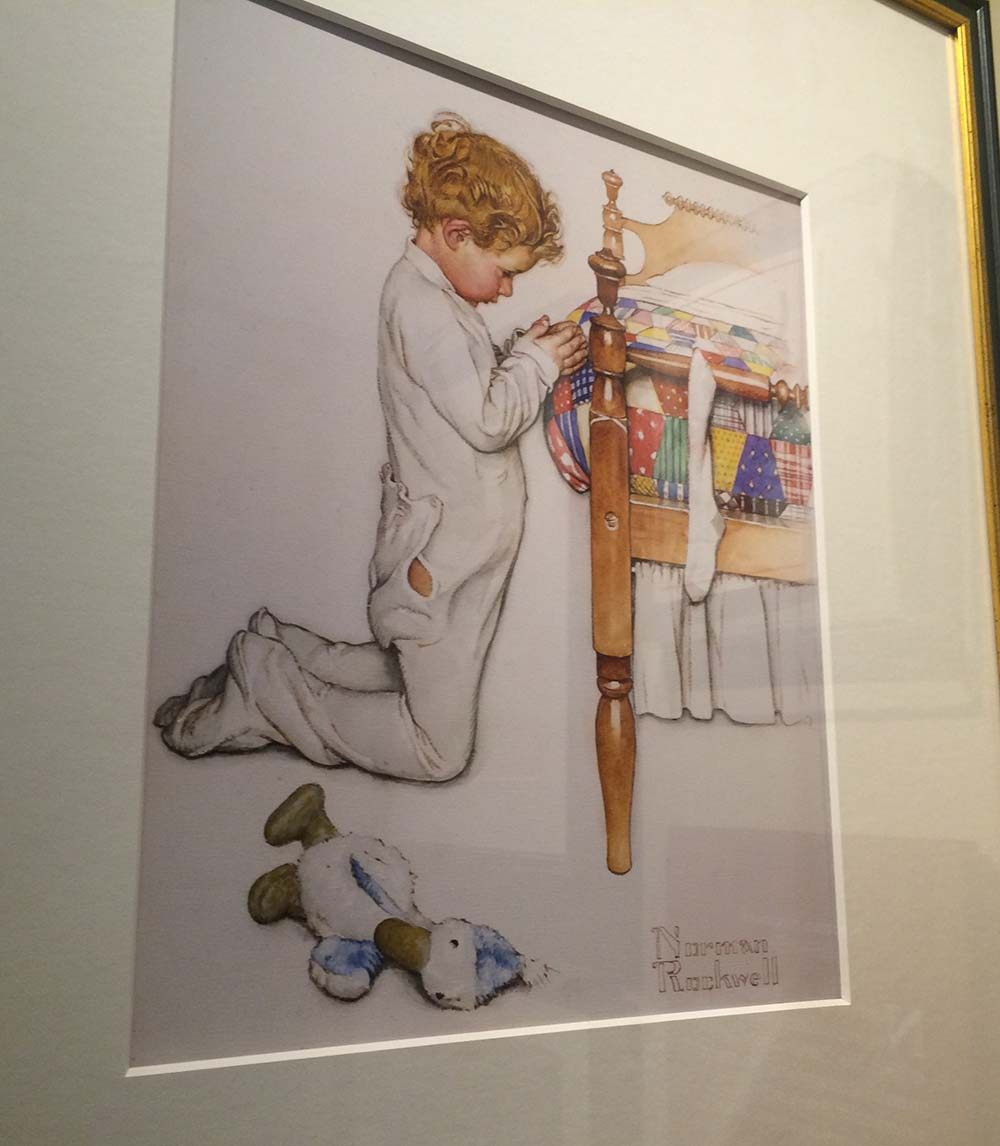 Card design by Norman Rockwell. J.C.Hall invited Rockwell to Kansas City to give art tutorials to his staff. (Photo: Luke Spencer)
But Hall also began hiring full-time painters and illustrators, from veteran fine artists to students fresh out of art school, from painters expert in depicting quaint New England villages to those who loved drawing cats.
Hallmark has been producing their own painted cards for nearly a hundred years. One artist has been there for over half that time. Mary Hamilton started working at Hallmark at the age of 19. Until she retired in 2015 at the age of 74, Mary Hamilton was still painting cards four days a week. Her specialities were teddy bears, angels, and animals.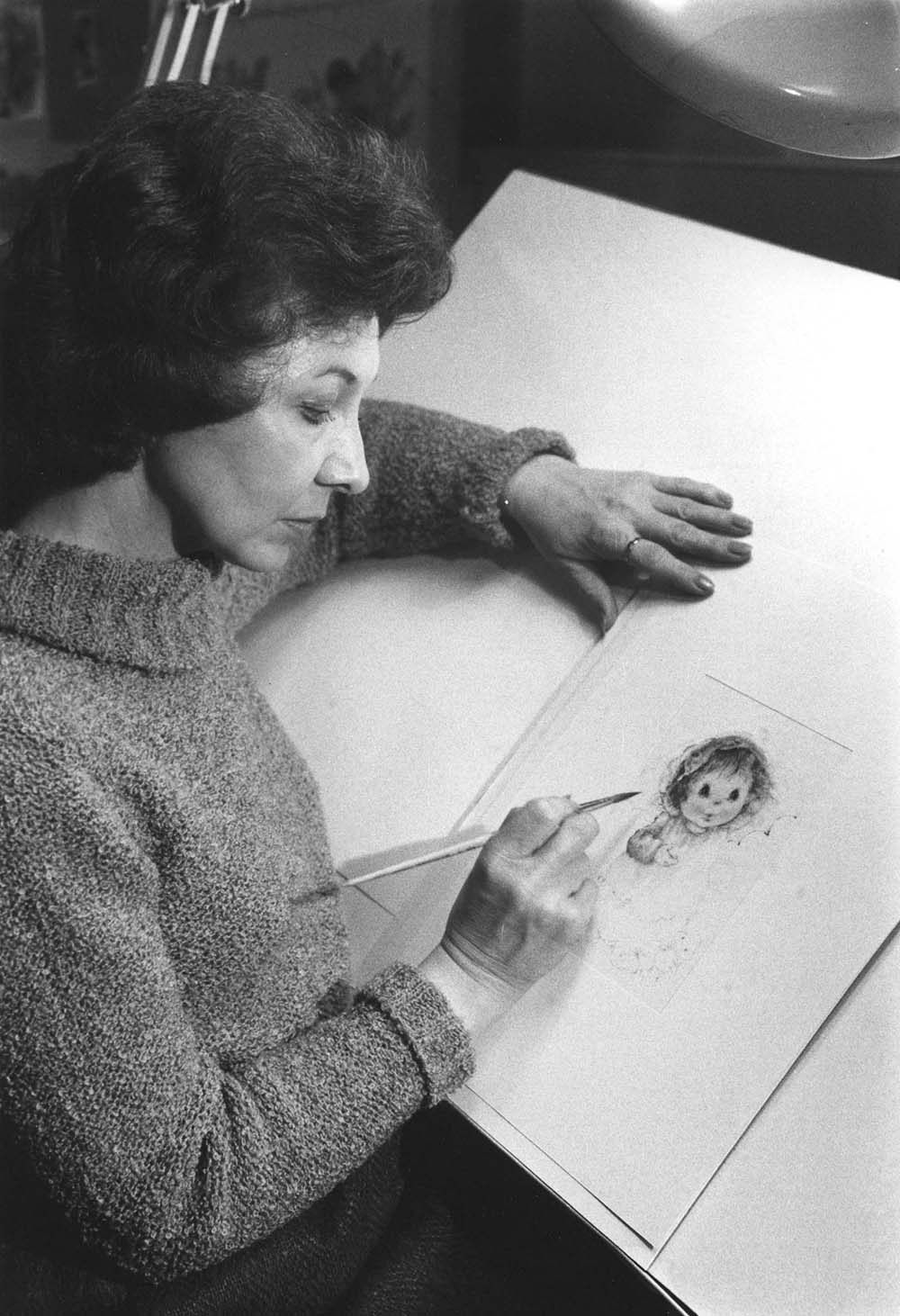 Mary Hamilton, one of Hallmark's longest serving artists. Her speciality is teddy bears, angels and animals. (Photo: Courtesy of the Hallmark Archives, Hallmark Cards, Inc)
"They're sweet little things", she explains. "They convey lots of love and emotions, and I never get tired of painting them. I just love it." Mary Hamilton has painted over 3,000 cards for Hallmark.
Another veteran Hallmark artist is Ken Shelton, who has been illustrating Hallmark cards for over 20 years. Some of his most popular cards feature his three daughters, whose growing-up years he has closely chronicled. "It's shocking to see how fast the transition happens," he says. "There's this compulsion to try and stop that, and I can do that when I'm drawing."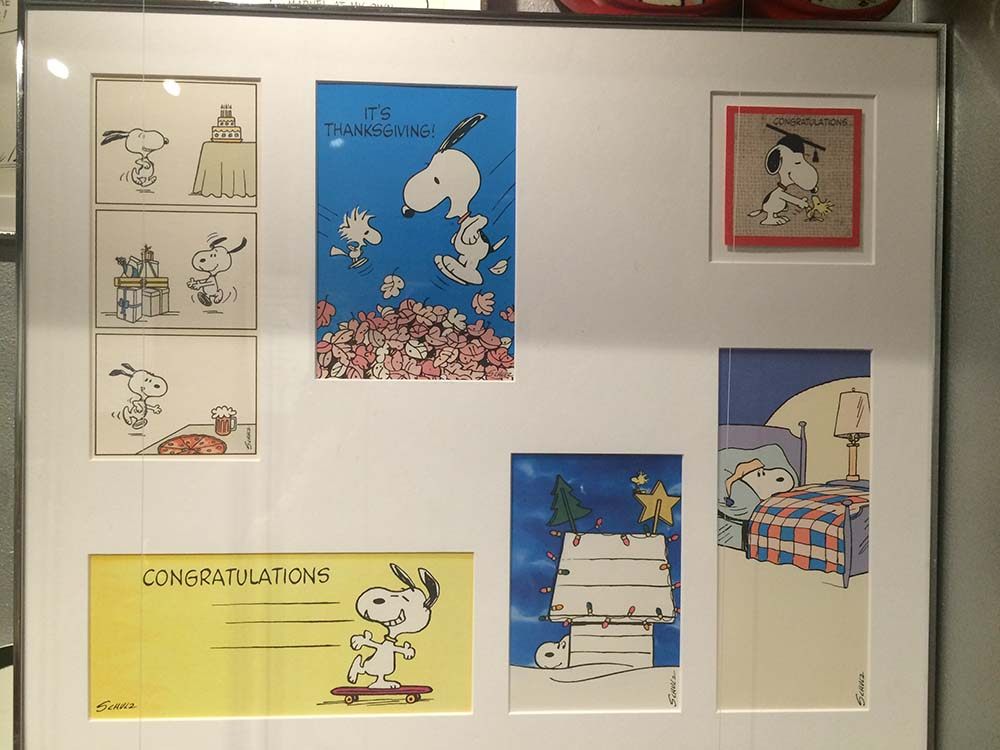 A long collaboration with Charles Schultz led to one of Hallmark's most enduring and popular lines. (Photo: Luke Spencer)
But of equal importance to the eye-catching artwork on the outside of the card is the written sentiment on the inside. Molly Wigand has been a greeting card writer since 1979. For Wigand, writing in rhyme is "kind of a lost art. There's a perception that people don't like it, but really they do," she says.
Today Hallmark Cards are written for just about every social occasion imaginable, from National Nurses Day (May 6th), to Clergy Appreciation Day (October 9th), from passing your driving test to cards offering congratulations for receiving a Girl Scout Gold Award.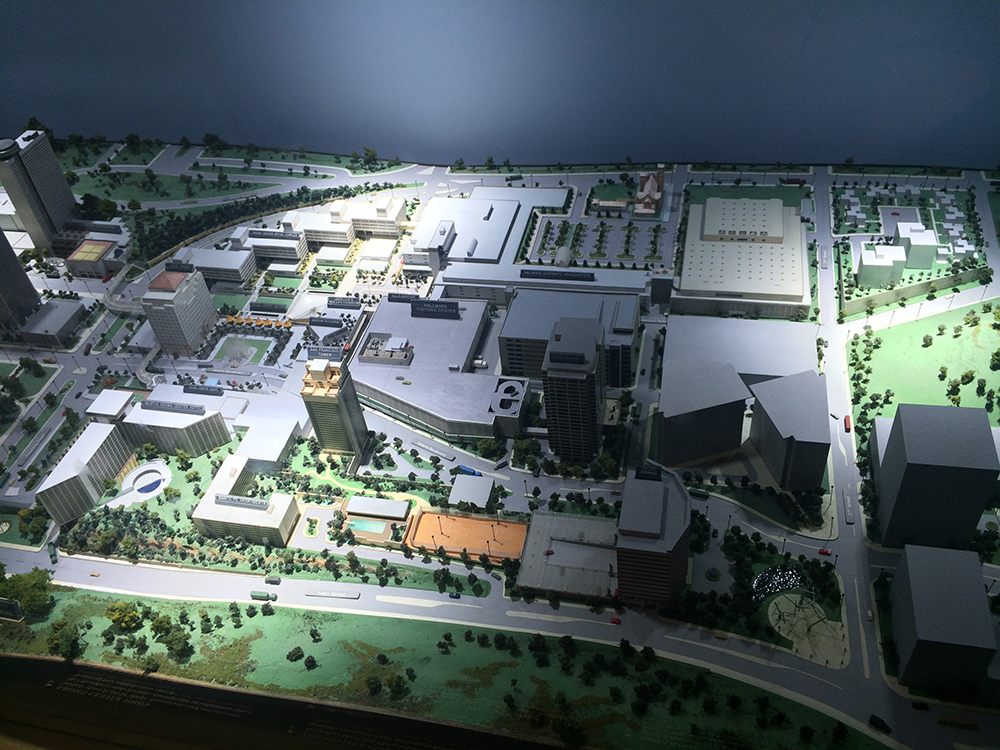 Crown Plaza was designed to include offices, apartments, hotels, theaters and even an aquarium. (Photo: Luke Spencer)
"Sometimes it starts with a writer," explains Worley, "who has found the right words and needs the visual to complete the message, or it might happen the other way around. Sometimes the artist goes through a life event and they capture it in their work."
Today the company's reach is staggering, from television channels to crayons to, of course, the cheerful cards found in over 40,000 stores around the U.S. Yet ultimately, the multi-billion-dollar company rests on the individuals in Kansas City who, in the words of greeting card writer Molly Wigand, are in "the business of helping people to be nice to each other."