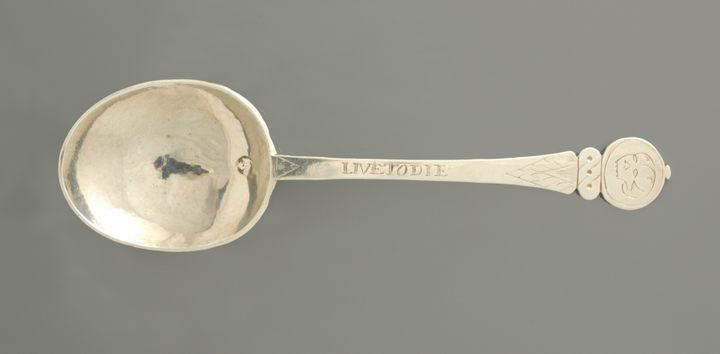 The Macabre Mystery of a British Family's Skull-Topped Spoons
The 17th-century artifacts were likely christening gifts.
In 1904, a collector named J.T. Micklethwaite brought a rare "death's-head" spoon to a meeting of the Society of Antiquaries of London. Declaring it "too grim to be put to ordinary use," he pointed to the engraved skull at the top of its stem, complemented by the message "Live to Die" on one side and "Die to Live" on the other. Micklethwaite theorized that the 17th-century spoon must have been a funerary gift. While such mementos—including funeral rings and funeral biscuits—were not uncommon at the time, Micklethwaite was looking at the wrong end of life: The macabre piece of silverware was likely a gift for a baby.
There are just a handful of original death's-head spoons in museums and private collections today. Designed between the 1660s and late 1670s, they all bear the skull, the morbid mottoes, and the coat of arms of the Stricklands of Boynton Hall. A wealthy Yorkshire clan, the family's prosperity can be traced back to William Strickland, a navigator who accompanied Sebastian Cabot to the Americas and claimed to have introduced the turkey to England in the mid-1500s. (To catch a glimpse of this legacy, visitors can stop by the family's memorial chapel, where bibles rest atop a turkey-shaped lectern.) With the earnings from his voyages, William purchased several estates, including Boynton. Some Strickland descendants parlayed their prestige into parliamentary positions; others used the family funds to buy skull-topped spoons. But who commissioned the silverware and, more importantly, why?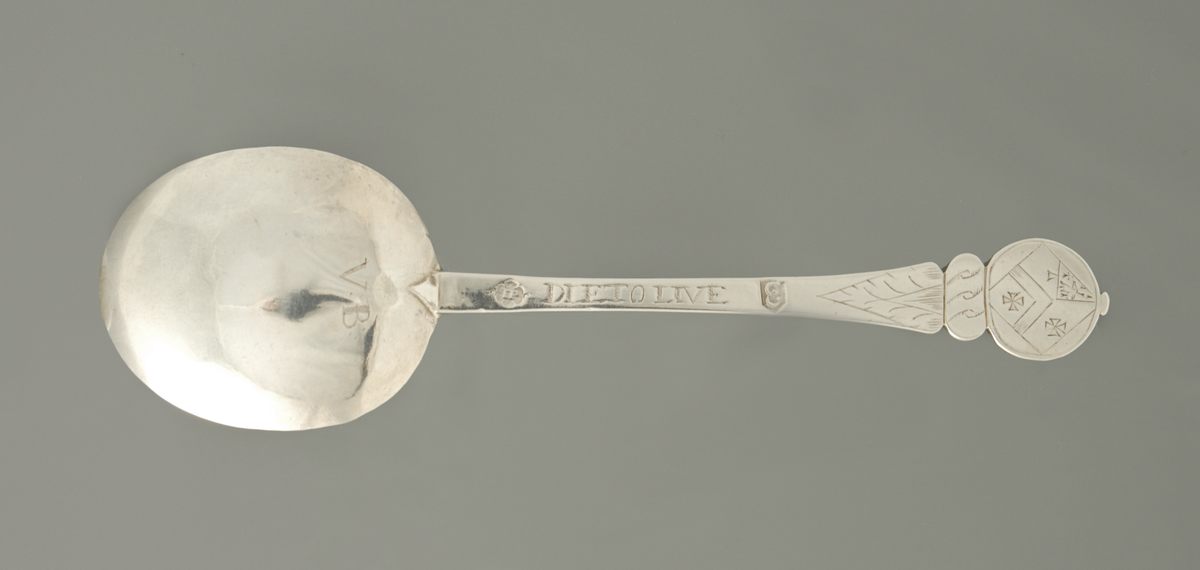 "It was purely because of the skull that people thought it was a funeral spoon," says David Constable, who investigates the provenance of the death's-head spoons in his book Silver Spoons of Britain 1200–1710. To debunk the funeral theory, Constable points to the year each spoon was designed. Historic British silver includes helpful hallmarks noting its creation year and region. Constable, who owns a death's-head spoon from the early 1660s, compared the year of each spoon's creation with Strickland birth records and realized that the dates lined up closely with the birth years of Strickland children. He concluded that the silver artifacts were originally christening gifts commissioned by Lady Frances Strickland, the children's grandmother.
"You've heard of the saying 'born with a silver spoon in your mouth,'" Constable says. "I think she was trying to give that memento of the silver spoon and to really personalize it."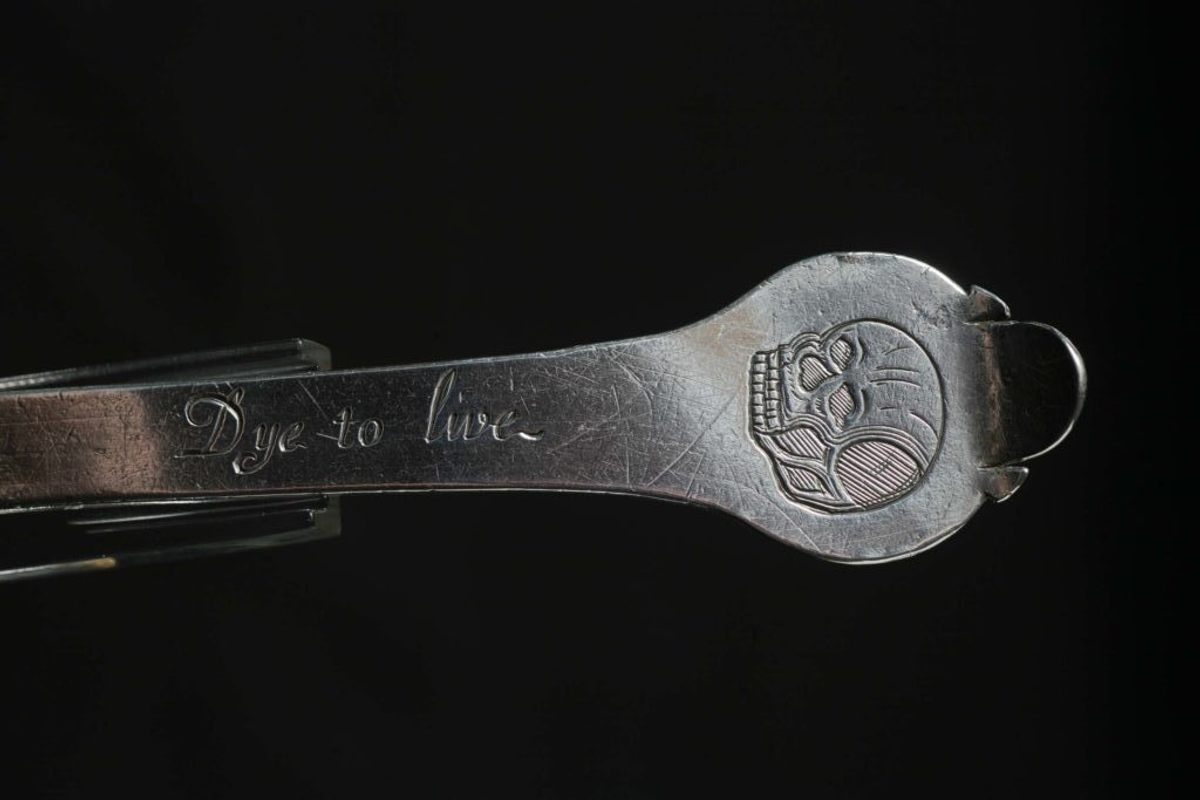 The family's silverware even inspired riffs on the original Strickland skull-spoon style. The Merchant Adventurers' Hall, a museum in York, has an original Strickland death's-head and another family's version in its collection. Along with bearing the arms of the Cromptons of Driffield, the other spoon diverges from the original death's-head style in several ways: While the Strickland spoons feature a stem that ends in a disc shape and block lettering that spells out "Live to Die" on the front, the Cromptons' stem ends in a three-pronged design and features "Dye to Live" in cursive on the front.
"I think what happened is people saw the Strickland family spoons and thought, 'That sounds rather good. Let's give it as a christening present to our daughter or son,'" Constable says.
While it might seem odd to remind newborns of their mortality, it wasn't unusual for 17th-century families to commemorate happy milestones such as christenings or weddings with death-focused art. Skulls were part of the memento mori motif, which reminded viewers to contemplate their inevitable end. In a 1560 marriage portrait, "The Judde Memorial," newlyweds sternly pose beside a skull with a corpse in the foreground. (Lest anyone miss the point, a romantic inscription on the frame adds, "When we are deade and in owr graves, and all owre bones are rottun, by this shall we rememberd be, when we shulde be forgottyn.") And just like a skull-topped christening gift, 17th-century vanitas paintings underscored the cycle of life by connecting birth and death with scenes of babies sleeping atop skulls.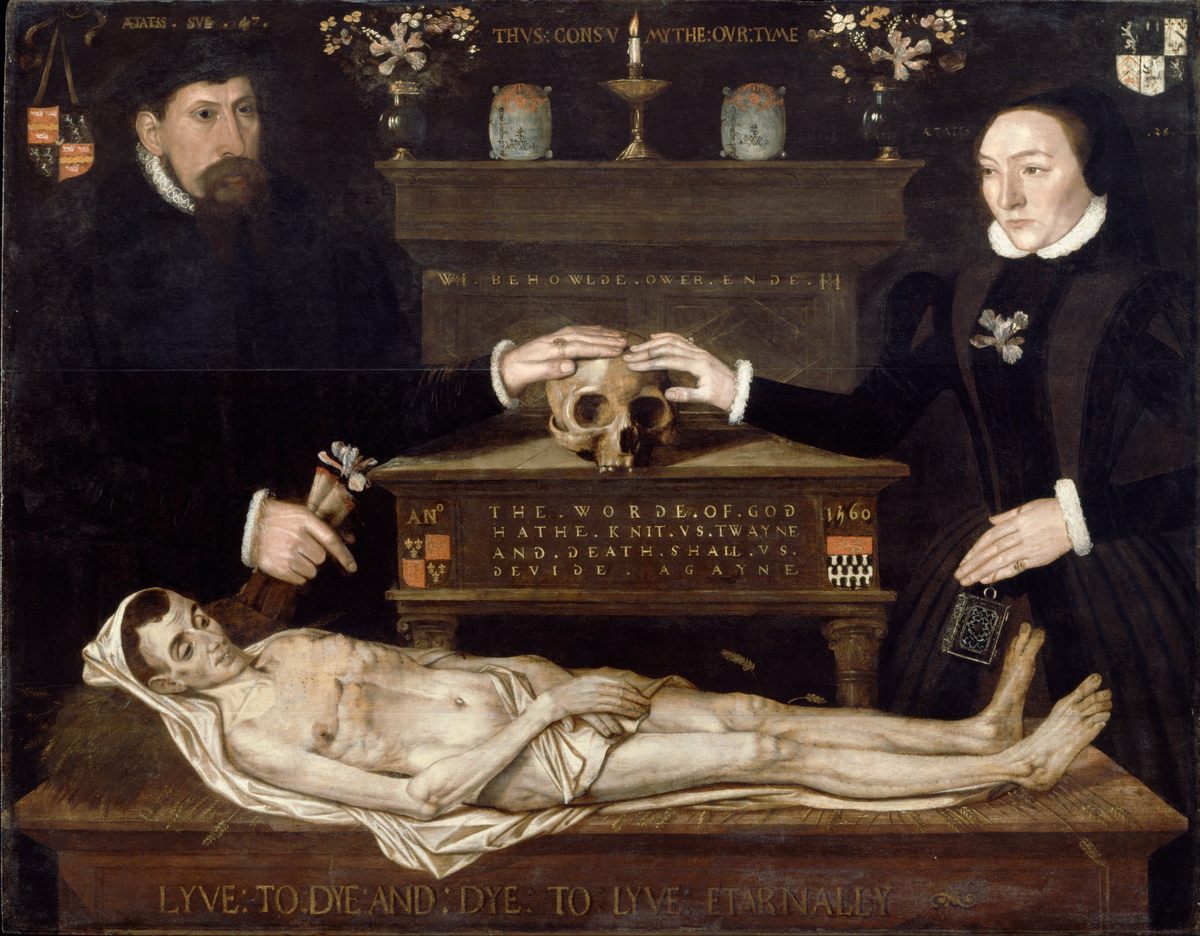 "Back then, mortality was a more of an ever-present thing because you didn't live as long," says Lauren Marshall, the museum director at the Merchant Adventurers' Hall. "And then you had a god-fearing society where everyone went to church and there was this idea of living a good, pious life because when you die, you'll be judged. The skull being ever-present showed that death was always just around the corner, so it's best to be good now."
At the Merchant Adventurers' Hall, the skull-topped spoons continue to compel visitors of all ages to contemplate their mortality. "No matter how old you are or how young you are, they're fascinating," Marshall says. "They're some of my favorite items in the collection because they elicit such a strong response from visitors. A lot of what we talk about can be quite dry, but this is interesting to everybody."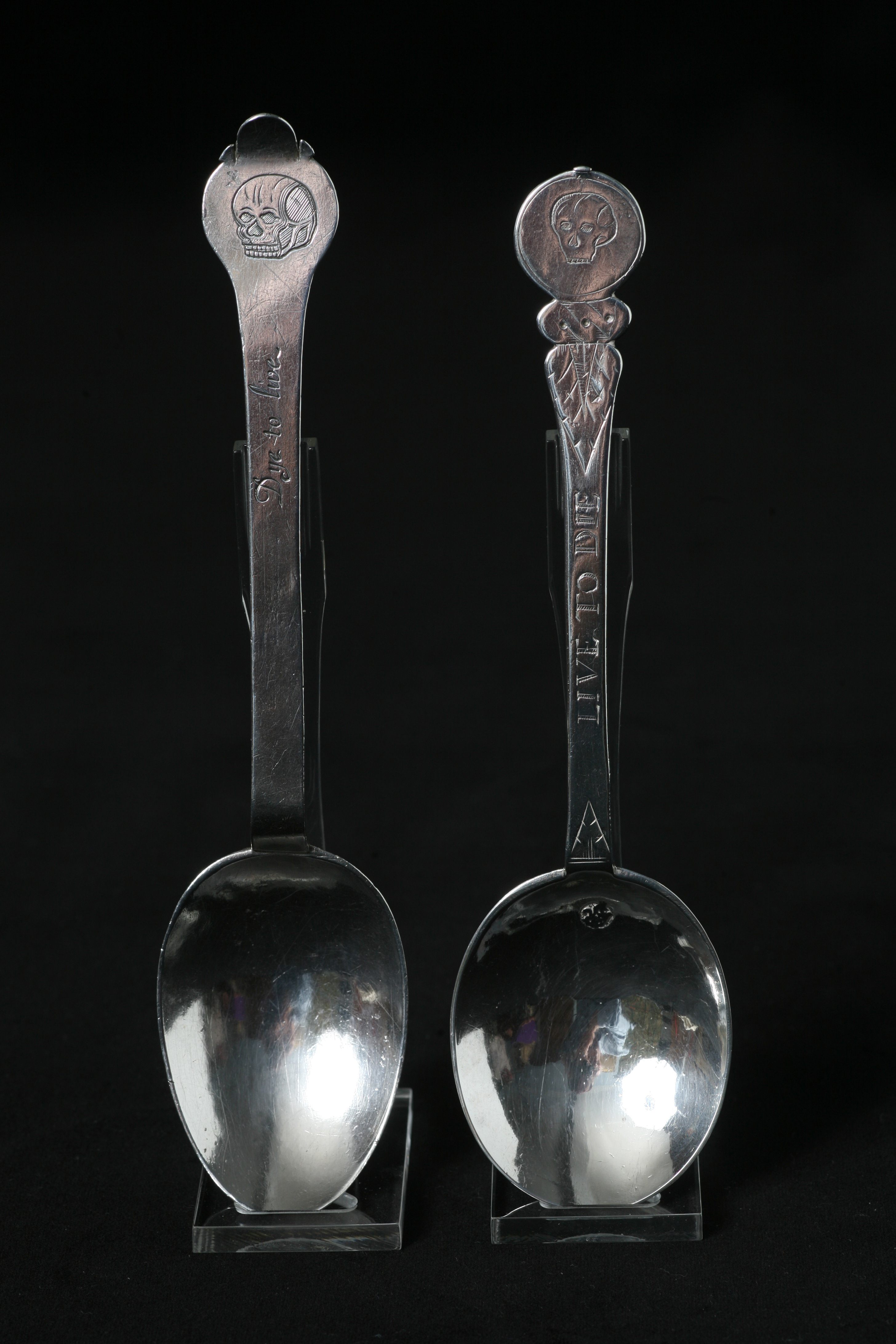 Gastro Obscura covers the world's most wondrous food and drink.
Sign up for our email, delivered twice a week.