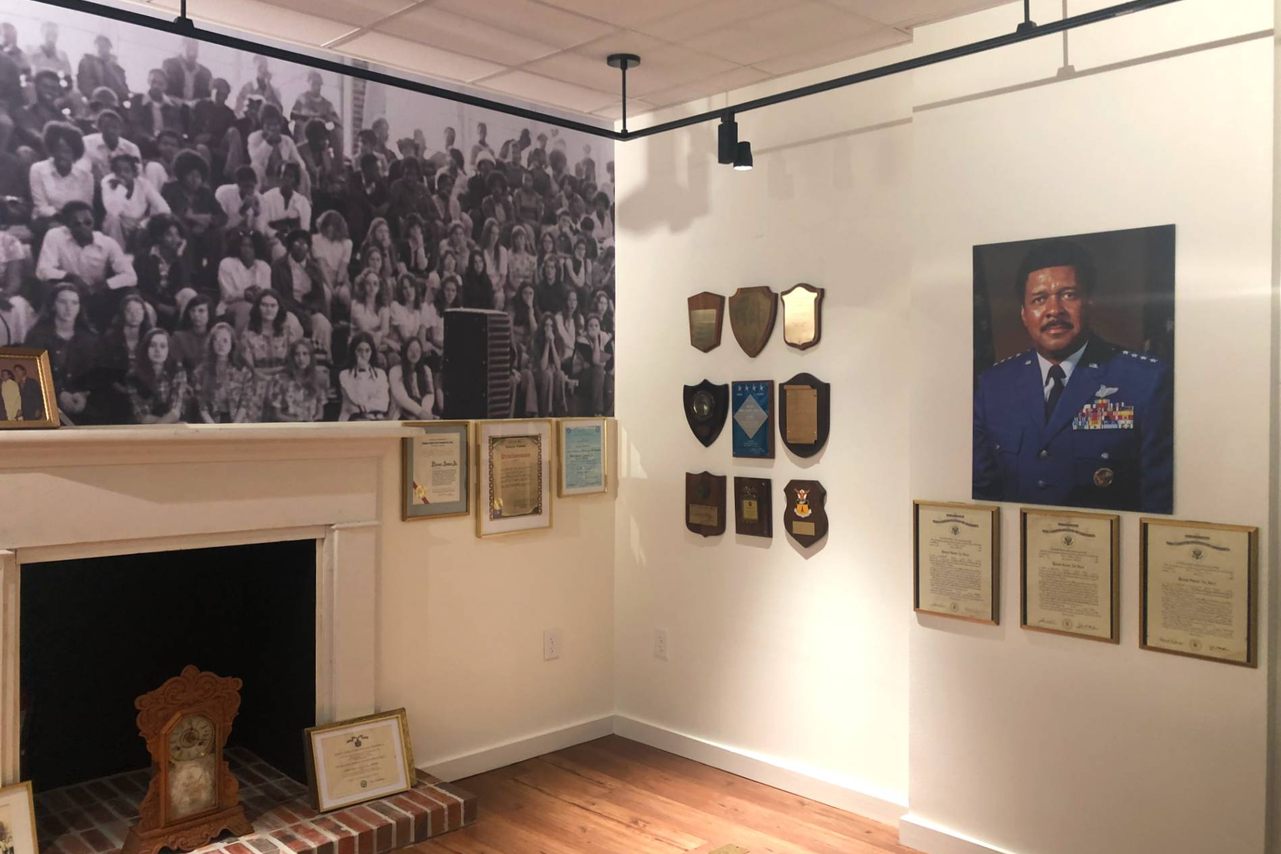 FIRST-RATE FIGHTER
1. Chappie James Museum
When Daniel "Chappie" James Jr. was born in Pensacola in 1920, there were no African Americans who had ever held the rank of four-star general in the U.S. armed forces. His hard work and perseverance changed all that. After attending the Tuskegee Institute, instructing other pilots during WWII, and flying dangerous combat missions during both the Korean and Vietnam wars, he reached the rank in 1975. This newly opened museum in his honor features more than 20 of James' prestigious awards and medals, his flight suit, and a replica of the tiny school room where his mother, Lillie, taught James and other local children. 
1608 Doctor M.L.K. Jr Dr, Pensacola, FL 32503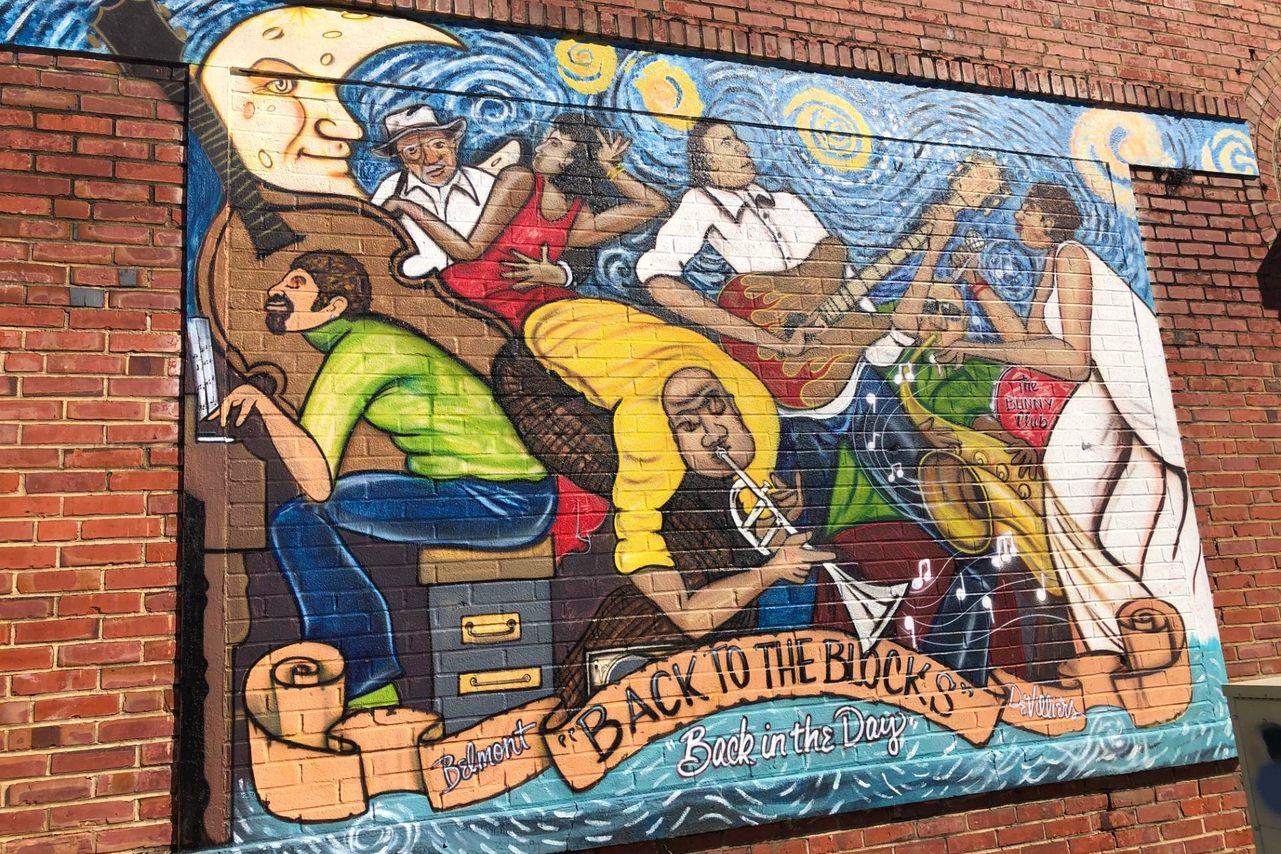 ALL THAT JAZZ
2. Belmont-DeVilliers Mural
Pensacola's historically black neighborhood, known locally as "The Blocks," has a rich heritage. In fact, Pensacola was among the first cities to introduce black singers on the stage, promoting acts like Georgia's Ma Rainey in vaudeville shows at the Belmont Theatre. Another local venue, Abe's 506 Club, hosted African American musical legends including Aretha Franklin, Ray Charles, B.B. King, Fats Domino, and Tina Turner. Though the Belmont stage filled with music for the final time in 1981, its influence continues to be felt and local artist Carter J. Gaston immortalizes some of its performers in a modern mural. After taking in the mural, stop for fried chicken, collard greens, and occasional live jazz at Five Sisters Blues Cafe, housed in the historic 1911 Belmont-DeVilliers Building.
420 N De Villiers St, Pensacola, FL 32501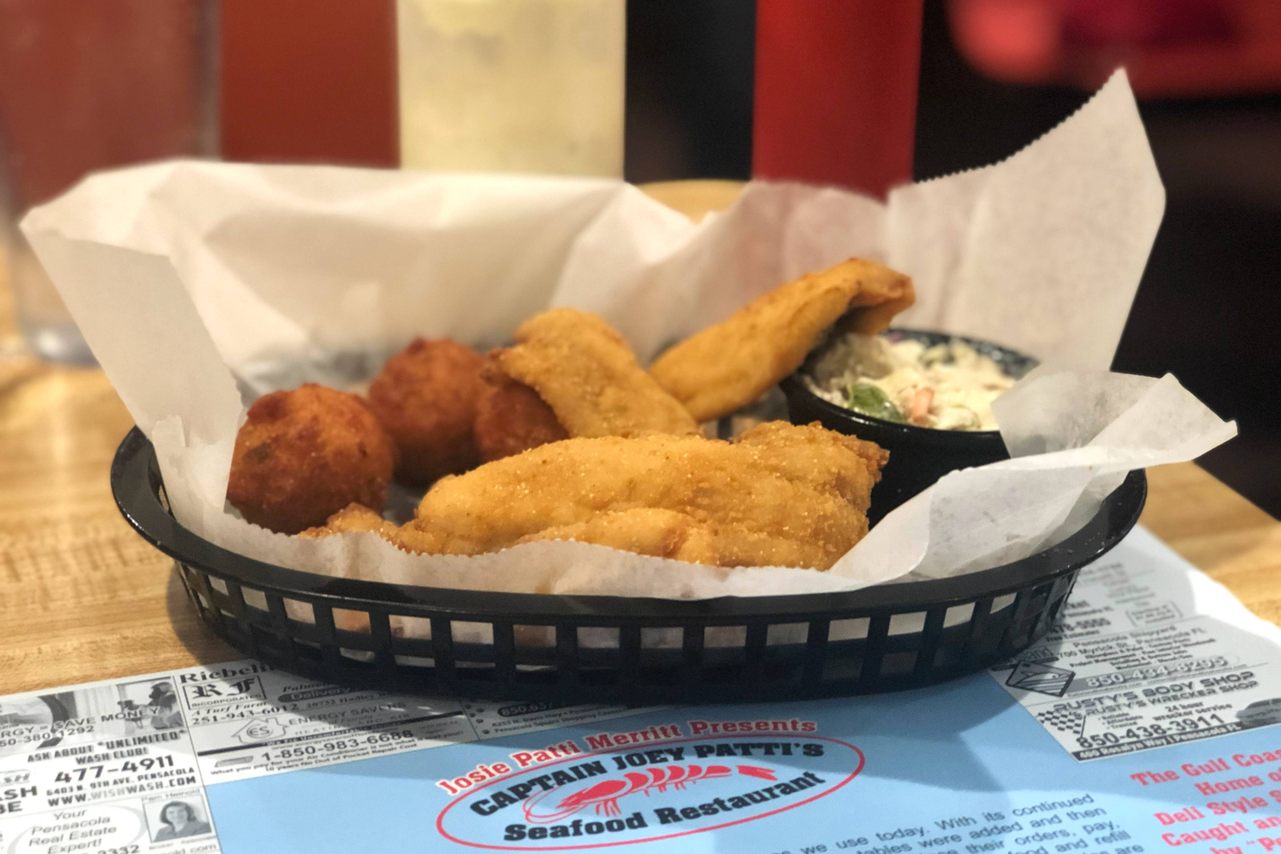 A PARTY FOR YOUR MOUTH
3. Captain Joey Patti's Seafood Restaurant & Deli
This locally caught fish might share the same name as the maligned business-in-the-front-party-in-the-back hairstyle popularized in the 1990s (thanks, Beastie Boys!), but mullet is popular with seafood lovers. Fried or smoked, mullet is an affordable choice at long-standing joints like Captain Joey Patti's Seafood Restaurant & Deli. Opened in 1988 in a former fish market, the low-key dining room stays busy with a steady stream of locals and visitors ordering all manner of delicacies of the deep. To order like a local, choose a meal of fried mullet fillets, tangy coleslaw, and still-steaming hush puppies. While most Gulf-adjacent states consider mullet to be good only for bait, Pensacoleans know that the pristine water off the coast produces a nutty, oily white-fleshed fish that's fit for a feast. Feeling adventurous? Head to the fish market and shop of the same name just down the street and pick up fresh mullet or alligator (along with recipe cards) to cook at home. 
610 S C St, Pensacola, FL 32502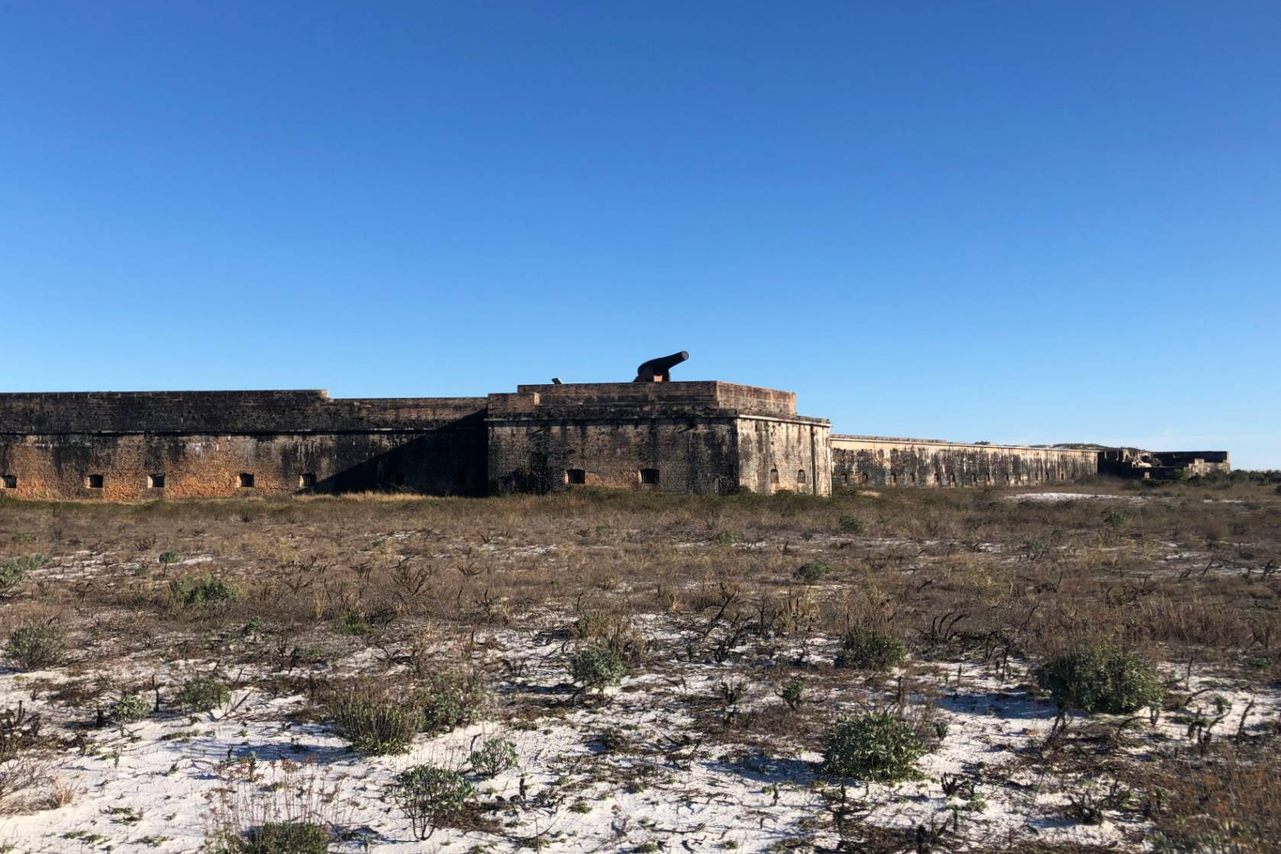 BUCOLIC BATTLEGROUND
4. Fort Pickens
Make the short, scenic trek to beautiful Santa Rosa Island to discover the military fort named for Revolutionary War hero Andrew Pickens. The pentagonal masonry fort, commissioned in 1825 as the largest of four area forts to protect the bay's naval yard, still stands proudly, complete with age-old cannons. During the Civil War, Union soldiers exchanged gunfire with some Confederate-held forts in the area, before the rebels abandoned Pensacola in favor of supporting troops in Tennessee. Fort Pickens' rudimentary living conditions also briefly held the great Apache leader Geronimo and some of his warriors in the mid-1880s. Today, the hauntingly beautiful fort is a popular backdrop for history buffs and campers who wish to enjoy the coastal wilderness. For people interested in exploring the Gulf Islands National Seashore, Fort Pickens is a convenient stop on the Pensacola Bay Cruises ferry. 
1400 Fort Pickens Rd, Gulf Breeze, FL 32561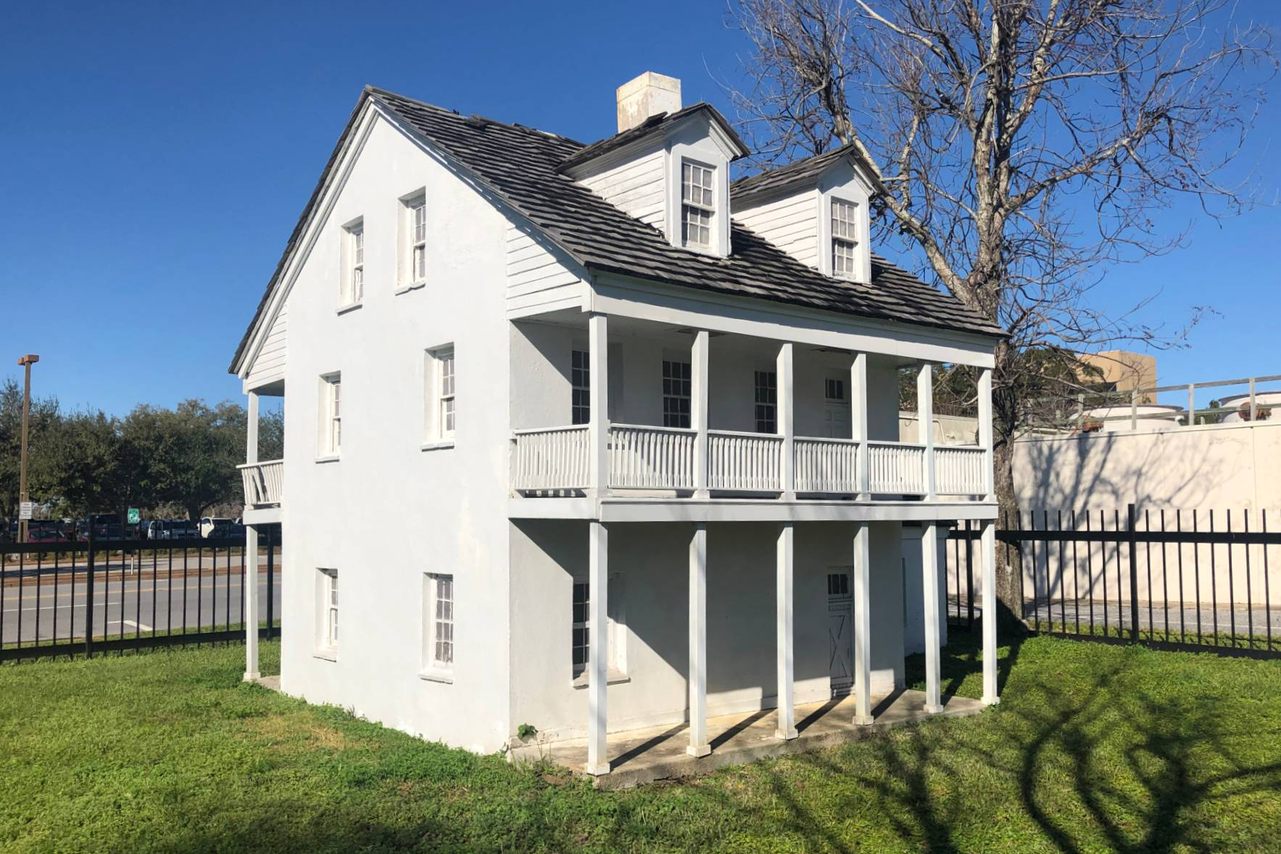 MINIATURE MANSION
5. Panton Leslie House
Is it a dollhouse? Is it an age-old tiny house? It's neither, but both are good guesses. The house, which is approximately 12 feet tall and 19 feet long, is a replica of the Panton-Leslie Trading Post, circa 1772. Panton Leslie & Co. was a company of prolific merchants operating in the Gulf and the Caribbean. Its headquarters were originally built as founder William Panton's private home, but the house later became the nerve center for the business starting in the 1790s. The little replica in downtown Pensacola, which occupies the corner of Main and Spring streets, was built in 1955 for decidedly modern reasons: It was constructed to disguise an unsightly gas regulator station. Though the pipes are no longer in service, the diminutive house serves as a reminder of the city's sea-faring past. 
401-463 S Spring St, Pensacola, FL 32502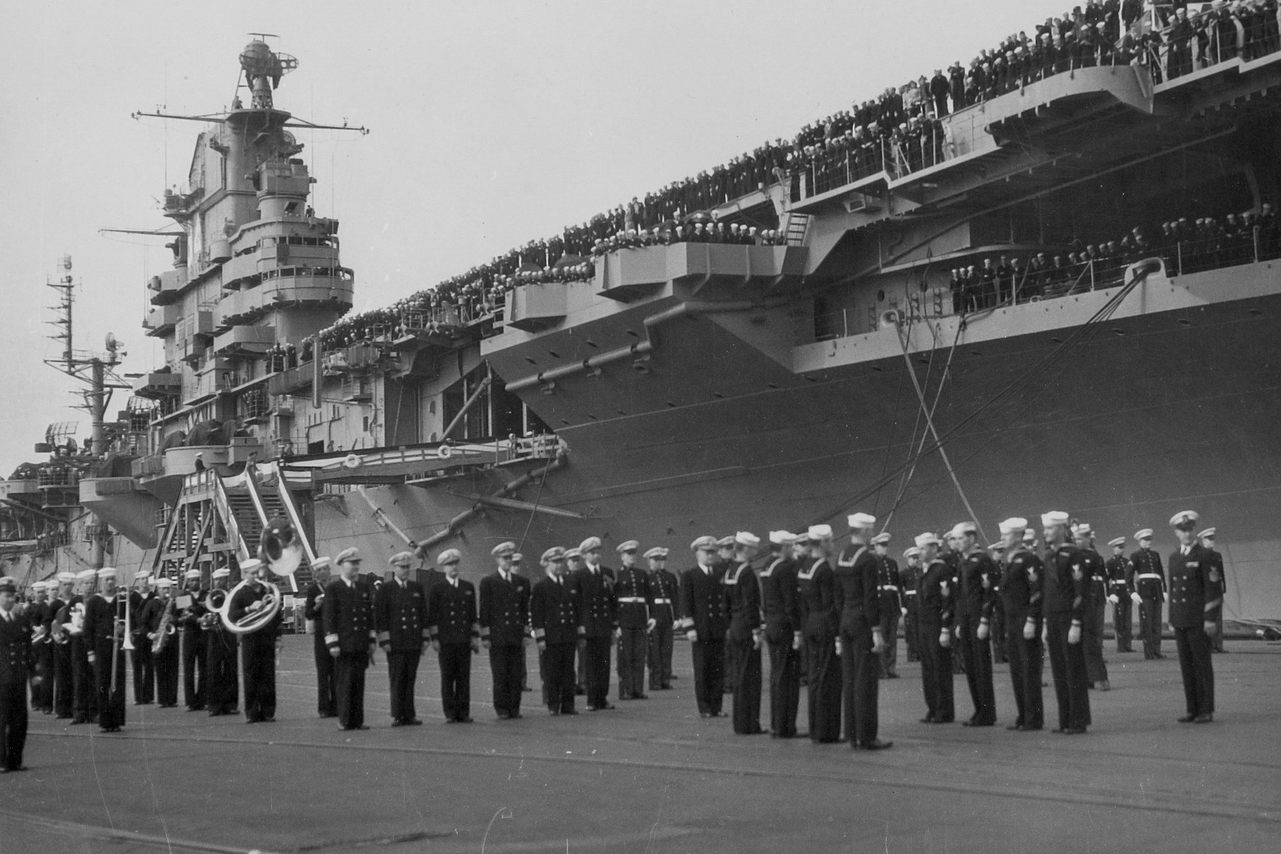 GREAT CARRIER REEF
6. USS Oriskany
Pensacola's storied naval history has made the city a destination for divers, but one dive site stands out: the former USS Oriskany, an 872-foot Essex-class aircraft carrier. It became the world's largest artificial reef when it was deliberately sunk in 2006, 25 miles south of Pensacola. Find a dive outfit to take you to see this underwater marvel and explore anywhere from 80 to more than 200 feet beneath the surface. The ship saw action in both the Korean and Vietnam wars and is now home to all kinds of marine wildlife—divers have even reported swimming with whale sharks (the largest fish in the sea), as well as amberjack, grouper, and sea turtles.
USS Oriskany, Pensacola, Florida, United States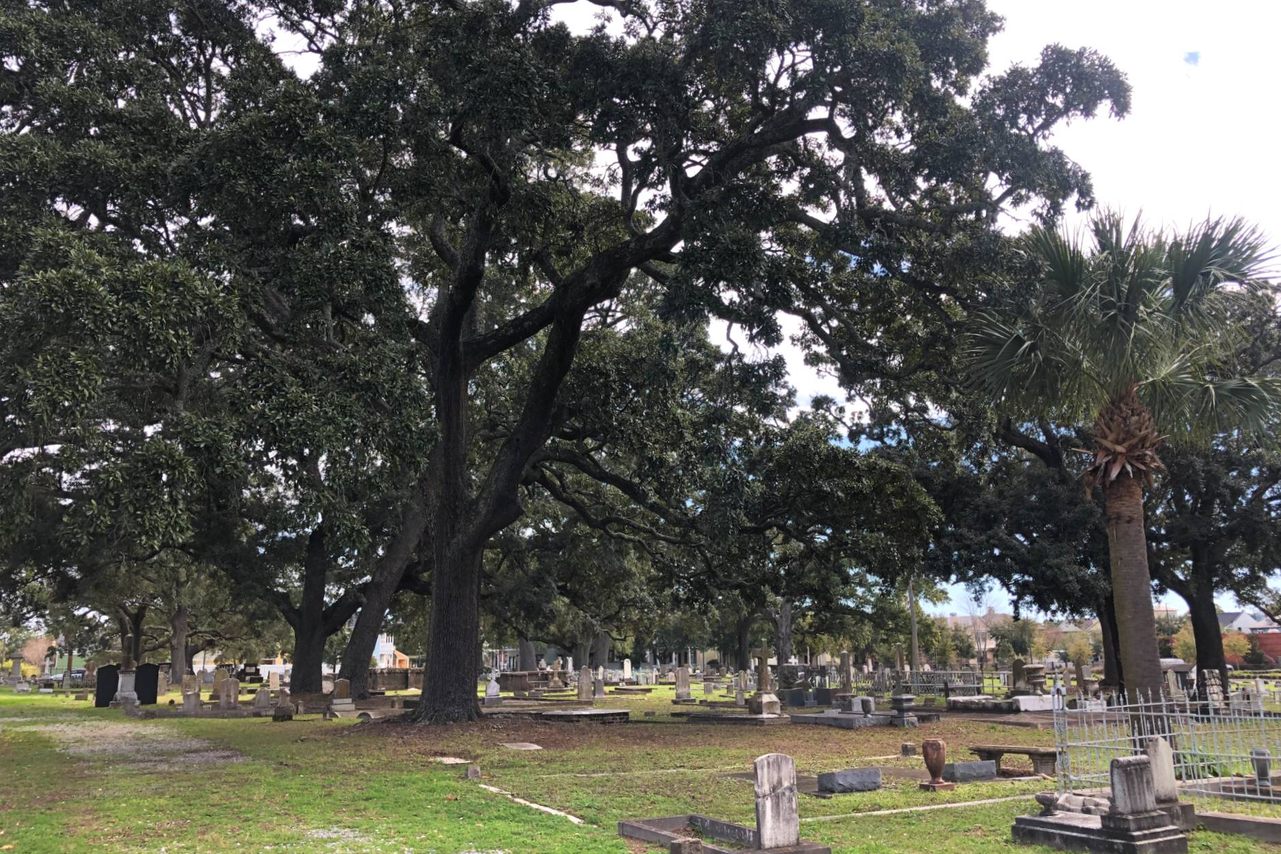 WHAT LIES BENEATH
7. St. Michael's Cemetery
Wander among the headstones at this burial ground, officially designated a cemetery by the King of Spain in 1807. Although originally assigned to the Catholic inhabitants of Pensacola, people of all faiths have traditionally been buried here, including Spanish, British, and Americans (both white and African American). The 8-acre property includes a Colonial road dating to 1764, and it serves as the final resting place for noteworthy individuals like Modeste Hargis, the first female pharmacist in Pensacola; Dorothy Walton, wife of George Walton, who was one of the signers of the Declaration of Independence; and Wade Hampton Harvey, Pensacola's first black mortician. The site is part of the Colonial Archaeological Trail and visitors can pick up a handset (think old-fashioned wired telephones) to gain insight into what lies beneath the ground. Far from macabre, the audio sets are equipped with presentations on interesting topics about the gravesite. 
6 N Alcaniz St, Pensacola, FL 32502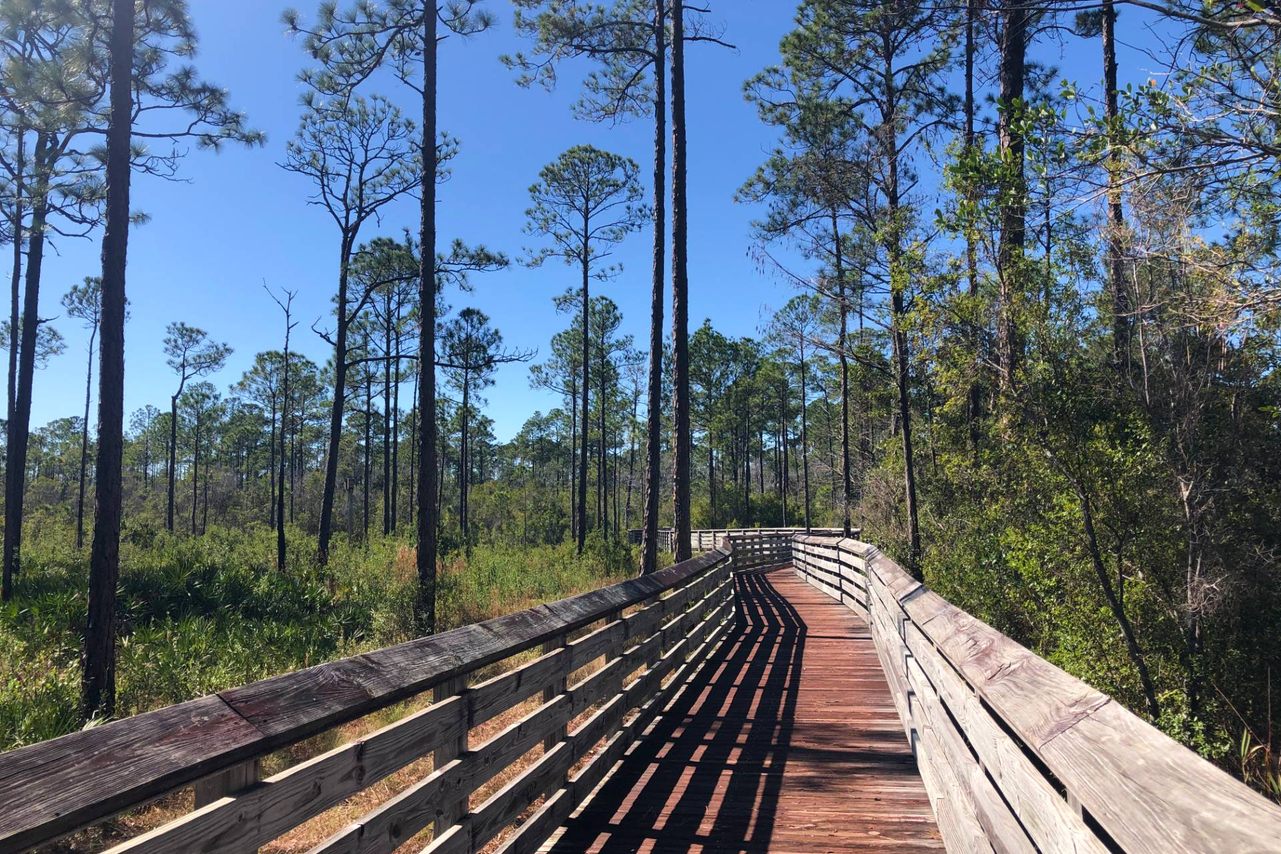 FLORA-OF-PREY
1. Tarkiln Bayou Preserve State Park
This tranquil 4,200-acre state park may look like a nature lover's paradise. And it is if you're human or some other variety of mammal, but it's fraught with danger for the unsuspecting mosquitoes, beetles, flies, and wasps that make up the native pitcher plants' preferred snacks (they trap and digest the insects to score needed phosphorus and nitrogen). The parcel of wet prairie habitat land was purchased in 1998 as the 900-acre "Perdido Pitcher Plant Prairie"—an apt name, as it's home to one of the largest colonies of rare white-topped and parrot pitcher plants in Florida. To see this unusual display of flora, strike out on the 1-mile Tarkiln Bayou Trail. When you find the marked Emma Claire Boardwalk of Hope, look at the low-lying ground on either side and you're sure to see a proliferation of pitcher plants in all their glory. While you wander, keep an eye out for other attractive blooms like the grass pink orchid, Tracy's sundew, and rose pogonia orchid, which find shade beneath a forest of slash pines. Feeling energetic? Opt for the rugged 6.5-mile Perdido Bay Trail, which winds all the way down to the water.
2401 Bauer Rd, Pensacola, FL 32506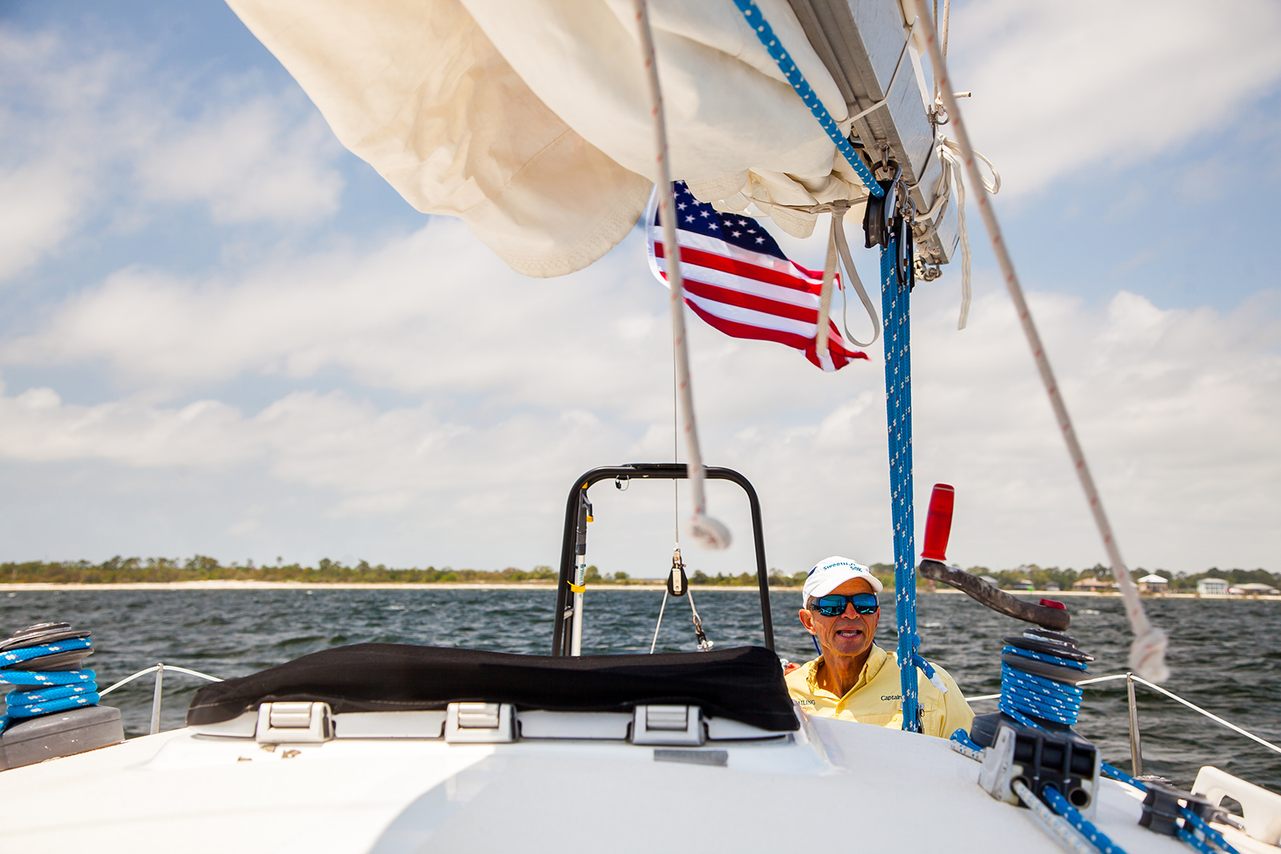 GLIDE ATOP THE WAVES
2. Condor Sailing Adventures
One could spend a whole day basking in Pensacola Beach's famous sunshine, but to experience the water from a different vantage point, hop aboard a rare 40-foot-long Condor trimaran (named Dare II), one of only 21 ever built. Local Captain Michael Kirk will take you for a tour of the crystalline waters off the coast to look for pods of playful native dolphins, and depending on the time of day, perfect sunsets. The 54-foot mainsail and smart construction mean no topsy-turvy leaning, virtually guaranteeing you won't get seasick. All that's left to do during the two-hour excursion is dangle your feet in the water and congratulate yourself on finding the perfect way to experience this destination. 
997 S Palafox St #5977, Pensacola, FL 32502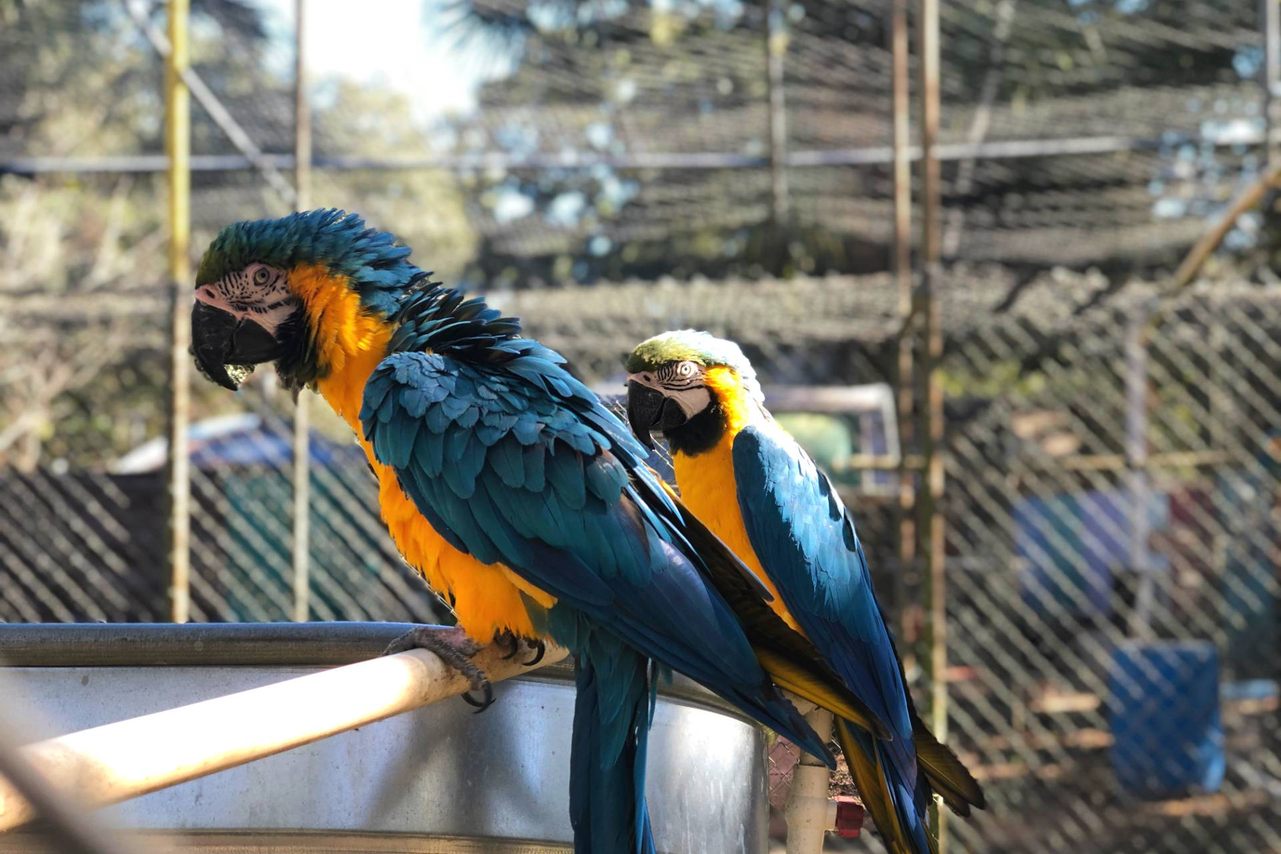 FLYING FRIENDS
3. Uncle Sandy's Macaw Bird Park
Ornithophobes may want to skip this stop, but for everyone else, this educational 1.5-acre bird rescue and sanctuary is a must-visit. Started as a nonprofit in 1998, it's now home to more than 170 birds including macaws, amazons, cockatoos, cockatiels, conures, peacocks, emus, and more. The volunteer staff cares for the avian residents, many of which are surrendered when their owners can no longer care for them (for instance, macaws live as long as 80 years and sometimes outlive their owners). A cup of pasta, peanuts, and fruit is included with admission, and a volunteer will show you how to safely feed ("you want to leave with all of your fingers!") the hungry—and often, talkative—birds. Offer one of the colorful residents a snack and you might hear cries of "Hello!" or "Cracker!" from nearby cages, beckoning you to share your treats.
9513 N Palafox St, Pensacola, FL 32534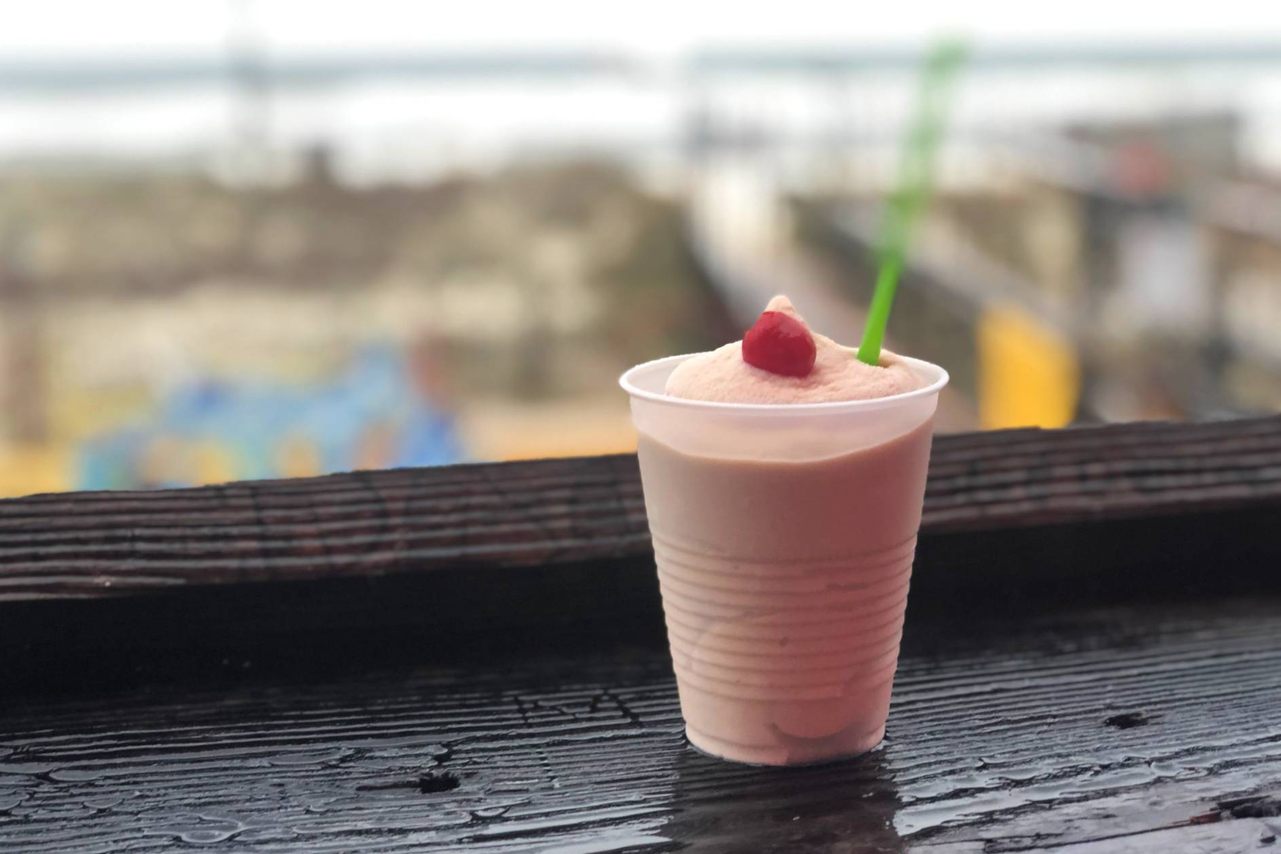 BIG CHILL
4. The Bushwacker at Flora-Bama
Every beachside destination needs a signature boozy beverage, and Pensacola's no exception. Its drink of choice is the sweet and creamy Bushwacker. Though each of the bars along the Gulf Coast keep their exact recipe close to the vest, most of these blended concoctions have coffee liqueur and rum, as well as some combo of Irish cream, bourbon, crème de cacao, coconut milk, and cream. It's such a requisite refreshment at this bar on the Florida-Alabama line (close enough to toss a mullet over the state line, as hundreds of revelers do in a competition each summer), that bartenders mix up giant batches to serve straight from frozen machines. Think of them as adult milkshakes and a word to the wise: Sip slowly. 
17401 Perdido Key Dr, Pensacola, FL 32507
This itinerary is created in partnership with Visit Pensacola. Explore beyond the beach here.