Big Brutus
Big Brutus Inc.
West Mineral, Kansas
The Bucyrus-Erie model 1850B electric shovel, or "Big Brutus," the largest existing electric shovel in the world.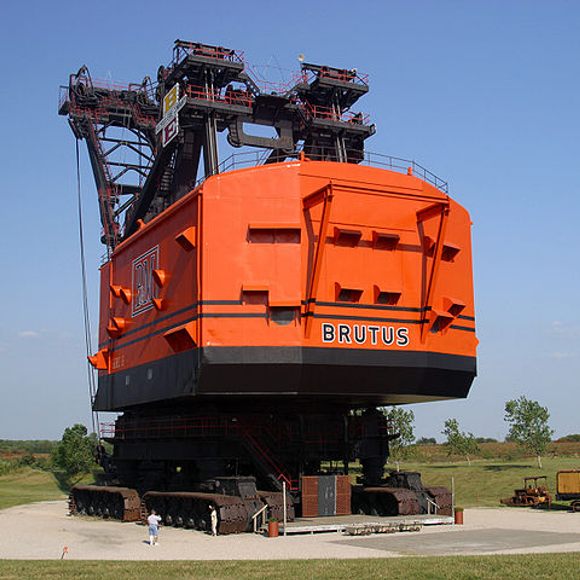 View all photos
Strip-mining was changed forever the day that Big Brutus and its giant counterparts powered up. At 160 feet high and weighing in at a jaw-dropping 11 million pounds, this gargantuan electric shovel that operated on 15,000 horsepower is the largest electric shovel in the world.
Big Brutus wasn't always the biggest shovel—its mightier "sister" Big Bertha was dismantled, and the largest electric shovel on earth, the 22 million pound "Captain", was scrapped in 1992, leaving Brutus to hold the lonely title. In the 60's and 70's, when the mining giants were in their heyday, Big Brutus' bucket could lift 150 tons of coal, and worked at a speed of 0.22 MPH, 24 hours a day, using as much electricity as a town of 15,000 people.
Therein lies the demise of the massive machinery, its complete lack of practicality. While it sure made things easier, bigger was not better, since Brutus cost twice as much to operate as the coal it recovered was worth. Still, Big Brutus was a major advancement in engineering, and was preserved and memorialized as a symbol of the revitalized mining industry of the 60s.
Today Big Brutus calls Big Brutus Inc. its home, a mining museum in West Mineral, Kansas that doubles as a campground. As long as the wind is low, you can climb on the 16-story boom, step inside the massive shovel, or poke around the stairs that climb the sleeping colossus that once roared with power across the Kansas plains.
Know Before You Go
Open all year seven days a week 9 am-4 pm, w/exception of Thanksgiving and Christmas. Cost: $10/adults, $9/senior-military, $5.50/children (6-12), & free (5 & under). 
Community Contributors
Added by
Edited by
---
Published
May 2, 2012
---
Edit this listing
---
In partnership with KAYAK
Plan Your Trip
No purchase necessary. Winner will be selected at random on 01/01/2024. Offer available only in the U.S. (including Puerto Rico). Offer subject to change without notice. See
contest rules
for full details.