Symon's Art Zoo
Exotic, erotic, and esoteric, one artist's live-in Bali gallery brings a splash of color and madness to its surroundings.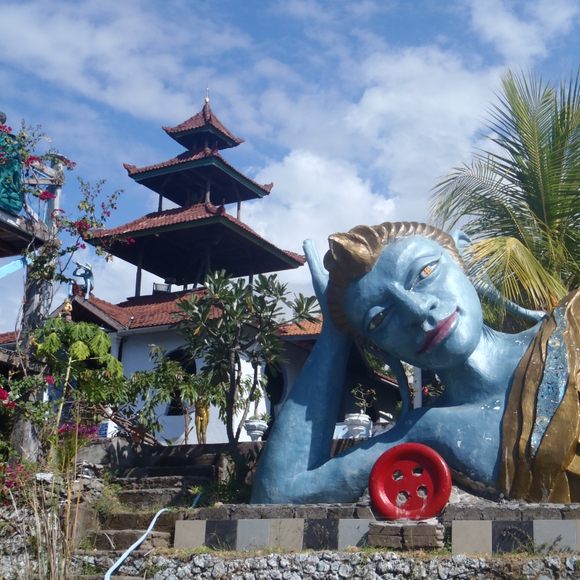 View all photos
Symon's Art Zoo
A bizarre and wonderful home, come studio, come gallery on the island of Bali, Symon's Art Zoo is one man's slightly skewed vision of the world, told in bright colors, grotesque caricature, and erotic sculpture.
Located in the Tejakula, Buleleng region, north Bali, American artist Symon has turned his home into a phantasmagoria of art and imagery. Every wall, ceiling and surface from the inside to the outside has been painted a loud color, not that its easy to tell what with the countless framed pictures crammed onto almost every available inch of space. The outside of Symon's home is arguably even more impressive, with a huge blue religious figure lounging outside his front door, and a large red phallus statue on display.
As the gallery is also his home, Symon can sometimes be found on the site and is generally more than happy to discuss the process and history of his prolific work. He is also in the business of selling his art, so if you stop by, bring some cash as there is usually a hard sell at the end. 
Community Contributors
Added by
Edited by
---
Published
April 1, 2014
---
Edit this listing
---
In partnership with KAYAK
Plan Your Trip
No purchase necessary. Winner will be selected at random on 01/01/2024. Offer available only in the U.S. (including Puerto Rico). Offer subject to change without notice. See
contest rules
for full details.