The Ruins of Jerash
Gladiators battle and chariots race daily in the ruins of a once-great Roman city.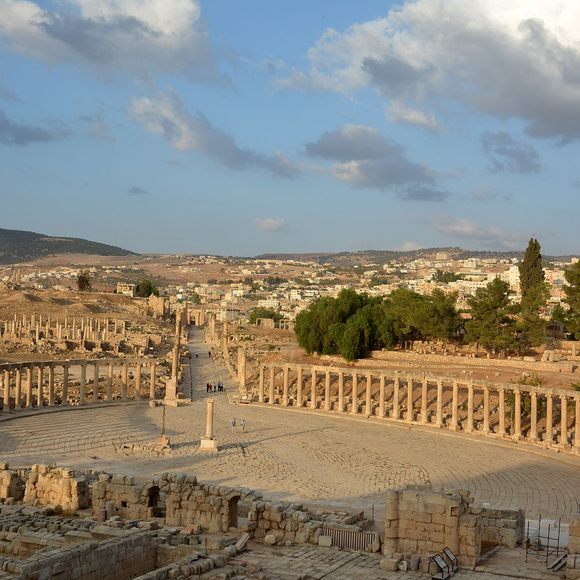 View all photos
The Oval Forum in Jerash, and the Cardo Maximus
There are a few places in the world where one has the opportunity to see history re-inacted, but only in the ancient hippodrome of Jerash can you witness chariots race or gladiators in full regalia clash on the site where Roman athletes and warriors one walked and fought.
Hidden for hundreds of years under the shifting sands of Jordan, picturesque ruins are all that remains of a once-great ancient city that saw the likes of Alexander the Great, the emperors Trajan and Hadrian, and the mathematician Nichomachas.
Most of the ancient city of Gerasa was destroyed in an earthquake in 749 AD, leading to comparisons to another great Roman city: Pompeii. The ruins were re-discovered in 1806 by German explorer Ulrich Jasper Seetzen.
Today it is one of the best preserved Roman cities in the Middle East, and is a popular destination for those who would like to witness the majesty of Roman architecture, marvel at extraordinarily well preserved mosaics and carvings, and to see full-speed horse-drawn chariot races.
The Jerash Heritage Company puts on daily spectacles known as the "Roman Army and Chariot Experience", with 45 "legionaries" in showing off battle tactics in armor, gladiators battling, and a seven lap race in Roman chariots.
Community Contributors
Added by
---
Published
February 14, 2014
---
Edit this listing
---
In partnership with KAYAK
Plan Your Trip
No purchase necessary. Winner will be selected at random on 01/01/2024. Offer available only in the U.S. (including Puerto Rico). Offer subject to change without notice. See
contest rules
for full details.