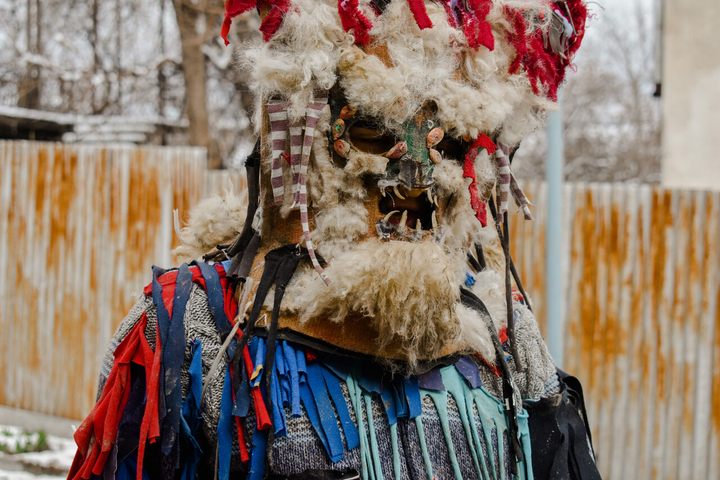 A Year in Wacky History, from Renaissance "Hell Banquets" to Georgia's Muddy Spring Rites
Our favorite history stories inspire your sense of wonder.
For decades, the Indian city of Mumbai operated under multiple time zones. In the Middle Ages, pilgrims wore bawdy badges to ward off the plague. In ancient Georgia, spring was ushered in with whips, wine, and mud. WWII "houses of horrors" trained American spies for combat using cardboard Nazis. Here at Atlas Obscura, it's no secret that we like to explore the unexpected side of history. So as one more year drifts into the historical record, we're here to celebrate some of our most fascinating history stories from 2021.
---
by Melanie Hamilton
At 11 a.m. on a March morning, masked figures descend upon a rural Georgian street. Mud-streaked, screaming, and armed with whips, the berikas, as they are known in Georgia, are not there to stir up fear. Their arrival marks the start of the ancient spring festival of Berikaoba, a tradition that may go back 8,000 years but almost disappeared—until one woman made it her mission to revive the ancient event.
by April White, Senior Editor/Writer
Inside, it was pitch black. Creeping along hallways, Herbert Brucker clutched a Colt .45-caliber automatic pistol. That's when he heard the unmistakable cadence of a man speaking German. A Nazi guard popped up. Brucker fired twice. The guard dropped. He fired ten more times before he was out of the "house of horrors" and all the cardboard Nazis were bullet-ridden.
William "Dangerous Dan" Fairbairn built the "pistol house" to train a new class of American spies during World War II. These were the early days of the Office of Strategic Services (OSS), the precursor of today's Central Intelligence Agency.
by Amelia Soth
Jersey, a tiny island in the English Channel, was once nearly covered with "skyscraper cabbages," as botanist Edgar Anderson described the massive 12-foot-tall kale. The leaves were used to make Jersey cabbage loaf, and the stalks were turned into elegant walking sticks. Tourists even posed in front of the humongous plants. But by the 1970s, Jersey kale was dying off. Today, only a few Jersey farmers grow the epic vegetable.
by Sarah Durn, Editorial Fellow
Way before businesswomen wore shoulder pads in the 1980s to shove their way into the male-dominated business world, 18th-century Empress Elizabeth of Russia and her niece-in-law Catherine the Great were already pushing sartorial gender norms. "The Empress [Elizabeth] had a fancy to have all men appear at the Court balls dressed as women and the women as men, without masks," Catherine wrote in her memoirs. These "metamorphosis balls" became a weekly occurrence at the Russian court—and in fact, functioned as a way for empresses to remind their male courtiers who was boss.
by Olivia Campbell
Looking for a plague repellant this holiday season? Well, medieval pilgrims had a bit of a hack. In the Middle Ages, brooch-like badges were believed to ward off disease. While many of these talismans sport religious motifs or scenes from saints' lives, a significant number are sexual in nature, including depictions of human genitalia. It's not as odd as it might sound: Across cultures, human genitalia have long been ascribed evil-vanquishing power.
by Sam O'Brien, Senior Editor/Writer, Gastro Obscura
In March 1519, guests arrived at Lorenzo di Filippo Strozzi's home in Rome to attend the banker's lavish Carnival feast. They expected decadent spreads of wine, meat, and sweets. Instead, the table held a giant skull surrounded by bones. The terrified guests eventually learned that the skull and bones were filled with roast pheasant and sausages. While alarming, this event wasn't unique—it was a black banquet, also known as a hell banquet, with settings "designed to evoke funeral services at the least, or afflictions of Hell itself at worst." Nailed it.
by Bhavya Dore
Starting in the 1880s, time in the Indian city of Mumbai got weird. For centuries, local timekeepers tied the time of day to the rising and setting of the sun, forging "Bombay Time." That all changed in the late 19th century as British colonial powers worked to put all of India on a single uniform time zone, "Madras Time" or "Railway Time." Indians were having none of it. Colonial resistance and city pride upheld the tradition of Bombay Time—a commitment that would lead to mass protests and vandalism.
by Dan Nosowitz
Did you hear that the Thirteenth Amendment went missing? No? Good. Because it hasn't, but for decades right-wing conspiracy theorists thought it had. While the American government has never been able to bestow titles of nobility, a handful of fringe theory enthusiasts believed that the "missing" Thirteenth Amendment went further, stripping citizenship from any American who accepted a title of nobility, and banning such individuals from running for office. Then, in 1983, a researcher named David Dodge claimed that this alleged amendment also applied to lawyers who used the title "Esquire." Given that many of our presidents and other politicians have been lawyers, Dodge argued that this amendment essentially turned the American government into a giant sham. To understand the absurdity of his claim, we take a deep dive into the origins of the contentious title.