For Pop Duo Aly & AJ, Vintage Watches Tell Stories and Keep the Past Alive
And wearing them onstage adds another tale to each timepiece.
Secret Obsessions is Atlas Obscura's column where we ask wondrous people to take us down a rabbit hole. This edition features chart-topping pop duo Aly & AJ—sisters Aly and AJ Michalka.
AJ Michalka knew she had found something special on the antique site Foundwell. With a delicate interlinking strap and circular face, the 1959 Audemars Piguet (AP) Disco Volante was the perfect piece to commemorate a return to music. It was 2017, and she and her sister, Aly Michalka, after a 10-year hiatus, had just released their first EP as the pop duo AJ & Aly, fittingly named Ten Years. A watch seemed like just the thing.
"The vintage AP was my first purchase," says AJ, who has since amassed a unique and deeply personal watch collection. "It's kind of a ridiculous analogy, but I feel like our music career got a total repair," she says. "And I feel like that can be the life of a watch, too." Watches die and stop ticking, but with a little care and effort, they can come back to life.
Aly, who's three years older than AJ and has her own vintage watch collection, agrees. "I think that these pieces have a special energy and spirit around them," she says. Every watch tells a story, and both sisters cherish the chance to add their own experiences to a watch's tale.
As part of Atlas Obscura's Secret Obsessions column, we chatted with Aly and AJ about their favorite watches, from a 1934 Patek watch commemorating a record seaplane flight to their great-grandmother's Hamilton, and how wearing these timeless pieces onstage feels like putting on armor.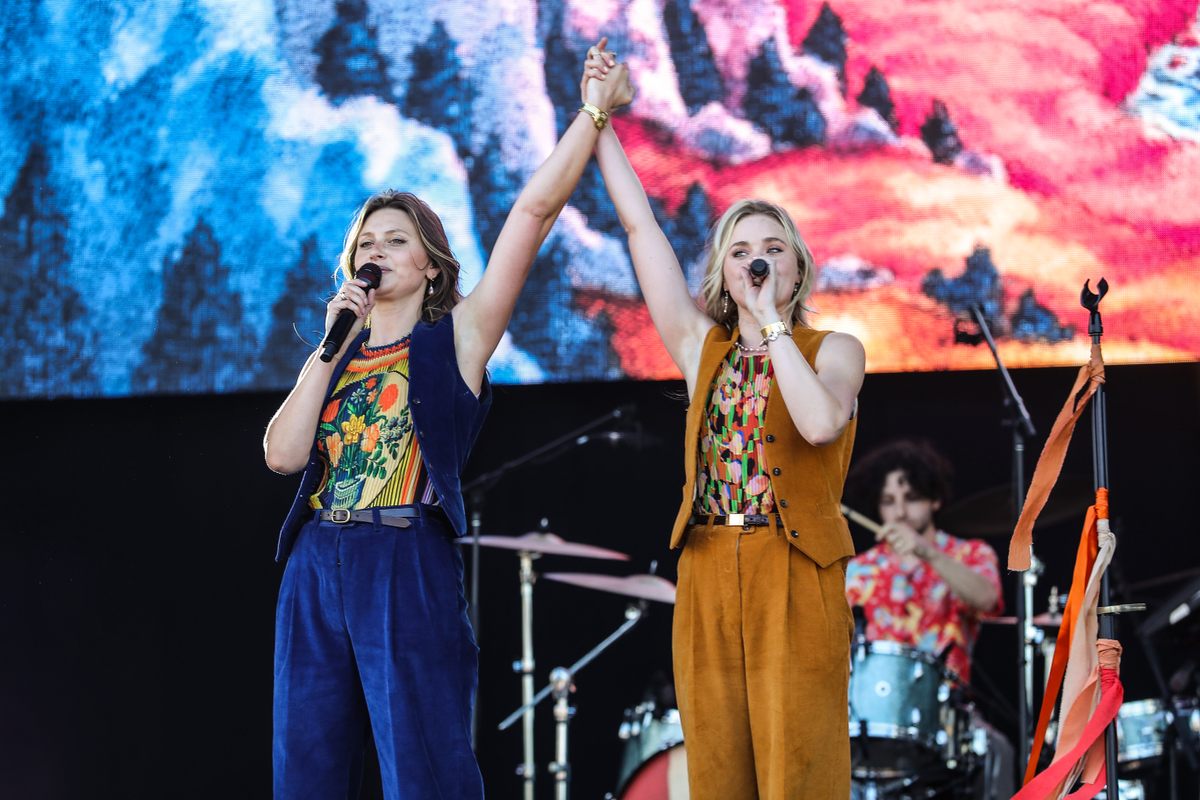 How did you decide to start collecting watches?
AJ: The watch thing started seven or eight years ago. My sister was about to get married. It was the day before the wedding and we were talking about heirlooms.
We were like, "We don't really have anything our parents held on to from past generations. So let's start it ourselves."
We decided that the best heirloom we could probably pass down from generation to generation, whether it's to commemorate a wedding or an event, would be a vintage watch. And that's kind of how the conversation started.
Aly: We've always just been people who love old things. We love history. We love the story behind an item. And so I think that's what drew us specifically to vintage watch collecting.
Who got the first watch?
Aly: It started with my husband, who bought his first vintage watch from Eric Wind. It's this beautiful Universal Genève from 1945. It suits him so well. I was like, "Wow, this watch was made for you!" This was around the time when AJ and I were having discussions about heirlooms.
So I think after he bought that watch, AJ soon bought her AP. And then I was third in line.
I had seen this watch at a pop-up shop for [watch site] Hodinkee. I was actually making fun of my husband for being there. I was like, "Why are you at this watch pop-up?" And then I saw this watch on display and I was like, "Okay, wait, maybe I'm into watches."
It was an Omega Constellation, 18-karat gold, with an integrated bracelet. It was so beautiful.
My husband noted it and was like, "Okay, I'm gonna buy that for her." He held on to it for a couple of months and then we were all in Italy together: AJ was with us as well. And he gave me the watch on my 30th birthday in Rome inside the Pantheon. It was pretty baller.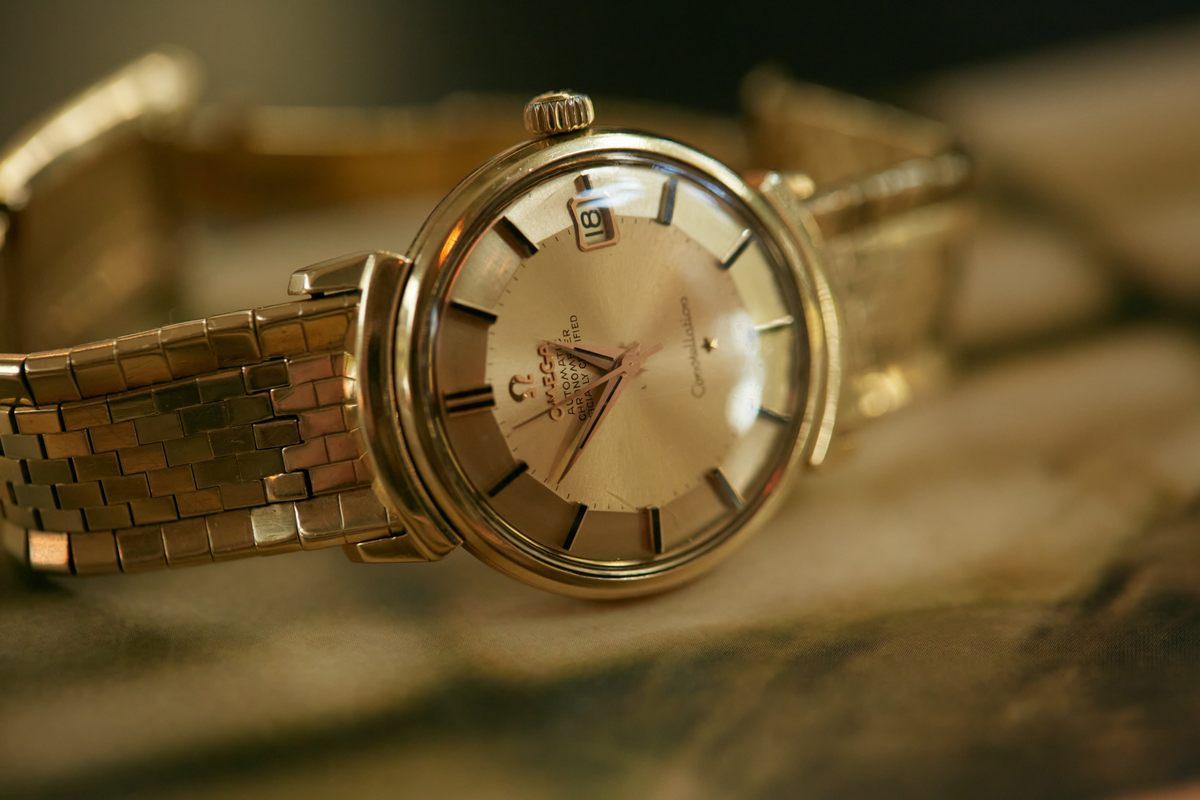 What's a really special watch in your collection?
AJ: Our mom's grandma, so our great grandma, Grandma Wetzel, was a pianist for silent films. We like to say that our love for the piano and music really started with her. And she owned a Hamilton watch.
It's something that we didn't realize we had. Our mom had it in her closet for years and it wasn't even working. We were like, "It's time to give this a moment. Let's nurture it. Let's get it back to life. Let's get it ticking again."
We got it fixed at this beautiful shop in L.A. called Craft & Tailored. Now we can wear it onstage. And when Aly's playing the piano, she can channel Grandma.
Tell me more about Grandma Wetzel.
Aly: Our mom was obsessed with her. She said she had a really big personality and she was just incredible at piano. She could just rip.
She's the only real connection that we have with the music industry in our family. Our mom and dad did not come from a music or acting background. So we can kind of look to her and say, "Well maybe we got it from our Grandma Wetzel."
What's another watch you love in your collection?
AJ: I have a 1934 Patek that I purchased in 2020 from Eric Wind of Wind Vintage. French pilot Henri-Laurent Dalliere was awarded this watch from Patek after he completed a record seaplane flight from Cherbourg-en-Cotentin, France, to Ziguinchor, Senegal.
I love that a watch can come from the 1930s and tell a story back then, and then be on a stage playing a rock show with me in the 2000s and tell a new story.
I wear this watch a lot on stage or at events, like a red carpet. It's usually my work watch. It's not something I just wear every day.
What's your favorite thing about collecting vintage watches?
Aly: So many things are now done through apps and technology that you can't touch and hold and feel. A watch is kind of like the difference between reading a physical book and reading one off your phone or Kindle.
Watches have withstood the test of time. Maybe a watch is 40, 50, 60 years old, and now you're holding it as a woman in 2023, and it's got this new life.
AJ: I think it's also amazing for someone like our mom to see her daughters wear a watch that she remembers her grandma wearing. I think these timeless pieces tell stories for years to come.
How do you feel when you wear one of your watches?
AJ: To me, [a vintage watch] represents a kind of armor. Like when we're onstage, we wear suits and we wear our watches and it feels like we're showing up to work—and we're showing up in a way that feels really powerful.
Aly & AJ is an American pop-rock duo featuring sisters Aly Michalka and AJ Michalka. Their songs include "Potential Breakup Song," "Like Woah," and "Slow Dancing." Their latest album, With Love From, was released in March 2023. Both sisters also have pursued separate acting careers. In 2006, the pair played sisters on screen in the Disney Channel Original movie Cow Belles.