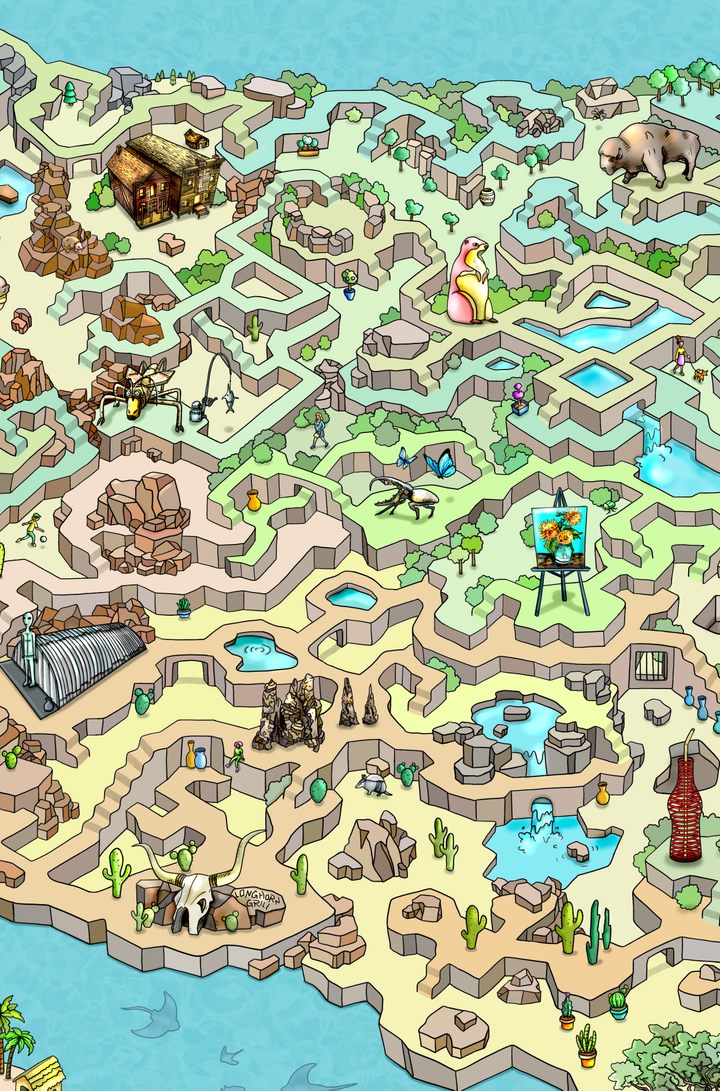 The Ultimate American Road Trip Maze
A new challenge from a record-holding maze-maker, inspired by summer travels around the United States.
Have you ever passed through a town while on a trip and wondered what secrets it could hold? Or maybe you'd looked down a road and saw some bizarre thing that maybe only locals know about? That's my favorite thing about Atlas Obscura and the Atlas Obscura app—it gives us all of those secrets at our fingertips, whether we're in the car with the window rolled down or laptop-travelers looking for a new adventure.
Our family loves to take road trips and visit national parks. Our most recent trip was in the Southwest, which started with a perfectly normal search: "What's the most dangerous hike in the United States?" That led us to Angel's Landing in Zion National Park. A few months later we found ourselves grasping onto a questionably mounted chain, dangling, just under 6,000 feet above the ground. At the very top, we had a full 360-degree view of bright red sandstone canyons that layered the valleys below as far as the eye could see. You'll find many rock formations in this maze, both inspired by the real-life trip we took through the Southwest and by other wonders—natural and human-made—you'll find in Atlas Obscura.
In fact, many of the illustrations in the maze are inspired by real road trips we've taken across the country! From the bald eagles and seals we spotted driving down the Pacific Coast Highway, to the flowers of California and cactus varieties we saw in Arizona and Utah. We hope solvers will notice the waterfalls we discovered in Yosemite and the dolphin pods we watched in Florida. Did you know that George Washington had his own bathtub in West Virginia? How about the sock barn on the Tecumseh Trail where hikers can exchange a dirty sock for a free geode?
Each illustration in this maze is carefully considered, and the path was designed to maximize discoveries of the Altas Wonders planted along the way. I hope you discover something new while solving the maze and get a little inspiration for your next Atlas road trip. Enjoy!
All of these surprises are clickable in the downloadable PDF. You can download the puzzle in:
I hope solvers find this maze an adventure of its own, and pause to explore all the little surprises! Just like a good road trip, getting there is a big part of the fun.