Loved or Loathed: Can Madagascar's Aye-Aye Survive Superstition?
Understanding how locals really view the world's weirdest primate may be key to protecting it.
In a remote rainforest in Madagascar's northeast, Doménico Randimbiharinirina and Dominik Schüßler wandered into a ghost town. Its inhabitants were long gone, and the wooden frames and thatched roofs of dozens of huts slumped and rotted into creeping vegetation.
Locals had told the two scientists about this abandoned village. About three years earlier, it was home to more than a hundred people. But then the residents fled. They rebuilt their village several miles away, unwilling to return to this place after seeing an evil omen: an aye-aye lemur. The endangered primate's distinctive looks—a five-pound furball with a Gremlin-like mug and a twiggy middle finger—make it a favorite of memes and "world's weirdest animals" videos. But here on Madagascar, the aye-aye can be seen as a harbinger of death, illness, and crop failure. These fears have driven people to kill the creatures on sight, according to both local lore and published research. The villagers who left their homes three years ago were "thinking when aye-aye come to a village, bad things will come," says Randimbiharinirina.
The scientist doesn't share the beliefs of his fellow Malagasy. While pursuing his doctorate in anthropology for sustainable development at Madagascar's University of Antananarivo, he's become an aye-aye expert, documenting the animals in their native habitat for months at a time. It's a difficult feat: The nocturnal recluses move branch-to-branch in pitch black forest, covering up to three miles a night. "No path, no road, you just have to follow in all the places they want to go," says Randimbiharinirina.
But on this expedition, Randimbiharinirina was collecting data on more than lemur habits. He and Schüßler trekked from one village to the next, visiting nearly a dozen hamlets spread around Madagascar's largest remaining block of rainforest. "There are no roads, no basic infrastructure at all," says Schüßler. "In these forest frontier regions, you have to walk for hours and hours and days to reach these villages." Led by local guides, they hiked hilly, mud-soup trails, hauling their gear and supplies.
Over three months, the pair interviewed 83 local residents, and asked them how they felt about aye-ayes and other lemur species. Within each village, perceptions about the aye-aye were fairly consistent. But the researchers heard surprisingly diverse opinions between different villages, even those within a day's walk of each other. For instance, just a few miles down a footpath from the abandoned village, residents welcomed aye-ayes because they knew the primates ate the larvae of pests that damaged sugar cane and other crops. Several people interviewed said fady, the island's traditional taboos, prohibits the killing of aye-ayes.
Overall, nearly half of the interview participants abhorred aye-ayes, while the rest harbored fondness or indifference towards the animals, according to the researchers' findings, published in People and Nature. "It was, for us, absolutely unexpected that anybody could say, 'yeah we like the aye-aye,'" says Schüßler, a Ph.D. student in conservation science at the University of Hildesheim, Germany.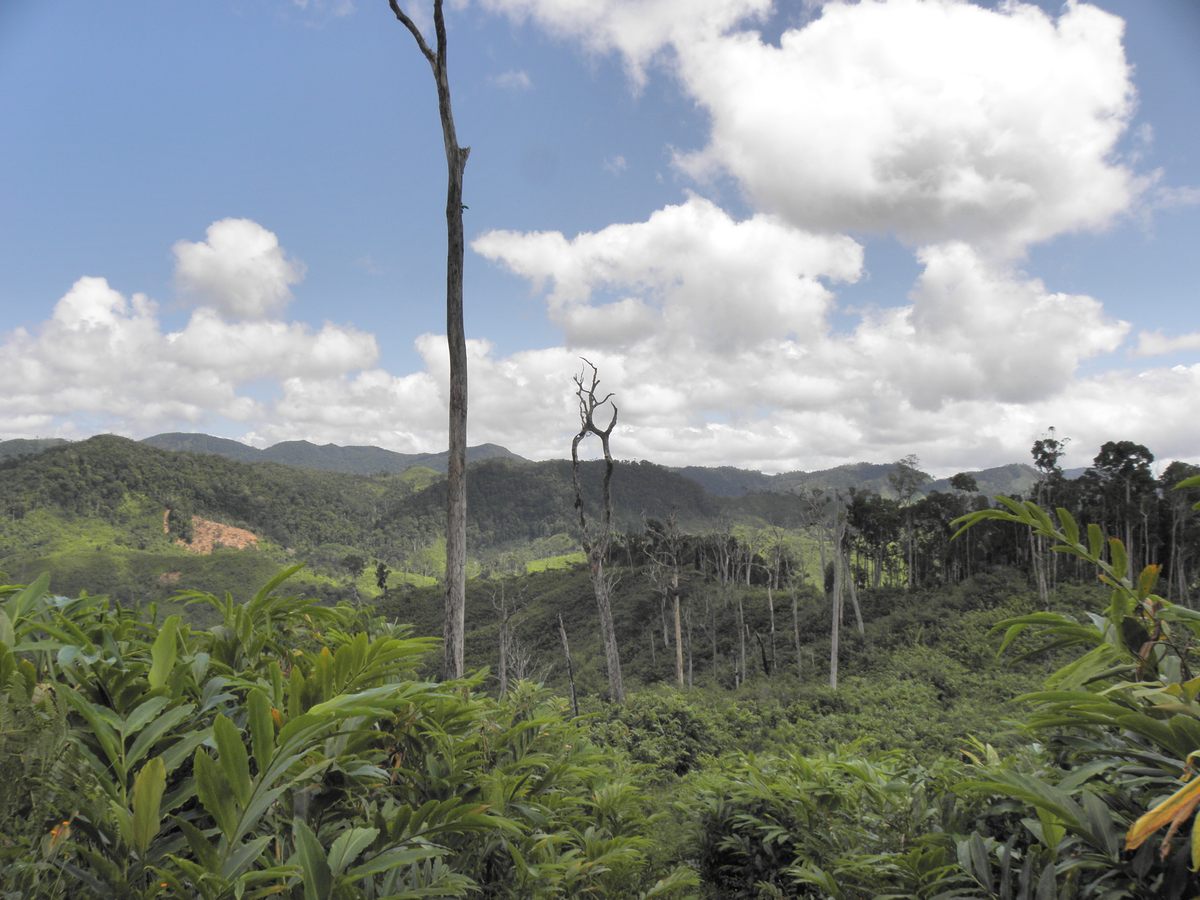 That's because aye-aye appreciation contradicts what most researchers think villagers think about the species: In nearly 20 papers, scientists have reported that Malagasy people believe when an aye-aye appears, humans will suffer unless the animal is slaughtered or the village is abandoned. The articles quote a Malagasy expression, "Mangatabmo hita, miseho tsy tsara," which translates to "If [the aye-aye] is seen, there will be evil." Some of the published research references a superstition that the aye-aye murders people in their sleep, piercing the aortic artery with its stick-like finger.
For many scientists, "the assumption was that aye-ayes are persecuted wherever they are. Wherever people see them, they will kill them," says Charlie Gardner, a conservation scientist at the University of Kent, who lived and worked in Madagascar for a decade.
While earlier researchers highlighted negative attitudes, no one was charting the full range of beliefs, including pro-aye-aye sentiments, until Randimbiharinirina and Schüßler carried out the interviews. "I really like this research because it investigated a widespread assumption and found that it's a false assumption. The reality is much more complex than what we thought," says Gardner, who was not involved in the study.
In their article, Randimbiharinirina and colleagues also proposed possible explanations for the different attitudes. The positive and neutral views tended to be rooted in ecological realities. Aye-ayes do eat insects that threaten crops, for example. On the other hand, the researchers suggested that negative beliefs and unfounded fears—the aye-aye is not physically capable of murdering a human—arose because the aye-aye makes for a convenient scapegoat. Much like bats and other nocturnal, unusual-looking animals, the aye-aye may seem unnatural to some people. If they see an aye-aye and a few days later fall ill or get injured, it may be tempting to associate their bad luck with the strange animal they saw creeping outside their home. And so a superstition is born. The aye-aye's appearance may make the lemur especially prone towards "unnatural" associations. As Marni LaFleur, founder of the non-profit organization Lemur Love, Inc., puts it: "They're just bonkers."
Aye-ayes seem to be an amalgam of animal oddities, with bright orange bug-eyes, bat-like ears capable of echolocation, and, similar to rodents, incisors that never stop growing. Like pandas, aye-ayes possess a pseudo-thumb, a stub of bone, cartilage and muscle almost hidden in the palm, to aid grasping. And unique to aye-ayes is their long, slender middle finger. They tap the digit against tree trunks to locate grubs by sound, then gnaw a hole and fish the insect out with that extra-long finger, a marvel of evolution and, like its other odd traits, a superb adaptation for the insectivore.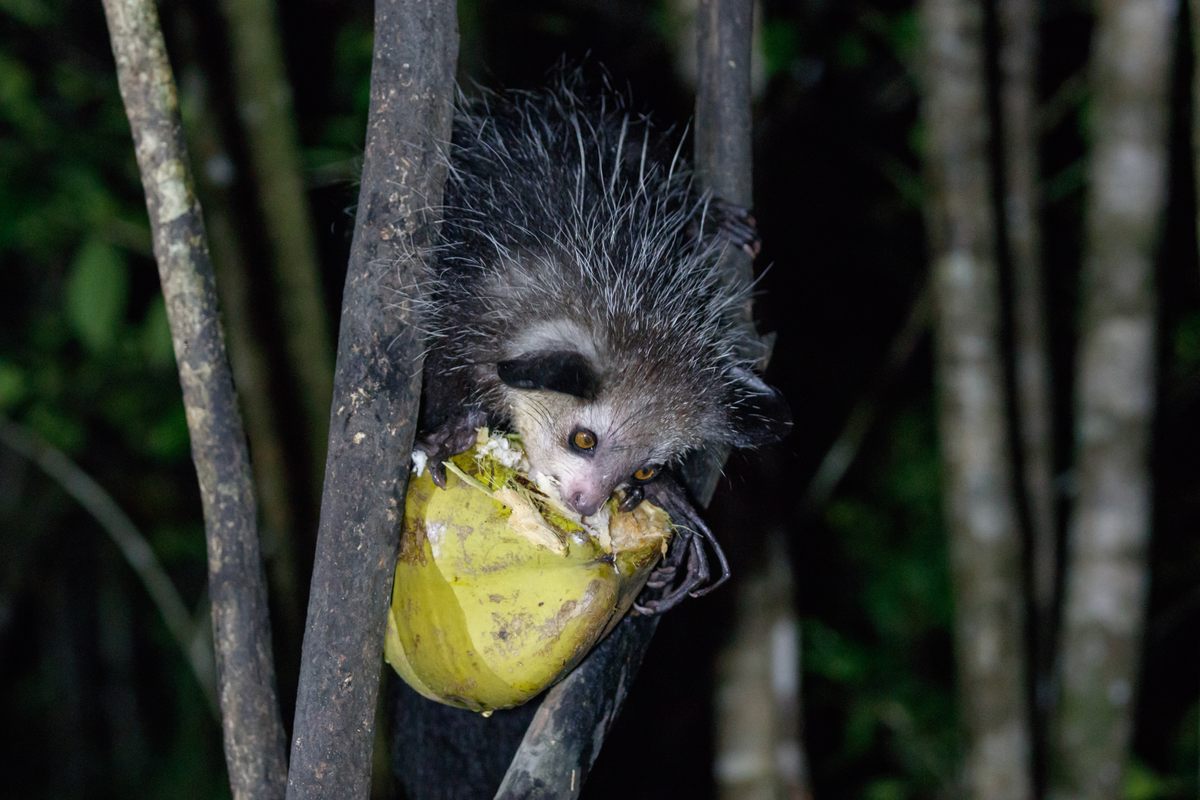 "We don't see any of the adaptations that they have in any other primate," says LaFleur, who is also a professor at the University of San Diego and member of the International Union for the Conservation of Nature (IUCN).
Aye-ayes are also among the most vulnerable species. The IUCN, the global authority on wildlife protection, included aye-ayes in their recent list of the 25 most endangered primates. As with most lemurs, habitat destruction is the primary reason aye-aye numbers have dwindled. But aye-ayes face the added threat of being killed due to baseless superstition. Randimbiharinirina and Schüßler hope their new understanding of village-specific beliefs can help aye-aye conservation. They are planning targeted education programs, which will connect local aye-aye advocates with people who fear the creatures, "to just spread the knowledge about its beneficial behaviors," says Schüßler.
Some others in the field question how effective the effort will be. "It's a fascinating study to get these really grounded perspectives of beliefs," says Genese Sodikoff, a Rutgers University anthropologist who studies how people interact with wildlife on Madagascar. But she cautions, "there's a lot to unravel." It's illegal to kill lemurs in Madagascar, so the interview subjects might have acted more favorably towards aye-ayes than they really feel. "They could be saying what they think people want to hear," says Sodikoff.
Still, Randimbiharinirina is determined to spread the pro-aye-aye message. We "have to convince the people aye-aye is not bad," he says. "If not, I don't think aye-aye can survive here in Madagascar."