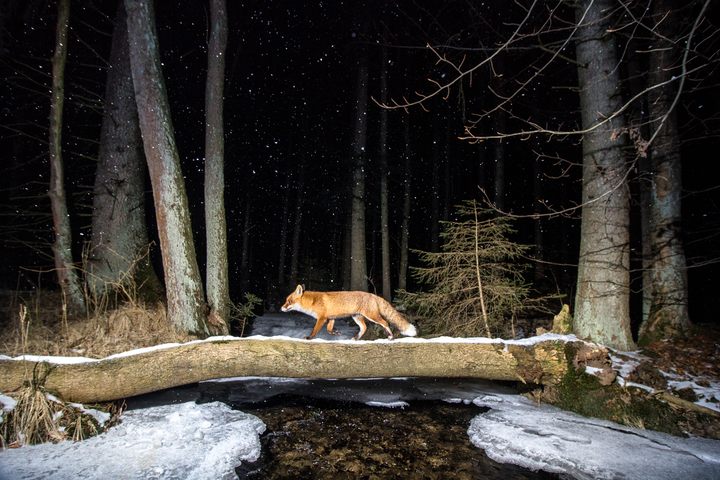 Get Wild With These Award-Winning Nature Photos
The winners of the 2020 World Nature Photography Awards have an eye for the sublime.
When photographer Vladimir Cech saw fresh lynx tracks by a fallen tree in the border region of the Bohemian Forest in Czechia, he hoped that his homemade DSLR camera traps would catch the wildcat. They didn't, but what he did get was spectacular: a quiet image of a red fox delicately making its way across a tree trunk over a stream. The magic of the picture, according to Cech, is in the details: the lift of the fox's leg, the soft snowfall suspended in the flash. "Luck was with me that night!" writes the photographer.
Cech's good fortune and photographic skill won him a silver honors in the recent World Nature Photography Awards, in the category of animals in their habitats. The London-based competition not only champions beautiful photography from around the world, but also supports two climate change charities, the Clean Air Task Force and Coalition for Rainforest Nations. Across 13 categories, the contest's photographers documented wondrous natural sights, from lionesses fighting to the mating of damselflies.
Among the winners is Arlette Magiera from Germany, who got a bronze award in the same category for her picture of a kongoni, or hartebeest, moving through Murchison Falls National Park in Uganda. She writes that she saw "this male kongoni standing all alone on a little mound scanning the surroundings for predators," and that "the moment when he wanted to chase away some flies by lifting his leg and waving his tail was just perfect."
The grand winner of the contest, Thomas Vijayan of Canada, went through an arduous journey in Borneo for his shot. He started with a three-hour ride in a small boat on rough waters. Approaching Tanjung Puting National Park, the trees got too dense for the boat to pass, so he continued on foot, hiking through muck and tree limbs, while trying to keep himself and his camera gear safe in crocodile-infested waters.
Vijayan then climbed a big tree and waited for hours. Finally, the moment arrived: An orangutan climbed up in order to cross to another small island. This photographer's winning picture was just as he had envisioned, with a beautiful sky reflected in the still waters, framing the glowing fur of the endangered primate. "The most challenging part of this experience was staying calm while the orangutan was in front of me," writes the photographer. As for the ape, it was not disturbed by the encounter. "Surprisingly the orangutan was not much worried about my presence up on the tree."

Atlas Obscura has a selection of winning images from the competition.