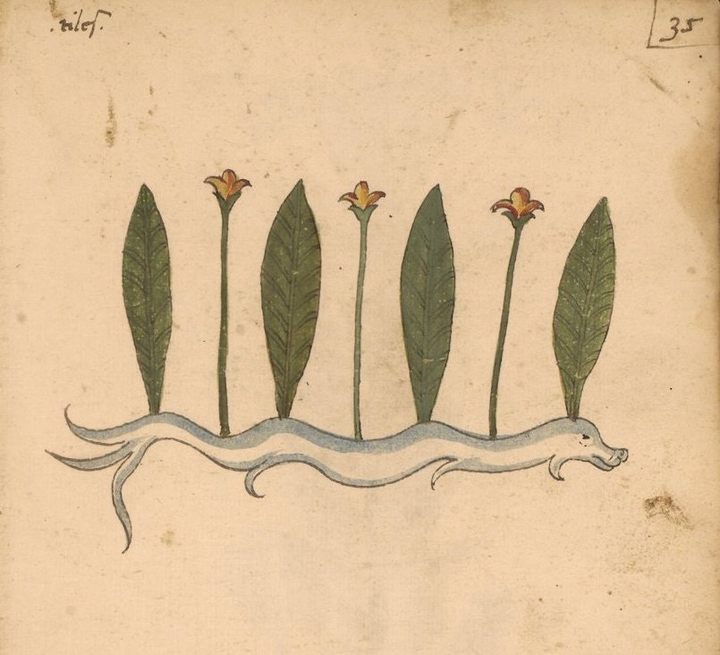 Explore the Whimsical Flora of a 15th-Century Italian Folio
An herbal a day will take the green from your gills away—and perhaps apply it to your thumb.
Just because good science is meticulous doesn't mean it can't be fun. At least that's what a northern Italian illustrator decided when he went about drawing and coloring nearly 200 botanical specimens on parchment paper back in the 15th century.
Initially consisting of 70 plant paintings, as the Public Domain Review notes, the separate folios were consolidated into a single bound manuscript later that century.
The herbal is a thick folio of flora, equal parts Voynich manuscript and Monty Python cutscene. Some plants are depicted roughly, as they are in life, with accompanying notes on their medicinal uses scribed in cursive. Others have human faces. A blue woad, for instance, sports a wan, detached expression—like Gene Wilder sprouting leaves from his head. Another, a mandrake, is envisioned as a hairy woman.
Though not anatomically accurate, the manuscript's illustrations are conventionally styled for the time. According to the University of Pennsylvania library, where the folio resides, many of them were copied from other manuscripts, and aren't identifiable by botanists and horticulturists today.
The manuscript took decades to complete, which is why some of the plants are shown side-by-side with later illustrations of themselves—a case of conscientious artists showing a growing understanding of the plants, perhaps, rather than erasing past misconceptions.
Here, Atlas Obscura has compiled some of the more remarkable images featured in the public collection.