The Delightful Doodles and Hidden Scribbles on the Backs of Artworks
George Eksts has digitized 200,000 works on paper. Several hundred had writings or drawings on the back.
Around a decade ago, George Eksts was digitizing a 19th-century photograph for the Victoria & Albert Museum, in London, when he turned it over and noticed that someone had doodled on the back. The front side showed an image of Kashmiri temple ruins, taken by the photographer Francis Frith. But on the reverse, rotated 90 degrees from the orientation of the photograph, were bizarre pencil portraits of a headless man, as well as a long-beaked creature with human legs.
"There are lots of photographs in the collection, but not many of them have anything on the reverse," says Eksts, who is also a mixed-media artist. He was baffled, and wondered whether Frith or his children might have created the drawing. "I kind of have a fantasy that he brought his kids around to work one day, and they were sitting around getting bored and just started drawing on stuff." Frith had five children: Mary Alice, Eustace, Francis Edgar, Mabel, and Cyril.
Eksts has now flipped over all 200,000 prints, drawings, paintings, and photographs that he has digitized since the Frith print, and has collected hundreds of verso images. (The term "verso" refers to the back of an artwork, which is normally hidden, and "recto" refers to its public-facing front.) "It wasn't really a moment where I thought, wow, this is going to be a big project," Eksts recalls of his first find. "It really just kind of grew organically." In 2015, he started posting his discoveries on an Instagram account, @_muesum_, which is "museum" spelled backwards. Now he's compiling a selection for publication by CentreCentre books in early 2021.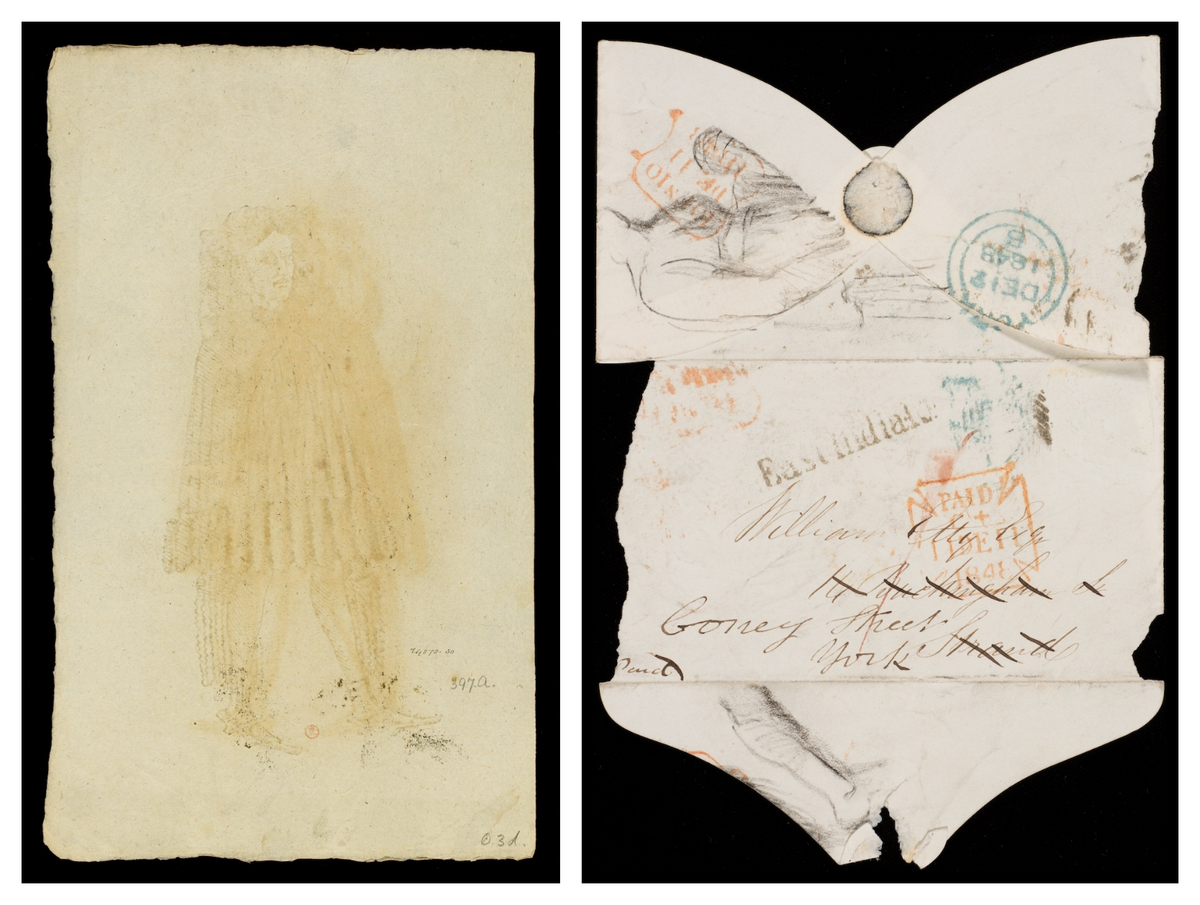 Just as Eksts found his first verso doodle by chance, most marginalia, or markings found in the margins, are discovered accidentally. "There's almost no way around just going out and looking, and seeing what you find," says Bill Sherman, director of London's Warburg Institute and a marginalia scholar. "But there's also the pleasure, as with graffiti spotted out of the corner of your eye in an alley: There's something really exciting about finding a note for yourself that you didn't expect to find."
Among the treasures Eksts has found in the museum's Word & Image Department are a list of household expenses on the back of a 16th-century Roman engraving, including essentials such as wine, bread, and firewood; shadowy traces left when ink seeped through paper; and even the name "Ron," lovingly inscribed inside a cartoon heart. "The most surprising ones are when everyday life intrudes into the hermetic world of art," Eksts says.
The backs of paper artworks are different from the backs of canvas paintings, which tend to have inscriptions left by the artist or stamps related to the art market. Paper is a portable material used for a variety of things completely unrelated to art, making it more likely that the back of a sketch or print would be used for scrap paper. Once, Eksts peeped at the back of a sketch by William Etty, a 19th-century British artist, and realized that the misshapen piece of paper was actually an inside-out envelope. The back showed the artist's address, residue from a wax seal, and a postmark that could help date the artwork more accurately.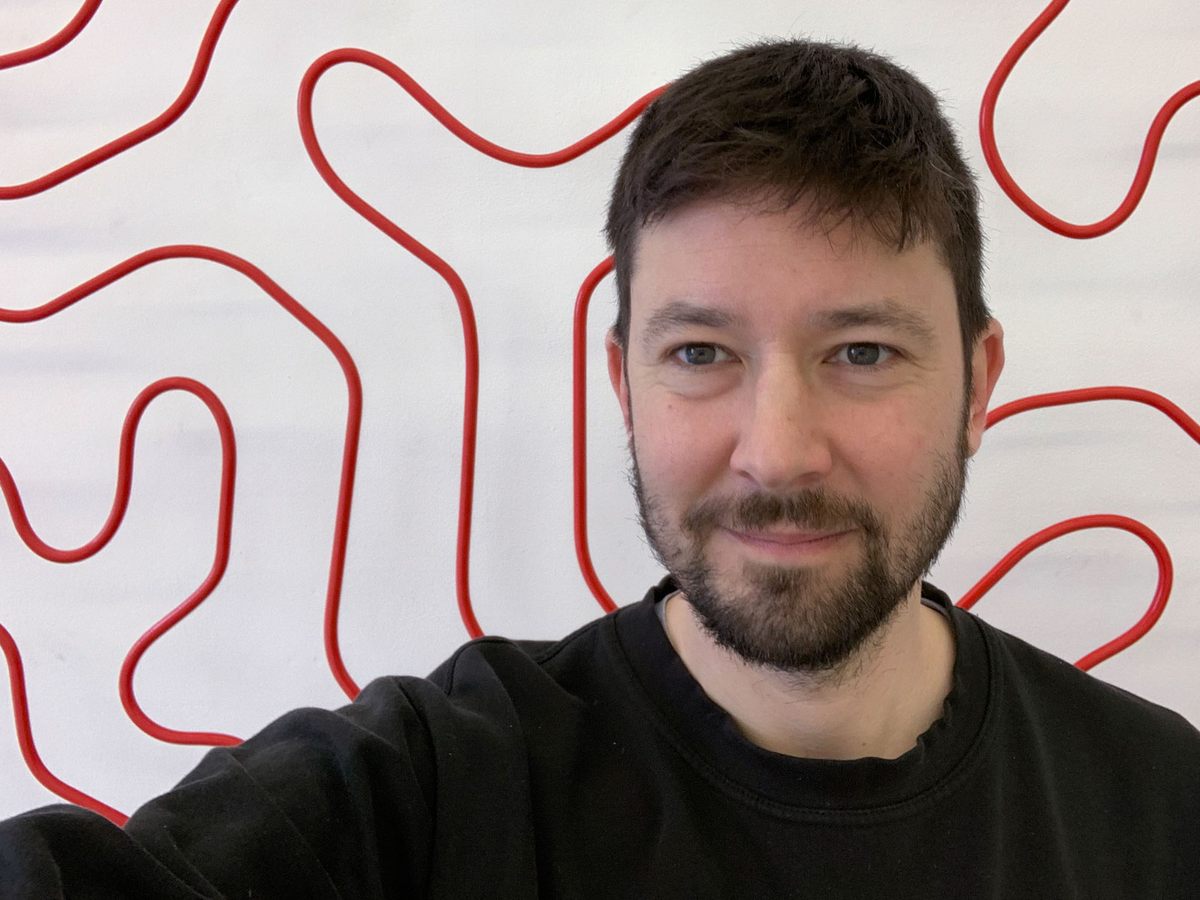 "A lot of people in the past didn't have the easy access that we have to blank, available paper," Sherman notes. Paper was more precious a few centuries ago, and marking up the empty spaces of a book or artwork ensured that these notations would be kept. "It's an archivable blank piece of paper," Sherman says of the blanks of these paper artworks. Eksts has noticed that older artworks in the V&A's collection are more likely to feature deliberate verso markings.
Eksts's project is currently visible only on Instagram, as though to nostalgically remind his online followers of a time that relied on pieces of paper. In an age when artworks are often experienced through screens, as flat thumbnails that are digitized by photographers like him, his photographs of versos remind us of their materiality.
On Instagram, Eksts doesn't share the front side of the artworks. Instead, he leaves serial numbers in the comments section, which can be used to track down an image in the V&A catalog. "I like the idea that somebody might make the journey to the museum to find the rectos, online or in person," Eksts explains. "I want the versos to be seen as independent artworks, outside the system of artists, movements, techniques. I sometimes think of them as the quieter friends who don't get to say much in loud company, but are often more interesting than the others when they get a chance to speak."
The authors of these quiet friends are usually unknown. Some may have been made by the artists, but they could also have been the work of children, or anyone who picked up the sheet and noticed its alluringly available blank space.
Artworks generally enter the V&A collection because they possess a certain pedigree: They're made by a recognized artist, have noteworthy creative intent, and there's history surrounding these works. But the doodles on the back are, in a way, more democratic. "That's what I like about them, really," Eksts says of his finds. "The appreciation of them isn't scholarly, it's really just visual. I feel like anybody's opinion on it is worth as much as anybody else's."