Escape Into These Fantastical, Imaginary Maps
When the real world feels unbearable, why not chart a course through lands that are literally unreal?
Last week, we recommended some gloriously intricate maps to roam around in, from a 1913 schematic of the New York Zoological Park to the branching arteries of France's early-20th-century train lines. This week, why not venture even farther afield, to lands that don't really exist at all? Atlas Obscura recently asked map collectors and curators to suggest some diverting maps that chart imaginary terrain.
In and Around the Land of Oz
Tread lightly toward Vegetable Kingdom—who knows what you might find in the Deadly Desert or the Country of the Gargoyles? Garrett Dash Nelson, curator of maps and director of geographic scholarship at the Norman B. Leventhal Map & Education Center at the Boston Public Library, points to several maps that appeared in the library's 2015 exhibition, "Literary Landscapes." One standout is this map of Oz, which looks like a patchwork quilt and appeared on the endpapers of Frank L. Baum's book Tik-Tok of Oz in 1914. You could spend hours roaming other maps in the show, too, including Bernard Sleigh's lavishly detailed 1917 mashup of figures and sites from mythology, Arthurian legends, folklore, and nursery rhymes.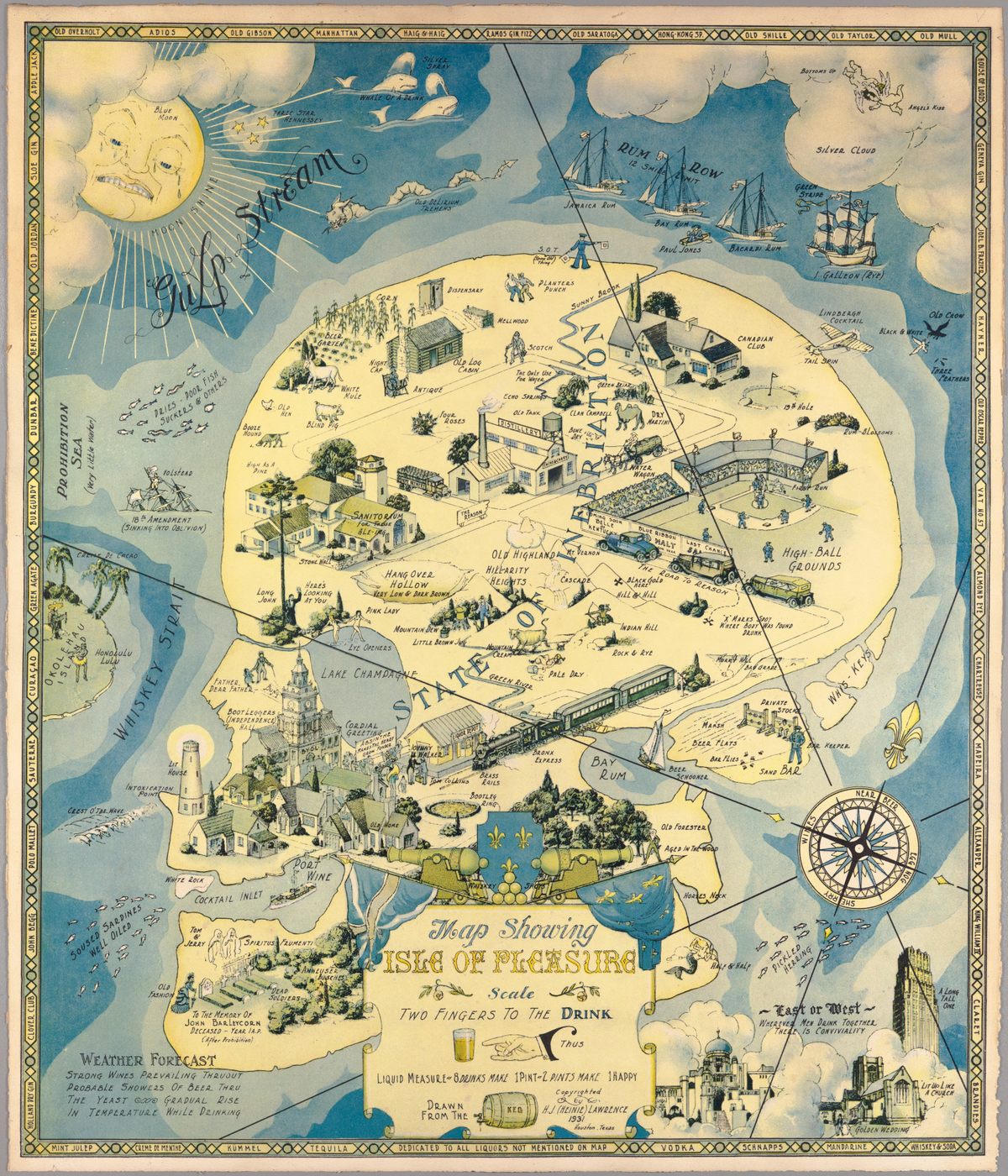 An Island of Boozy Pleasure
If the shape of this island looks familiar, that makes sense—it's a human skull, doing double duty as the so-called "State of Inebriation." This satirical map, made by H. J. Lawrence in 1931, "lampoons Prohibition in its final days," writes PJ Mode, a collector whose trove of maps is accessible through Cornell University. "Soused sardines" pass through the Whiskey Strait and swerve right toward Cocktail Inlet and Port Wine, which sit south of the lighthouse at Intoxication Point. A weather report in the lower-left corner forecasts a "gradual rise in temperature while drinking." For a less-intoxicated swim through the human head, Ian Fowler, maps curator at the New York Public Library, recommends this 1516 frontispiece to Thomas More's Utopia.
The Made-Up Map of Treasure Island
This landmass doesn't sit in any real body of water—it's a realm dreamed up by an author and his stepson. The map accompanied the first edition of Robert Louis Stevenson's Treasure Island, published in 1883. "British and American authors of fantasy novels (think Jonathan Swift, C. S. Lewis, J. R. R. Tolkien, George R. R. Martin) are very fond of publishing maps of the worlds they create," says Jim Akerman, curator of maps at the Newberry library in Chicago. "It helps the readers conceptualize the spaces they've created and enhances their legitimacy as real places." The published map, Akerman says, drew on a draft that Stevenson prepared.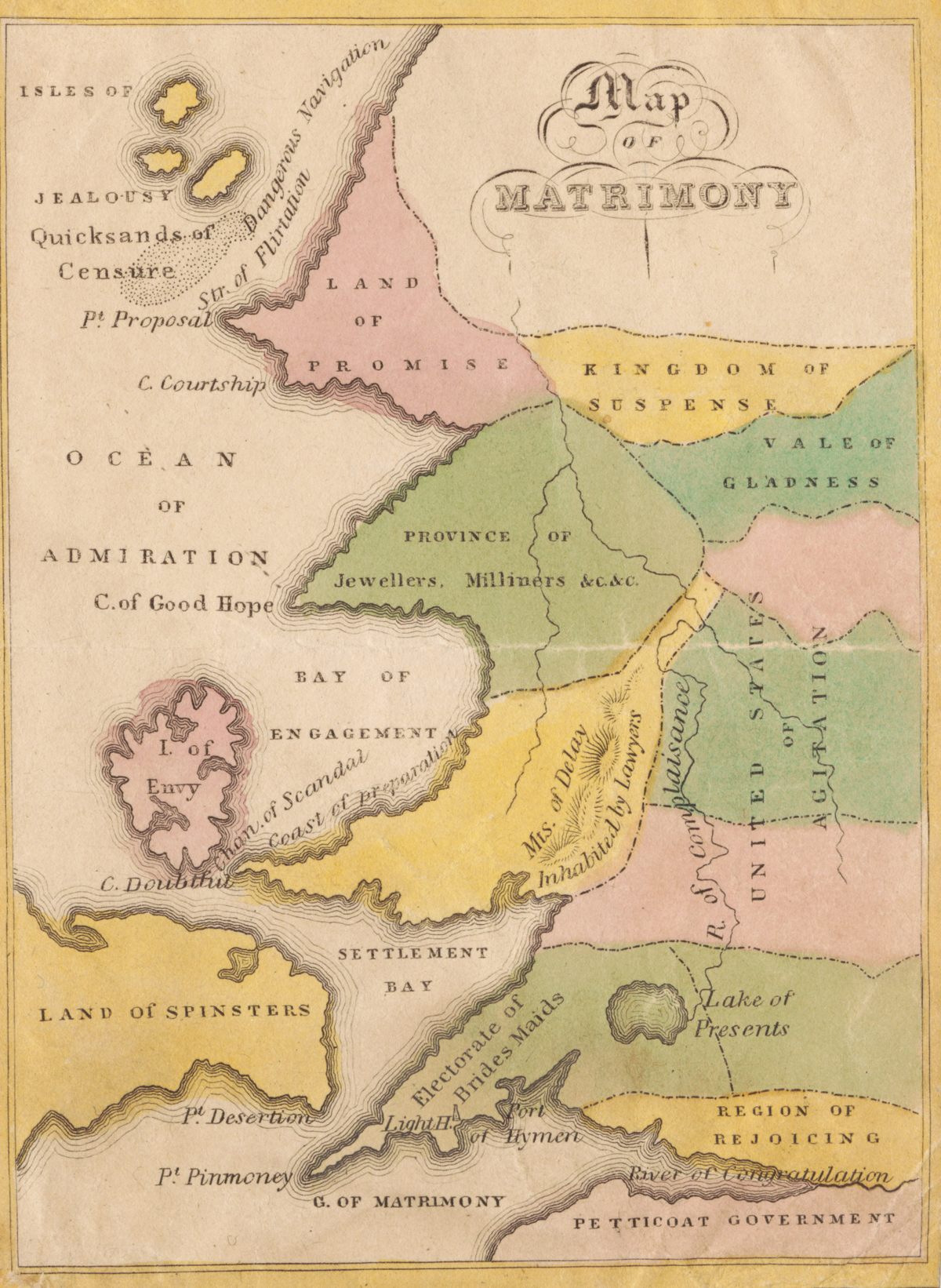 A Wonderful, Woe-Filled Map of Matrimony
This map—another from Mode's collection, likely made by John D. P. Douw in 1827—highlights several potential destinations in a journey from courtship to marriage. Some seem lovely; who wouldn't fancy an afternoon in the Vale of Gladness? Others are much less appealing: The Land of Spinsters, for instance, sounds like a cruel and sexist place to be, and the potential for disaster is high in the Str. of Flirtation, where the map warns of "dangerous navigation." As you sail around, try not to crash ashore on the Isles of Jealousy, and perhaps paddle over to more marriage maps here.