How Building Churches Out of Egg Whites Transformed Filipino Desserts
What else are you going to do with all those yolks?
"Did you know that our churches are made from eggs?" asks April Evangelista, a local food guide, as we walk through the towering doorway of the Philippines' Holy Rosary Church in Angeles City. "That's how they've survived typhoons and volcanic eruptions."
The Holy Rosary Church dates back to 1877 and the Spanish colonial era, a period when, Evangelista explains, "Local churches were built with egg whites." As evangelizing Spanish colonists built churches across the islands, laborers used egg whites as an emulsifier in the concrete. "Food is in the foundations here," Evangelista adds.
As the well-attended Holy Rosary Church attests, this had a lasting influence on the country's architecture and spiritual life. But its legacy is also on display in Filipino bakeries and home kitchens. Because what else is there to do with millions of leftover egg yolks but bake delicious desserts?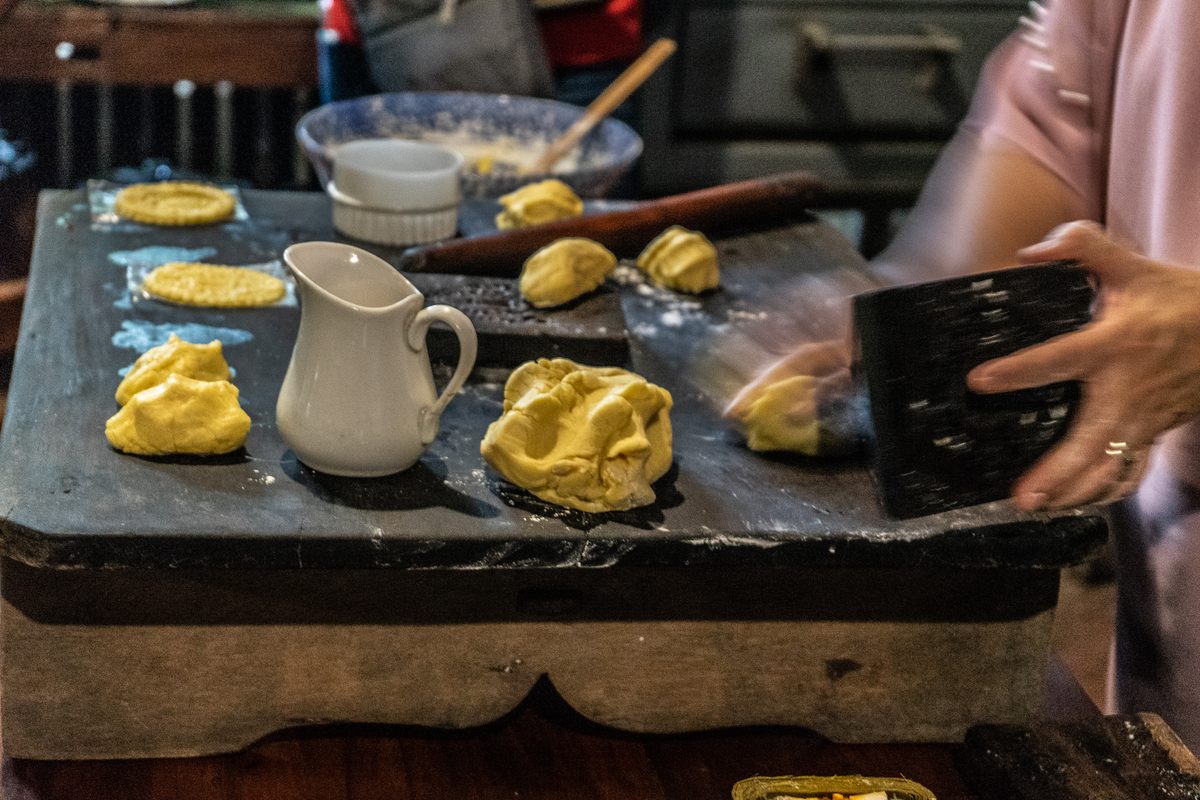 ---
Just outside of Angeles, local chef Atching Lillian is hosting a historical cooking class. Her recipes date from the 16th century, and the most prominent ingredient is egg yolk. This curious relationship between egg whites, desserts, and Filipino churches can be traced back to the arrival of the first Spaniards, who brought not only Christianity but cooking techniques too.
Pia Lim-Castillo, a culinary historian from the Philippines, emphasizes that after the arrival from New Spain of Miguel Lopez de Legazpi in 1565, who later became the first governor of the Spanish Philippines, religious orders such as the Augustinians, Franciscans, and Jesuits were quick to follow. These religious orders built grand stone churches across the islands, as the Spanish looked to impose their religious beliefs across the archipelago.
The Spanish presence was a heavy one. For the Spanish Empire, the Philippines were an important trading center, connecting Chinese ports, the Spice Islands, and other parts of Asia to Spain through its territory in Mexico. The Spanish colonial era lasted from 1521 to 1898—time enough to build plenty of churches. "Taking into account all the churches built then," writes Lim-Castillo, "the number of eggs used ran into the millions."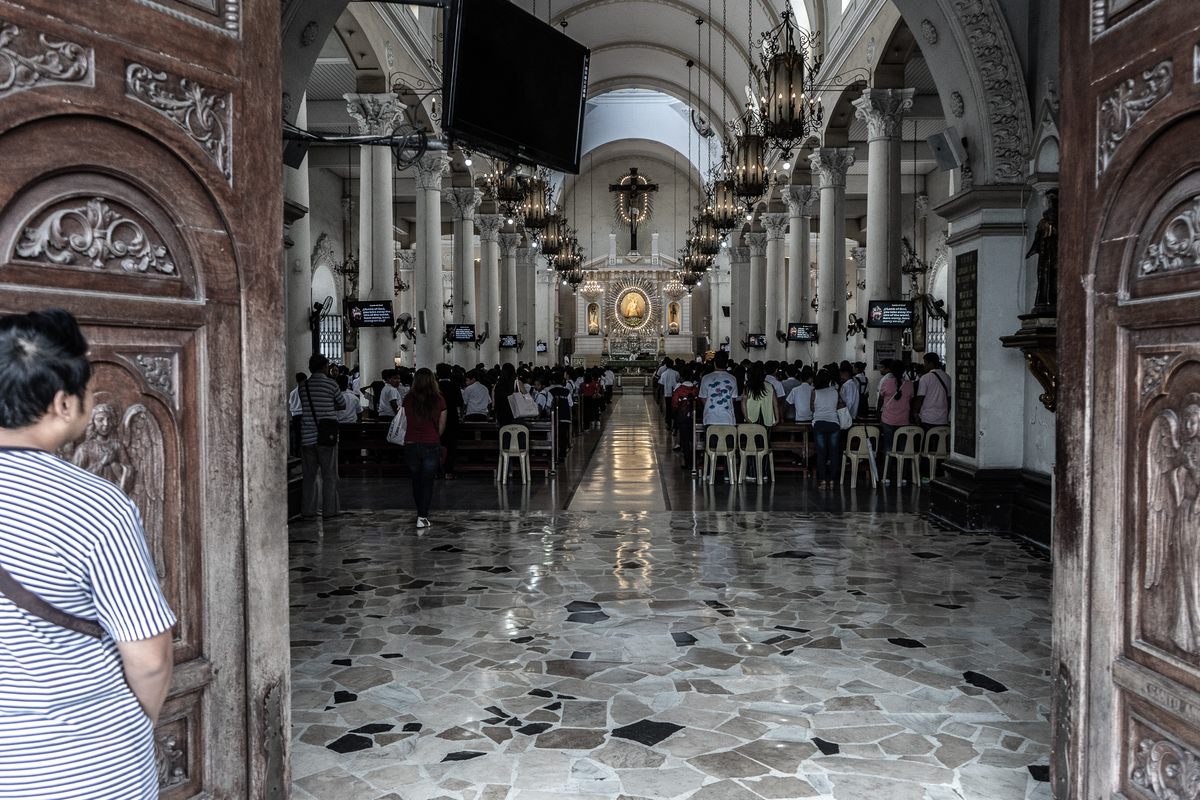 The egg whites were needed to form a sort of mortar, known as argamasa, which binded and protected the building materials used to construct the churches. Egg whites were meant to make the mixture "more durable," and historical records attest to this widespread practice.
"Records show that the dome of the Manila Cathedral was sealed in 1780 with a layer of lime, powdered brick, duck eggs, and bamboo sap," Lim-Castillo notes in a paper titled "Eggs in Philippines Church Architecture and its Cuisine." "Friar Mariano Gomes of Cavite listed duck eggs for the mortar in his expense list from 1824; his predecessor in 1808 also used duck eggs."
It wasn't just duck eggs, though. "Oral tradition tells us that … eggs from chickens and other poultry were solicited from the community," writes Michelle Sotaridona Eusebio of the University of the Philippines Diliman, and "combined with lime, sand, water, and some special ingredients to make mortars."
Across the Philippines, priests generally paid townspeople to provide labor and materials outside of planting and harvest times. The scene, as described by Regalado Trota Jose, author of Simbahan: Church Art in Colonial Philippines, was that "the menfolk hauled logs from the forest while women and children carried eggs and sand to the construction site."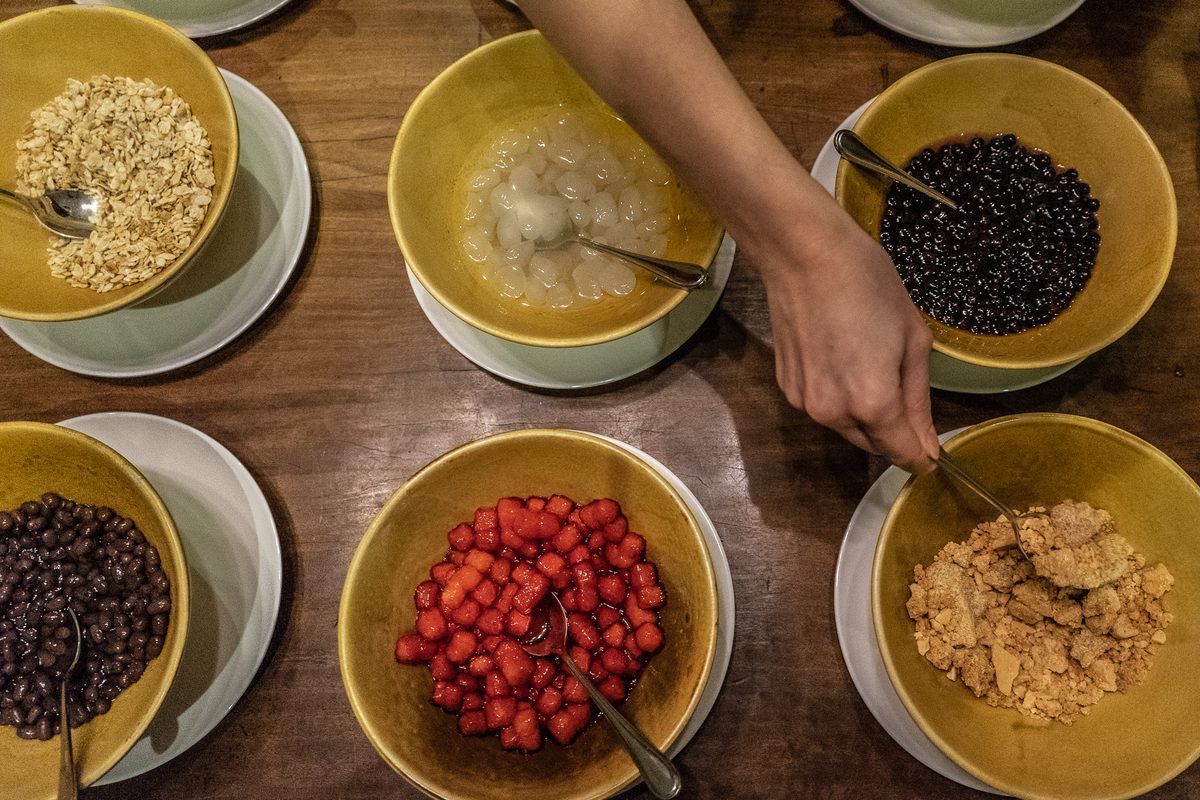 It is this history that Atching Lillian is helping to preserve in her kitchen, which is a treasure trove of historical artifacts and traditional cooking equipment. "I used to work as a chef in a five-star hotel," she tells me as she prepares the dough for Pan de San Nicolas, a traditional biscuit dedicated to Saint Nicholas, the patron saint of bakers. But she tired of preparing foreign dishes and decided to instead preserve local recipes and history.
Before the Spanish arrived in the Philippines, the islands' sweet tooth looked very different. "During pre-Hispanic times, the dessert or panghimagas of the Filipinos were just fruits served fresh," writes Lim-Castillo, "like banana, coconut, watermelon, mango, guava, melon, and other tropical fruits." She notes that her country's fondness for sweets and desserts developed under Spanish colonialism. Lillian's Pan de San Nicolas is just one example of cherished desserts introduced by the Spanish.
To make the San Nicolas cookies, Lillian shapes the dough using heavy wooden moulds, some of which she explains are more than 100 years old. "These were religious cakes," she explains, "baked by the nuns during the Spanish time." The moulds imprint the image of San Nicolas on the dough, and then she bakes the cookies in a Kalan, a traditional clay oven.
The primary ingredient for San Nicolas Cookies? Egg yolks of course. A lot of them.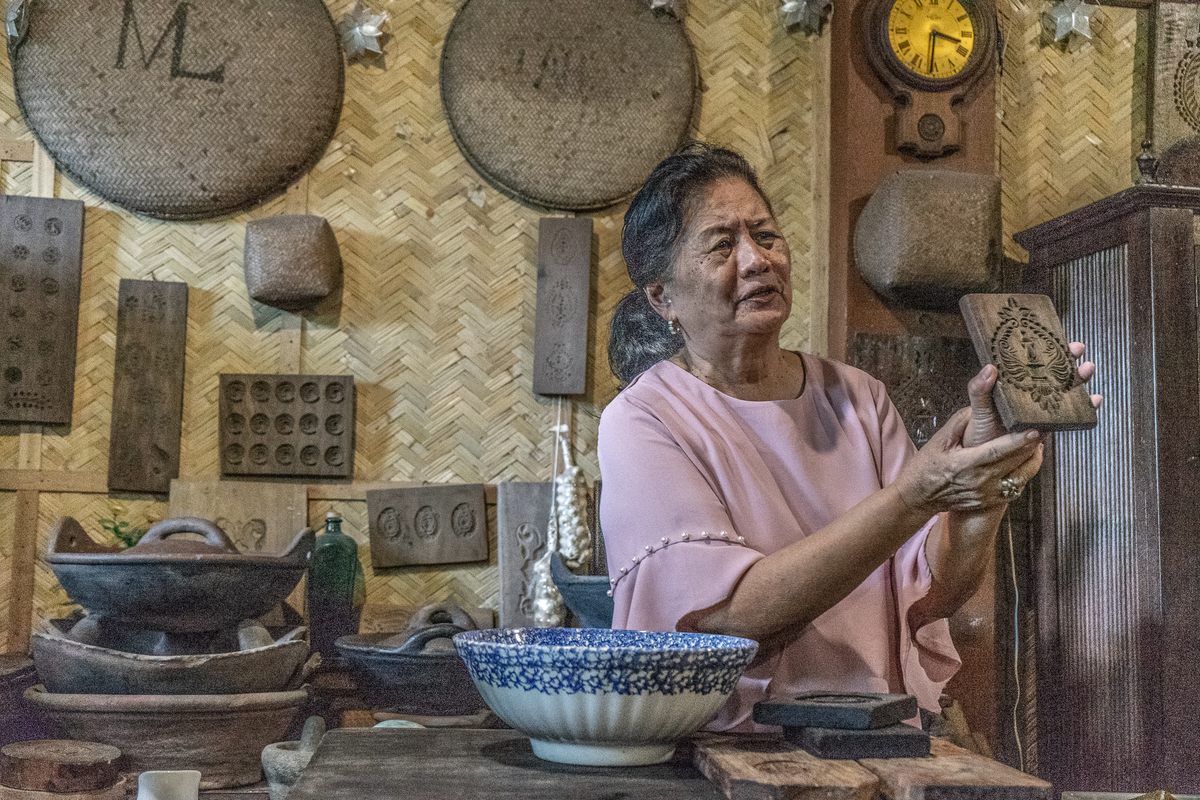 Lillian mentions that she also has a favorite recipe for leche flan, one of the most popular Filipino desserts. This is another egg-centric dish that was brought to the Philippines by the Spanish. And in these and other cases, the availability of egg yolks, leftover from church construction, greased their adoption.
"The extensive use of egg white and eggshells brought about the ingenuity of the Filipino women who saw all these egg yolks being thrown in the river," writes Lim-Castillo. "Recipes were created to make use of the egg yolks, like pan de San Nicolas, yema, tocino del cielo, leche flan, pastries, and tortas."
The introduction of concrete in the late-19th century made egg-white construction a thing of the past. But by then, eggy desserts were on a solid foundation. Lim Castillo describes them as "comfort food for Filipinos" that have survived to today, and many have taken on distinctively Filipino adaptations. Perhaps the best example is halo-halo, a frozen Filipino dessert that mixes a rainbow of ingredients and flavors, including leche flan, which often tops the treat.
In her restaurant, Lillian brings out her finished San Nicolas cookies. They are soft, sweet, and almost buttery. She then unveils the leche flan she has been hiding. As I dig into this hearty Filipino dessert, she laughs and says, "You can always taste the egg yolks."
Gastro Obscura covers the world's most wondrous food and drink.
Sign up for our email, delivered twice a week.