Found in the Trash: A Rare World War I Artillery Shell
Nothing like an explosive discovery on garbage day.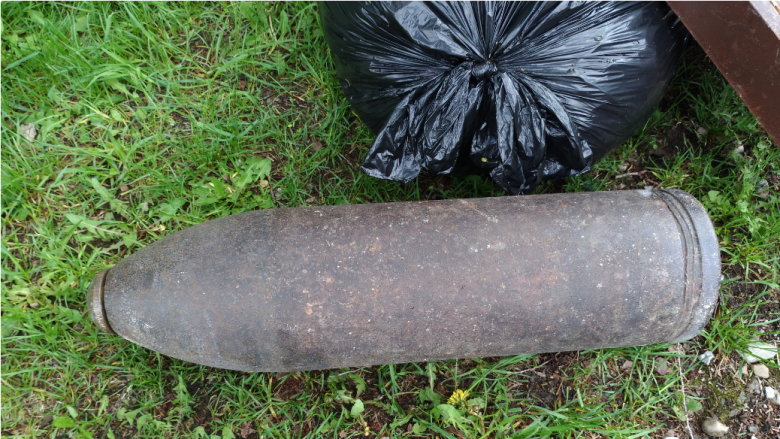 One Ontarian has gotten away with life and limb after stumbling upon a live artillery shell in the most unexpected place.
Last Tuesday, on garbage day, Danny Vellow was heading to a doctor's appointment in the southwestern city of London. He hopped the fence in his backyard, and landed on what looked like a giant bullet, next to a full trash bag.
"Lo and behold, I almost stepped on the bomb. I was like, 'Holy heck, eh?" Vellow told CBC.
He dialed 911, reported the discovery, and a police officer arrived at the scene. When Vellow pointed out that the explosive was a mere three feet away from the vehicle, the police office slowly backed "way down on the other side of the street,"and called for the bomb squad. Just as a precaution.
The Canadian Forces Explosive Ordnance Disposal determined the shell was indeed live, filled with 20 to 30 pounds of explosives, and dated back to the first World War. Shells from this era are quite common in Europe, where much of the two major wars were fought, how did a shell turn up oceans away in London, Ontario?
"There are old military ordnances and firearms out there. Some people collect them, have them, they've been passed down from generation to generation and you don't know if it's live," said police constable Sandasha Bough.
Vellow suspects some evicted renters may have forgotten a few things when the landlord kicked them out.
"They were only there for four months," he said. "Those idiots had that in their house."