The Last Days of Berlin's Gas Streetlamps
Looking at the German city in a different light.
It's a warm spring evening in Chamissoplatz, a leafy square in Berlin's Kreuzberg district. As the murmur of conversation spilling out of local restaurants blends with children's laughter from the nearby playground, something magically mundane is about to happen. It starts around sunset with the clicking sound of the neighborhood's beloved gas lamps firing up. Then comes the familiar golden glow Berliners have lived by for nearly two centuries.
But these scenes are fading fast in the city home to more than half the world's working gas streetlamps. Since 2011, the German city has been working on converting them to LED alternatives—a process brought back into sharp focus by climate change and Russia's war against Ukraine—leaving conservationists feeling that Berlin is losing something with enormous cultural and practical value.
Gas lamps have been a part of the city's landscape since they first lit Unter den Linden, Berlin's central boulevard, in 1826. In the years before the Second World War, there were some 80,000 gas lamps in the city. That conflict destroyed about 80 percent of Berlin's street-lighting infrastructure, but unlike most postwar European capitals, Berlin restored the gas lamps instead of replacing them with more modern lighting, especially in the city's western half. West Berlin's administration made this decision to avoid overreliance on one energy source, a move which seemed particularly wise after the Soviet Union blockaded the city from June 1948 until May 1949. For many West Berliners, the lamps symbolized independence from communist East Berlin, which built a predominantly electric network.
By the time the Cold War thawed, about 44,000 gas lamps illuminated Berlin; that number is closer to 23,000 today. Five iconic designs survive, including crooked-looking lamps shaped like towering bishops' croziers and neo-Gothic lanterns based on the designs of Prussian architect Karl Friedrich Schinkel. Each burns between four to nine mantles.
The first genuinely concerted effort to replace the lamps came in 2007, when the Senate, Berlin's governing body, started arguing that gas is inefficient, expensive, and dirty; a four-mantle lamp's annual energy consumption is just shy of that used by a three-person household. According to official figures, switching to LEDs will cut the city's carbon dioxide emissions by 9,200 tons and save about $25 million yearly. After quickly gaining approval, the Senate's refit program began in 2011. With an average of 2,000 lamps converted annually, it will take another ten years to complete the overhaul.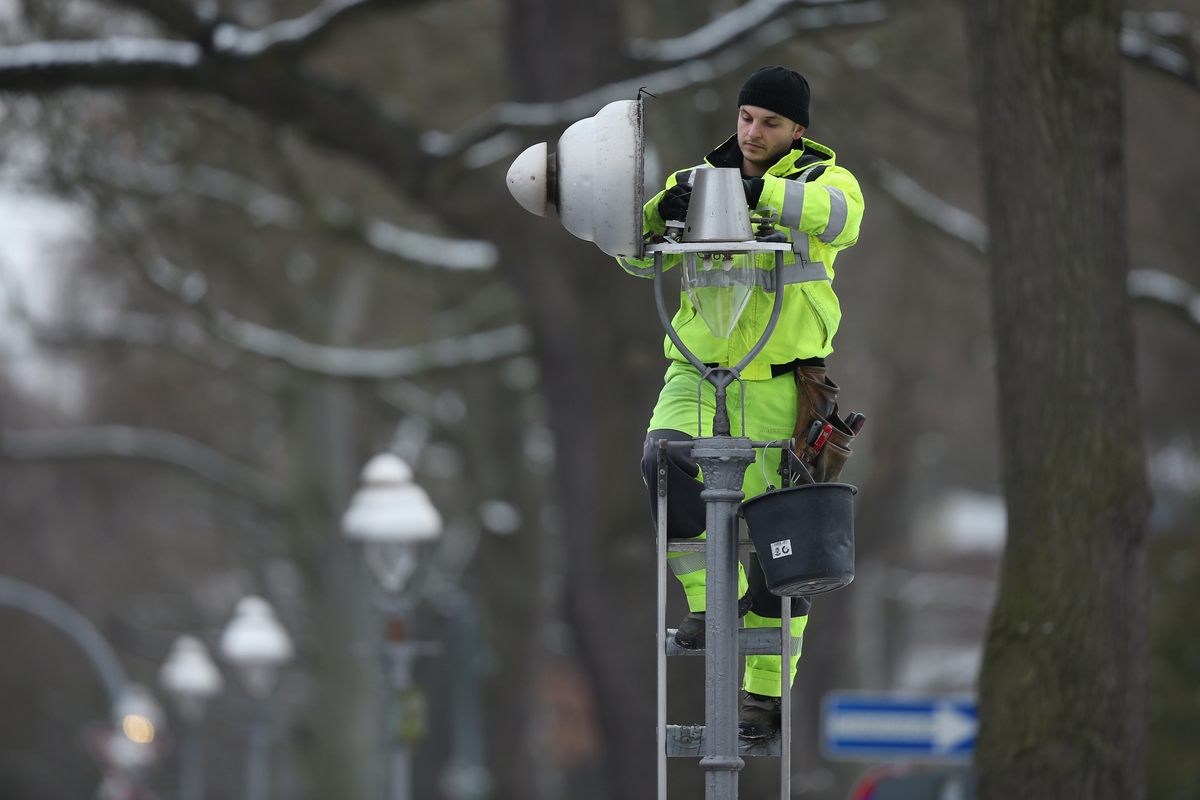 "I can't imagine Berlin without gas lights," says Bertold Kujath, founder of Gaslicht-Kultur e.V., an association defending the lamps' cultural value. When we meet outside the wrought-iron gates of Schloss Charlottenburg for a bike tour of the area's lamps, he recalls childhood memories climbing their masts. "Look, it's on!" he exclaims as a nearby Schinkel lamp flickers to life in the dusk.
Although Kujath has been campaigning to protect the lamps since the mid-eighties, he founded Gaslicht-Kultur in 2010, just before the Senate approved the conversion work. At the time, he believed it necessary to "put a name to the face" of the preservation movement and establish a formal entity. Efforts to save the lamps gained steam in 2014. Well-attended public meetings hosted by the association, recognition from the World Monument Watch, and experts calling for UNESCO protection drummed up widespread support. The fear was that Berlin's officials were scrapping not only the city's industrial heritage but also a working part of its infrastructure, the scale of which exists nowhere else in the world. This pressure forced the Senate to spare 3,300 lamps from conversion across Berlin.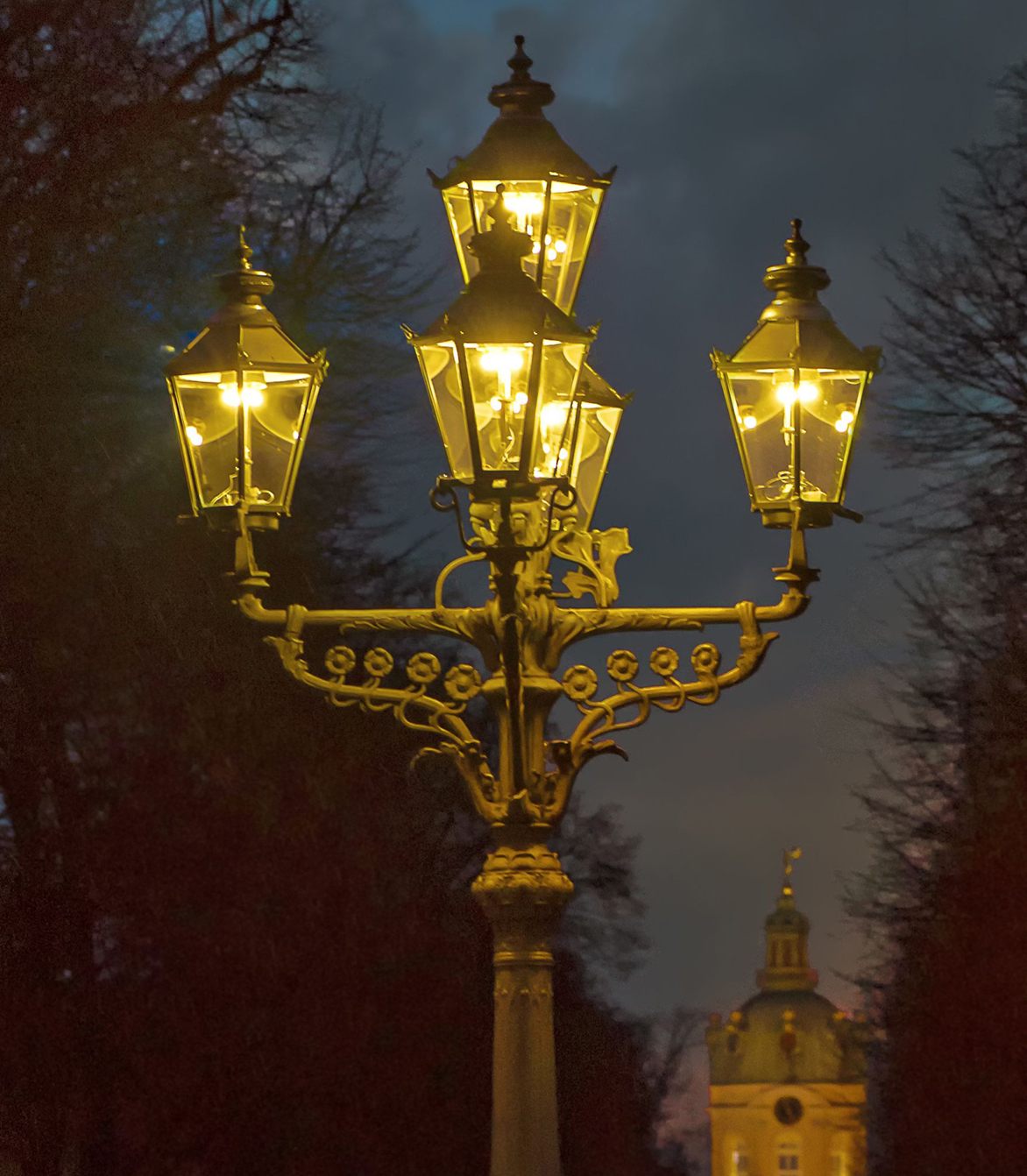 As we cycle down a wide avenue, a solitary five-armed candelabra comes into view. With only two lanterns aflame, its imposing silhouette looks forlorn in the darkness. Describing its former glory, Kujath voices concern that these protected lamps are now at risk. When quizzed on this, the Senate admits to exceptions. "There are areas where we're allowed to refit, although they're under preservation orders. Those lamps are being refitted in a way that the LEDs are virtually indistinguishable," says Sara Lühmann, a Department for the Environment spokesperson. But a resolution passed in 2022 gave special priority to exchanging the lamps – their replacements need only consist of modern LEDs mounted on plain lampposts.
The backdrop of another war, a cost-of-living crisis, and soaring gas prices have made the plight of the lamps more precarious. It would seem, unsurprisingly, that people's attention is elsewhere. Once sympathetic, the media too are quick to criticize the lamps. RBB24, a popular regional news outlet, labeled them "energy guzzlers" in a piece last year. The article's comment section is even less forgiving.
Given current events, is there time for nostalgia? According to Stephan Völker, vice president of Berlin's Technische Universität, the answer is no. "Considering gas lights from a technological point of view, there's no reason to keep them on the streets," he says, "they belong in a museum." For Völker, a leading light technology expert who's developed LED alternatives for the Senate, running the lamps is "irresponsible," and replacing them should be a top priority.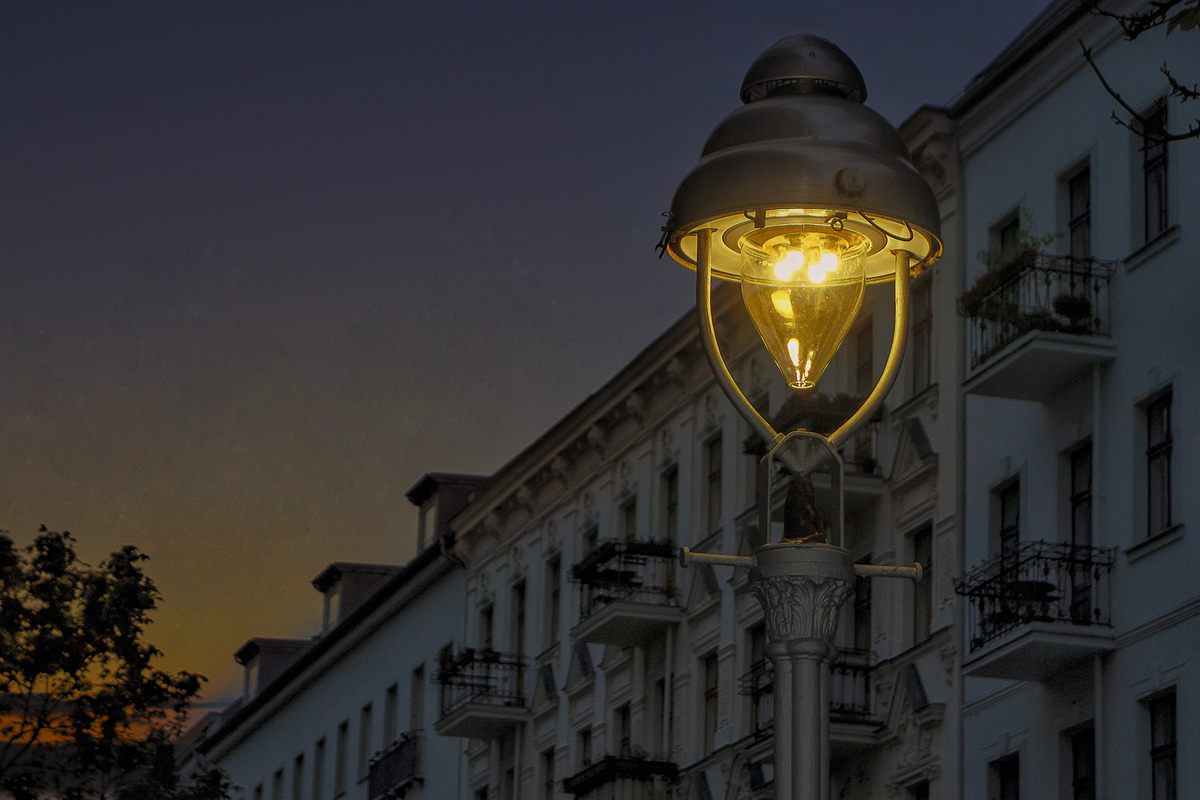 Kujath counters with his own environmental concerns. Electricity still needs a source—like burning coal, which Germany has become 19 percent more reliant on since Russia invaded Ukraine. Electric lights also have a grim impact on the local ecosystem. During a summer night, one light kills roughly 250 insects; by comparison, gas is harmless. Nevertheless, he feels these arguments won't stop the Senate.
At the end of our tour, Kujath appears resigned to the lamps' fate. His only hope is that Berlin's stodgy bureaucracy slows things down. For him, LEDs aren't the same as gas. "We have to understand them as a cultural object that has to be preserved. Gas lamps are unique to Berlin, just like gondolas are to Venice and trams are to San Francisco," he says. In a city where the embers of history still smolder, the outlook for these storied lamps doesn't seem so bright.