A Secret Cupid Is Emerging From a 17th-Century Vermeer
It's been known for decades, but recent work showed that it had been painted over after the artist's death.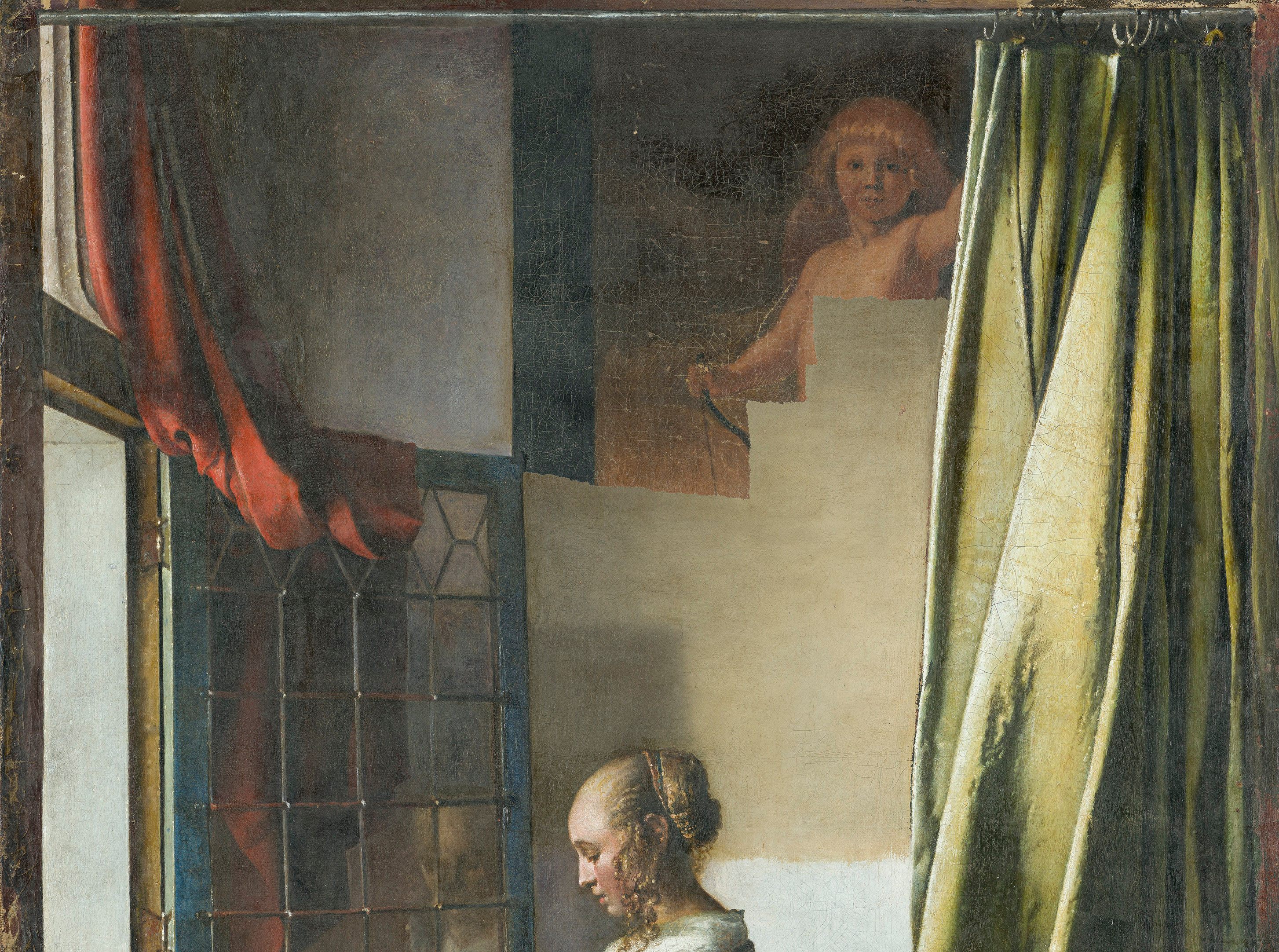 Art conservators at Dresden's Staatliche Kunstsammlungen have recently discovered that a famed painting contains more than meets the eye. During a routine round of conservation on Johannes Vermeer's 17th-century Girl Reading a Letter at an Open Window, the art detectives realized that a section of the canvas had been painted over after the Dutch artist's death in 1675, concealing a cupid figure. Conservators are now going to great lengths to restore Vermeer's work to its original state.
Arthur Wheelock, the former curator of northern Baroque painting at the National Gallery of Art in Washington, D.C., is serving as a consultant on the work. He first encountered the painting in 1978, when he was looking at Vermeers under a microscope as research for a book. "We discovered that all sorts of changes occurred," he says. X-ray images conducted then revealed that a cupid figure (a painting within a painting) was hidden under the bare wall behind the central figure. New work in Dresden, however, showed that the overpainting—previously thought to have been done by Vermeer himself, which is why it was not removed sooner—was actually the work of some unknown hand.
Christoph Schölzel, Staatliche Kunstsammlungen Dresden's painting restorer, began working on the canvas in 2017. With the help of infrared reflectography imaging and microscopic analyses, he found that a thick layer of varnish was yellowing the colors beneath it. "The old paint was yellow enough to match the surrounding varnish so we know it was applied sometime after Vermeer applied the varnish," says Wheelock. After sending the painting off to the Dresden Academy of Fine Arts for testing, the conservators were able to determine that the varnish post-dated the artist's death. So, in 2018, they decided to free the cupid.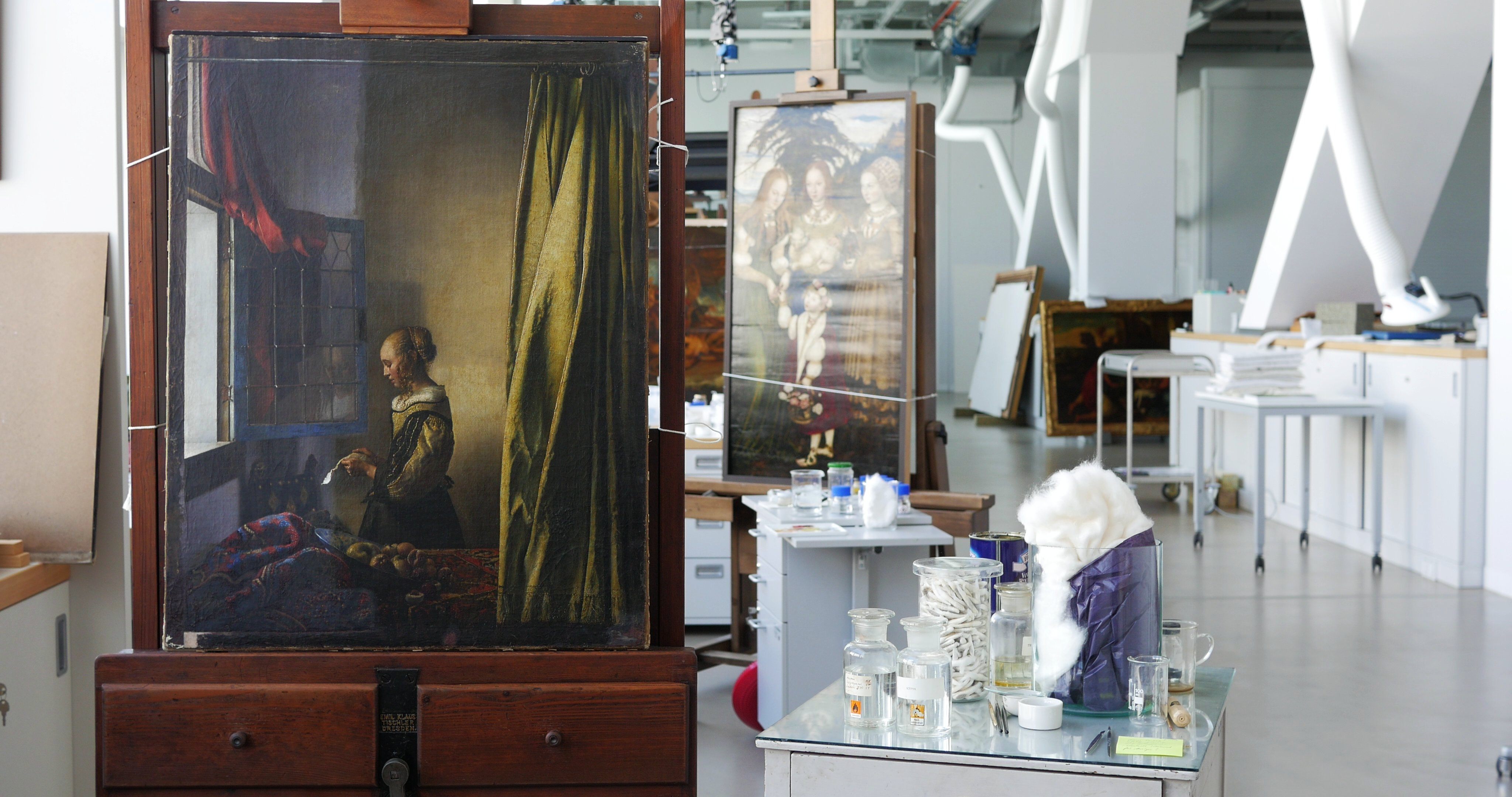 To preserve the delicate paint and original varnish layer, Schölzel is painstakingly removing the top layer with a scalpel, as opposed to a solvent, which could eat away at Vermeer's earlier work. To date, the cupid is about half revealed, and Wheelock estimates it will be another year before the figure is fully exposed. The museum has decided to leave the painting on display during the conservation work so that visitors can see the process unfold.
Vermeer painted Girl Reading a Letter at an Open Window between 1657 and 1659, and it was gifted to the city of Dresden in 1742. Wheelock believes that the cupid was concealed some time between these dates. Vermeer's work was relatively unknown at the time, and often attributed to more popular painters, such as Rembrandt. "I'm wondering if the cupid might have been a very uncharacteristic Rembrandt component, so someone said 'Cover that cupid up,'" Wheelock says.
The changes affect both the aesthetics and meaning of the work. With the cupid figure now partially revealed, Vermeer's intention to have the painting be a meditation on love has become more obvious. After all, the letter the girl is reading has long been thought to be a mash note. Wheelock is excited about the vividness that has long been lurking beneath the surface. "The incredible sense of light and color and touch had been revealed by the varnish—which has been on there for centuries—and you now have amazing light features that had been suppressed," he says. "To see Vermeer's light effects coming back and looking slightly different now with this restoration … that's what is exciting to me."
This rare reveal is exciting and suspenseful for the art professionals conducting the work. "In this case, because it's such a radical new visual experience, most of us working on it are wondering what it is going to be like to fully see that cupid behind the woman's head," says Wheelock. "We're still exploring a lot."