The Hidden Lives of Laundry Workers in Pakistan's Biggest City
Karachi once depended on its dhobi ghat. Now the neighborhood is struggling to survive.
Along the banks of the Liyari River in Karachi, Pakistan, a vast outdoor laundromat stretches for more than a mile. The largest and oldest open-air washing facility in a city of 15 million, Juna Dhobi Ghat has been home and workplace for thousands of dhobis, or professional laundry workers. This centuries-old community can seem wary to the point of mistrust. Muhammad Naqeel, a third-generation laundry worker in his fifties, stands beside a clothesline of weather-beaten towels. "If you're here for a detergent commercial that will humiliate us, it's already been done," he says. But efforts to earn his trust eventually pay off, and his wrinkled face rearranges itself into a smile.
Naqeel is one of the last few dhobis in Karachi. He learned the trade from his father, starting when he was eight. In the dhobi ghat of his childhood, dhobis lined up early—often starting at 4 a.m.—just to get a turn to wash their ample bundles of clothes. After they completed the sorting, marking, washing, flogging, starching, drying, and ironing process, they loaded the clothes on to their donkey carts for delivery. Naqeel accompanied his father to family homes to tally clothes, where he felt like "one of their relatives."
In the years after 1947, when Partition split the subcontinent into India and Pakistan, dhobis served as a marker of social status and stability. "The weekly visit of the dhobi was an integral part of our childhood," says Almas Riaz, a program director at an elementary school. "Inviting the dhobi to a family wedding, or attending his, was not unheard of." Some Pakistani students still sing poems about dhobis, to learn to count in Urdu.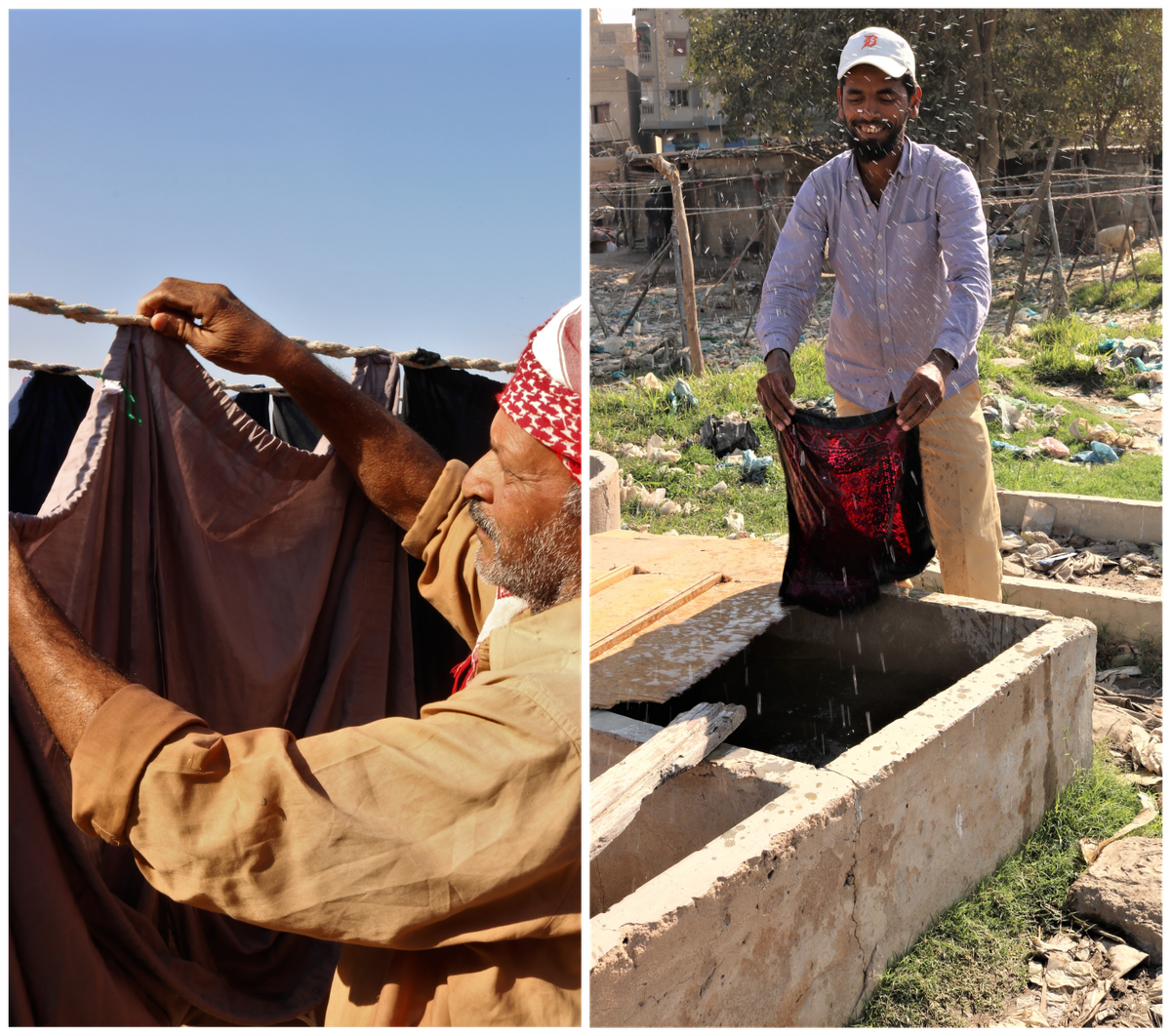 But this nostalgia is fading, says Sajjad Ahmad, who teaches social science courses at the Institute of Business Administration in Karachi. "Now, decision making has shifted largely from older generations to this lot in their 30s and 40s, who are choosing convenience over tradition," he explains. Ghazanfar Bajwa, a graduate student, adds, "During Pakistan's industrial development, we've moved towards mechanization. More middle-class homes have washing machines."
Today, Juna Dhobi Ghat seems faded and at risk of irrelevance. Its poverty sets it apart from similar neighborhoods in India or Singapore; it has resisted modernization and subsequent economies of scale. Coal-powered irons remain the norm, and electric washing machines remain uncommon. Kilns rage to "cook" out stains. Instead of paying for clothespins, dhobis here ingeniously intertwine their clotheslines between precariously anchored bamboo poles. Disintegrating ropes still stretch over crumbling cement tubs.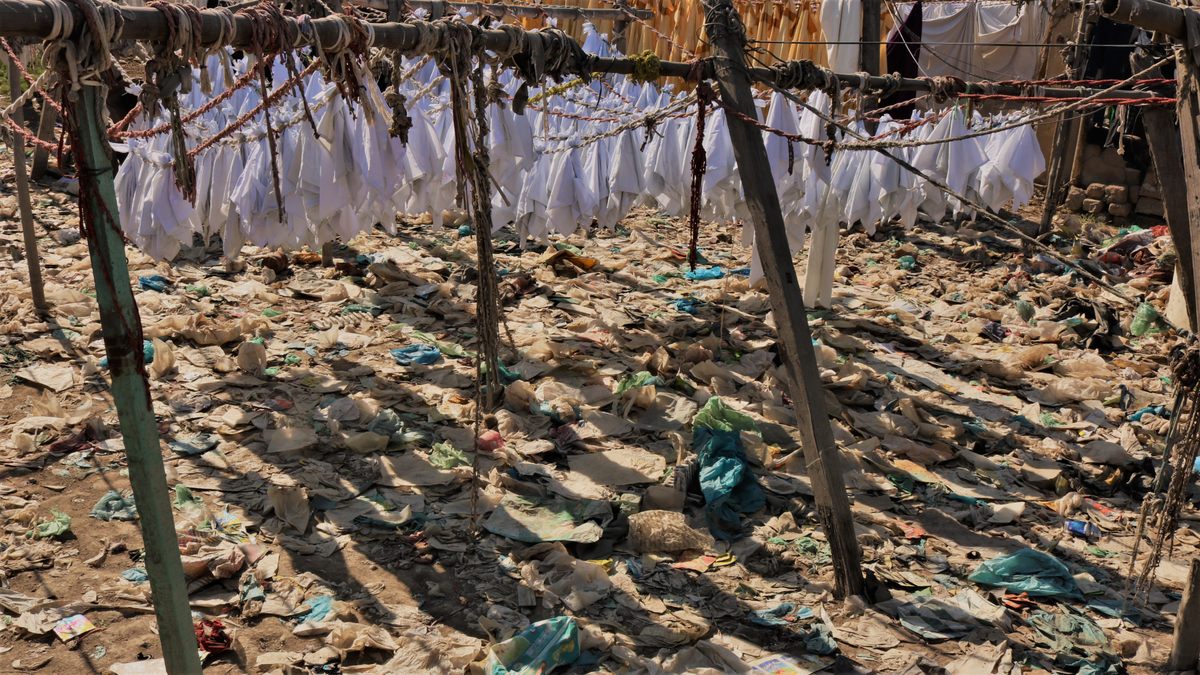 At 9 a.m. one morning, which is typically time for a last dash of clothes wringing, only a few weary dhobis are trickling in. They count and sort their bundles, hoping to reach that elusive saikhra, which means 100, Naqeel says. He and his peers wash 100 items of clothing for 1,000 Pakistani rupees—less than $7, including donkey-cart delivery. (The cart is expensive in itself: To purchase one, dhobis often join an informal money-lending system called a committee, and feeding the donkey costs around two dollars a day, Naqeel says.)
Farther down the bank, the acrid smell of chemicals coalesces with smog and waste in the river. The term "river" may be a misnomer: "The Liyari River was historically a river with clean water, but unplanned urbanization and dramatic population increase have rendered it a channel for sewage and unfiltered industrial waste," says Ahmad, the international relations lecturer.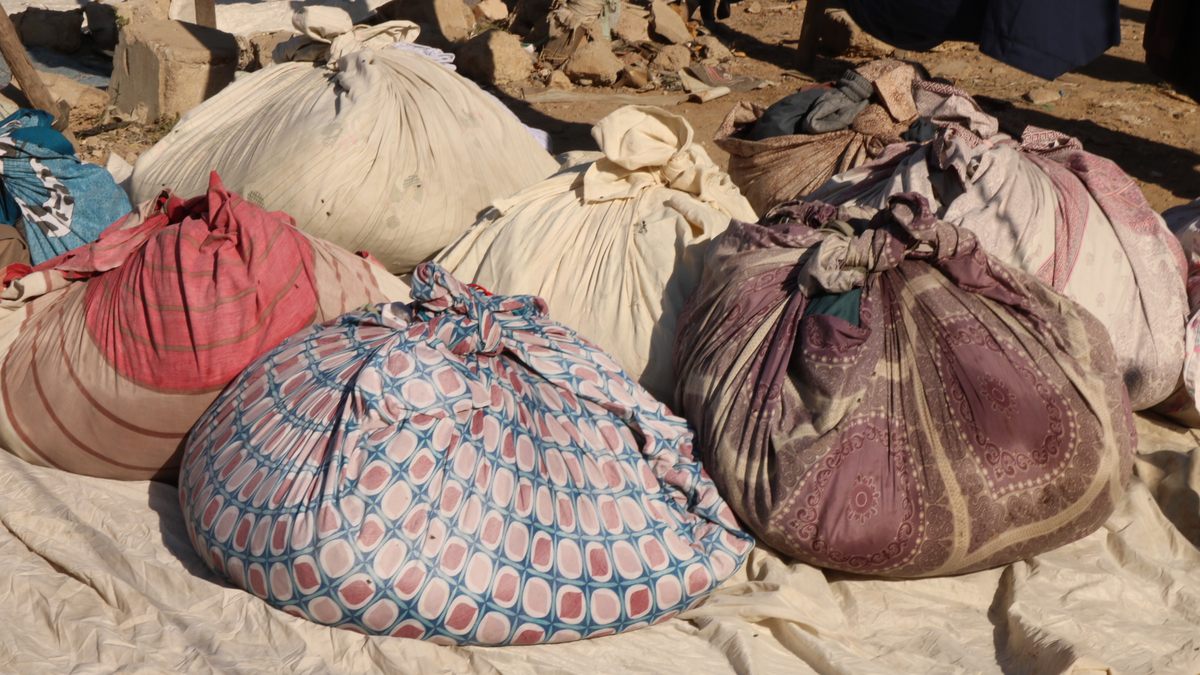 The disappearance of clean water was an existential threat to business for dhobis. In 2017, following the first detailed study of the river, one of Pakistan's leading newspapers ran a story about the "toxic river" and its risks to public health. It described high concentrations of cyanide, lead, arsenic, and phenol, which can cause cancer and other conditions.
Concerns about hygiene escalated with the construction of the Liyari Expressway, in 2018. "Our civic authorities failed in garbage disposal," says Ahmad. "The heaps of garbage around the dhobi ghat stink and often give a foul smell to clothes." Forced evictions by the Karachi City Government made way for construction, shrinking the area available to dhobis.
Naqeel insists that dhobis are conscientious. "We take clothes home to wash in clean water, then lug them back to dry." Eight hours of daily power outages and frequent gas shortages don't help. He says that he and his wife often sleep only a few hours, so that they can complete the ironing process.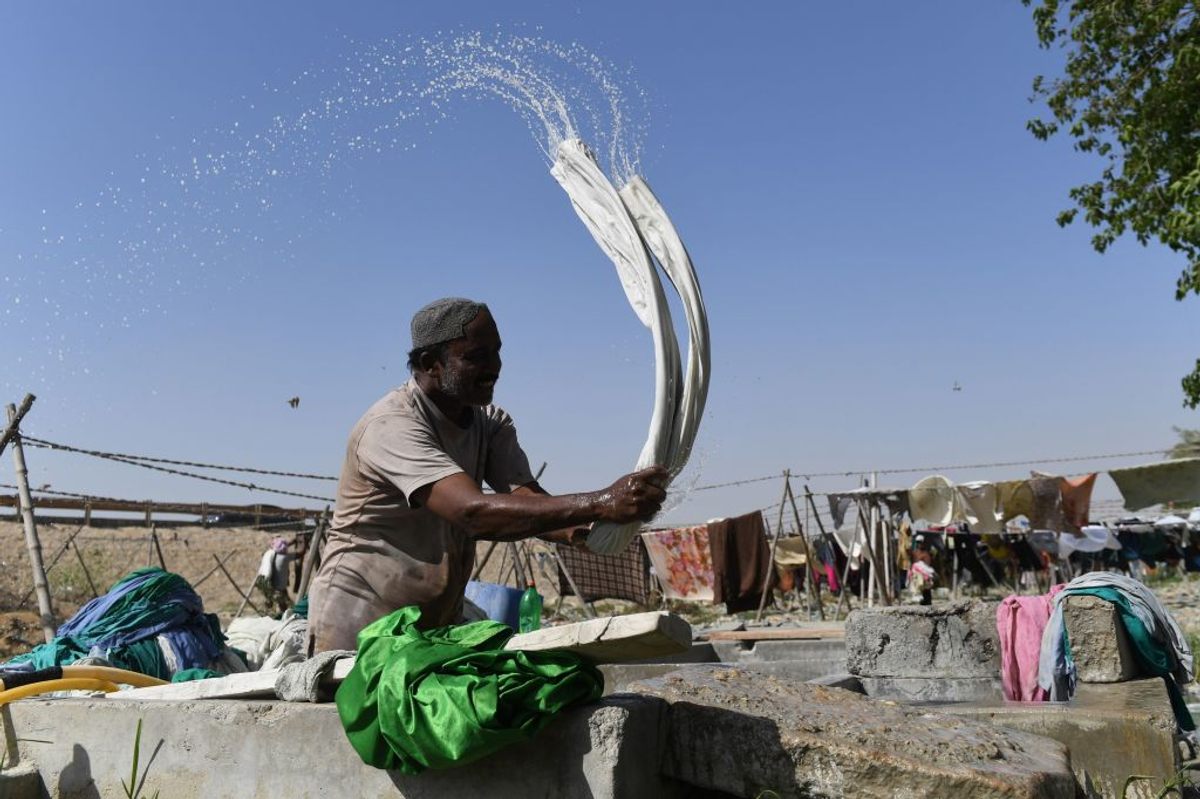 According to Naqeel, many Pakistanis lack respect for the workers who do their laundry. "We all have the right to dignity," he says. Recently, he visited the grandchildren of a family he had served for decades. They offered him water—but it came in a grimy plastic cup. "I wash your clothes, which are apparently clean enough for you to pray or attend weddings in," he remembers telling them. "But when it comes to drinking from the same glass, you deem me dirty, sub-human." Naqeel now prefers to get his business from the dry-cleaners, who outsource their excess laundry.
The ghat is a part of Naqeel now. After years of work with harsh chemicals, his hands are weathered and scarred. When he created a bank account, his severely eroded fingerprints did not register on the biometric verification machine.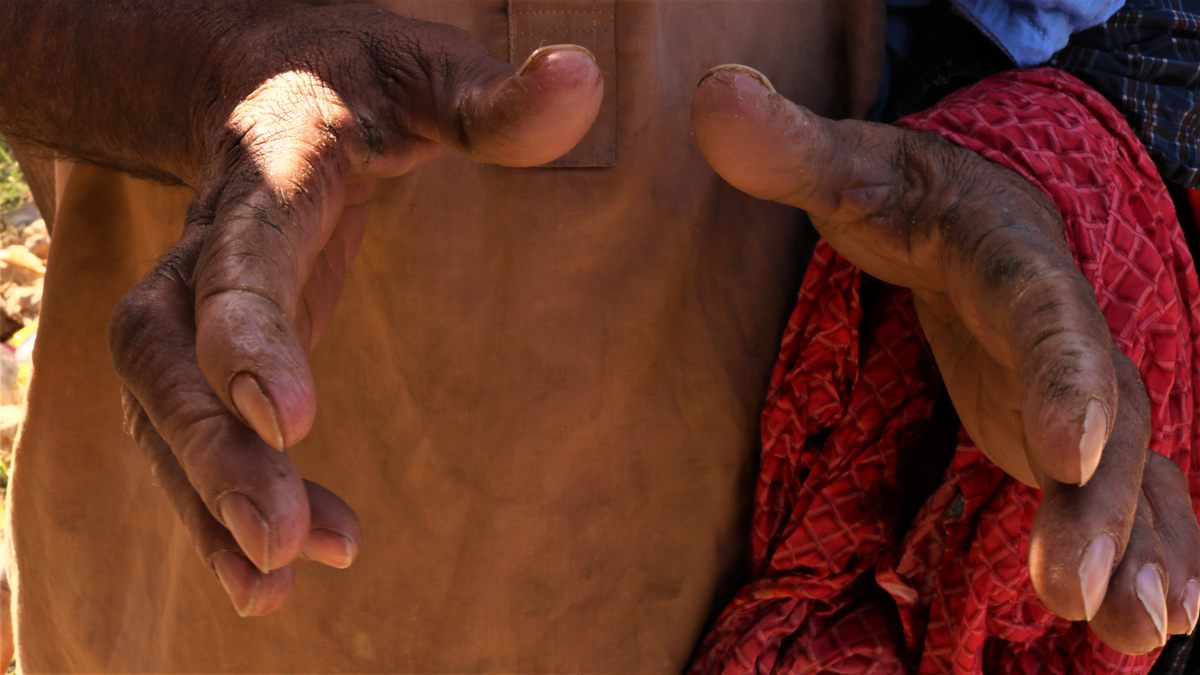 Muhammad Jameel, also a third generation dhobi, finds his business the old-fashioned way, because he does not want to pay a middle man. Sitting under a makeshift tent, made from a blanket draped over clotheslines, he and others mark clothes. It is quieter here; the sound of bulldozers and overhead traffic is muffled, and there is great solidarity amongst the dhobis. It is nearly lunch time, and these men always eat together.
Jameel's eyes shine with pride when he talks about his son, who went to primary school and now works as a salesman in a local retail shop. Through his connections, Jameel has gotten a few customers in more affluent neighborhoods of the city. His greatest fear now is losing an "imported item," which could set him back weeks in earnings.
As he talks, Jameel stacks the clean clothes on his shoulder. Will he ever leave the profession? "My grandparents, parents, and family members are all buried right over there," he says, pointing toward the nearby Mewashah cemetery. "We never really leave the ghat."
You can join the conversation about this and other stories in the Atlas Obscura Community Forums.