A Sweet Spin on Lunar New Year Treats
Asian-American chefs and pâtissiers are reimagining traditional confections and snacks.
THIS ARTICLE IS ADAPTED FROM THE JANUARY 28, 2023, EDITION OF GASTRO OBSCURA'S FAVORITE THINGS NEWSLETTER. YOU CAN SIGN UP HERE.
Since 1924, customers have faithfully lined up at Eastern Bakery, the oldest continually operating bakery in San Francisco's Chinatown. "A lot of people come over and tell me, 'Thank God that you're still around after 99 years!'" says owner Orlando Kuan.

Eggy custard tarts, glazed pineapple buns, and sweet sesame balls line the cases here. Many of the recipes are closely guarded secrets, which have remained virtually unchanged for the better part of a century.

"The sesame ball is something [bakers] have been making for 2,500 years—how are you going to change that?" Kuan says. "We just use the highest quality ingredients and do our best to make them right."

Many of the mom-and-pop bakeries in Chinatowns across the United States have their roots in baking styles popular in Hong Kong and Taiwan. Jewel-like mooncakes, beloved in mainland China since the Tang dynasty, sit alongside flaky egg tarts, which originally made their way to Singapore, Hong Kong, and Macau via Portuguese merchants. Then there's the airy chiffon cakes, an American invention from 1927 that's since gained a firm foothold in Asia.

"The older, immigrant generation bakers tend to stick to what they know and they are good at that," says Heather Wong, the founder of Flouring LA in Los Angeles's Chinatown. "You can rely on these bakeries to provide cakes that taste exactly like the ones you remember from 30 years ago."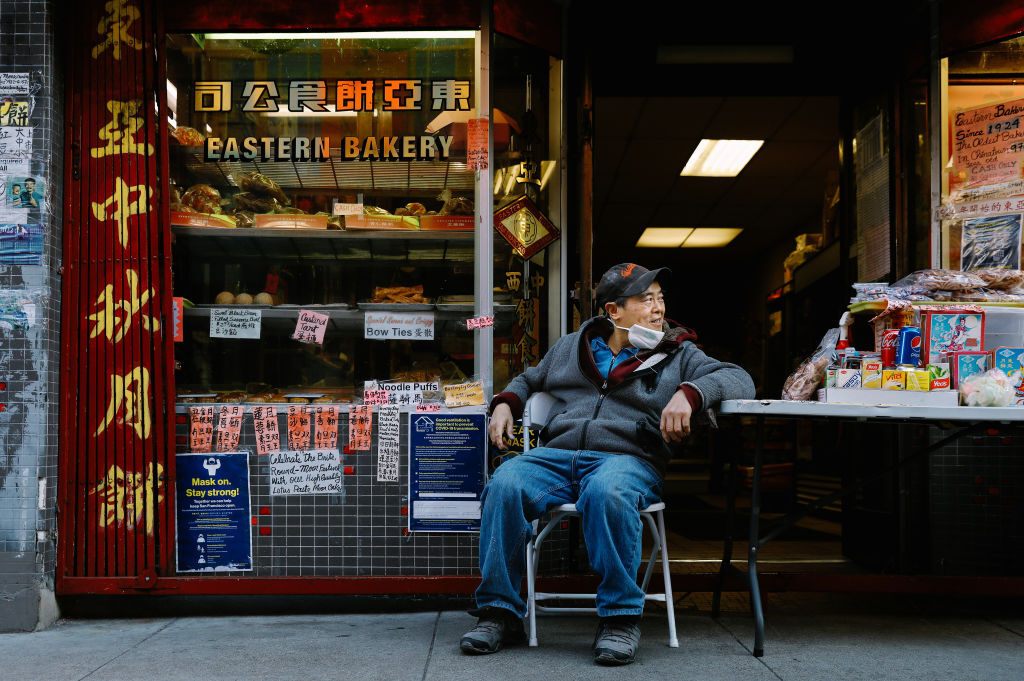 As much as Wong loves the confections found in traditional Chinatown bakeries, she and other young Asian-American bakers are also putting their own spins on traditional sweets. For Lunar New Year 2023, she's preparing a whole assortment of sweets, including cake bars filled with either crunchy black sesame butter or sweetened adzuki beans.

Growing up, she remembers adults insisting on very light, not-so-sweet desserts. "We want to please the elders, but also we grew up in America," Wong says. "We've grown up on Twinkies and doughnuts and things that are much sweeter and more substantial." Her desserts draw on her experience in French and American patisserie, as well as the flavors from her childhood. "It's a natural evolution of Asian desserts."

For Emmeline Zhao, managing partner at Silver Apricot, a contemporary Chinese-American restaurant in New York, traditional Chinese sweets served as a jumping-off point. "A lot of Chinese pastries and cookies are specifically designed to be consumed with tea, so they don't necessarily stand alone," Zhao says. "What we really wanted to do was to take that element of American cookie craveability and combine it with the inspiration of Chinese sweets you'd have for New Year."

For Lunar New Year, the restaurant is offering cookie tins filled with a mix of sweet and savory nibbles like scallion pinwheels and Pu'erh tea shortbreads. Lacy, crisp doilies are Zhao's riff on hup toh soh, the crumbly walnut cookies. Meanwhile, black sesame palmiers are a nod to tāngyuán, glutinous rice balls stuffed with black sesame paste swimming in a light syrup.

"Black sesame tāngyuán is so symbolic of Chinese or Lunar New Year, we wanted a representation of that in the cookie box," Zhao says. "We felt like a flaky, sweet palmier was a perfect vehicle for that."

Aside from the fact that they're delicious, tāngyuán are a popular snack for the Lunar New Year because their name sounds like "reunion."
"The Lunar New Year is, over the course of roughly two weeks, the largest migration of people in the entire world," Zhao says. "That's because the Lunar New Year is about unity. It's about the coming together of friends and family."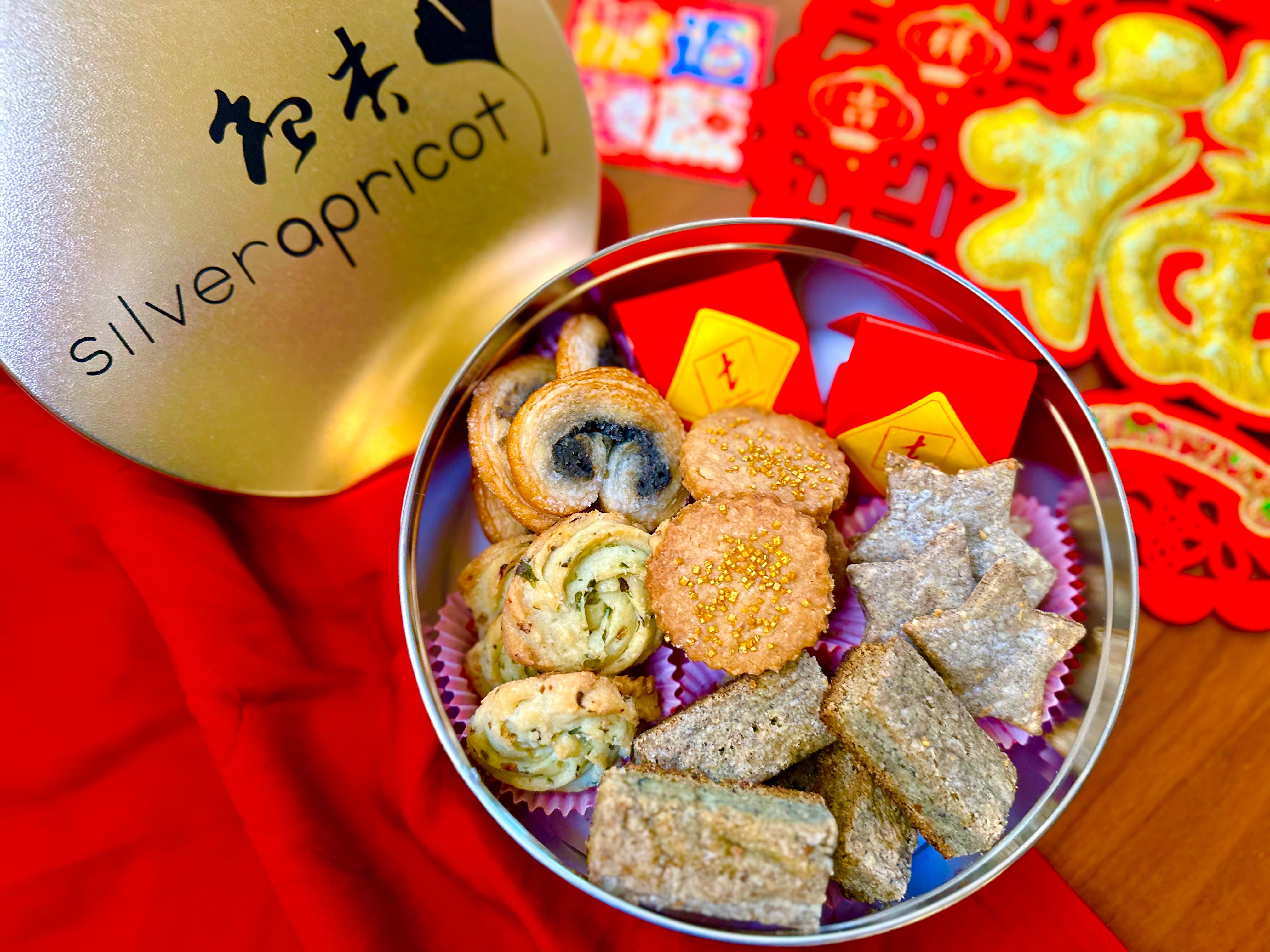 Eddie Zheng, who co-owns The Little One, a dessert shop in Manhattan's Chinatown with his wife Olivia Leung, has particularly strong memories of Lunar New Year. In between passing out red envelopes and watching the lion dances, much of his family celebrations revolved around meals.

"Lunar New Year celebrations and traditions mean a lot to the both of us," Zheng says. "That's because that was usually the only time our hard-working parents would take a day off, relax, and enjoy each other's company with an abundance of food. For us, the eating begins the night before Lunar New Year, when multiple generations of family get together."

For the Year of the Rabbit, Leung and Zheng are baking pineapple pinwheel cookies inspired by Taiwanese pineapple cake, as well as peanut butter-strawberry spritzes that nod to Chinese peanut candies. Yuzu linzer cookies are their inclusion of citrus, which is a traditional symbol of good fortune.

"We look to offer what we liked to eat during our childhood and bring that little bit of nostalgia as well as showcasing Chinese culture," Zheng says. The couple also teamed up with Kopitiam, a Malaysian restaurant in Chinatown, to collaborate on a very special cake.
"Kyo [owner of Kopitiam] and us were just hanging out talking about the upcoming Lunar New Year festivities and she became homesick," Zheng says. "We remembered her telling us that she would eat these pandan chiffon cakes back in Penang and we wanted to surprise her by making her some."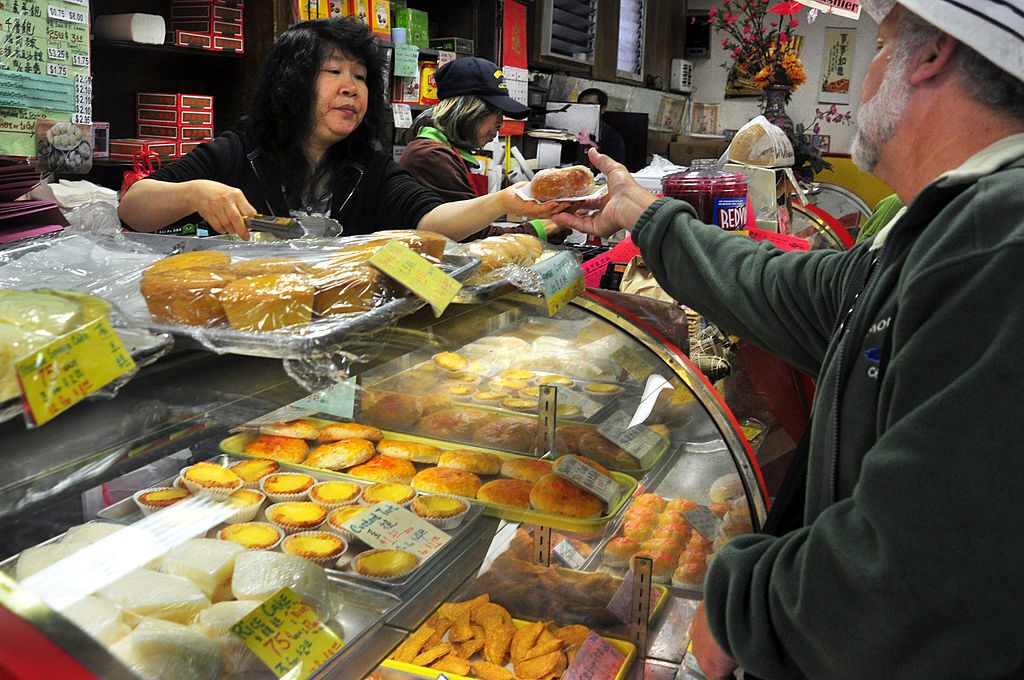 The result was an incredibly light, golden confection with faintest pale green tinge and a hauntingly sweet aroma. "For us, we were excited to work with pandan as it is very underrepresented," Zheng says, describing it as "fragrant with this sweet grassy aroma."
For Daniel Corpuz, founder of his eponymous shop Daniel Corpuz Chocolatier in Canal Street Market, sleek bonbons in the shape of miniature rabbits are on display for the Lunar New Year. As a Filipino-American, Lunar New Year celebrations were not part of his family traditions, but Chinatown has always represented an important community space for him.
Whether traditional or remixed, sweets for the Lunar New Year are ultimately meant to be shared across the generations. Both traditional sesame balls and black sesame palmiers would feel right at home passed around a communal table.
"In Chinese culture, the coming together of friends and family is also centered around having meals together and making meals together," Zhao says. "Food is always at the center. Food, in our culture, is love."
Gastro Obscura covers the world's most wondrous food and drink.
Sign up for our email, delivered twice a week.