How a Black-Jewish Historian Crafts a Hanukkah Meal
Michael Twitty tells the intertwined stories of the African and Jewish diasporas through fried Hanukkah treats.
Legend has it that in the second century B.C., just after Jewish rebels reclaimed their temple from Greek-Syrian oppressors in Jerusalem, a miniscule amount of olive oil kept the temple's sacred flame burning for eight days until they could find more fuel. Today, Jews across the world commemorate this miracle on the winter holiday of Hanukkah by heating up oil to fry myriad foods, each reflecting the cook's heritage, such as Sephardic bumuelos or Ashkenazi latkes.
Michael Twitty, a Black-Jewish culinary historian, likes to add dishes such as Louisiana-style beignets and West African akara, black-eyed pea fritters, to his Hanukkah menu. For him, the fried foods eaten during the festival of light are a way to teach people about the deep connections between the Jewish and African diasporas.
"We have an opportunity to invite people into our homes, to feed them, to show them the roots of the food, to show them how all the concrete things connect with each other," he says.
In his new book, Koshersoul, Twitty tells the story of Black and Jewish people coexisting and, often, creating delicious food together. The book traces this coexistence across history, from the ancient Beta-Israel community of Ethiopian Jews, to early Sephardic Jews who found refuge from the Inquisition in the Afro-Brazilian quilombo of Palmares, to the American South.
Much of Twitty's work focuses on the latter, where Black and Jewish cooks created a distinctly Southern Jewish cuisine that he honors in Koshersoul with his Louisiana-style Latkes recipe. These latkes were inspired by some of the recipes for Cajun and sweet potato latkes that Twitty encountered when reading books such as Matzoh Ball Gumbo and Kosher Creole Cookbook about the cuisine of Southern Jews. These recipes, along with his love of Chinese scallion pancakes, spawned his own version of Louisiana-style latkes incorporating scallions and Creole cuisine's keystone ingredients of onion, celery, and pepper (in this case, cayenne).
Mildred L. Covert, the New Orleans–based author of Kosher Creole Cookbook, "freely acknowledged that [her recipes] came as a result of Black women working alongside and in the households of Jewish women in New Orleans and other places," Twitty says. His latkes' mingling of Ashkenazi and Creole (an ethnic group with Indigenous, European, and West African roots) cooking reflects that complicated story.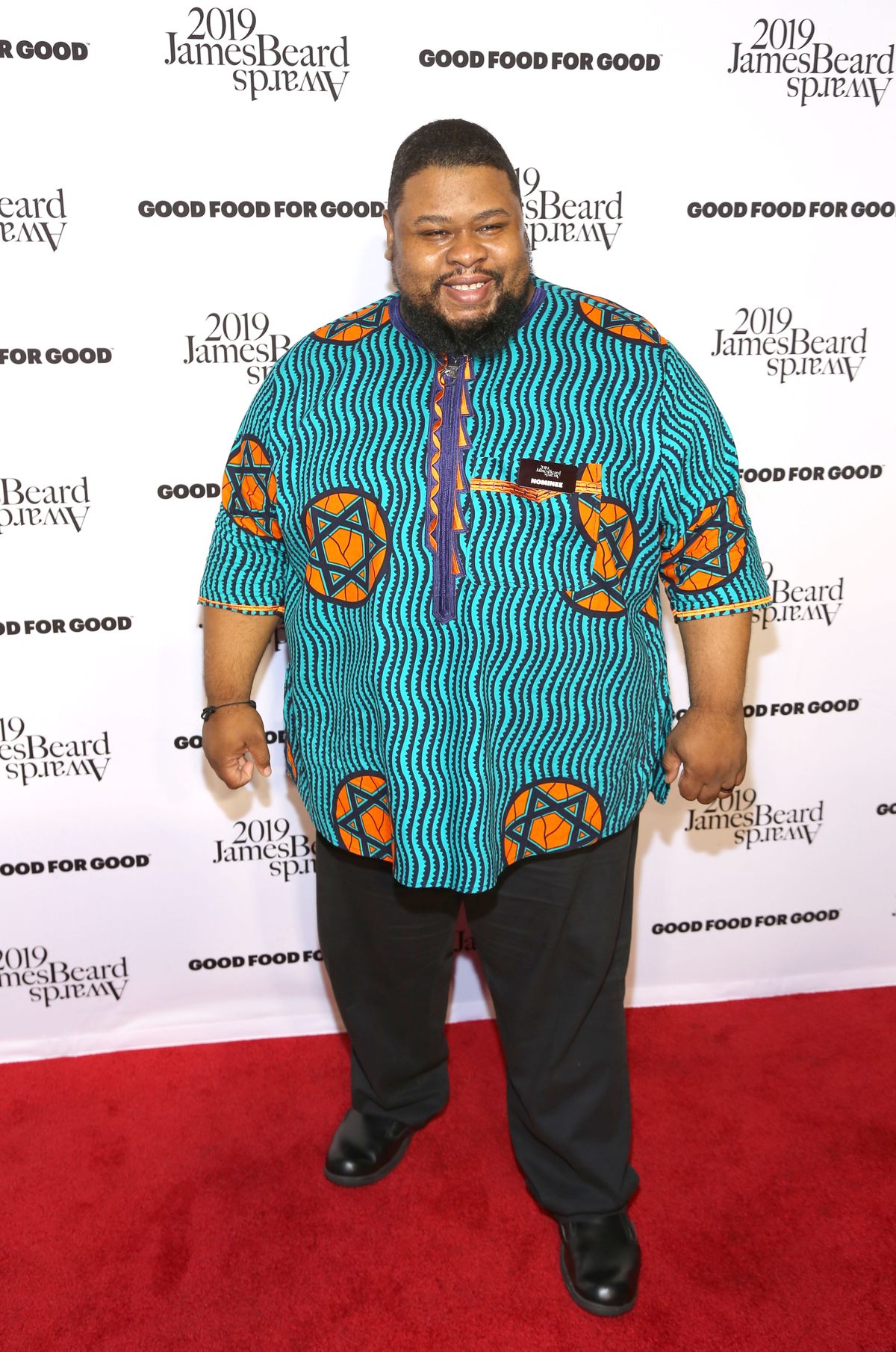 In the 19th and 20th centuries, many Southern Jews employed Black women cooks. "Black women not only worked tirelessly for Jewish families by performing labor-intensive domestic tasks, but through their influence in the kitchen, they helped Jewish families assimilate into a demanding regional culture that required familiarity and cohesiveness," Twitty writes in Koshersoul. Compared to their white gentile counterparts, Southern Jewish women who kept kosher would work on a more "constant and intimate basis" with the Black women they employed, Twitty says, because of the rigors involved in maintaining a kosher kitchen.
As Black women cooked for Jewish families, they introduced them to African-American dishes that became focal points in Southern Jewish cuisine. In Koshersoul, Twitty describes hearing two elderly Southern Jews recount different Shabbat meals consisting of "okra soup, red rice, fried or barbecued chicken, challah, collard greens made with beef bacon or sausage, and peach cobbler or pie," both prepared by Black cooks.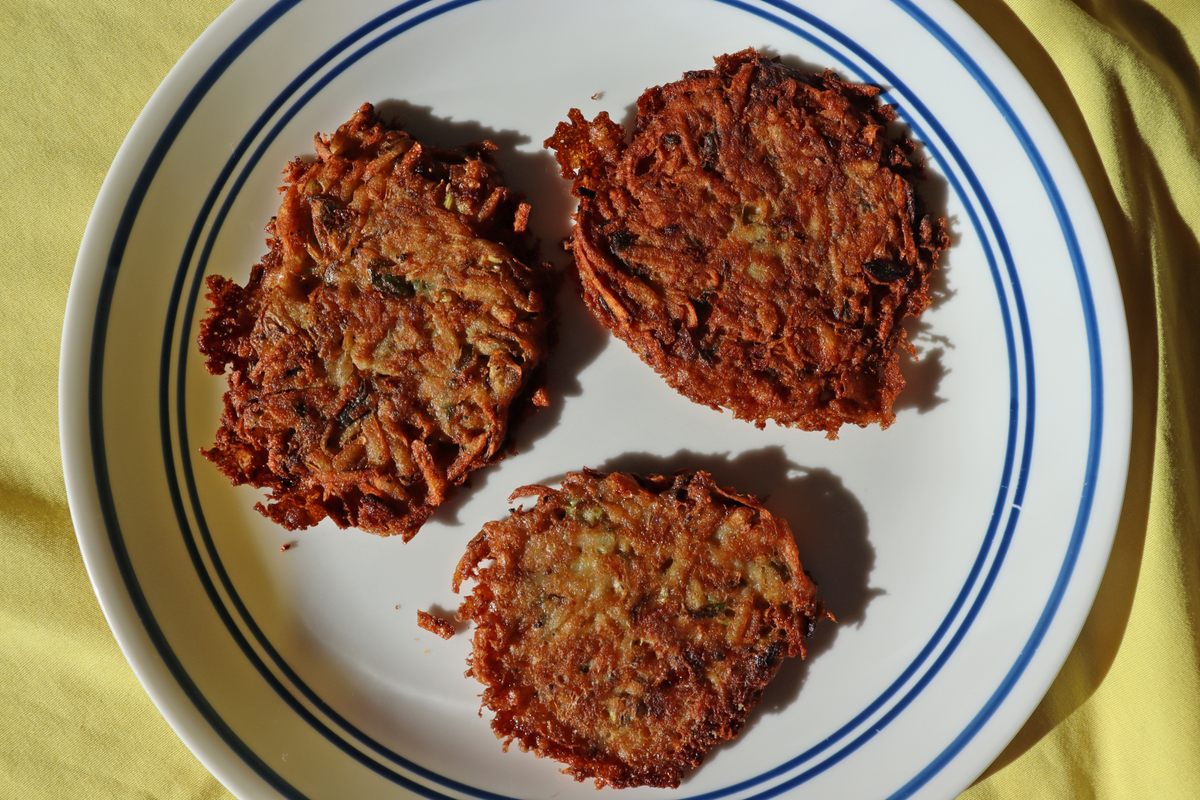 Twitty writes that in researching African-American contributions to Southern Jewish food, he was also striving to find "a culinary voice that could speak to those parts of who I am." In his Hanukkah meal, he celebrates people who, like him, are simultaneously Black and Jewish. His Koshersoul Spring Rolls, for example, tell his own Black-Jewish story—one of a man who grew up in Washington, D.C., in an African-American, Christian family with Southern roots and converted to Judaism at age 25. His spring rolls, filled with collard greens and kosher pastrami, were inspired in part by a chef in North Carolina who introduced him to "soul rolls" stuffed with soul food ingredients and by the "pastrami egg rolls" that he encountered while shopping for tzitzit, prayer tassels in Borough Park, a Hasidic enclave in Brooklyn.
Crispy, savory, and sweet, the spring rolls wrap centuries of Black and Jewish cooking in a crispy, celebratory snack. This Hanukkah, cook them and Twitty's Louisiana-style Latkes in sacred oil and, as you eat, take joy in one more holiday miracle: a night when two of the world's oldest diasporas make delicious food together.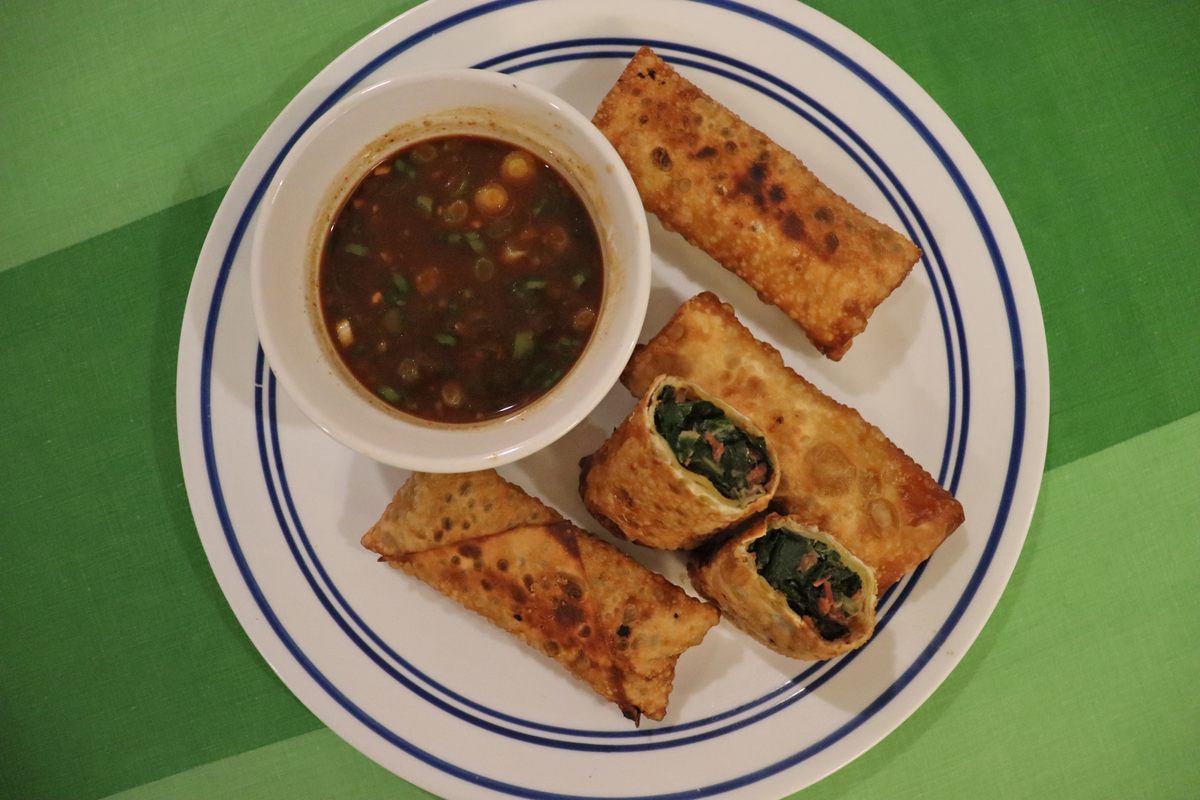 Koshersoul Hanukkah Recipes
Louisiana-style Latkes
From Koshersoul by Michael Twitty
Serves 4 to 6
Latke Ingredients
2 cups peeled and shredded Yukon gold or russet potatoes
1 tablespoon grated onion
2 tablespoons chopped celery
2 tablespoons chopped green onion
1 small garlic clove, minced
1 pinch dried thyme
½ teaspoon cayenne pepper or red pepper flakes
3 eggs, beaten
2 tablespoons all-purpose flour, matzoh meal, or potato starch
1 ½ teaspoons salt
½ cup peanut oil for frying (use canola or vegetable oil if you have allergies)
Creole Seasoning (see below)

Creole Seasoning Ingredients
Makes about 1 cup
2 tablespoons onion powder
2 tablespoons garlic powder
1 tablespoon finely powdered bay leaf
1 tablespoon dried oregano
1 tablespoon dried basil
1 tablespoon dried thyme
1 tablespoon black pepper
1 tablespoon white pepper
1 tablespoon cayenne pepper
5 tablespoons sweet paprika
1 tablespoon smoked paprika
2 tablespoons kosher salt
1 tablespoon MSG (optional)
1. Wring the shredded potato in a cheesecloth; repeat several times to extract as much moisture as you can.* In a medium bowl, stir all the ingredients except the oil and the Creole Seasoning together.

2. In a large, heavy-bottomed skillet over medium-high heat, bring the oil to between 350°F and 375°F.** Place a heaping tablespoon and a half of the potato mixture into the hot oil, pressing down on it to form ¼-to-½-inch-thick patties. Brown them on one side, turn, and brown on the other. Drain them on paper towels.

3. Serve the latkes hot with a dusting of Creole Seasoning and a few slices of green onion. You can also serve them with applesauce, sour cream, or some sweet chili sauce (a blend of sugar, vinegar, salt, garlic, chili, and pepper).

Notes and Tips
* For crisper, drier latkes, also squeeze out the moisture from the onions and celery.
**If you're not able to measure the temperature of the oil, drop a bit of batter into the oil. When the oil is ready, the batter should sizzle.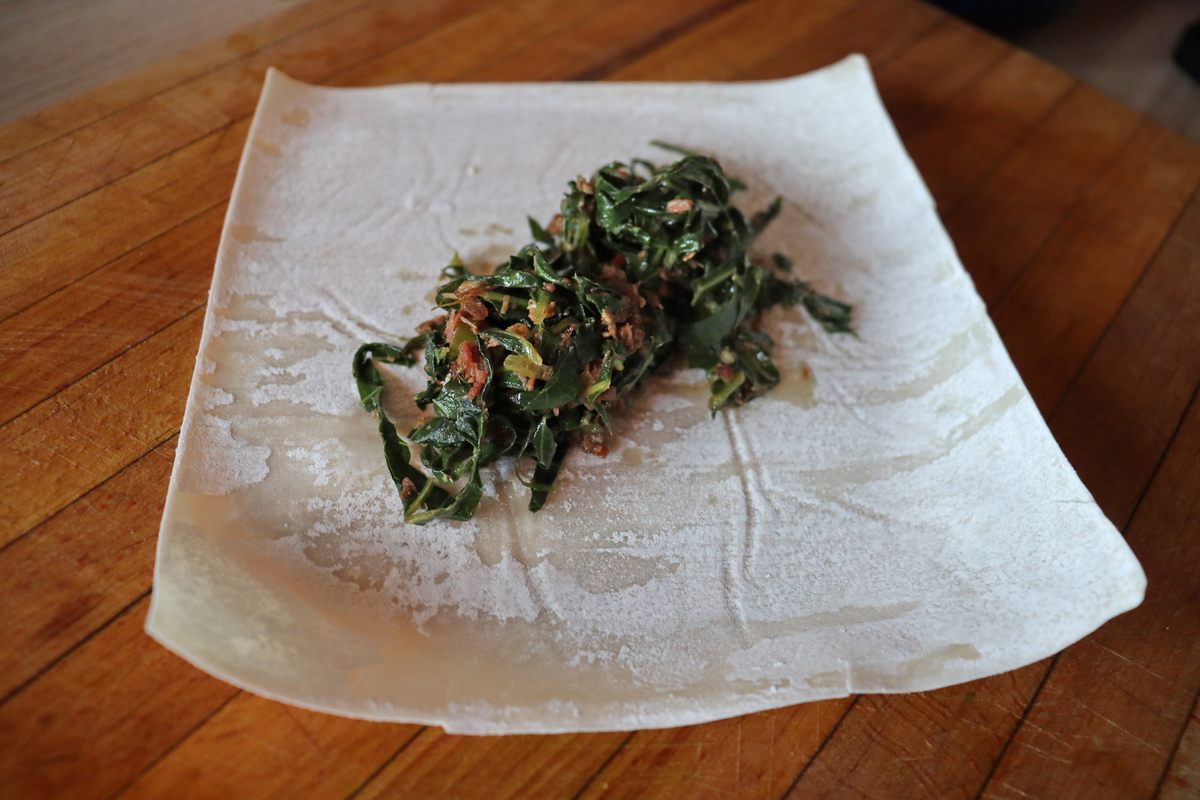 Koshersoul Spring Rolls
From Koshersoul
Serves 5
Spring Roll Ingredients
1 tablespoon sesame oil
1 tablespoon minced garlic
1 tablespoon minced ginger
5 scallions, chopped and shredded
1 cup minced kosher pastrami
1 bunch collards, stems removed and cut into thin strips
2 tablespoons vegetarian hoisin sauce, vegetarian oyster sauce, or half-and-half
1 tablespoon rice vinegar or apple cider vinegar
1 teaspoon pareve kosher chicken consommé powder*
½ teaspoon crushed red pepper flakes
1 teaspoon cornstarch
Around 12 spring roll or egg roll wrappers (about ½ of a package)
Egg yolk to moisten spring roll wrapper
3 cups vegetable or canola oil for frying
Hoisin-Ginger Dip Ingredients
4 tablespoons pomegranate vinegar or apple cider vinegar
2 tablespoons vegetarian hoisin sauce
1 teaspoon minced fresh ginger
1 teaspoon thinly sliced scallions
1. In a hot wok or large sauté pan, add the sesame oil, followed by the garlic and ginger; stir and cook for just under one minute, being careful not to let it burn. Add the scallions and pastrami; cook, stirring, on medium heat for five minutes.

2. Add the thin strips of collard leaves and cook for another seven minutes on medium heat, making sure the greens are cooked and wilted; you can add a little water here if you like.

3. Add the hoisin sauce, rice vinegar, consommé powder, and pepper flakes; adjust the seasoning to taste.** Add the cornstarch and stir to thicken. Set the mixture aside and cool for 15 minutes. While the filling cools, whisk together the dip ingredients, to make a smooth sauce. Transfer it to a small serving bowl, and sprinkle sliced green onion on top.
4. To make each roll, lay out one wrapper with the corner facing you; place about 2 tablespoons of the mixture in the wrapper. Moisten the edges with egg yolk and fold the bottom corner up over the filling; fold in both sides and continue rolling.

5. Heat the canola or vegetable oil in a frying pan or deep wok to about 350°F; you can use a bit of the spring roll wrapper to test the heat (if the spring roll wrapper browns, the heat is correct). Once hot, place the rolls in the oil, three at a time, being careful not to overcrowd the pan. Cook them until golden brown and then turn each over and finish cooking the other side. Remove and set them on a plate covered with paper towels to drain. Repeat to fry the remaining rolls. Serve them hot or warm with Hoisin Ginger Dip.

Notes and Tips
* Look in the kosher aisle of a grocery store for a brand like Osem.
**Feel free to season with salt to taste here.
Gastro Obscura covers the world's most wondrous food and drink.
Sign up for our email, delivered twice a week.