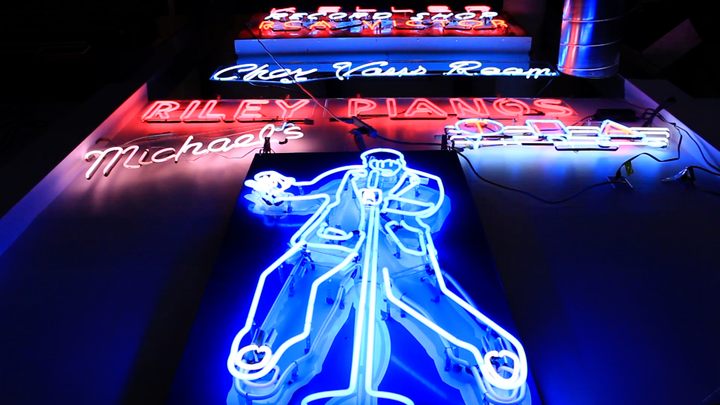 Philadelphia's Neon King Gets a Glowing Castle
Longtime neon connoisseur Len Davidson finally has a museum to house his impressive collection.
The philosopher Luis de Miranda once wrote that neon carries "the poetry of nights." It's a nice sentiment, and one Len Davidson would surely agree with.
Davidson was just a twenty-something working at the University of Florida in the 1970s when he and a friend were reminiscing about the old neon signs of their youth. A Philadelphia native, Davidson spoke wistfully of an old Pep Boys' sign depicting company founders Manny, Jack, and Moe.
That conversation sparked a lifelong love of neon for Davidson, first with a short-lived neon-themed restaurant called The Gamery, a converted old dress shop whose ceiling he plastered with the signs. ("I had a ghost of a neon sign in my consciousness from growing up in Philadelphia, a place called Levis Hot Dogs that had a 13-foot neon hot dog out front," he says. "I used to go there as a kid after watching basketball games with my father.") Next came an apprenticeship with a neon shop in Gainesville, and now his newly opened Neon Museum of Philadelphia. The premise of the museum is twofold: to dazzle viewers with some 130 light displays, and to provide them with a quasi-history lesson, showing what life was like back when the brightest storefront often had the longest line of customers. Now 74 years old, Davidson doesn't expect to be running the museum for too long; he's hoping it can eventually become a non-profit.
Davidson spoke with Atlas Obscura about his sociological fascination with lighting, the not-insignificant cost of restoring old signs, and the best places in the U.S. to see neon out in the open.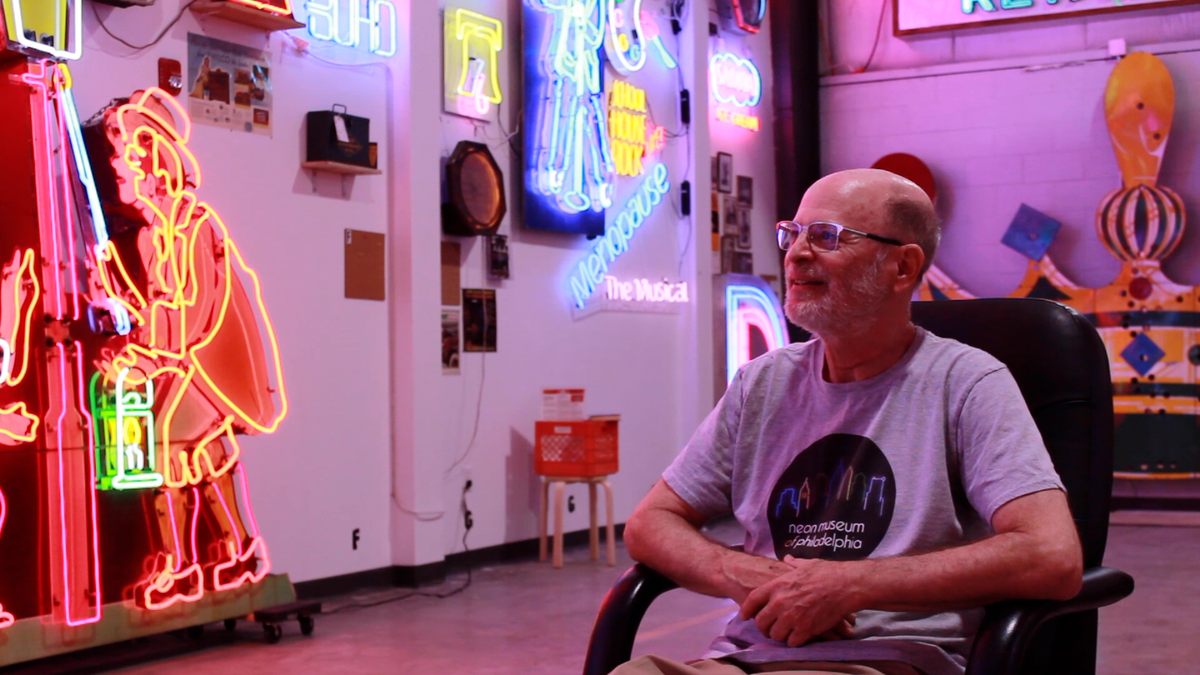 How did your collection start?
While I was in Florida and then Philadelphia, I started collecting old neon signs. I used to roam around between Florida and New Orleans, going to sign shops. So I started collecting there and then once I moved up to Philly, I continued collecting while I was setting up this sign business to manufacture new neon signs. A few I've gotten from auctions on places like eBay. But more commonly I roam around Philadelphia and around the Northeast, driving around the old neighborhood seeing vacant businesses and broken signs in windows, going in to talk to shopkeepers. I'll go into a jewelry shop for instance, where they might have a sign in the window, and start talking to the owner who says, "I've got an old neon sign that doesn't work down the basement," and he sells it to me. Sometimes they're just signs that are abandoned and you find the owner of the building, and you get it that way. I've traded with other people, I've gone to flea markets.
A guy called me up from Jacksonville, Illinois, and he had a Simple Simon and the Pieman sign from Howard Johnson's, made in the 1950s. He wanted to donate or sell the sign to a museum and we ended up flying out and renting a U-Haul truck and bringing his sign back to Philadelphia. I've developed a huge collection of neon and have wanted a permanent space to display it.
You've made neon your life's work. Why are you so fascinated by it?
There's a lot about the craft that I can talk about. It's extremely difficult to do. It takes you at least two years of burning your fingers and cutting your hands before you get to be even a beginner. But I'm really a sociologist by background, and it's really the folk art quality of the thing that turned me on to it. I'm more interested in roaming around, finding old signs, and meeting strange people who have been in the neon business for years.
The people who designed the signs were typically mom-and-pop sign shops. So if you wanted that neon lobster, the person who drew the pattern would not really be trained in art; they would be more inclined to look at cartoons when neon really became popular in the 1930s and beyond—the Golden Age of cartooning and of comic books. So there was that common man, folk art mentality that went into making the signs. That's very appealing to me because I've always been really interested in outsider art.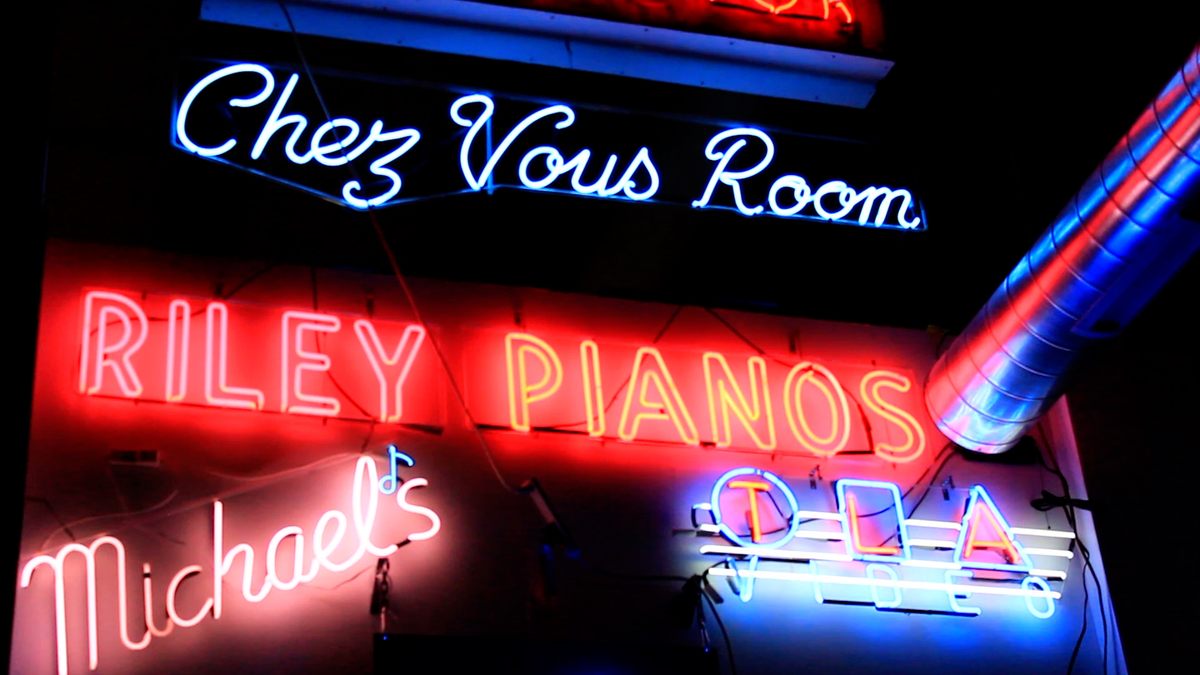 What do you look for in a neon sign?
The things that make these signs really wonderful are the pictorial quality, the complexity of the pictures, also the backings—lots of signs that were done with porcelain enamel, which is a much longer-lasting and more beautiful background material for neon than painting. Some of these giant signs are called extravaganzas, and neon spectaculars; there are very few of those left in the United States. At the very top of the hierarchy would be pictorial signs on porcelain enamel that are extravaganzas and are animated.
In Philadelphia, there was a large equipment manufacturer called Giles and Ransoms, and in the late 1940s and early 50s they made a double-sided, porcelain animated bulldozer with a man sitting on top and shifting gears; as he shifted gears, the treads of the bulldozer would turn. That kind of sign is the epitome of what I'm interested in. But there are very few of those left anymore.
Has the recent neon explosion helped your business?
It's really a double-edged sword: As neon signs have become more popular, they've increased in value. You could go on eBay and find a neon sign for thousands of dollars. I can get and restore signs cheaper than most because I've been in the neon business. I mean it's been thousands of dollars, but I'm not spending $25,000 for a sign on eBay, I'm finding that $25,000 sign for $500 or for nothing and then restoring it.
That popularity is great because it stops the signs from being destroyed, but on the other hand it means that collectors around the world can bid on signs that really belong in Philadelphia.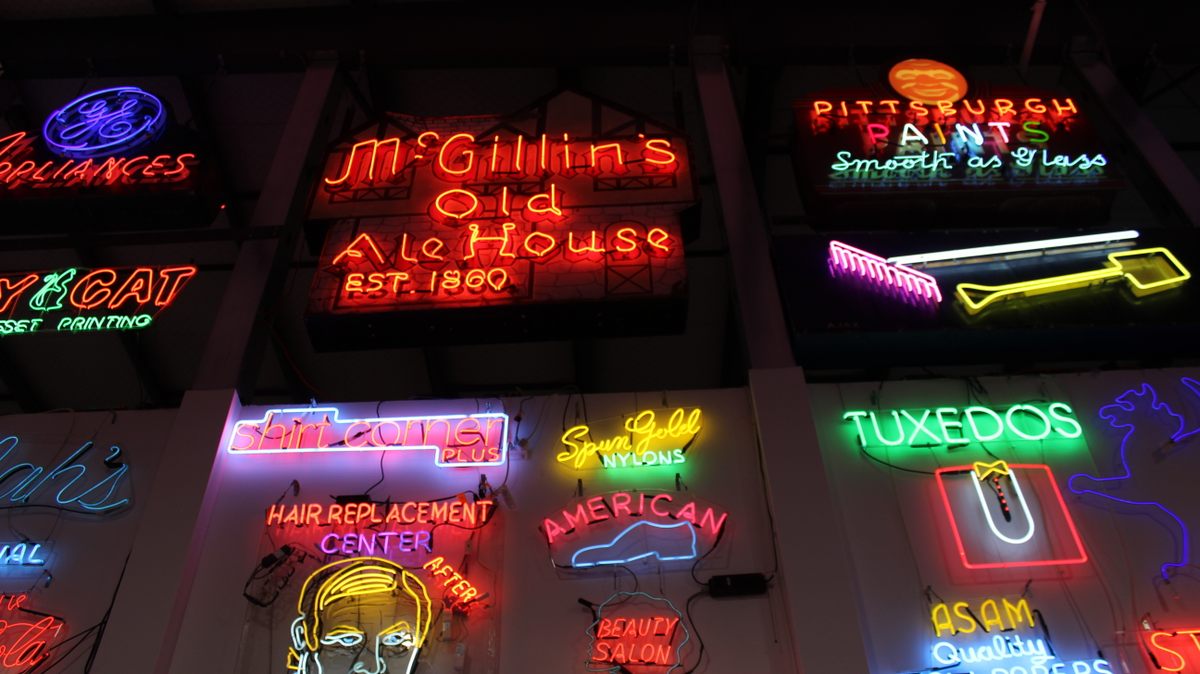 How do you see the relationship between a sign and the place it was made?
If a sign is going to be destroyed, I'll put it in my museum. But signs are representative of the communities in which they were built, and they should be maintained and stay in those communities, even once the businesses are closed.
We've moved on to big box stores and Amazon, and people move into a city like Philadelphia and they don't really have neighborhood shopping streets. They might think they do, but compare it to the way Philadelphia was structured 50 years ago—you might have a couple of corner stores, a couple streets with a few restaurants, but it's very rare in Philadelphia now to find shopping streets where people go to buy their goods. The Neon Museum is striving to introduce that history to people. So, it's really a statement about capitalism, too. Sometimes I think of the museum as an American history museum kind of disguised as a neon museum.
Did you always have a museum like this in mind?
I always had the notion that I could make the museum into a roadside attraction, move to the country in a big barn, and people would drive up and I'd sit out on the front porch in a rocking chair and charge people a dollar. But that's not to be—my wife is not willing to leave the city to go live in some obscure place where we can become a roadside attraction. [Laughs]
Over the last 30 years, I've looked at a lot of places for displaying the neon, mostly for short-term exhibits. About two years ago, I signed a contract with an organization called NextFab, which is an incubator space in Philadelphia that teaches students about a variety of skills: metalworking, woodworking, 3D printing, and so on. They had taken over a block-long building and half of the building is space that was set up for tenants. I became one of the tenants and have set up my Neon Museum there. It took about a year to move all these gigantic signs and hang them.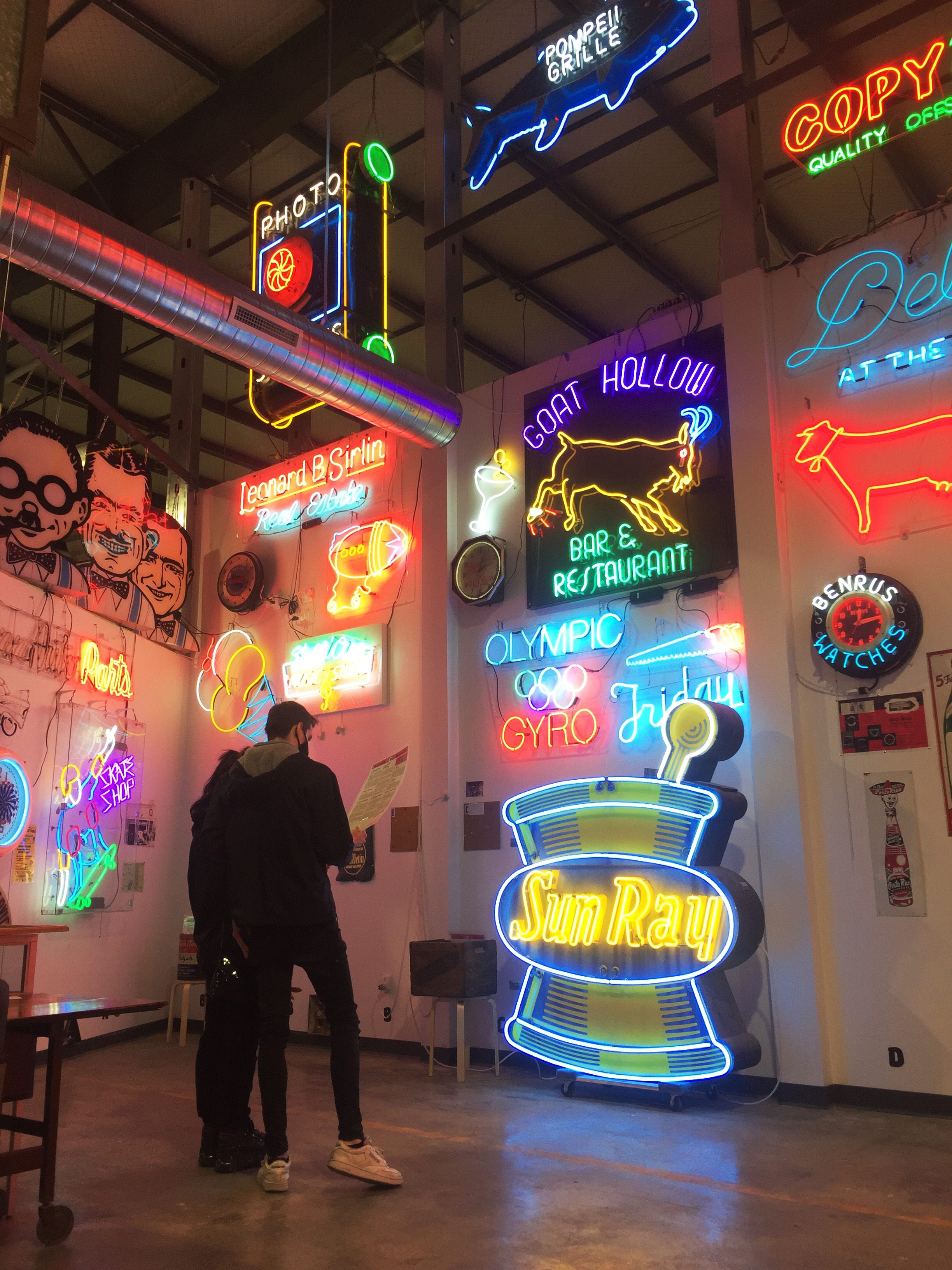 How much is it going to cost to power all the neon in the museum?
I don't know yet, to tell you the truth. NextFab has been billing each of the tenants for a monthly rent and for utilities. They just recently set up metering for the individual spaces. So I haven't received a bill yet, but it will be substantial—there are many, many circuits that we're running neon signs on, but neon is relatively efficient to run and there are electronic transformers—rather than magnetic ones—and they take much less power than the old-fashioned ones did.
Where are some of the best places to see neon in the wild?
There aren't very many. The West Coast is more tuned in. Portland and Seattle, there's nice neon in Los Angeles and San Francisco. But probably the best city is Austin. The problem in general, though, is that there are fewer and fewer tube-benders, and there's an interest in neon but a lot of the interest is more in neon as an art. While that's wonderful, there's not a great way for a lot of artists to support themselves through neon, as opposed to when there were big neon signs along the highway and in store windows. The jury's kind of out: Some people say there's a neon revival, and others say there are too few tube-benders and sign shops left.
This interview has been edited and condensed.