How Dried Cod Became a Norwegian Staple and an Italian Delicacy
The lucrative stockfish trade dates back to the Viking days.
It's 11 o'clock on a dim, cold, blustery morning in February, with a feeble arctic sun barely peeping over the horizon, and the harbor at Røstlandet is a hive of activity. Three boats are tied up to the wharf, delivering their bounties of fresh caught cod, while the skipper of another boat nestles his craft into a slot freshly vacated by a fourth. Ropes are cast, and cranes swing into operation. Through the open doors of a fish factory, forklifts can be seen shunting around the concrete floor, bearing huge plastic tubs filled with cod, cod livers, and salted cod roe.
Back on the dock, sales are made and deals are struck with a handshake, in an atmosphere of hard, cheery camaraderie. Some of these men have known each other since they were schoolboys together, watching their fathers and grandfathers doing these very same things.
It's cod season once again in the far north of Norway, and Røst—a remote scatter of rocky islets off the outermost tip of Norway's Lofoten Islands—is once more the honeypot for fishermen seeking jackpot paychecks in the lucrative dried cod trade, Norway's oldest export industry, dating back to the Viking days.
Every winter, for more than a thousand years, Norwegian fishermen have flocked to these parts to scoop up the bounty of big, meaty migrating cod that come streaming down by the millions from the Barents Sea to breed among the reefs and shoals around the Lofoten Islands, and most especially here around Røst.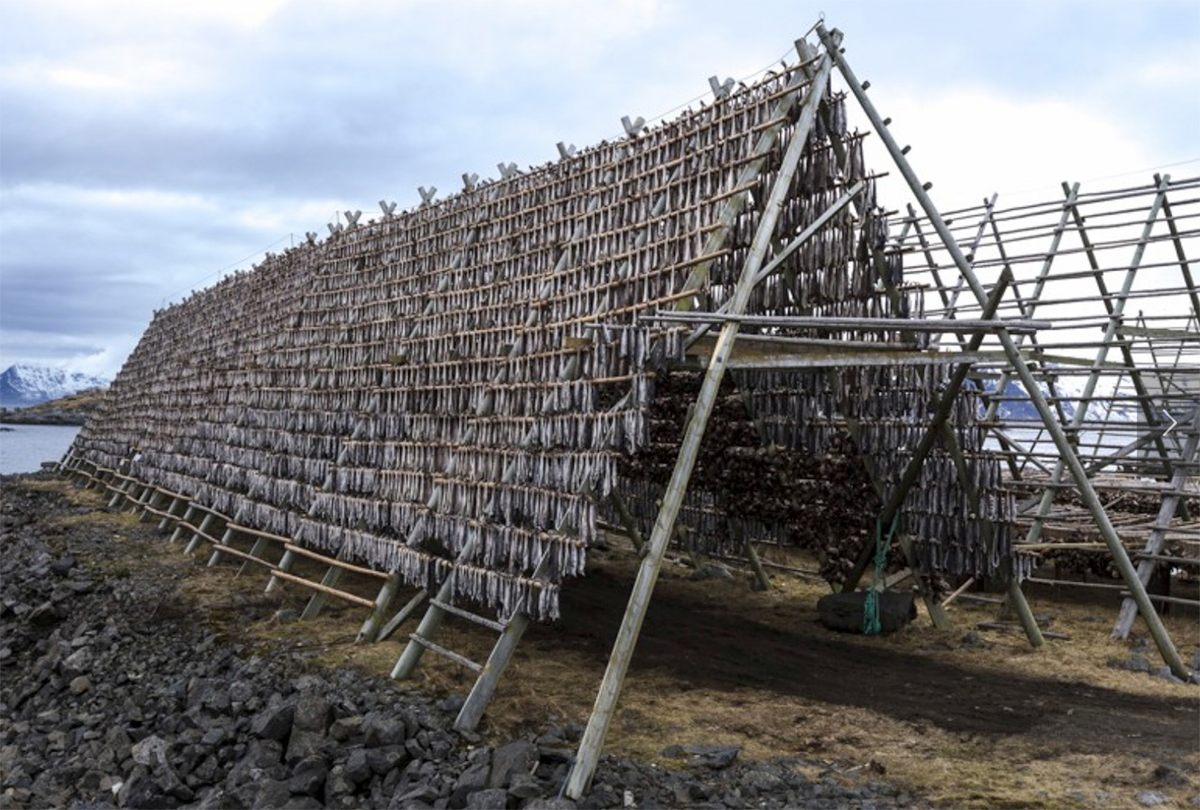 The fish are cleaned and gutted and hung by their tails, in pairs, to dry in the traditional manner, on slatted wooden frames that can be seen all over the island. Then the catch is rendered into stockfish—the nutritious cod jerky that once sustained the Vikings on their long sea voyages and, today, is a highly prized delicacy in Italy, where it's a key ingredient in traditional regional dishes from Venice, Naples, Genoa, and Calabria.
"Stockfish isn't an Italian product, but sometimes you could almost imagine that it was," says Olaf Pedersen, a former CEO of Glea Sjømat, one of Røst's main stockfish companies, founded by his grandfather in 1936. "Over the centuries it has become deeply ingrained into their culinary and cultural traditions."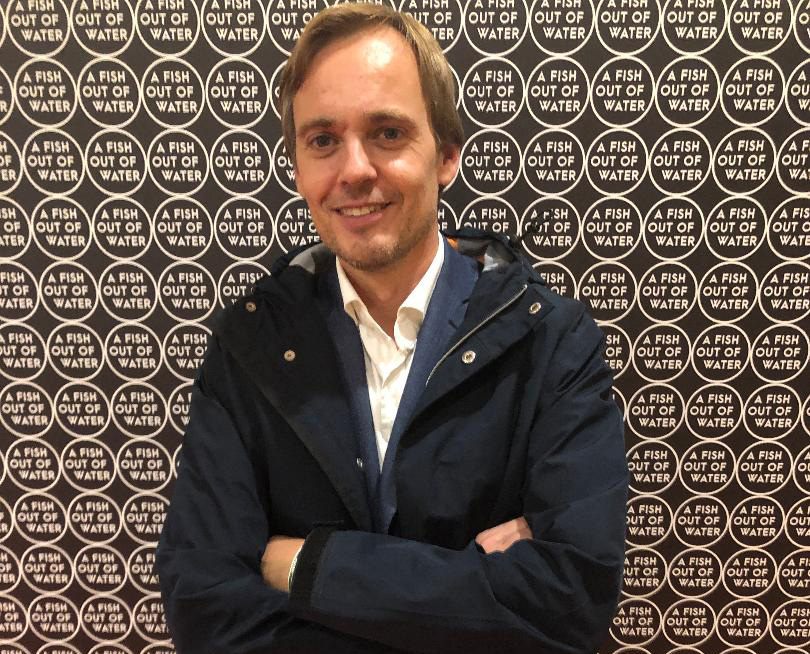 Indeed, the Ligurian town of Badalucco holds a stockfish festival every year to commemorate the time, back in the Middle Ages, when the townspeople survived a siege by Moorish invaders by eating only stockfish. And over near Venice, on the opposite side of the country, the town of Sandrigo hosts the world's largest stockfish festival—the Festa del Bacalà, held every September in celebration of the famed regional dish Baccalà alla Vicentina.
So important is the Italian market to Norway's stockfish producers that Pedersen recently moved from Røst to Milan, where he now looks after the interests of a collective of 22 stockfish producers. Lofoten stockfish was recently awarded Denomination of Origin status, meaning it enjoys the same legal protections as Parma ham and French champagne.
Any way you want to measure it, it's a long way from the warm Mediterranean sunshine to the moody skies over Røst, whose 365 islets and skerries are home to a few hundred hardy Norwegians and about a million seabirds. Yet the links between these two very different places go back nearly 600 years, to the shipwreck in 1432 of a Venetian merchant trader named Pietro Quirini. After his boat sank, he spent three enjoyable months with the islanders, and on his return to Italy, presented an account of his adventures to the Venetian senate.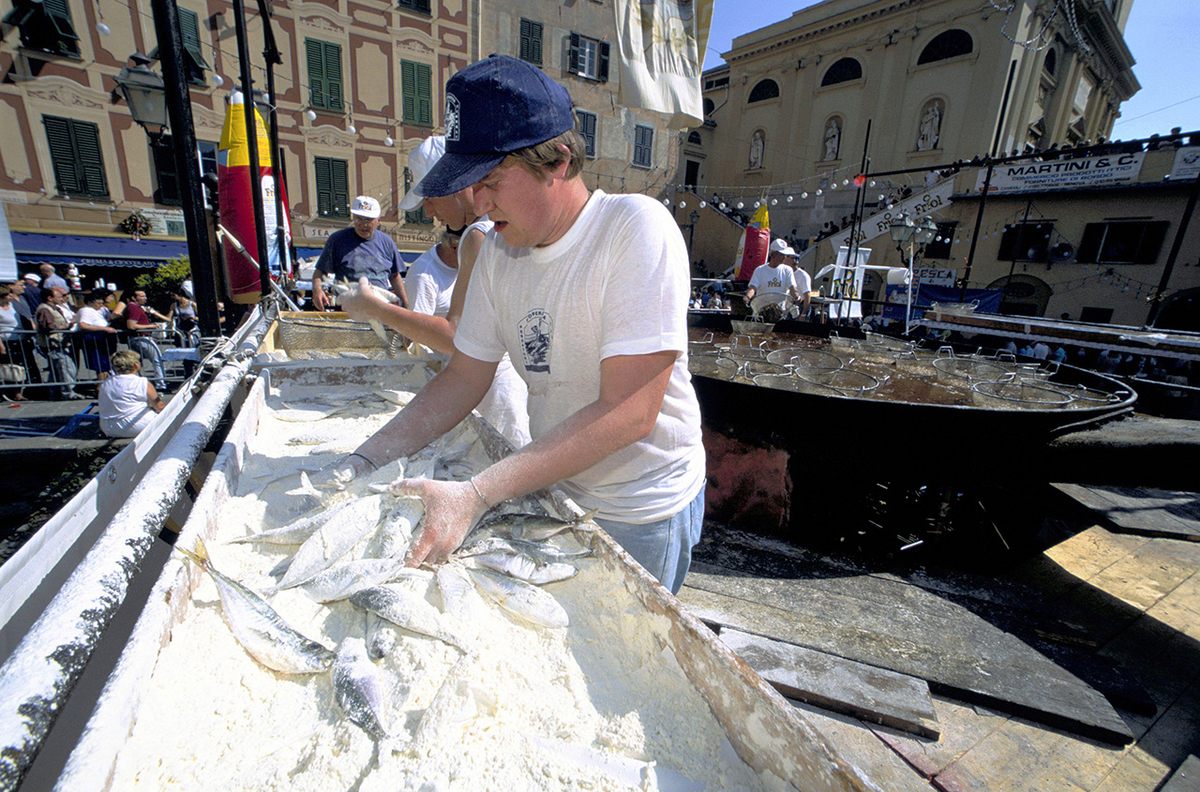 He also brought back some stockfish. The rich, nutritious, intensely flavored cod jerky proved an instant culinary hit, finding its way into regional dishes all over the country. An improbable new trade route was born, linking the Renaissance city states then comprising Italy with the lonely windswept isles of Røst.
It's a trade route that's helped make the islanders rich: Røst has the highest per capita number of millionaires in Norway. And the Italian historical connection persists. Take a stroll through Røst today and you'll come upon places with names like the Quirini Cafe and Quirini Park. In 2012, an opera based on Quirini's shipwreck premiered on Røst—a first for the tiny island—and was so popular with locals and visitors that it was brought back for a repeat performance two years later.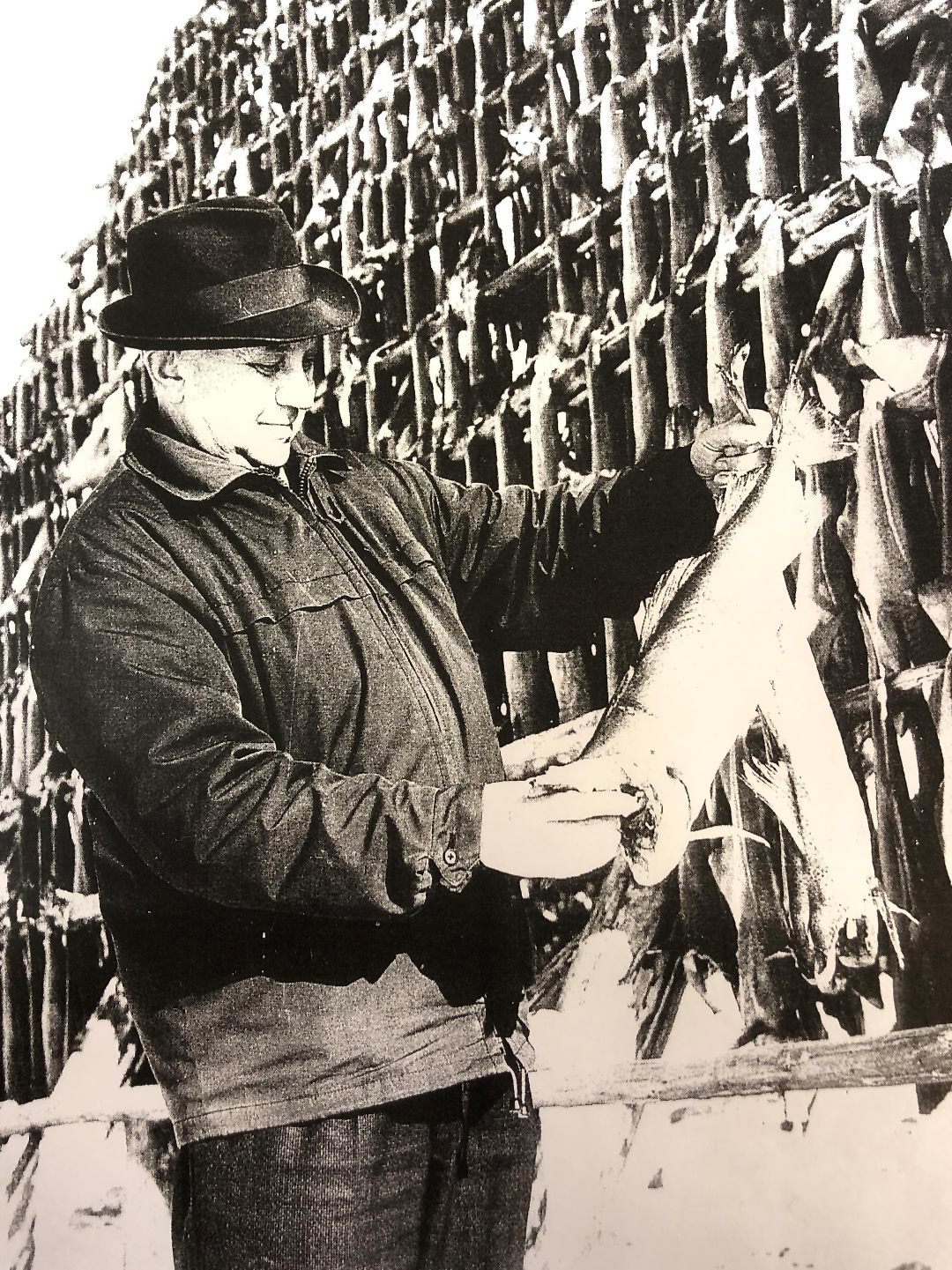 The islanders owe their good fortune to their unique location. Not only does Nature deliver countless millions of migrating cod to their doorstep every winter. Thanks to the modifying effects of the Gulf Stream, they also enjoy exceptionally mild winters, given their latitude. Although the island sits well above the Arctic Circle, at nearly 68º north, winter temperatures here seldom fall much below freezing, or rise much above it.
"We have the perfect climate for making stockfish," says Pedersen. "It's a fine line. Even a couple of degrees can make all the difference. If the temperature were to fall to, say, minus-3 [degrees Celsius, or 26 degrees Fahrenheit], the freezing action breaks down the cells in the flesh, and you end up with something that's yellowish and rubbery and unpalatable. On the other hand, if the temperature rises too high, you'll just get a slow rot."
Whether Røst's delicately balanced climate stays perfect for making stockfish is an open question. So is the effect warmer waters might have on cod migration routes. One change that has already been noticed in a warming world is that fishing villages elsewhere in Lofoten that were previously too cold for curing stockfish are now able to do so. "Røst doesn't have it all to itself quite so much any more," says Pedersen.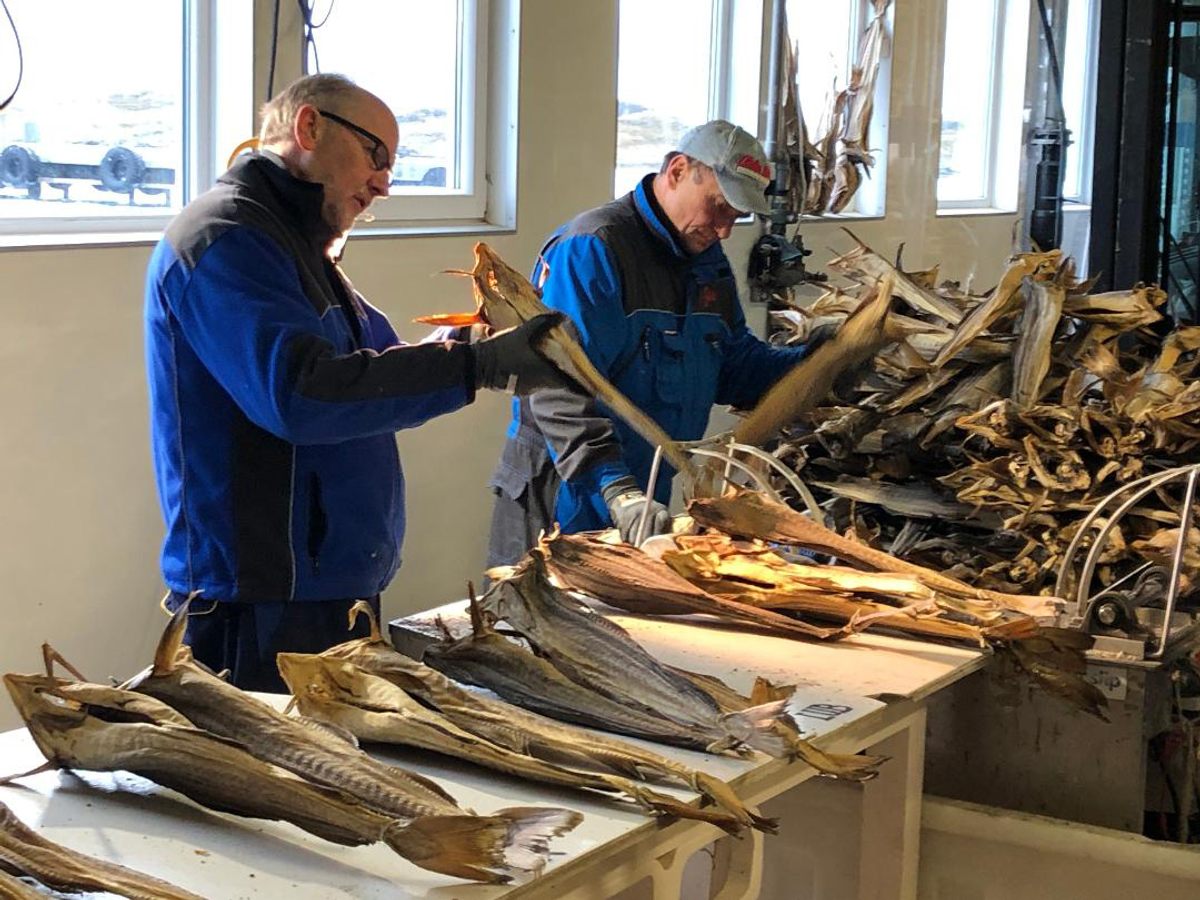 Stockfish—the name derives from "stick fish," because of the wooden frames on which it's dried—is cured in the open air over several weeks, typically from February, when the season opens, to April. Then, to keep the spring rains from spoiling it, it's brought indoors to finish drying. By midsummer it's fully cured, and ready to be graded and sold.
"Stockfish is like fine cognac," says Ansgar Pedersen, a veteran cod grader at Glea Sjømat who has been in the business all his life. Now nearly 70 years old, he has no plans to retire anytime soon. "I'll retire when I'm 80," he says with a laugh. He loves his job, which is just as well, as it requires him to examine each of the 400,000 or so dried cod the company sells each year, holding the fish up to the light, looking for subtleties in color, texture, and scent before deciding which of the 20 different grades to assign it.
Once or twice a year he'll travel to Italy to meet with buyers and discuss their needs. "The people in Naples tend to want larger, meatier cod than those in Genoa or Calabria," he says. "It all depends on how they are preparing. Each region has their own specialty."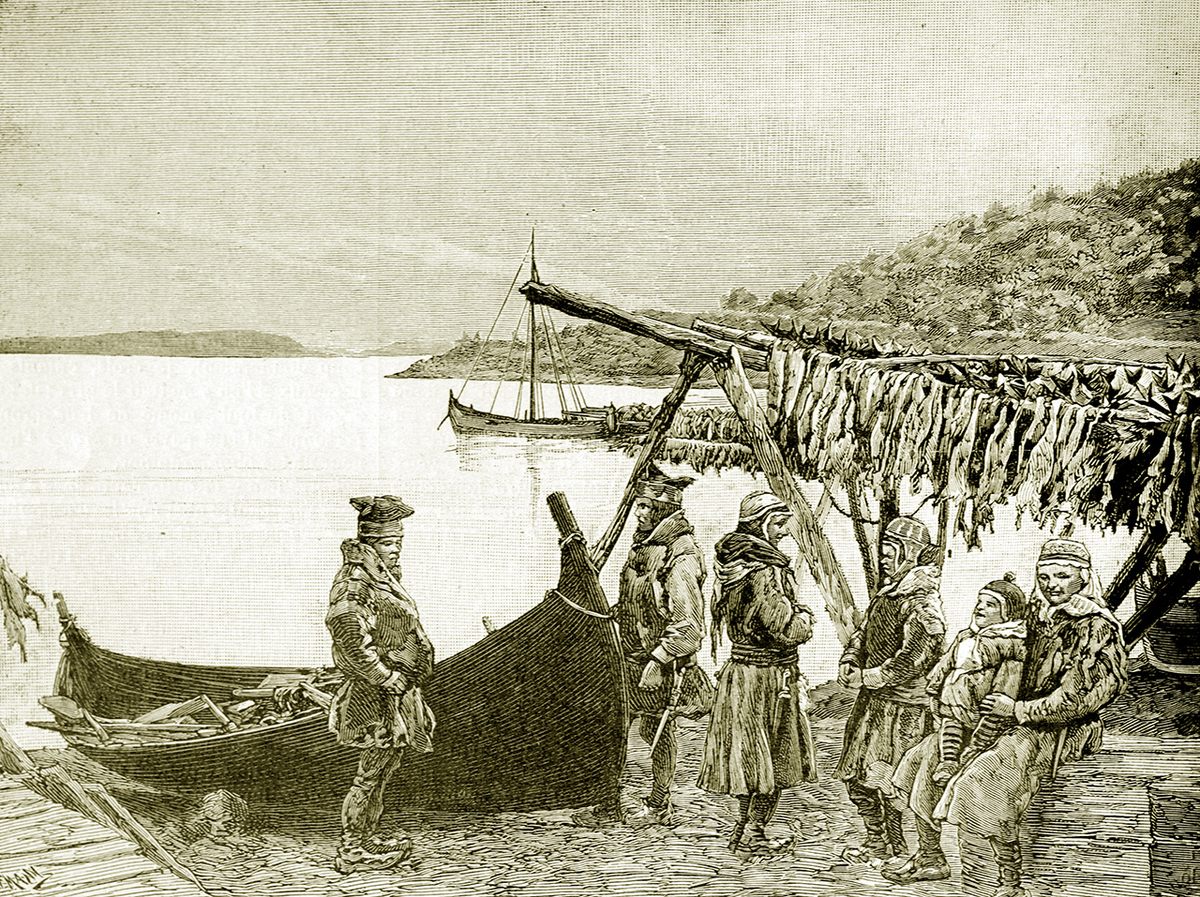 If stockfish has insinuated itself into Italian culture and cuisine, it's the very warp and weft of Norwegian. "There is a taste of cod in all my music," Norwegian composer Edvard Grieg once claimed. It's a coda that can be said to run through the rest of Norway's culture and history as well, with the iconic fish appearing on crests and coats of arms in cities and villages up and down the coast.
The earliest literary reference to the dried-cod trade comes in an almost operatic scene in Egil's Saga, a Viking yarn set in the ninth century. In it, a young Norse raider named Thorolf Kvendulfsson sets off for England in a brilliantly painted, dragon-prowed vessel, its blue- and red-striped sail filling with the summer breeze, its thwarts piled high with the fortune in furs and dried cod he and his men had accumulated during the previous winter.
The cargo fetches a fancy price in England, and Thorolf returns to Norway a wealthy man, only to fall afoul of the king, who feels that Thorolf has been getting a little too rich, a little too cocky, and not paying his taxes. Their subsequent falling out—and Thorolf's murder—sets up an intergenerational feud that forms the narrative thread of one of the greatest of the Old Norse sagas.
By the time 13th-century scribes got around to committing the tale to parchment, the stockfish trade in which Thorolf had been dabbling had become the economic engine for the whole of Norway, accounting for more than 80 percent of the country's exports, and a source of immense wealth. With medieval Europe's population rapidly growing and urbanizing, there was an increasing demand for tradable foodstuffs.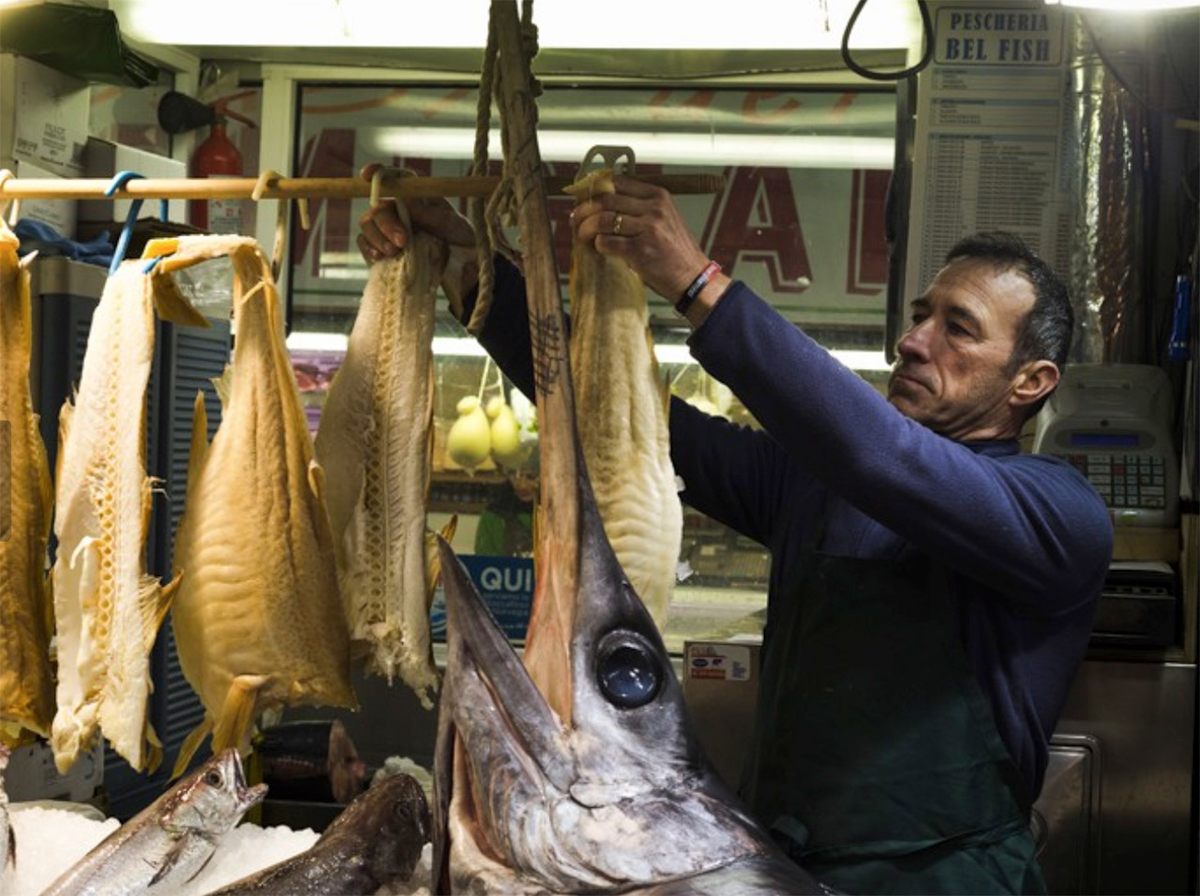 Stockfish was the ideal commodity. Lightweight, durable, and highly nutritious, it could last for years without spoiling and be reconstituted quickly by soaking in water. Demand soared. Bergen, a picturesque seaport founded on the cod trade, became Norway's capital and an important seat in the Hanseatic League, a medieval merchant-trader confederation, with over 2,000 resident members exporting thousands of tons of stockfish each year to Germany, Holland, and England.
While it was the prosperous burghers in town who made most of the profits, the tough peasant fishermen did well too. A man with a boat had his own business, free and clear, with all the lucrative upside that might entail. Reveling in their freedom and spurred by the possibilities of jackpot wealth, these fishermen braved hardships and dangers, sailing north to Lofoten's cod banks each winter as though it were a gold rush—Norway's own annual Klondike.
By the turn of the 20th century, more than 30,000 fishermen were flocking to these islands each winter. Grainy black-and-white photographs show Røst's harbors so jammed with boats that it was possible to walk from one side to the other without getting your feet wet.
"This was Lofoten," Norwegian author Jan Bojer wrote in his 1921 coming-of-age classic, The Last Viking. "A land in the Arctic Ocean that all the boys along the coast dreamed of visiting someday, a land where exploits were performed, fortunes were made, and where fishermen sailed in a race with Death. Through hundreds of years they had migrated thither, and many of them had lost their lives on the sea. A few returned home with well-filled pockets, but the greater number sailed to the end of life in poverty. Yet they went up again and again, year after year, generation after generation. It was their fairy land of fortune. They had to go."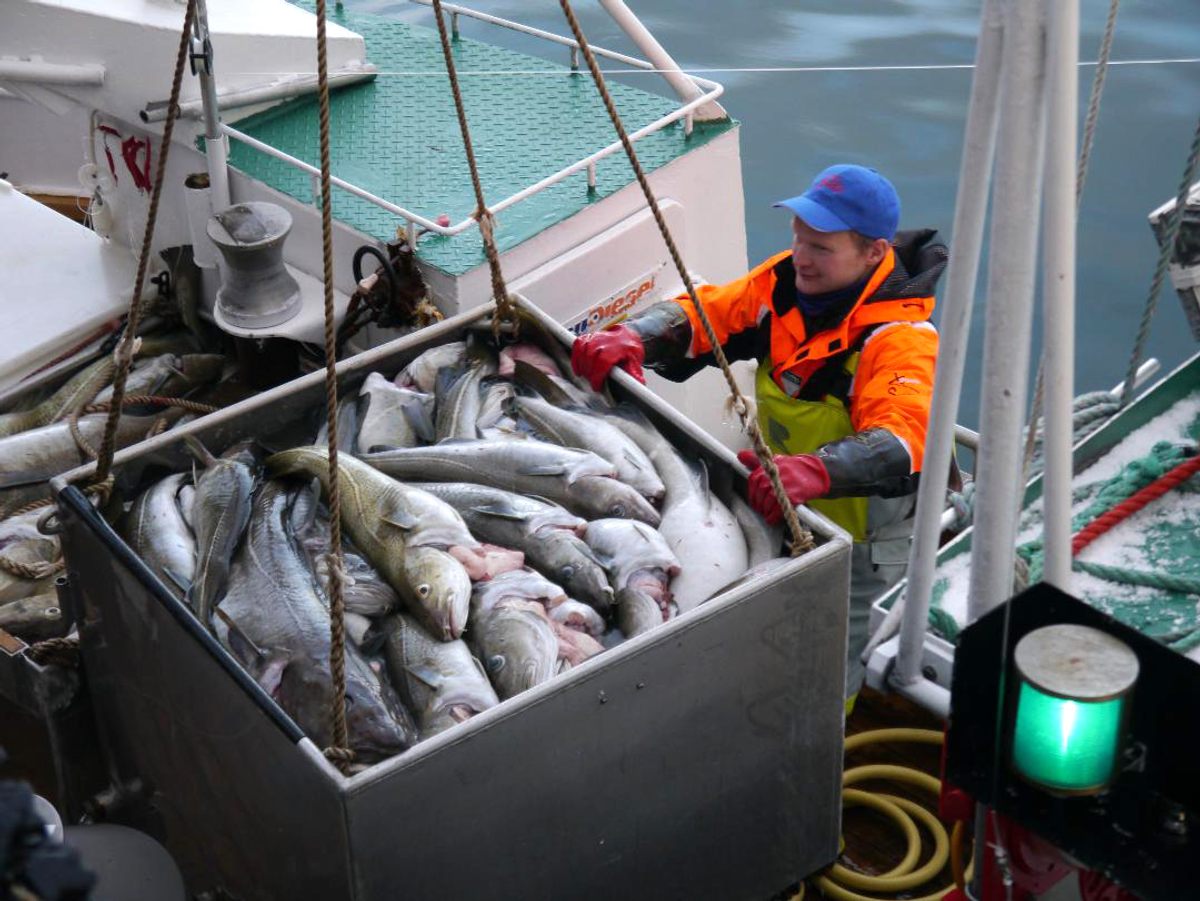 Times have changed. In a world alive with 21st-century opportunities, young Norwegians no longer daydream about scooping fortunes in cod out of icy midwinter seas. Their aspirations lie elsewhere—in safe, comfortable jobs in distant cities. In recent years they've been leaving their picturesque fishing villages in droves—not just on Røst or Lofoten, but all over Norway.
Even if they wanted to take up fishing, few could afford it. Buying a cod quota—essentially a commercial license to catch cod—can cost as much as half a million dollars. And then you have to buy your boat and equipment, and hire a crew.
It was always a risky proposition, all the more so in an age of changing climates. "Banks are not keen to lend that kind of money to young people just starting out," says Pedersen.
Fishing in Norway is increasingly consolidated in the hands of a few old families or companies with deep pockets, while jobs in the fish factories, or hanging the thousands of cod on wooden frames, are increasingly filled by migrants who flock north, much as in the stories of old.
"The face of the stockfish trade has changed a lot over the past few years," says Olaf Pedersen. "And it will continue to change and evolve. But at the same time, it is still the same business it always was—drying fresh caught cod in the open air."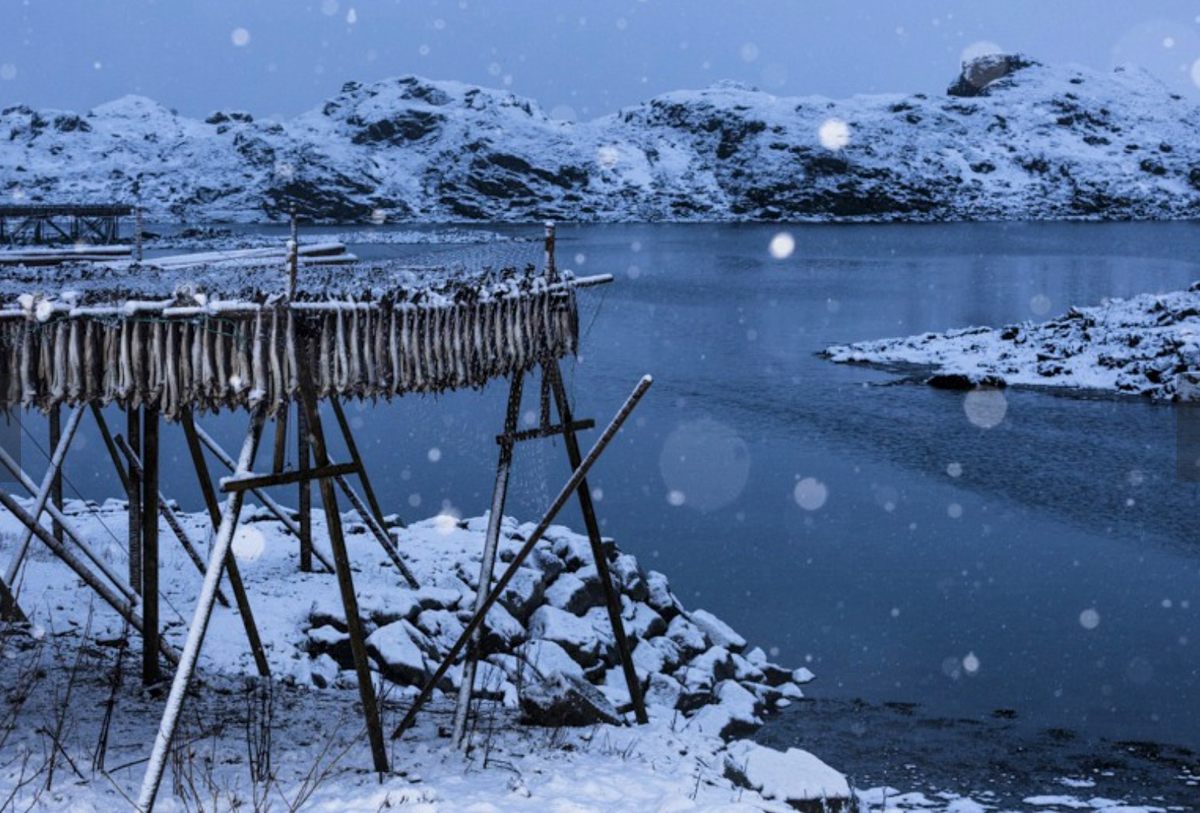 By midnight the day's catch is hanging on the wooden frames. And under the eerie glow of the Northern Lights begins the age-old curing process that will render it into stockfish.
Gastro Obscura covers the world's most wondrous food and drink.
Sign up for our email, delivered twice a week.