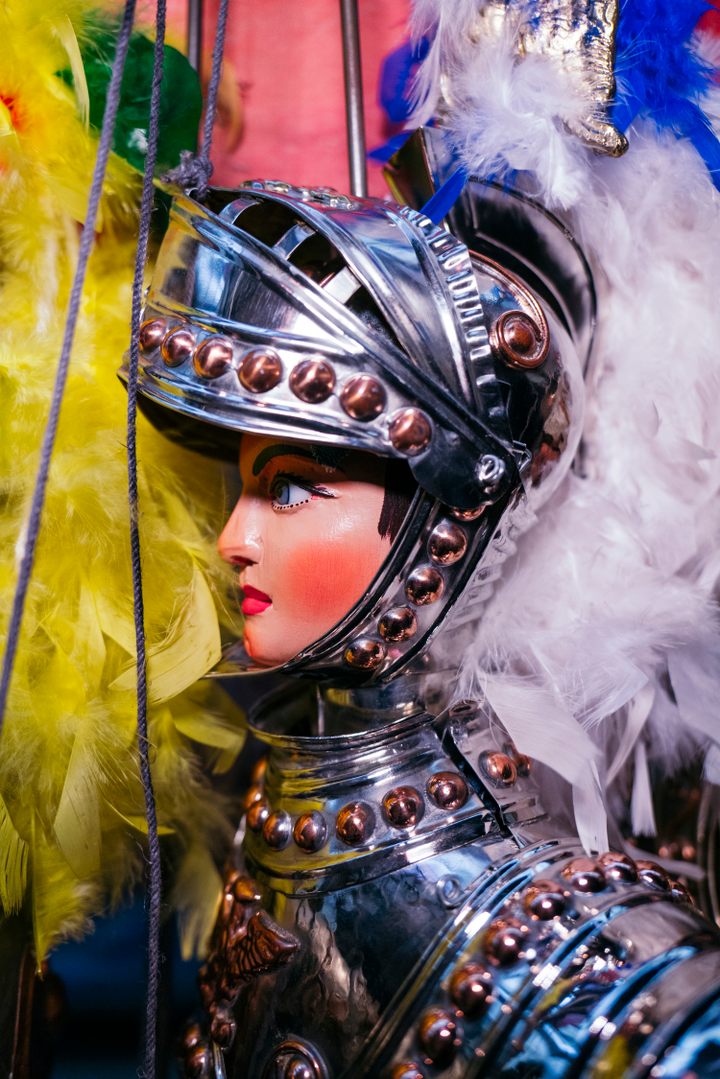 Palermo's Unique, Centuries-Old Puppet Tradition Enters a New Era
The Sicilian city's puppeteers are finding novel ways to keep the art form alive.
Deep in the historic heart of Palermo, a dragon stirs. A drumbeat thuds through the darkened room—once part of a luxury hotel—as the creature takes flight. The dragon lurches toward our armor-clad hero, Orlando, but he is no match for a knight. Orlando's sword slices through the beast and its body falls to the ground. Its bloodied head dangles by a string above the stage. Off to one side, 10-year-old Martina Bumbello turns the crank of the puppet theater's barrel organ, closing out the scene with a burst of funhouse music.
Here at Sicily's Antonio Pasqualino International Puppet Museum, housed in a grand building that was home to the 19th-century Hotel de France, beheading dragons is a family affair. Martina's father, Salvatore Bumbello, stages daily live shows, often with the help of Martina and her two brothers. The productions follow traditional storylines from the Renaissance and earlier, focusing on two of the legendary knights, or paladins, of Charlemagne's court. The paladins Orlando and Rinaldo take on dragons, demons, and other foes—staple fare for the distinctive style of Sicilian puppetry, which began in the early 19th century. Weathering war and economic turmoil through the decades, Sicily's Opera dei Pupi is Italy's only continuous puppet tradition, performed without interruption for more than 200 years. The pandemic has threatened that status, forcing the city's puppeteers to tweak the very elements that set their tradition apart—or risk losing it altogether.

Palermo had dozens of puppet theaters before 1950, when interest began to decline. Today, there are only three left, each employing the handmade marionettes—three feet tall and weighing 20 pounds—unique to the city's puppetry tradition. While puppetry inspired by regional epics crops up across cultures, from ancient India's Ramayana and Mahabharata to Japan's Tales of the Heike, "only Sicilian Opera dei Pupi stages epic stories with intricately structured and painted wooden puppets, in elaborate metal armor with swords and shields made to withstand heavy fighting," says Columbia University professor Jo Ann Cavallo. She has studied Opera dei Pupi extensively as part of her research on Renaissance literature and how it is dramatized around Southern Europe.
Sicilian puppet theaters are often family-run: Salvatore Bumbello learned from his late father, beginning when he was Martina's age. Today, he designs and creates the elaborate puppets for his shows as well as for other puppeteers. Some of his marionettes are part of the museum's extensive collection—with thousands of Opera dei Pupi puppets, it's the largest of its kind in the world. In addition to the Sicilian puppets, the museum houses rare water puppets from Vietnam and enormous, human-sized puppets designed for a show created by Italian fairytale writer Italo Calvino. The puppets were unprecedented in Sicilian puppetry tradition: Too large to be operated using strings, they had to be strapped to the backs of puppeteers. They were retired after a single performance and now occupy a room of the museum, serving, perhaps, as a warning of the risks of abandoning long-established conventions, something Palermo's puppeteers have long avoided.


"We have not changed anything," Bumbello says, comparing his productions with those of his father. Even the special effects he uses—such as pull-apart puppets that can be dismembered or beheaded, including his current production's dragon—have existed for centuries.
Over the last year, however, change has been unavoidable for Palermo's puppeteers. The theaters closed temporarily during the pandemic, which Bumbello says jeopardizes their status, recognized by UNESCO, as the country's only uninterrupted puppetry tradition. "The pandemic has devastated the world of puppetry," says Bumbello. "We could not act out our stories and consequently could not have an audience."


Rather than shut down completely, the museum quickly took to the internet, allowing viewers to live stream performances by Bumbello and other regular performers until live shows could return. Streaming shows have helped keep the tradition going—but for some of the city's puppeteers, evolution of their art form has been ongoing for years. Third-generation puparo Vincenzo Argento, who runs Palermo's Teatro Argento, started experimenting with new approaches to Opera dei Pupi to keep his business alive long before the pandemic hit.
Hunched over a desk in his workshop, Argento chisels fragments of metal that will form the helmet of a puppet destined for sale in his shop window beside feathered, puppet-shaped wine corks and other items intended to appeal to tourists. He has written original scripts and added more daring special effects to the shows. "[Other puppeteers] don't always accept these changes," Argento says, his eyes intent on his handiwork. "When we began, it was much simpler."
Simplicity has long been a hallmark of Sicilian puppetry; while there are more than 300 detailed tales in the Paladins of France source material, the shows themselves tend to follow the same formula of the knights fighting their way through one battle scene after another, emerging victorious as the curtain falls. As local audiences shrank in the mid-20th century and were replaced largely by tourists without knowledge of the Italian language or the original stories, the shows became even more action-heavy and distanced from their literary inspiration.
Some see the Opera dei Pupi's pandemic challenges as an opportunity for the puppeteers to experiment with technology and evolve traditional themes. For example, several storylines still performed today include the Christian knights killing villainous Saracens, and end with decapitated puppet corpses piled on the stage, reflecting centuries-old hostilities toward Muslim conquerors. Such scenes, says Cavallo, have begun to evolve.
"We can find plays that actively question confrontations based on provenance or religion and instead seek to promote understanding across borders, encouraging compassion for those who suffer regardless of their origin," she says. Expanding online performances has also allowed Sicilian puppeteers to try out new, more modern plot lines, and to stage plays that haven't been performed in decades. The museum is currently in the process of taking this new digital direction even further: A project is underway to incorporate augmented reality into its puppetry, creating an interactive component for virtual visitors.
Back at the Antonio Pasqualino Museum, Martina cranks the barrel organ as the show comes to an end. Before the curtain closes, three final characters make an appearance. Bumbello and his sons crouch down, visible at last behind the wooden set, and wave at their audience. "The art that was handed down to me, I hand down to my children, as they will do with theirs," says Bumbello. "This way, tradition will not be lost."